In addition to supporting the community by creating a Mardi Gras organization whose membership reflects its values of diversity and inclusion, the Krewe also aspired to establish a parade that would be collaboratively sponsored by the community, even those who could not attend our parade. Our projects and community partners change year-to-year, though our focus is always on our community. Every Muses event, whether it's a Thirsty Thursday or parade day, is tied to a charitable cause and is an outreach opportunity.
Muses sponsors annual ride raffles among its members, auctions a ride to the public, and holds raffles of glittered shoes and other items at Muses social events all to benefit selected community partners. We have sponsored multiple drives to gather items for women in need. Our talented shoe artists donate decorated Muse shoes to area charities to enable them to auction the shoes to raise funds for their own events. During the COVID pandemic on the day of our canceled parade, our "Shoe Fairies" gifted hundreds of decorated Muse shoes to local health care workers to offer our gratitude and moral support through our Heels for Healers program. We have thrown annual mini-parades for residents of residential care facilities such as Lazarus House and St. Margaret's Nursing Home and sponsor and staff children's art tables at local art events and shoe-decorating workshops with children and elderly individuals.
Since its inception, Muses has raised over $326,000 for several local and national charities and non-profit organizations.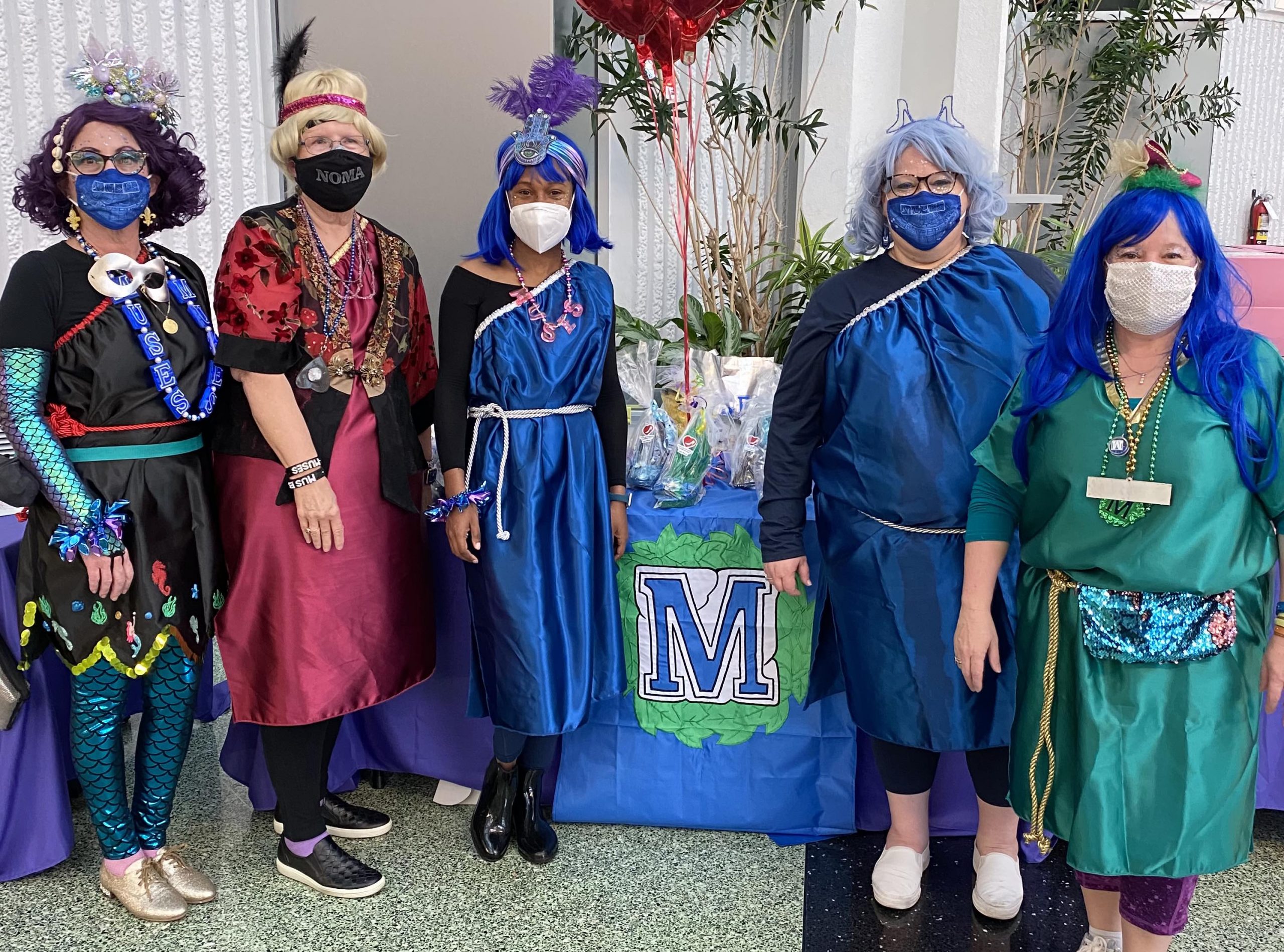 The Muses Foundation
To better serve the community at large, Muses formed a donor-advised charitable fund called the Muses Foundation at the Greater New Orleans Foundation to serve as a 501(c)(3) organization to raise funds that would support area charities. In particular, Muses supports organizations that assist women and children in need and arts organizations.
Would you like to contribute to the Muses Foundation for community support? Contributions can be mailed to:
The Krewe of Muses Foundation
5500 Prytania Street #621
New Orleans, LA 70115
Cup Decorating Contest
​​Each year, the krewe conducts a contest among Orleans Parish public middle and high school students for an opportunity to create artwork for the cup of the year. The winning student secures a grant for art programs for the upcoming year and their artwork displayed on the more than 80,000 cups thrown at the parade. 
Past winners have been: 
Natalie Sciortino of Ben Franklin in 2001

Carl Trim of Rabouin and the Ya/Ya Group in 2002

Arwen Byrd of Ben Franklin in 2003

Erica Aupied of Hahnville High School in 2006

Alisha Lewis of McMain in 2007

Dat Nguyen of McMain in 2008

Lauren Moret of Hynes Elementary in 2009

Dylan Pham of McMain in 2010

Michael Washington of O. Perry Walker in 2011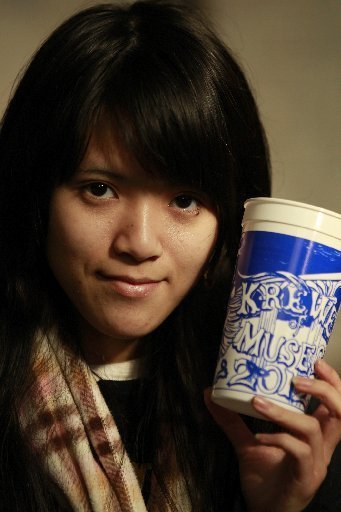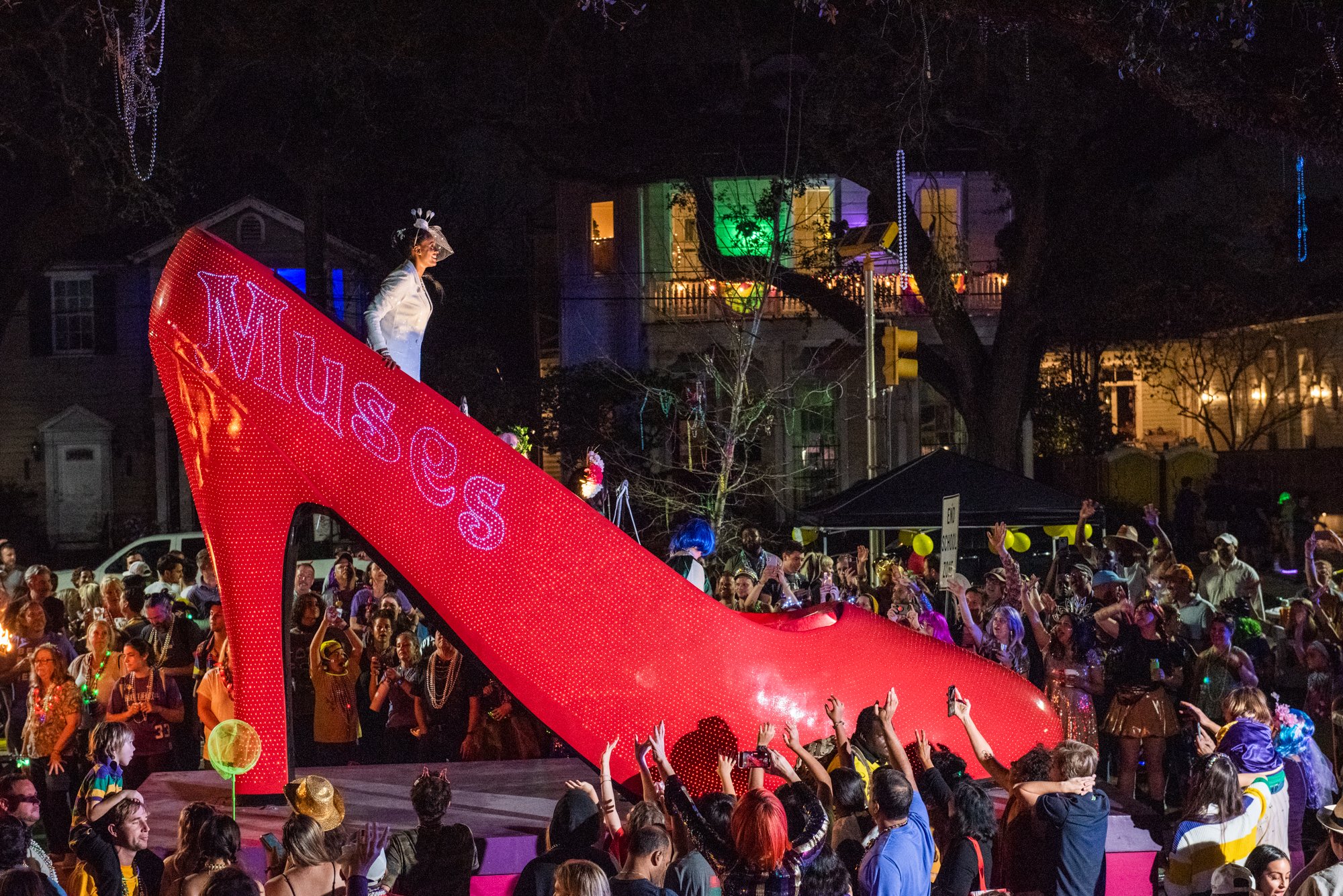 Honorary Muse Program
Muses showcases significant women who embody the attributes of the nine Muses by choosing an Honorary Muse to ride in our signature 17-foot tall, fiber optic, high-heel shoe float at the beginning of every parade. Honorees have included Ruby Bridges, Patricia Clarkson, Solange, and Jennifer Coolidge. 
Muses is Proud to Have Supported...
504 Queens
Big Class Inc.
Bridge House
CASA
Clothing Closet of NO/AIDS Task Force
Commissioned to benefit NOCCA
Community Foundation of the Virgin Islands for its Friends and Family Fund for USVI Renewal
David Allen Bell Trust
Doctors Without Borders
Eden House
Funny Bones Improv
Girls First
Greater New Orleans Foundation
Hagar's House
Hope Hotel
House of Ruth
House of Tulip
Jewish Family Services
Katrina Warriors
Kingsley House
Krewe of Red Beans
LGBTQ Community Center
Lindy's Place
New Orleans Family Justice Center
New Orleans Police Department
New Orleans Women's Shelter
NO/AIDS Task Force Clothing Closet
NOFD
NORD/NOBA Dance Program
Project Butterfly
Project Homecoming
Puentes
Raintree
RicRACK
Salvation Army
Shelter Box
SisterHearts, Inc.
St. Bernard Project
St. Bernard Project to benefit women in its Veterans Initiative Program
St. Jude Community Center
Susan G. Komen Foundation
Team Gleason
Women With a Vision
Young Survival Coalition