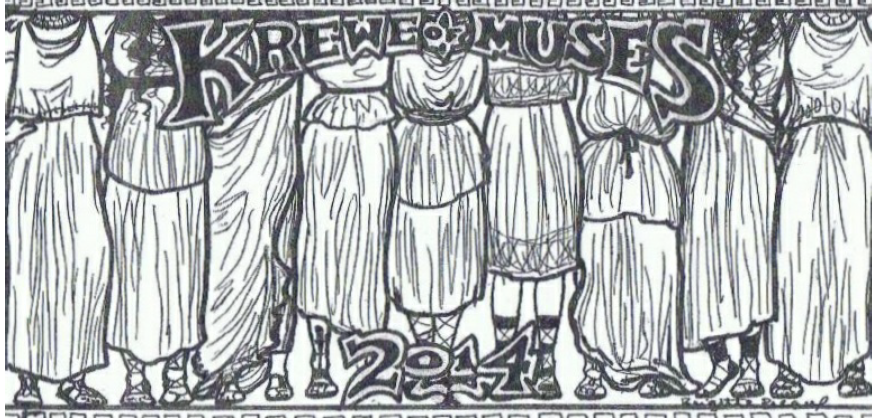 2014 Contest Winner Lusher Charter High School Student Brigitte Breaux
The Krewe of Muses winner of its 2014 annual student Mardi Gras Cup Art Contest is Brigitte Breaux of Lusher Charter High School. The annual competition is an activity planned by the Muses Community Arts Committee. Lusher Charter High School will receive a $1,000 donation towards its art program.
Muses Board member and Chair of Community Involvement Kathy Conklin said, "The artistic talent shown in the submissions continues to amaze us every year. We are proud to support art programs across the Greater New Orleans Area. Our mission is to ensure that students like Brigitte have opportunities to express themselves artistically and contribute to the rich culture of Mardi Gras and of our city."
The cup design is printed on more than 80,000 cups, which will be thrown by Krewe members from the Muses floats on parade day, Thursday, February 27, 2014 at 6:30 P.M. On an evening when the Muses will parade it's modern fashion forward sensibilities, the cup art will feature the "fashion style" of the women of Ancient Greece.
Women in Ancient Greece wore dresses called "peplos," usually made of heavy wool or linen fabric. A peplos was a dress sewn by taking a rectangular piece of cloth, folding the top over to the waist or hip level and attaching the top edges at the shoulders, leaving a neck hole. The shoulders of a peplos would be secured by ornamental clasps or pins. Although depictions of clothing on marble statues makes it appear that the ancients wore all-white, elaborate designs and bright colors were actually preferred. Women also wore simple shifts called "chitons," which would reach to their ankles and often would be worn as undergarments, like slips. Chitons could be made of simple linen or pleated fabric and could be pulled up under a belt to blouse the fabric. If the weather was cool, a cloak called a "himation" would be worn. It was usually draped over one arm and under the other arm and attached at the waist, somewhat like a close-fitting toga. Although a himation outwardly resembles a toga, togas were garments worn solely by men in Rome.