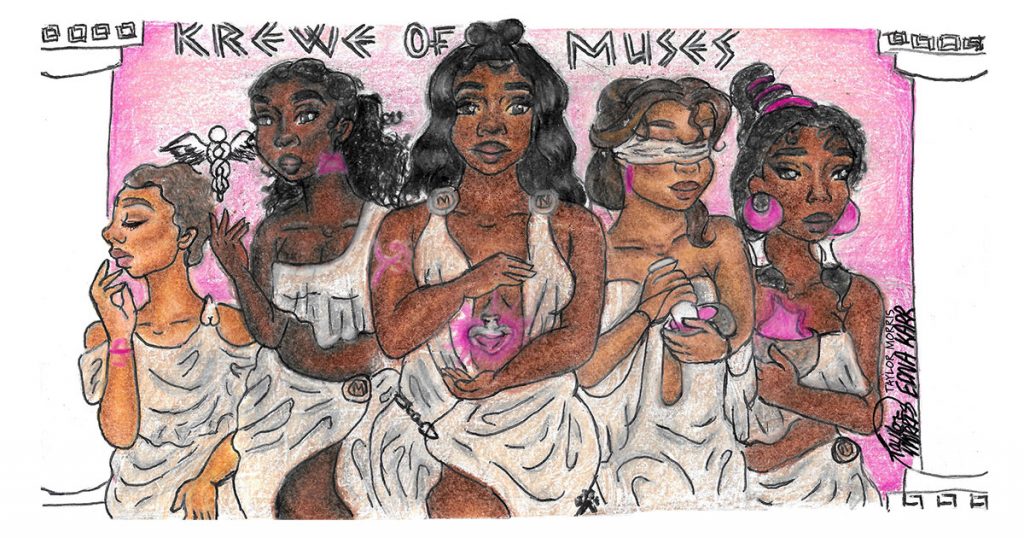 InspireNOLA, Edna Karr High School 2021 Graduate Taylor Morris Win Muses Annual Cup Design Contest
The winner of the Krewe of Muses annual student Mardi Gras Cup Art Contest is Taylor Morris, a 2019 graduate of InspireNOLA, Edna Carr High School's Art Program. Taylor has been accepted into the Savannah College of Art and Design.
Muses Board member and Chair of Community Outreach Kathy Conklin said, "The artistic talent shown in the submissions continues to amaze us every year. We are proud to support art programs across the Greater New Orleans Area. Our mission is to ensure that students like Taylor have opportunities to express themselves artistically and contribute to the rich culture of Mardi Gras and of our city."
Inspired by Greek mythology, Taylor's winning design illustrates diversity amongst the women which she achieved by varying skin tones, hair textures and styles. To create, Taylor used Prismacolor pencil on paper, her favorite medium.
The InspireNOLA program is taught by Artist and Art Educator Paige Valente.
"Taylor is always creating. She discovered through her own research that Muses powers are rooted in science and the arts which she depicted through her own interpretation of the goddesses," said Valente.
The annual competition is an activity planned by the Muses Community Outreach Committee. The InspireNOLA program will receive a $1,000 donation to purchase supplies for its art program. The cup design is printed on more than 80,000 cups, which will be thrown by Krewe members from the Muses floats on Thursday, February 24, 2022, at 6:30 p.m.