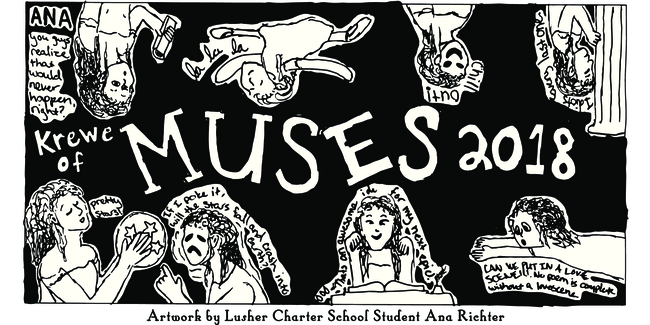 2018 Annual Muses Mardi Gras Cup Student Art Winner – Ana Richter
The winner of the 2018 annual Muses Mardi Gras Cup Art Contest is Ana Richter from Lusher Charter School.
Each year, the krewe conducts a contest among Orleans Parish public middle and high school students for an opportunity to create the artwork on the thousands of cups that are thrown by Muses at their parade. The winner's school secures a grant for art programs for the upcoming year.
Muses Board Member and Chair of Community Outreach Kathy Conklin said, "We are overwhelmed every year by the creativity of these students. It is a joy to work with our public school art programs across New Orleans. Our mission is to ensure that students like Ana Richter continue to shine artistically and contribute to the rich culture of our City's Mardi Gras."
Ana's artwork beautifully depicts the Muses in art, and this design cleverly utilizes captions referencing the personal attributes of a Muse.
The cup design is printed on more than 80,000 cups. The Krewe of Muses parades on Thursday, February 8, 2018 at 6:30 p.m.