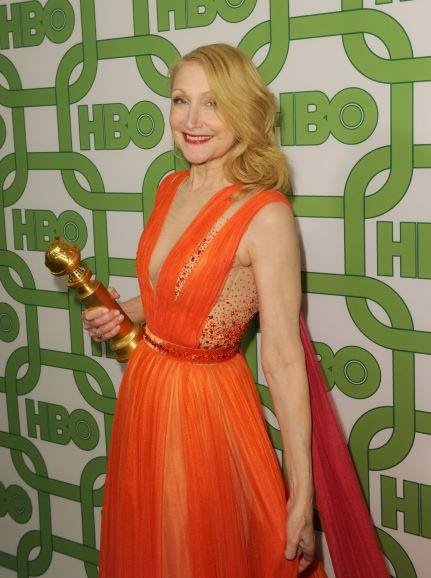 2019 Honorary Muse Patricia Clarkson
Patricia Clarkson is the quintessential New Orleans girl and most deserving of leading the Muses for a historic second time. We are proud of her accomplishments then and now. The continuum of her professional work is the embodiment of the attributes and spirit of the nine muses. Patricia is an inspiration to women and girls.

Krewe of Muses Captain Staci Rosenberg
Today, Krewe of Muses Captain Staci Rosenberg announced that Academy Award-nominated actor and New Orleans native Patricia Clarkson will serve as the Krewe's Honorary Muse. On February 28, 2019, Clarkson will lead the carnival organization's nineteenth parade riding in the Krewe of Muses iconic shoe float, a 17-foot tall fiber optic encrusted red pump. 
Patricia Clarkson is the first honorary muse in the Krewe's nineteen-year history to be honored twice – in 2012 and 2019. Clarkson's illustrious career has spanned more than three decades. Her most recent triumph was winning the Golden Globe and Critics' Choice Awards for the role of Adora in the 2018 HBO limited series "Sharp Objects."
Patricia is a Golden Globe, Emmy Award winning and Academy Award nominated actress who has appeared and starred in countless film, television and theatre productions. A New Orleans native, Patricia is the daughter of Arthur Clarkson, a school administrator and Jacquelyn Brechtel Clarkson, a former New Orleans City Councilmember and Council President.
After earning a Master of Fine Arts from the Yale School of Drama, Clarkson made her Hollywood debut in 1987 as Mrs. Eliot Ness in "The Untouchables," acting opposite Kevin Costner. She has appeared in critically acclaimed films including, "Cairo Time," and "The Green Mile."
Clarkson is highly acclaimed for her ability to play a wide variety of roles, from her role in "High Art" in 1998, a cornerstone film for LGBT cinema, to appearing on "Saturday Night Live." A recipient of numerous awards, Patricia won an Emmy Award in 2002 and again in 2006 for her role in the HBO series "Six Feet Under." In 2004, she received an Academy Award nomination for her role in the Thanksgiving classic "Pieces of April." She received the New York Film Critics Circle and the National Society of Film Critics 2002 awards for her supporting work in "Far from Heaven," costarring with Julianne Moore. Other notable projects include "Vicky Cristina Barcelona" in 2008, "Whatever Works" in 2009, and "Learning to Drive" in 2014.
2010 saw Clarkson in Martin Scorsese's thriller "Shutter Island," followed by roles in the mainstream comedies "Easy A" followed by "Friends with Benefits," in 2011. Subsequently, in 2014, she portrayed the villainous Ava Paige in "The Maze Runner" and its two sequels. Clarkson returned to theater in 2014, playing the role of Madge Kendal in a Broadway production of "The Elephant Man," for which she was nominated for a Tony Award for Best Featured Actress. In 2017, she won a British Independent Film Award for Best Supporting Actress for her performance in Sally Potter's drama "The Party," and guest-starred on the Netflix series "House of Cards." She co-starred with Amy Adams on the HBO miniseries "Sharp Objects" in 2018, for which Clarkson has won a Golden Globe and Critics' Choice award thus far.