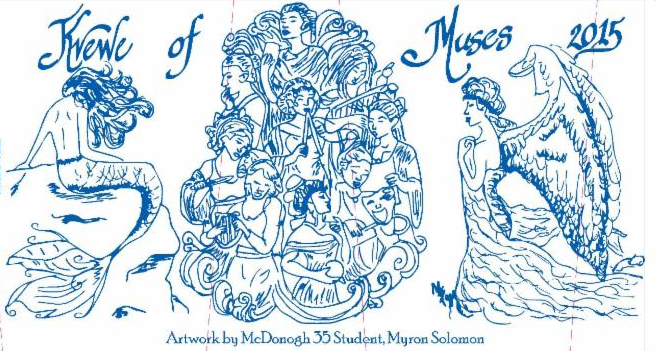 2015 Cup Contest Winner McDonough #35 High School Student Myron Solomon
The Krewe of Muses winner of its 2015 annual student Mardi Gras Cup Art Contest is Myron Solomon of McDonough #35 High School. The annual competition is an activity planned by the Muses Community Outreach Committee. McDonough #35 High School will receive a $1,000 donation towards its art program.
Muses Board member and Chair of Community Outreach Kathy Conklin said, "The artistic talent shown in the submissions continues to amaze us every year. We are proud to support art programs across the Greater New Orleans Area. Our mission is to ensure that students like Myron have opportunities to express themselves artistically and contribute to the rich culture of Mardi Gras and of our city."
The cup design is printed on more than 80,000 cups, which will be thrown by Krewe members from the Muses floats on Thursday, February 12, 2015 at 6:30 P.M.
The picture depicts an angel and a mermaid, along with the nine daughters of Zeus who are the Muses. In Greek mythology, the Muses are the Greek goddesses who preside over the arts and sciences. They were believed to inspire artists, especially poets, philosophers and musicians. All learning was under the patronage of the Muses. Schools commonly had shrines to the Muses, and any place dedicated to them was known as a mouseion, the source of our word "museum." Muses hold this contest each year to celebrate both the artistic and the educational aspects of the nine goddesses.