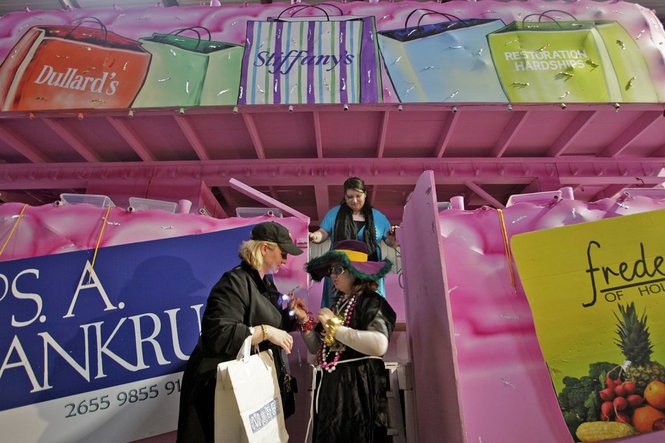 Krewe of Muses, Dance Groups Honor Girl Jeered During Mardi Gras Parade
From NOLA.com
Forget what the calendar might have said. Friday, at least in one part of New Orleans, was Emily Gras. Emily Mueller, an 11-year-old northshore girl with autism was the object of one drunken young man's abuse during the Muses' parade on Feb. 16. She was reduced to tears before she could see any of her favorite parade.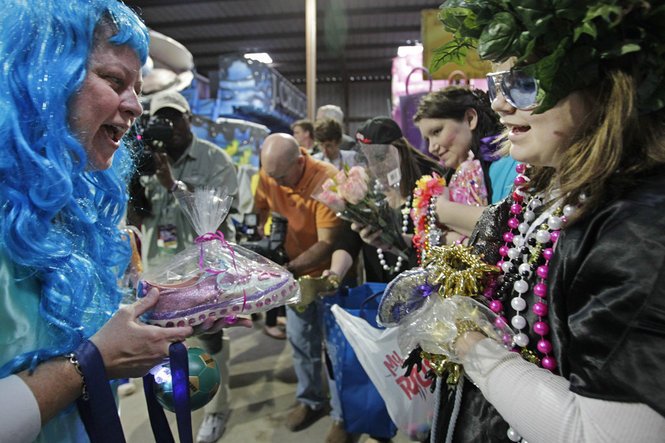 Wearing a pair of Elvis glasses given to her by a member of the Krewe of Rolling Elvi and a wreath of leaves, Emily Mueller looks around the Muses den. Mueller, who is autistic, was jeered at because of her disorder by someone on the parade route during the Muses parade last Thursday. After the incident, Mueller and her mother, Amy, center, left the parade right away. On Friday, February 24, 2012, members of the Krewe of Muses held a last minute party for Mueller.
Her mother, Amy Mueller, wrote about the experience online on Thursday. On Friday morning, she said, she awoke to find 30,000 page views.
Staci Rosenberg, Muses' founder, offered to open up the den so the organization could make it up to Emily.
And how. In addition to Muses, costumed members of the 610 Stompers, the Rolling Elvi and the Pussyfooters showed up to strut, dance and bestow glittery shoes, leis, beads and stuffed animals upon Emily, who pronounced the experience "overwhelming."
In a demonstration of what Rosenberg called "the power of viral media," nearly 100 people descended upon the den.
Among them were Rudy and Michelle Brown and their daughter, Kelsey. The elder Browns own Nola Snow Snowballs, and they showed up, unbidden, and started turning out snowballs for anyone who wanted one. Their operation was next to a table where king cake was being dispensed.
"We saw the story on Facebook," Rudy Brown said. "We had a similar experience last Mardi Gras, and we wanted to make it up to Emily."