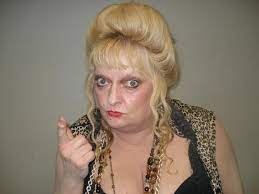 2004 Honorary Muse Becky Allen
The Krewe of Muses announced today, Becky Allen, "Miss Mardi Gras," one of the most recognized icons of New Orleans will be "Thalia" Honorary Muse of Comedy 2004. She has been entertaining both local and international audiences for decades, first gaining prominence on the historic stages of Le Petit Theatre and The Beverly Dinner Theatre.
Krewe of Muses Captain Staci Rosenberg said, "We are pleased and honored to have Becky Allen as our Honorary Muse of 2004. She is an outstanding role model and an inspiration to entertainers in the New Orleans community. Through her great work she has demonstrated how the arts can make a difference."
Mardi Gras is a clause in Becky's contract. It is her vocation. She is one of the original members of the "Society of St. Anne" and parades with the marching group on Mardi Gras. In 2003, she entertained at the Krewe of Muses Pre-Parade Party.
Allen said, "I knew then this was the Krewe for me — all those intelligent successful party girls. Then this year when I was voted Muse of Comedy I was so pleased to be a part of this great group of creative women. To be the Muse of Comedy rolling through the streets of my beloved city is thrilling beyond belief."
Becky Allen was born and raised in New Orleans. She attended St. Catherine of Sienna grammar school in Metairie, Dominican High School and the University of New Orleans. Show business was in her blood early taking early dancing, modeling, piano, and baton lessons. Ms. Allen has lived in the same French Quarter apartment since 1976, preferring her family, friends and the New Orleans community to anywhere else in the world.
Becky's versatility as a performer is evident. Her resume includes convention shows, movies (she's in 16), voice-overs, stand up comedy, and a radio show "Crescent City with Ronnie Verges." She performs weekly at the "Oz" show bar on Bourbon St., calling herself "New Orleans only female female impersonator." Miss Allen also entertains on the New Orleans party circuit and has been a part of the community for so long she feels a relationship to all New Orleanians — like everyone's eccentric aunt
Becky is currently performing at Tony Mandina's restaurant in "Queen of Bingo."' In March she will appear in "When You're Smilin" at Le Petit. Every weekend she entertains at the Heritage Restaurant in the Bienville House on Decatur in her own nightclub act "The Krazy Krewe of Becky Allen."
On parade night Wednesday, February 18th, Becky will be accompanied by her mother Myrtis. Becky considers her mother Mrytis — her muse.