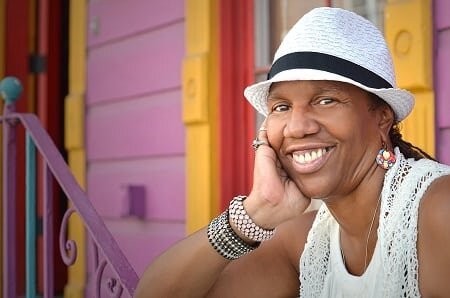 2005 Honorary Muse Charmaine Neville
Euterpe, the Muse of Music – Charmaine Neville
Charmaine Neville will be "Euterpe," Muse of Music and Flutes. She was born into the third generation of New Orleans' legendary musical Neville family. Charmaine has nonetheless worked hard to get where she is and make her music known as her own. As "Euterpe" Miss. Neville will ride with the Krewe on parade night.
To Charmaine Neville all music is good music. Neville says, "I try to cover the whole spectrum and do just everything. I don't want to be stagnated and stuck in a rut…."
Her work has paid off — as one reviewer recently wrote, "Charmaine Neville is beginning to rival her father and uncles in terms of popularity in New Orleans."
She began her career backing up the Neville Brothers and went on to perform with the Survivors, a band whose alumni list includes Harry Connick Jr. and Bobby McFerrin. Time Magazine named Charmaine Neville, the best pair of lungs [in New Orleans], and stated that her "delightful scat-singing and good-humored blues … had visitors dancing in the aisles at the Snug Harbor bar."
In conjunction with the honorary Muse project, the Krewe is donating $1,000 to the New Orleans Musicians' Clinic. The New Orleans Musicians' Clinic was founded in 1998 with the vital mission of providing access to primary and comprehensive health care for professional musicians and their families in the greater New Orleans metropolitan area. With extensive volunteer support from medical professionals, lawyers, musicians, social workers, graphic designers, students and music lovers, the NOMC has developed a membership of more than 900 musicians and their families and has provided health services through more than 3200 patient encounters.