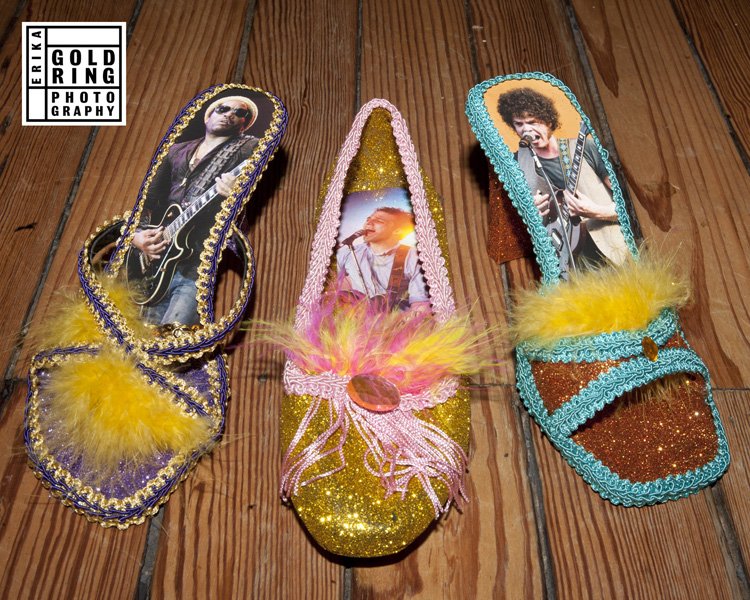 Zulu has its Coconuts, but the Krewe of Muses has Shoes
When asked to pick a favorite Mardi Gras parade, more and more Mardi Gras revelers are beginning to select the Krewe of Muses. Originating in 2000, the krewe is new compared to organizations like Comus, Rex and Zulu which date back decades, but their loyal fan base grows year after year, and shoe after shoe.
Traditionally, krewes' throws include beads, doubloons and medallions with a smattering of specialty items commemorating events or milestones.
The Krewe of Muses however elevated the game by incorporating their now signature throw, the Muses Shoe.
Shoes range in size, decor and bling from rider to rider, but New Orleans photographer Erika Goldring has taken the Krewe of Muses' shoe-throwing tradition to an entirely new level.
Goldring, a fixture in the New Orleans music scene, decorates her shoes with images shot during the previous year. In a series of annual Mardi Gras emails distributed to close friends and family she states:
"It's Carnival Time! Musicians rolling down the Avenue with me in 2009 include: Robert Plant, Jakob Dylan, Solomon Burke, Anders Osborne, Lil Wayne and a whole lot of Indians!"
Goldring's position and float No. are a closely guarded secret, but if you're lucky, and scream loud enough, you may be taking home Lil Wayne this year!
The Krewe of Muses roll Thursday, February 19, beginning at 6:15 p.m. The route begins at the corner of Jefferson and Magazine Streets in Uptown New Orleans. You can watch Muses roll down St. Charles Avenue live on NOLA.com's Mardi Gras Parade webcam.