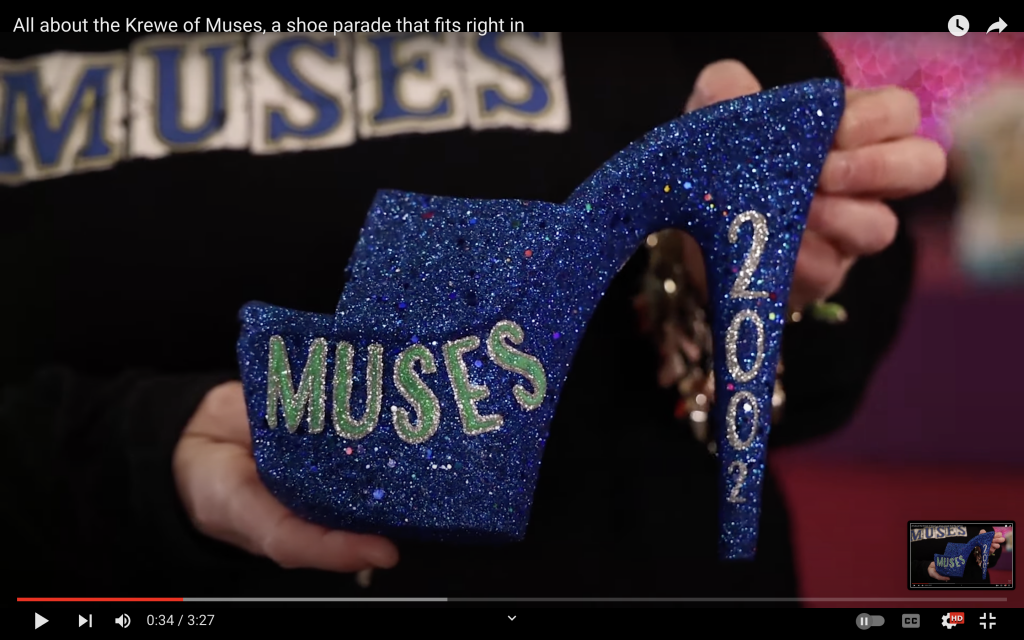 Mardi Gras Parade History: The Women-Only Krewe of Muses
From NOLA.com article on Jan 6, 2023
Staci called and said, "If I start a parade, do you want to be in it?" And I said, "Staci, that's not really how it works." But she was so determined to do something different and she's so unbelievably passionate about it that she just knocked down every wall in her way and created this unbelievable krewe.
Our krewe started in 2000, and so we're pretty young by the standards of a lot of the krewes of New Orleans. We really filled a void in New Orleans and we kind of didn't know there was a void. It was just something where I thought boy, it would be great to be in a parade and that was in 2000 and I couldn't really think of one, even though there are about 35 parades in the city of New Orleans and a lot of others in the surrounding area.
When Staci first came up with the idea of a carnival krewe for all women, a lot of crazy names got thrown around. There's nine streets in New Orleans that cross the parade route that are named for the nine muses. They're the daughters of Zeus and Mnemosyne who's the goddess of memory. They inspire the arts and sciences and Mardi Gras is really just a giant rolling art show so it seemed so perfect that we wanted to be an inspiration to other women.
It was very important to me and to the core group who formed Muses to do something that was much more diverse and we just decided, let's make it all women, there are plenty of opportunities for only men. And there are other parades, but none of them rolled at night and night time on the parade route is kind of the most exciting to me. You got to have things light up. It's kind of like what the big boys do and we just thought we're gonna have a parade for women at night.
We usually roll with 30 floats in our parade. Our signature floats are the big, giant 17 foot tall fiber optic shoe, which was one of our first signature floats. The sirens float, because you end the parade with sirens, sort of a joke, and the sirens were cast out by the muses. And then The Goddessey. The Goddessey is the officers' float, it's the most recent float made.
So Muses is known for our philanthropic work. We started a foundation in 2005 and we work very closely with many, many different groups, mainly working with charities that aid women and children.
I've had so many people say what makes Muses so different is when the crowd hears the enthusiasm of the people riding on the floats. There's just a love of it and a passion for it that I don't think anybody else has.
We are blessed. We have an amazing group of women. It's a team effort and we've been kind of a fan favorite. We've been voted number one parade. We don't take it for granted. Every year is gonna be better and we want people to come and see how great it is.
Find satire, some of the best signature floats anywhere and a steady stream of dizzy dance troupes, Thursday, Feb. 16, 6:30, St. Charles Avenue route.