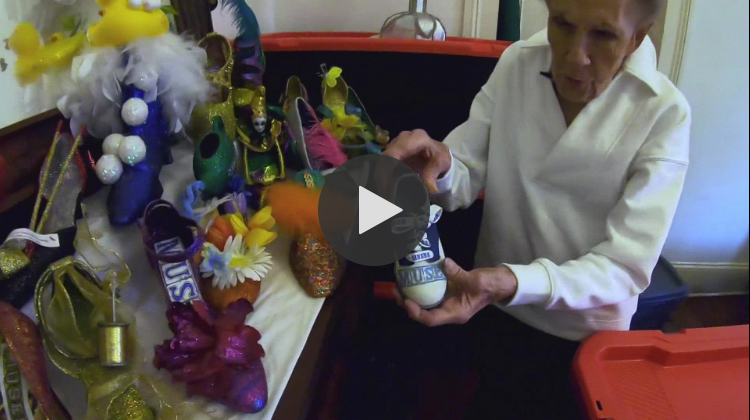 Jean Porter begins making costumes for riders in August and has never, ever let a parade deadline pass her by.
Author: Meg Farris (WWL)
Published: 6:24 PM CST January 20, 2023
NEW ORLEANS — The Krewe of Muses is famous for its most prized throw, decorated shoes that are real works of art.
But what you may not know is there's an 88-year-old woman who plays a major role in keeping the parade rolling.
This year on February 16, when you head out to watch the Muses parade, first wave to our Soul Queen, Irma Thomas, who is this year's Honorary Muse, and then notice the costumes more than 1,100 riders are wearing.
Here's why.
It's hard to imagine Mardi Gras without Muses. The decorated Shoe is a prized throw. For many, like one local doctor, it's a collector's item. And when you see a pump displayed at Yardi Gras, you know a member of the women's krewe lives there.
Jean Porter has a Muses shoe collection too. She even rode the first year it rolled, but that is not Jean's most notable connection to the krewe.
When asked, "How old is this sewing machine?" She replied, "You really, I don't think, want to know."
Jean is days away from her 88th birthday. And every single year since the krewe's inception, it is Jean who makes the costume for every rider.
When asked, "And you still love doing it?" Porter answered, "Well, yes, I do. It's just part of what I do. When you get to this age, you need something to do."
That Singer machine was the first thing she bought with her first paycheck at Shell Oil in the 1950s. Relatives urged her to get a new one, but a sewing machine expert said never part with it. The model year was the only time Singer used commercial-grade parts. And from the beginning, when Muses started with 600-and-something riders to now nearly double that, Jean uses it to make the costumes for each rider.
"Just wanting something to do." Are you fast when you sew? "I think I am," she laughed. And clearly you she is.
Jean had to audition for the job. Her design won. There are two styles, cold shoulder or V-neck with sleeves, but remember, this is a float costume. So, where else in the world does a seamstress have to put slits in every sleeve for bead-throwing ease?
When asked, "What would Muses do without you?" She brushes the accolades off.
In the last few years, Jean has gotten one helper for the nearly 1,200 costumes. She begins in August and has never, ever let a parade deadline pass her by.
And here's another interesting Muses fun fact. Thrift stores, like the ones run by Bridge House to raise money to treat addiction, see a huge surge in shoe sales every year when the krewe members start getting shoes to decorate.