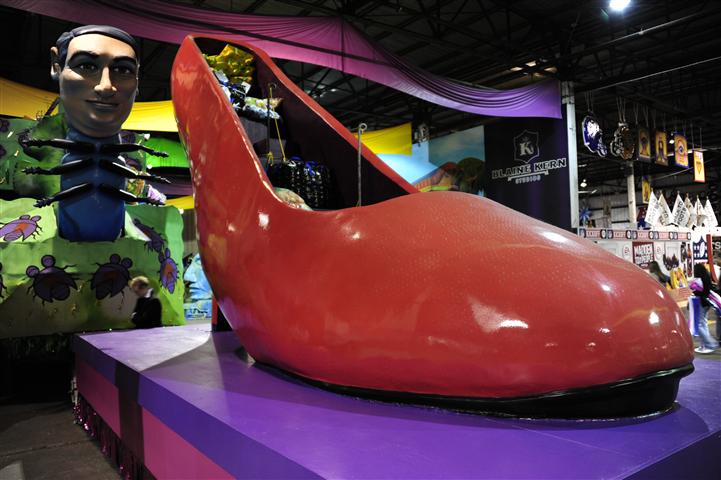 Krewe of Muses 2011: Riding on a Mardi Gras Float
Spectators may only grab a glimpse of Mardi Gras floats as they roll by, but for the riders, preparing for a New Orleans parade is an all-day affair.
I rode in the Krewe of Muses this year for the fifth time since joining the Mardi Gras organization back in 2001. It proved to be the best ride I've done so far, so I thought it would be fun to give you a glimpse of what happens behind the scenes.
Mardi Gras "krewes" – a name for a New Orleans parading or social organization, that dates back to the mid-1800s – range in size, purpose and traditions. Most of the older krewes are named for Greek and Roman mythological figures, but there are lots of smaller walking krewes, societies and clubs – new ones seem to spring up all the time.
My krewe, Muses, is an all-female organization known for its satirical floats, awesome "throws" (beads, trinkets and toys) and elaborately decorated glitter shoes that are one of the more coveted prizes of Carnival.
It takes all year to prepare for large parade, such as Muses. There are dues to collect, throws to order, themes to choose, floats to design – as well as social and fundraising events held throughout the year (many of New Orleans' larger krewes have community service components).
The krewe tends to organize by float number, and some groups, such as our "Float 18," have shoe decorating parties on weekends leading up to the big day. When I lived in Washington DC two years ago, I joined Muses there to decorate shoes (it's much easier to get motivated to glitter in a group).
But I'm an out-of-town member, and so for Muses like me, the countdown starts the night before when you arrive at the "den," the location where the floats are kept, to load and organize your throws. As an out-of-town member, I usually buy a package of beads that is loaded onto the float for me, but my sister – who was riding with me this year – and I bought some extras that we needed to put on ourselves.
The float viewing, held at Blaine Kern's Mardi Gras World, also gave my family to take a look at the different floats before the actual parade. My parents, who drove in from Florida to watch my sister and I ride, especially enjoyed the behind-the-scenes tour.
I think one family photo may even make their annual Christmas card!
The next day felt like Christmas morning, as I awoke with the same anticipation I had as a kid. After a brief shop at a costume shop on Magazine Street for wig caps and another at Walgreens for water bottles and chips, we arrived at our fellow krewe member Natalie's home to get dressed in our costumes. As always, our float focused more on creativity than beauty, and the jokes about our gypsy wigs flew fast.
Everyone in a krewe usually wears the same base tunic, but each float puts its own spin on things. The float that comes up with the most creative headpieces wins a crucial spot in the parade for the next year. Our float, which celebrated the New Orleans Saints, wasn't destined to win. But we gamely pinned on our shoulder pads anyway.
After we're appropriately dressed and glittered, we go out to lunch in costume. This year, we went to the famed Commander's Palace to take advantage of the 25-cent drink specials.
What's great about New Orleans is that no one batted an eye when we walked into the elegant patio room. Owner Ti Martin greeted us with open arms and we received an ovation from the other diners as we walked to our table. Even though there was a Saks Fifth Avenue fashion show going on, we remained the center of attention; several people came up to us and asked for a picture.
After a lunch full of cocktails and costumes, we needed to figure out a way to get down to the den. Some years, this has presented a dilemma – some obliging police gave us a ride as we stood haplessly by the side of the road – but this time we were prepared. Even if Natalie had to ride in the back.
By 4 p.m., we arrived at the Krewe of Muses pre-party. I watched my sisters' face as we entered. Her jaw dropped in surprise as she took in the scene of hundreds of women dressed in costume, each sporting a wig/wacky headdress.
I don't have many photos from the pre-party because I was too busy loading up our water bottles with drinks for the route. Usually I fill a bottle with vodka nectar, but this time we chose champagne. The pre-party is all about drinking and laughing and checking out costumes and singing along to favorite songs. In short, it's like a pep rally that's all about you instead of a team of guys. How cool is that!?
Once the pre-party is over, you get on the float and head uptown to the beginning of the parade route. It's a city ordinance that you need to wear a mask, and we're also strapped in to the float with a harness so we don't fall over. We spend this time chugging our afore-mentioned water bottles and passed around a few cartons of wine, along with water. chips and chicken strips from Popeye's.
And then suddenly, the float jerks forward. It's starting, you're ready to roll. And your time as one of the city's temporary rock stars begins.
Imagine hundreds of people reaching up toward you, begging for the plastic trinkets that only you can provide. It's a power trip that brings out benevolent emotions. Your eyes meet someone in the crowd. Gift me, choose me, they plead. And you want to milk the moment for all its worth.
At least I do. I love the drama of making the throw. You dangle the coveted throw – a glitter shoe, a plastic vuvuzela, a long strand of beads – high above the crowd. You hear the roar, you select who is worthy. And then, only then, do you throw. This fun goes on for hours, although it seems like 20 minutes.
Before you know it, it's time for the after-party. Some krewes, such as Bacchus, require formal clothes for their balls. The Muses are more casual, and costumes are encouraged.
This year's after party featured New Orleans' own Trombone Shorty, who is no longer a shortie anymore. My sister and I loaded up on the catered fried chicken and jambalaya from Jacques Imos and then we danced. At least I think we did. It's all lost in a fade of exhaustion and Elvi.
The lights at the after party came on around 2 a.m., ending the very long day. I fell asleep at my hotel with the glitter still on face, along with a smile. I'm convinced that riding on a Mardi Gras float is just about the most fun you can do with your clothes on. I can't wait to do it again in 2013,