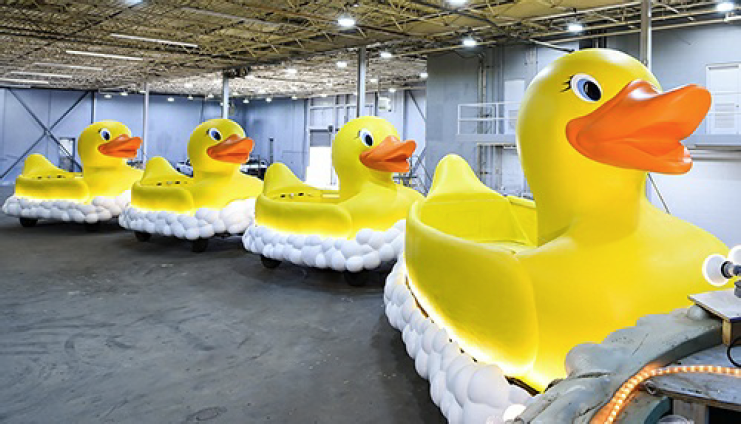 Introducing ….. Mama Duck and Duckies
Make Way for Muses!!!
The Krewe of Muses will roll Thursday, February 23, 2017, with Mama Duck and Duckies, the krewe's first multi-segment float. The rubber duck has long been a signature throw of the Krewe of Muses. Mama Duck will hold 14 riders. The three duckies will hold 10 riders each. Mama Duck and her Duckies will follow behind the "Bathing Muses," the signature bathtub float. Floating on a bed of bubbles, Mama Duck is 30 feet long and each of her Duckies is 22 feet long. The entire grouping of the bathtub and the ducks is 160 feet long. In honor of the "Year of the Duck," the Krewe will throw several duck-themed items including a custom rubber duck wearing the Muses mask, beads, and ivy wreath, with the Krewe's signature red stiletto tucked under one wing. Throws will also include a blinky duck bead and a light-up duck pen, along with more than 30 other items featuring the Muses name or logo.
Interesting Facts
Designed by a team of master artisans and sculptors
The first Mardi Gras floats cast entirely in fiberglass from molds created by a robotic arm
Kern Studios robot "Pixie" worked on Styrofoam forms unattended for 100 hours
42 blocks (4,750 square feet) of Styrofoam carved sections
138 rolls (nearly 1500 yards) of Paper Mache covers and protects the Styrofoam carved sections
10 gallons of wax and 15 rolls (2,250 feet) of fiberglass used to mold and cast the Mama Duck and Duckies
60 gallons white, 100 gallons yellow and 15 gallons of orange gel coat and 500 gallons of resin finished the Mama Duck and Duckie sculptures