2019 Muses the Musical, a Singular Sensation
The fabulous Krewe of Muses is proud to present our 2019 extravaganza: Muses the Musical, a Singular Sensation; a multi-float spectacular starring 1,132 stunning sisters. Busby Berkeley, eat your heart out.
Float 1 - Goddessey
Here comes The Goddessey, the Krewe's newest float on a journey to inspire.
Widely known as patrons of the arts, Muses are truly patrons of knowledge. And you can't have knowledge without illumination. This float is all about illumination – light.
The nine Muses are depicted in silhouettes around the ship because the focus is less on themselves than what they inspire.
Band – St Augustine High School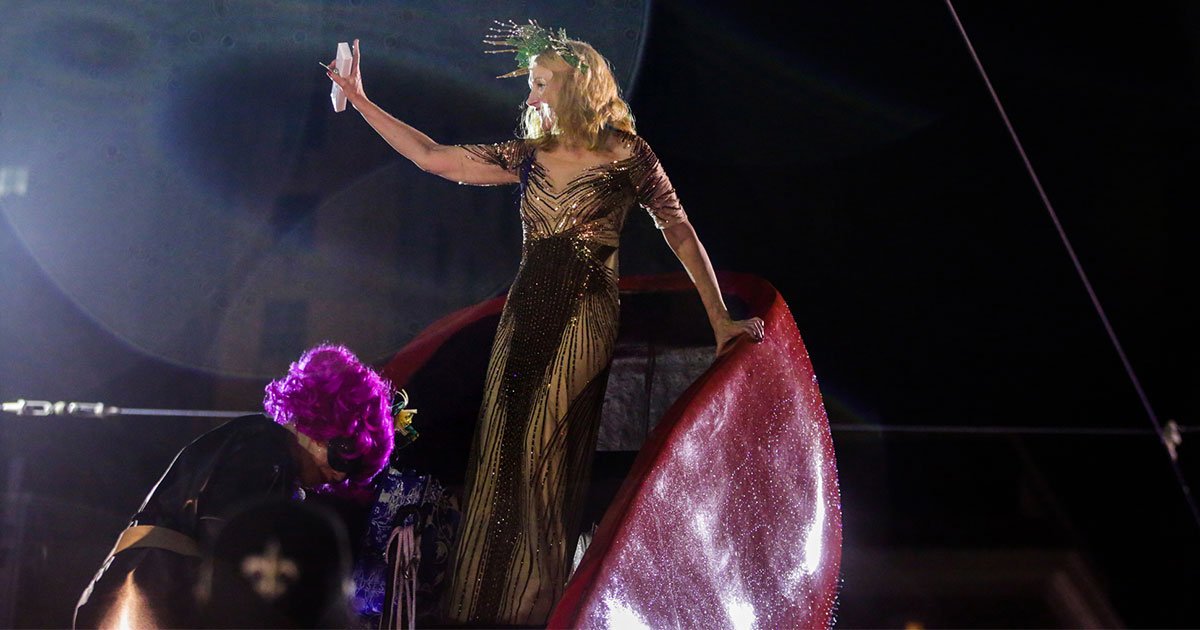 Float 2 - Honorary Muse 2019 – Patricia Clarkson
The Muses Shoe steps out again!
This year's Honorary Muse is Patricia Clarkson. Clarkson's illustrious career has spanned more than three decades. Her most recent triumph was winning the Golden Globe and Critics' Choice Awards.
Patricia Clarkson is the quintessential New Orleans girl and most deserving of leading the Muses for an historic second time. We are proud of her accomplishments then and now. The continuum of her professional work is the embodiment of the attributes and spirit of the nine muses.
Band – Landry – Walker High School Marching Band
Flambeaux
Float 3 - Mt. Olympus Brass Band (Coolbone)
Band – John F. Kennedy High School
Float 4 - The Bathing Muses + Mama Duck and Duckies
Muses Bathtub makes way for Duck-lings. Muses' Mama Duck and Baby Duckies are waddling down the route.
Duckies have their own special throw not found on any other float!
Band – Helen Cox
Horse Unit – Lady Godiva Riding Club
Float 5 – Molly Marines Chapter LA-1, Women Marines Association
Marching Unit – Molly Marines
Band – Edna Karr High School Marching Band
Float 6 - Muses: The Musical
The title float sets the harmonious tone for the evening, presenting playbills from some of those shows no longer running on the route.
Including Booty and the Beast, the story of a beast and that booty-ful baby who got backed into the enchanted castle and…
Bye Bye Birdie, tales of the disappearing nesting grounds of the Louisiana Pelican, and more...
La Miserable, a woman trapped in her own personal hell, with a full staff and private jet.
Band – McDonogh 35 Senior High School Marching Band