Welcome to the 18th Muses Parade
Established in 2000, the Muses organization has over 1,500 members. 1,132 will be riding this evening. A centerpiece of the Krewe's vision is philanthropic activities and the incorporation of the local artistic and cultural resources of the community creating Muses Mardi Gras traditions for parade-goers and carnival season enthusiasts to enjoy.
Muses 2018 Throws
Look among them and you are sure to find a masterpiece…
The classics…The shoe bracelet, in silver, yellow gold and rose gold. We love those colors and you will see them in other throws too like our classic Muses tile beads.
The revivals…The first was the most requested throw ever and we spent years trying to get it back and finally did…here comes the Muses Lunch box…back for more and even better. It now has a cross body strap and is in black and white Muses bubble pattern…and yes it holds lunch of a six pack. The second revival dates back to the early years of Muses…but we bring it back better than ever…The Muses Ivy Wreath features fiber optic color changing lights and sheer ribbons decorated with Muses tiles.
Mardi Gras Innovations…yes we think Muses fuzzy socks may be the best new addition to Mardi Gras since Go-Cups! This year they are in an awesomely artistic Mondrian style, We also proudly introduce another innovation Muses Stud Pins in easy-to-catch clear plastic capsules. Two pins per capsule from a 2018 collection of 4 designs, bathtub, shoe, duckie and Muses M tile.
Muses will be lighting up the night…with a fabulous framed up strobe theme bead, a giant flashing rubber ball on a bead filled with glitter and a tiny shoe and a bottle opener, LED flashlight on a bead. And don't miss the latest in the series of Muses shoe beads. This year you'll find a bubble bathtub shoe, a crawfish shoe and even a muffaletta.
ReMuseable Stuff...The ReMuseable tote bag is back in featuring an intricate new Muses design of the Tiled and the nine Muses and their attributes. And this year we'll be throwing a parade route zipper case, for your art pencils, make up or just about anything! No nola bathtub is complete without our custom Rubberduck. A Musea Lia Sketch pad is sure to be a huge hit. And the Warhol-style Muses shoe pattern can be found on the awesome buff and the cell phone sticky wallet.
Accessorize like a Muse…with the Muses rhinestone snap bracelets. They are glitzier than ever with a wide blue and silver glitter strap! And remember those awesome M-U-S-E-S necklaces from last year? They are back and not in the easy–to–throw plastic capsule. The stretchy fab–foil necklace will have you sparkly all year long too! And grab a beautiful strand of Muses glass beads too!
Plush is always a fan favorite and this year we have an array of great plush items including duck, Pegasus, artist palette, and pillows of Musa Lisa and Creation of Muses artworks.
The Annual Cup Design Contest
The winner of the 2018 annual Muses Mardi Gras Cup Art Contest is Ana Richter from Lusher Charter School.
Each year, the krewe conducts a contest among Orleans Parish public middle and high school students for an opportunity to create the artwork on the thousands of cups that are thrown by Muses at their parade. The winner's school secures a grant for art programs for the upcoming year.
Muses Board Member and Chair of Community Outreach Kathy Conklin said, "We are overwhelmed every year by the creativity of these students. It is a joy to work with our public school art programs across New Orleans. Our mission is to ensure that students like Ana Richter continue to shine artistically and contribute to the rich culture of our City's Mardi Gras."
Ana's artwork beautifully depicts the Muses in art, and this design cleverly utilizes captions referencing the personal attributes of a Muse.
The cup design is printed on more than 80,000 cups.
The Line–up for the 2018 Krewe of Muses Parade is as follows:
Marching Unit – Big Easy Roller Girls
Band – St Augustine High School
Marching Unit – Walking Shoes and Butterflies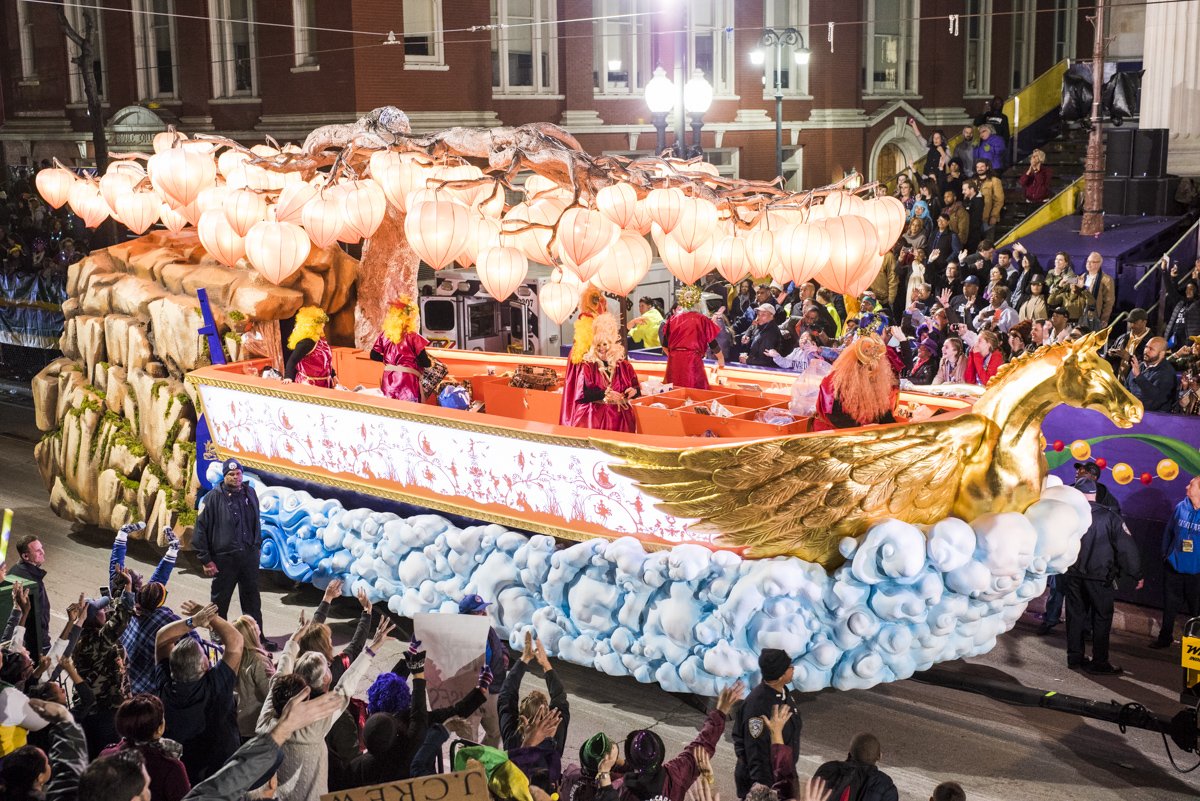 Float 1 – The Goddessey
Introducing Muses newest signature float…The Goddessey
Fusing 19th century artisanal techniques and 21st century technology, the Goddessey is a breathtaking work of art that breaks the mold of the traditional Mardi Gras float. An asymmetrical vessel, using 23–karat gold leaf, mirrored mosaic, silk lanterns and color–changing LED, the Goddessey depicts the birthplace of the nine muses and illuminates their attributes. The float is a tribute to our namesake goddesses, the Muses, and their history and inspiration.
Band – Landry – Walker High School Marching Band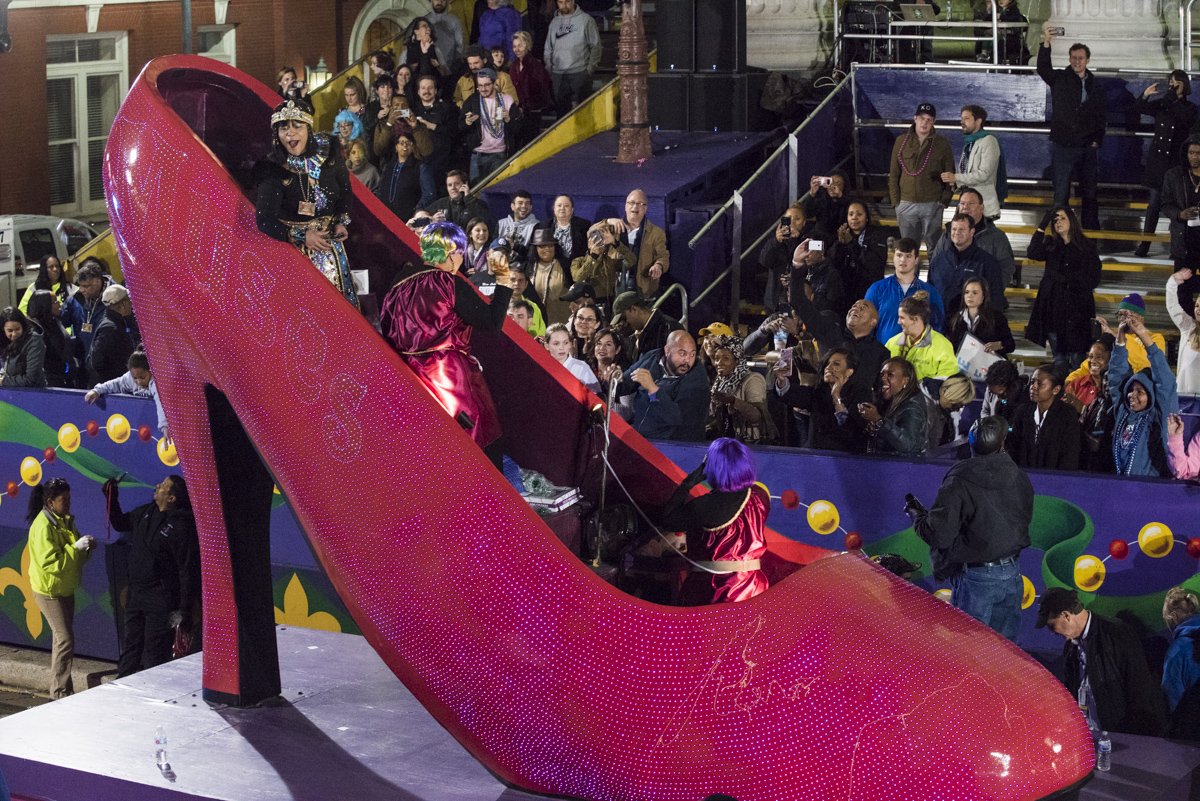 Float 2 – Honorary Muse 2018 – LaToya Cantrell
The Muses Shoe steps out again…all aglow as it strolls down the Avenue…
Carrying that trailblazer LaToya Cantrell as 2018 Honorary Muse! As the first woman elected to the highest office in New Orleans, Madame Mayor–elect is an inspiration and role model for the thousands of young girls, women and families who will line our parade route. LaToya will join us to celebrate this milestone in the history of our City in true New Orleans fashion – by riding in a 17–foot tall fiber optic encrusted red pump!
Flambeaux
Band – Katherine Drexel High School Marching Band
Float 3 – Mt. Olympus Brass Band (Coolbone)
Band – Lake Area High School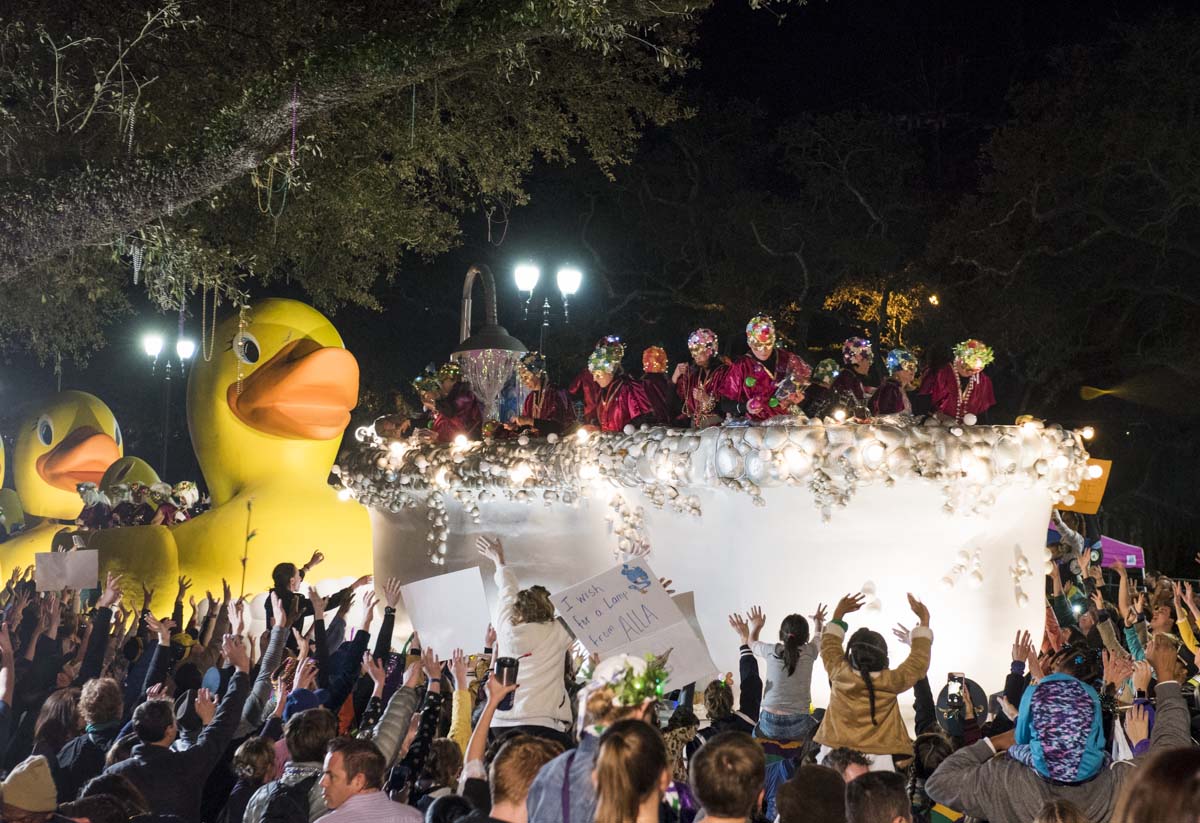 Float 4 – The Bathing Muses + Mama Duck and Duckies
Band – Helen Cox High School
Horse Unit – Lady Godiva Riding Club
Float 5 – Molly Marines Chapter LA-1, Women Marines Association
Marching Unit – Molly Marines and Support Vehicle
Band – Edna Karr High School Marching Band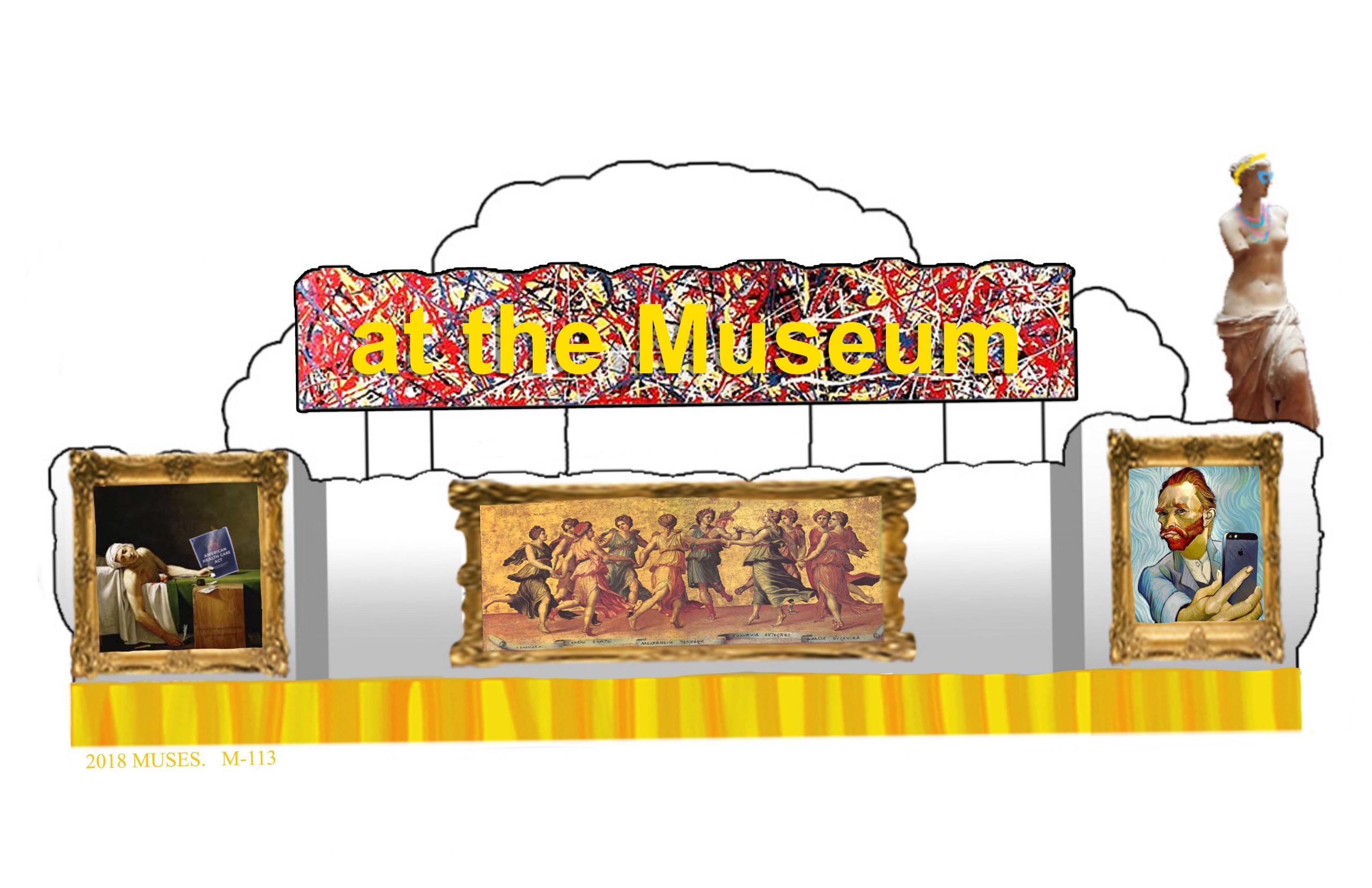 Float 6 - Title: Muses Night at the Museum
Welcome to Muses Night at the Museum. The 2018 exhibit contains works of art widely admired yet rarely seen. Art lovers may recognize a few. They have been pulled from the walls of the world's greatest museums and are truly inspired.
These incredible works probe the dialectic between transient obstacles, challenges, and the ruinous present state of projects once created amid great euphoria, and the present space as an era of transitions and new beginnings. Get ready for some artspeak, Muses–style.
Our title float is adorned with such exquisite works as The Musa Lisa, Death of Healthcare, Whistler's Mamma, The Bar at the Maison Blanche, Resistance Leading the Women, A Selfie Portrait, and the ever–present Dogs Playing Poker.
Band – McDonogh 35 Senior High School Marching Band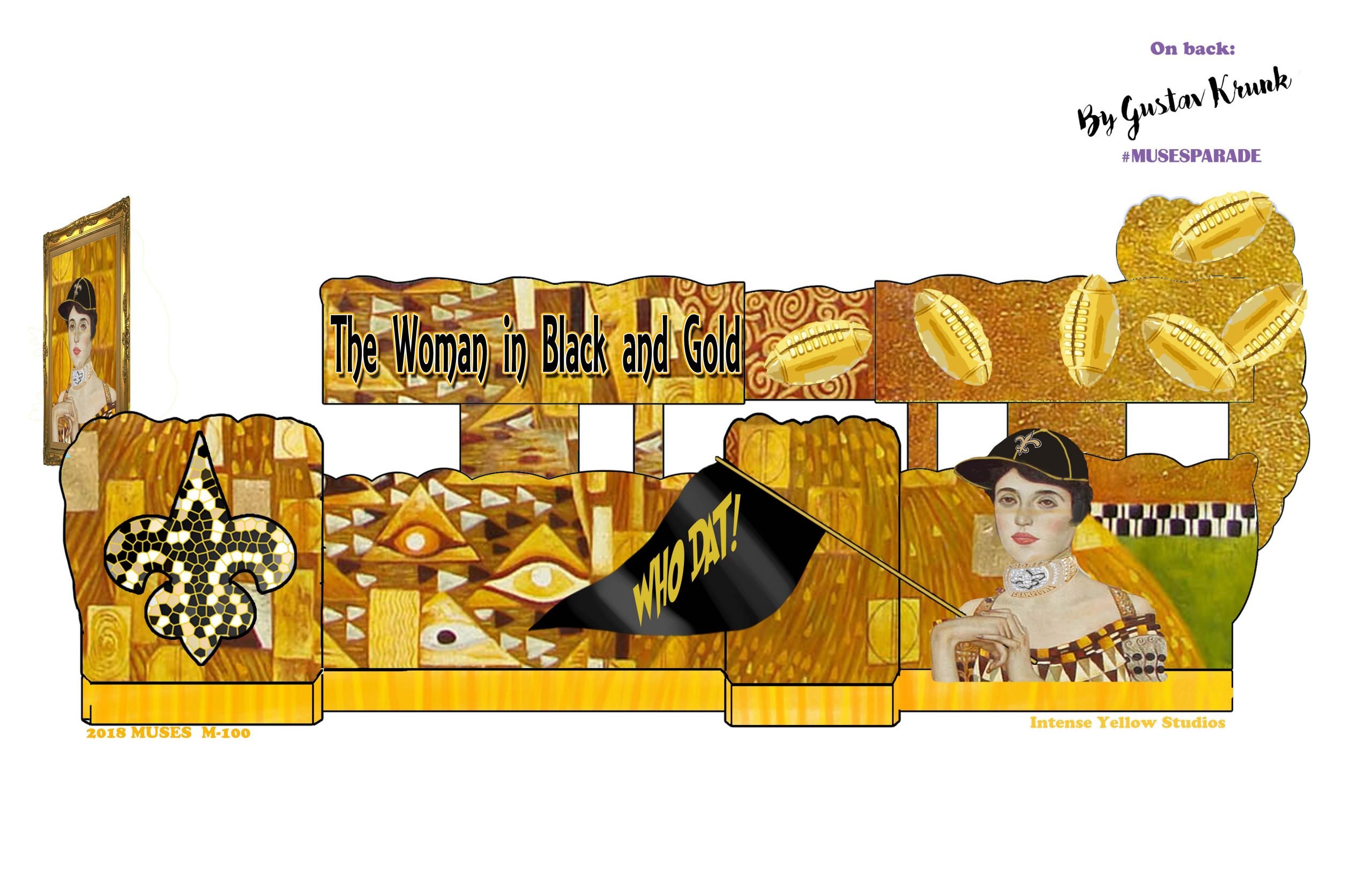 Float 7 – The Woman in Black and Gold
The Woman in Black and Gold, Saints–mania on Canvas by Gustave Krunk. This portrait of a true Saints fan was created in 2009, but not completed until February of 2010. While this is the most significant work of Gustave Krunk, we have high hopes for more works of this artistic caliber.
Band – Martin Luther King Charter School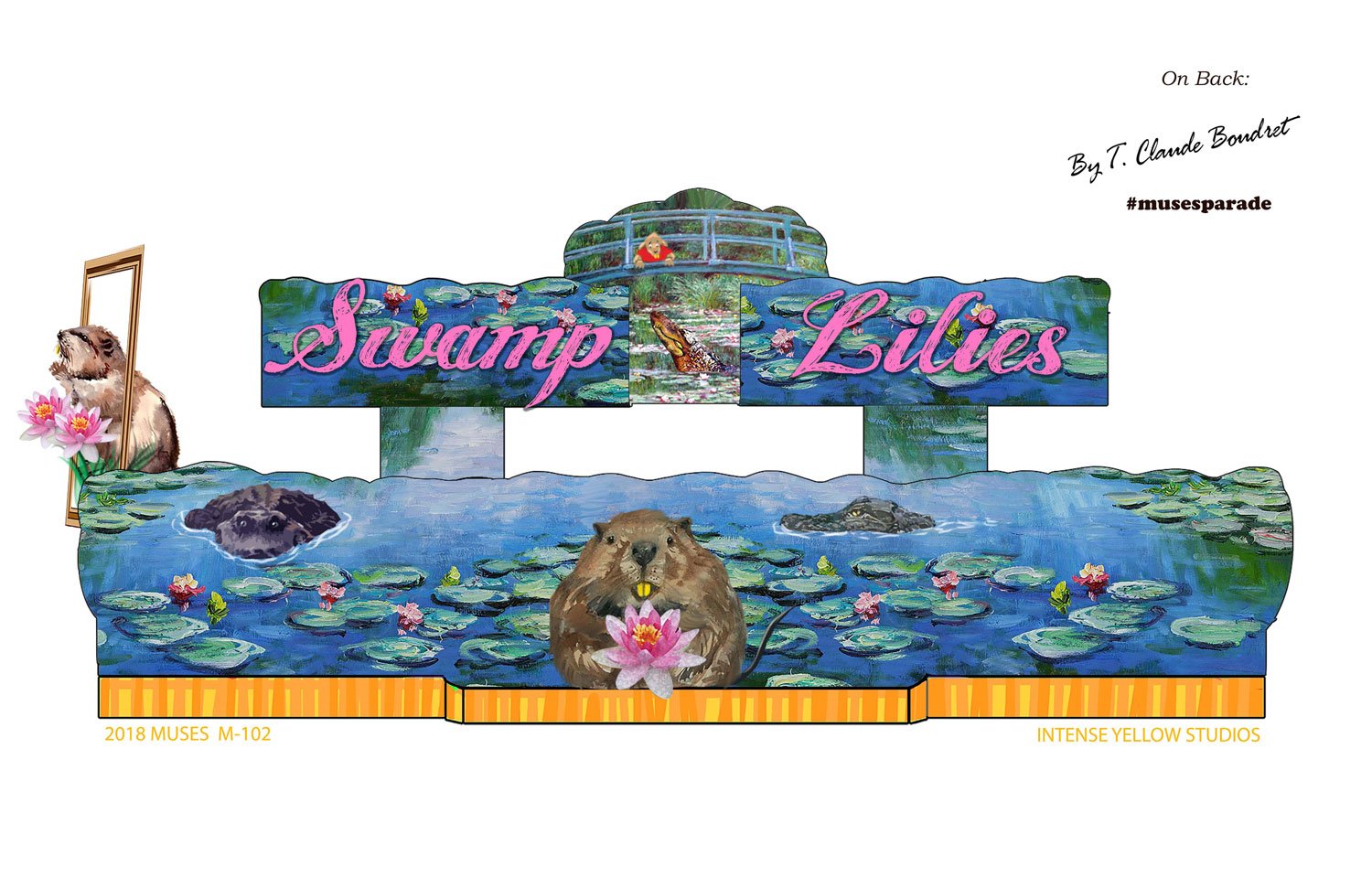 Float 8 – Swamp Lilies
Swamp Lilies, or Crinum Louisianum is a series of oil paintings by South Louisiana painter, the impressionable T. Claude Boudreaux. Many of the works were painted while Boudreaux suffered from intense mosquito bites and territorial attacks by nutria and alligators
Band – Carmouche Performing Arts Academy
Float 8 - The Girl with One Plug Earring, Six Tattoos, 14 Piercings and a Nose Ring
is an inked masterpiece by Johannes Herrear. While living in New Orleans, Johannes encountered this adorned female on Decatur Street, with her loyal hound, and plied her with facial bedazzlements. She accepted the gifts, but never returned his affections or accepted a dinner. She preferred to go Dutch.
Band – George W. Carver High School Marching Band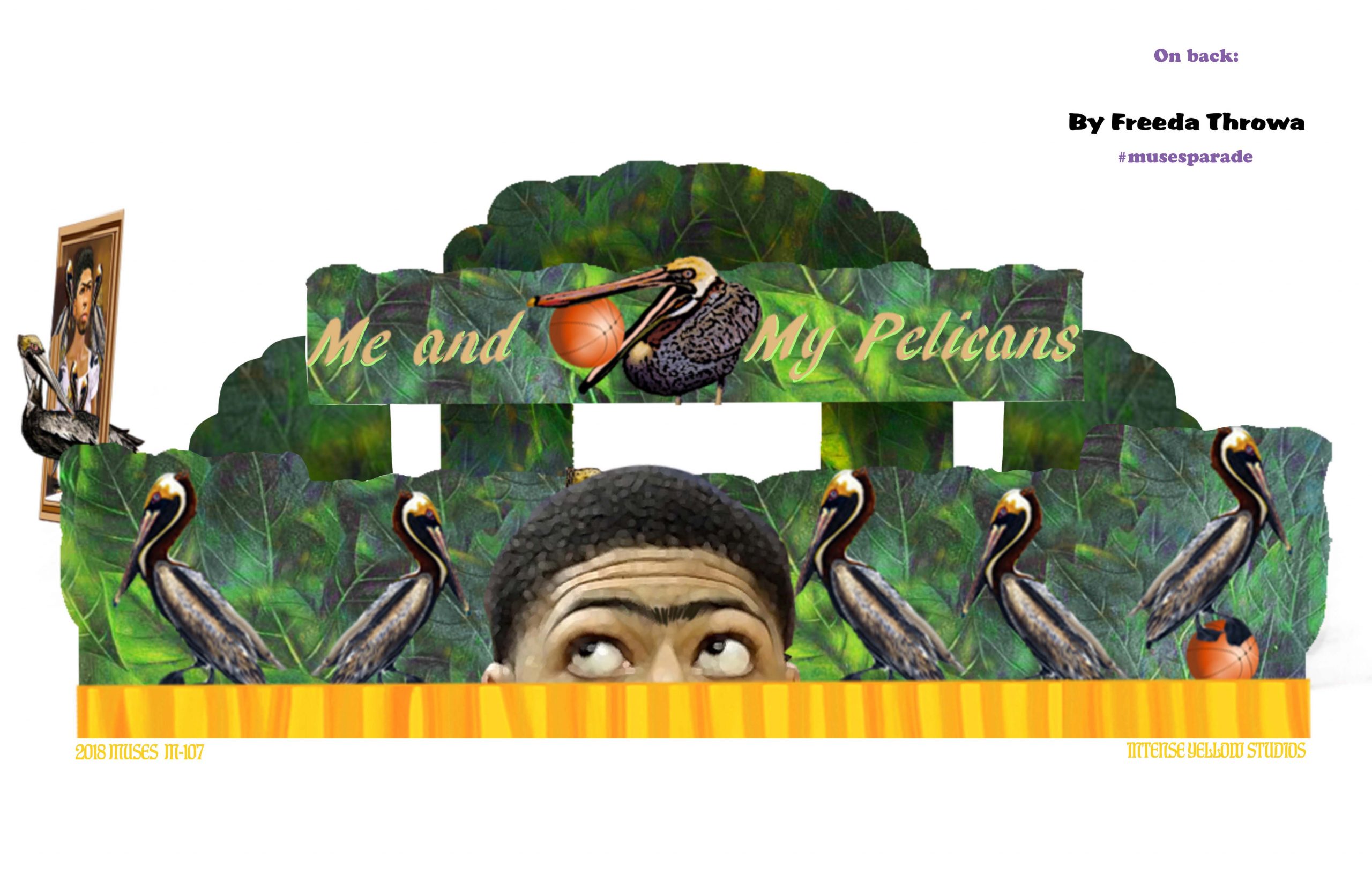 Float 10 – Me and My Pelicans
Me and My Pelicans is an outstanding piece by renowned performance artist Freeda Throwa. After being shown at the University of Kentucky, this piece was moved to New Orleans where it was put on a much larger display. It is a forward–thinking work in the center of the Museum. Me and My Pelicans stands 6'10" tall and spans 8 feet.
Band – West Jefferson High School
Float 11 – Death Starry Night
Death Starry Night by Jan Gogh offers a bounty of beauty under the empirical eyes of Darth Vader. A field of rolling energy is highlighted by the Death Star in the upper right corner of the work. The force is strong in this painting, albeit on the dark side
Band – McMain High School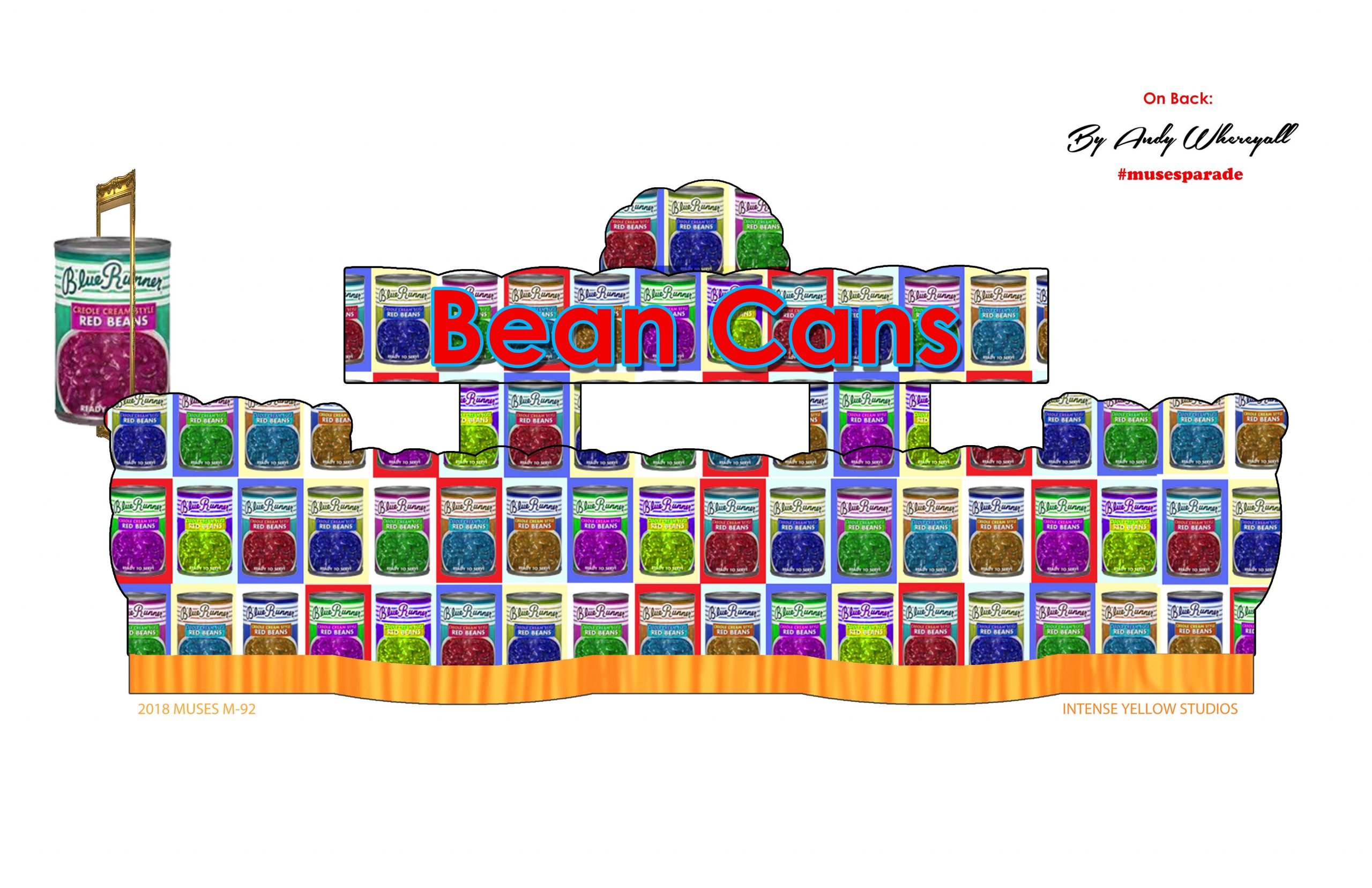 Float 12 – Bean Cans
Bean Cans is a local favorite by Andy Whereyall. This gassy polymer paint on canvas reflects the secret of many New Orleans cooks, portraying what is often claimed as "homemade." Its meaning is easily digestible and meant for consumption by the masses. While this piece can be enjoyed any day, the Museum prefers to show it on Mondays.
Band –Cohen College Preparatory
Float 13 – The Scream
The Scream, oil and temperament by Too Munch. This older work has remained a shocking and relevant piece. Why is Uncle Sam screaming and Lady Liberty despondent?  Could it be our paralyzed, partisan government, crumbling infrastructure, rejected huddled masses yearning to be free, or our bitterly divided populace? Where is the shining city on a hill?
Band – Fannie C. Williams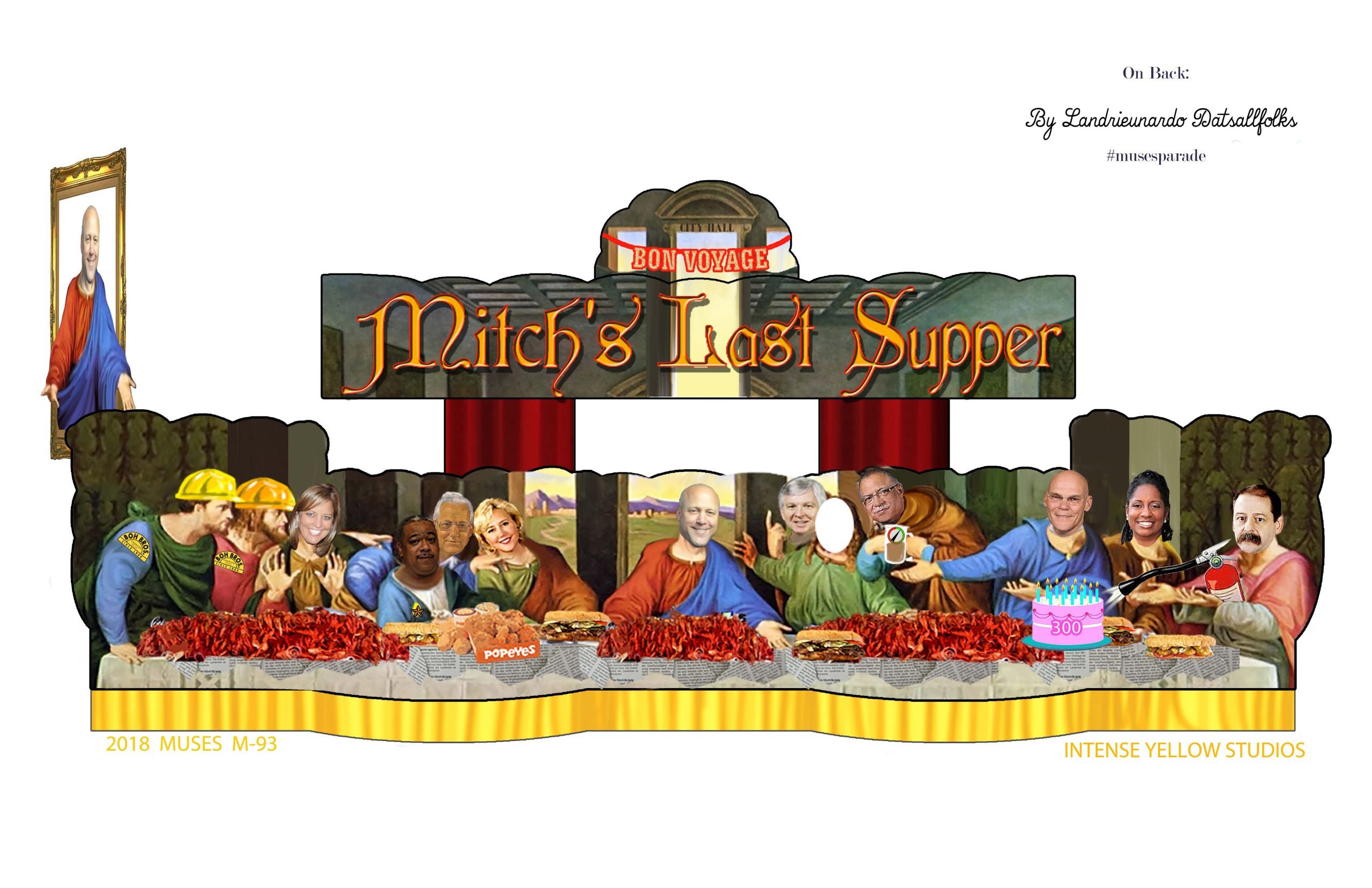 Float 14 – Mitch's Last Supper
Mitch's Last Supper by Landrieunardo Datsalllfolks, depicts the final days of a dynasty, surrounded by its disciples. Seen dining on local delicacies are overworked Boh Bros. construction workers, the First Lady of the city, the Chief of Police, Moon, Mary and the Mayor himself. To the left of His Honor we find the MARKeter in Chief, the Mayor–In–Training, the former director pouring some questionable looking water into goblets, Saint James, Saint Judy and the Fire Chief – spotted putting out 300 candles. Mitch's days are numbered, but will there be a resurrection?
Band – Kipp Leadership Academy
Marching Unit – Krewe of Wheel
Marching Unit – High Steppers and ISL Circus Arts Kids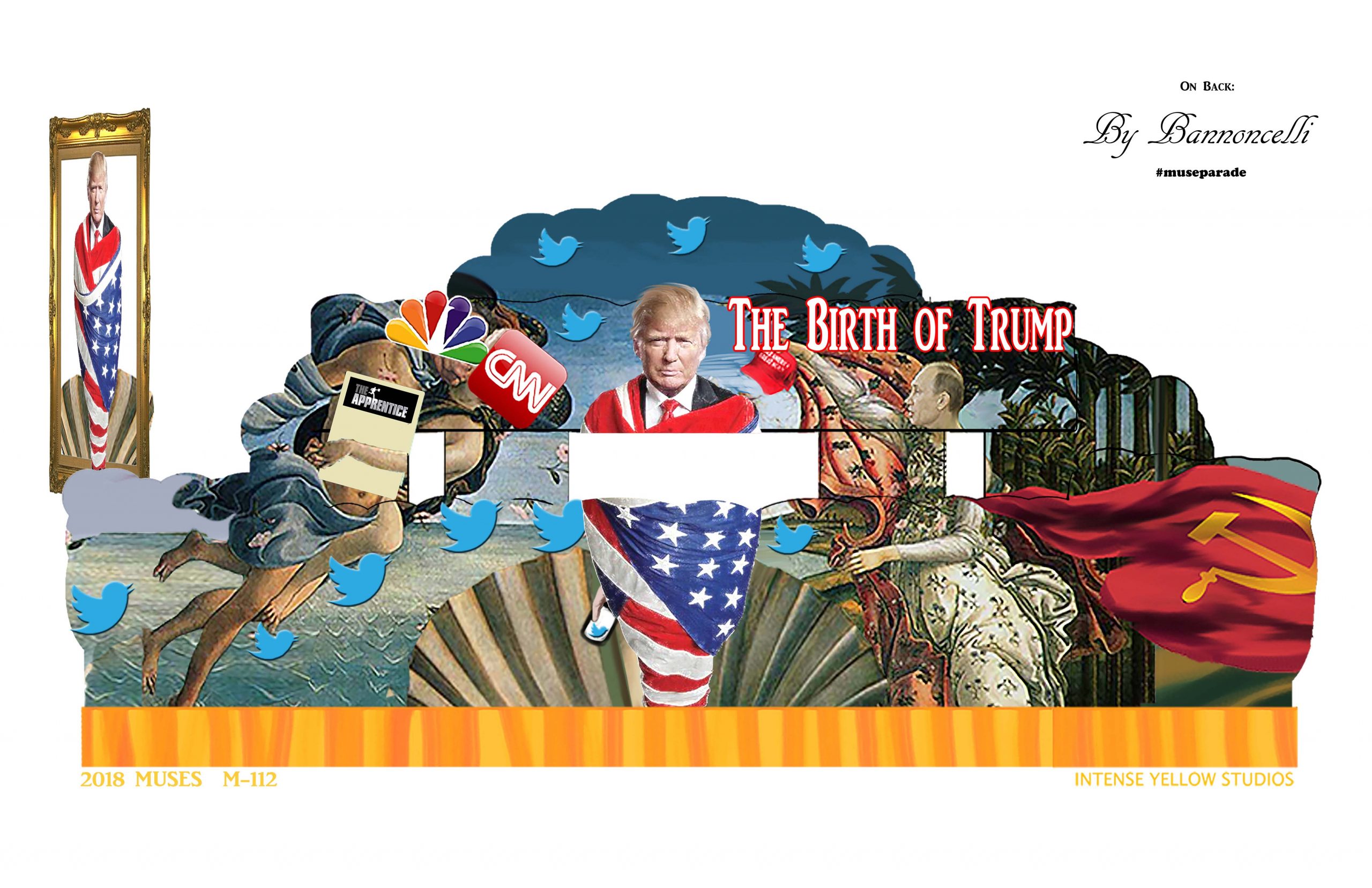 Float 15 – The Birth of Trump
The Birth of Trump by Bannoncelli. In this stunning work by Bannoncelli, we see Trump rising on the half shell, raised up by reality TV and constant news coverage while being empowered by support from a foreign frienemy. Trump is surrounded by twitter birds as he rises far beyond anyone's expectations wrapped in red, white and blue.
Marching Unit – Camel Toe Lady Steppers & Brass Band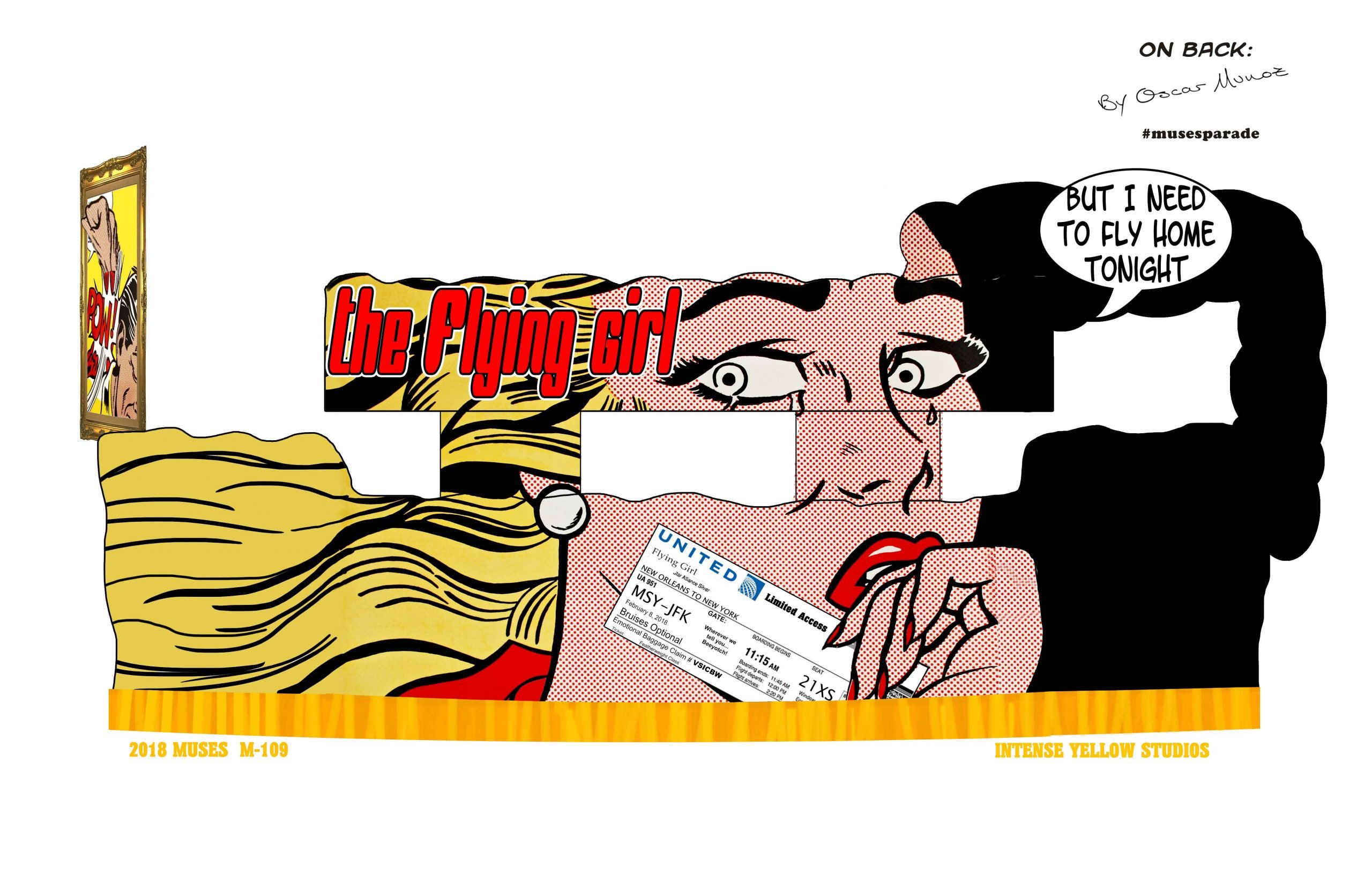 Float 16 – The Flying Girl
The Birth of Trump by Bannoncelli. In this stunning work by Bannoncelli, we see Trump rising on the half shell, raised up by reality TV and constant news coverage while being empowered by support from a foreign frienemy. Trump is surrounded by twitter birds as he rises far beyond anyone's expectations wrapped in red, white and blue.
Marching Unit – Camel Toe Lady Steppers & Brass Band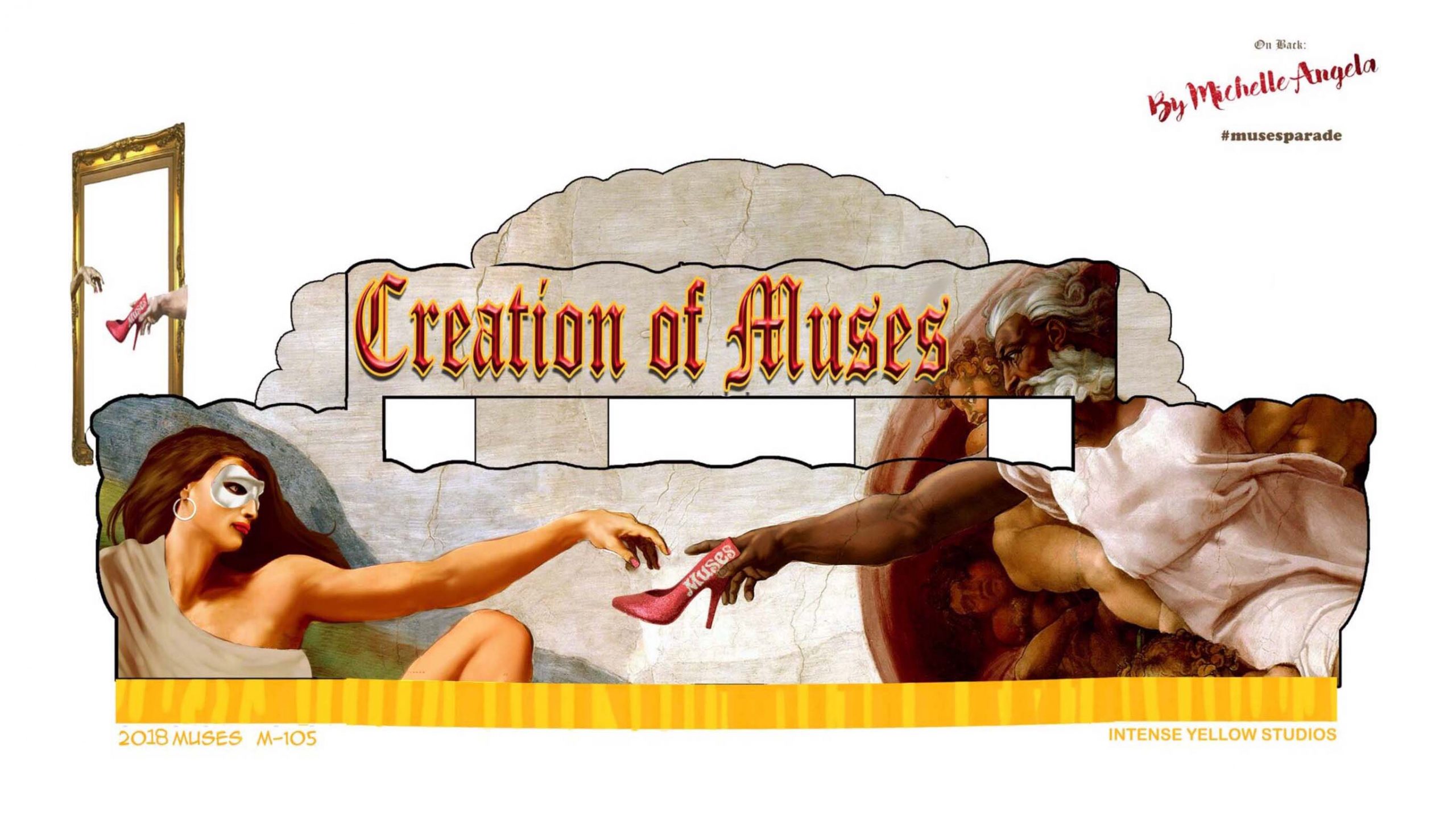 Float 17 – Creation of Muses
The Creation of Muses by Michelle Angela. This landmark painting illustrates the sacred moment in which the Creator breathed life into glittery shoes, women on floats and revelry never before witnessed. This epochal event marked the beginning of a new Age of Glitter and Enlightenment, ending the dark ages of male carnival domination. All hail the Renaissance.
Marching Unit – Dead Rock Stars
Dead Rock Stars support vehicle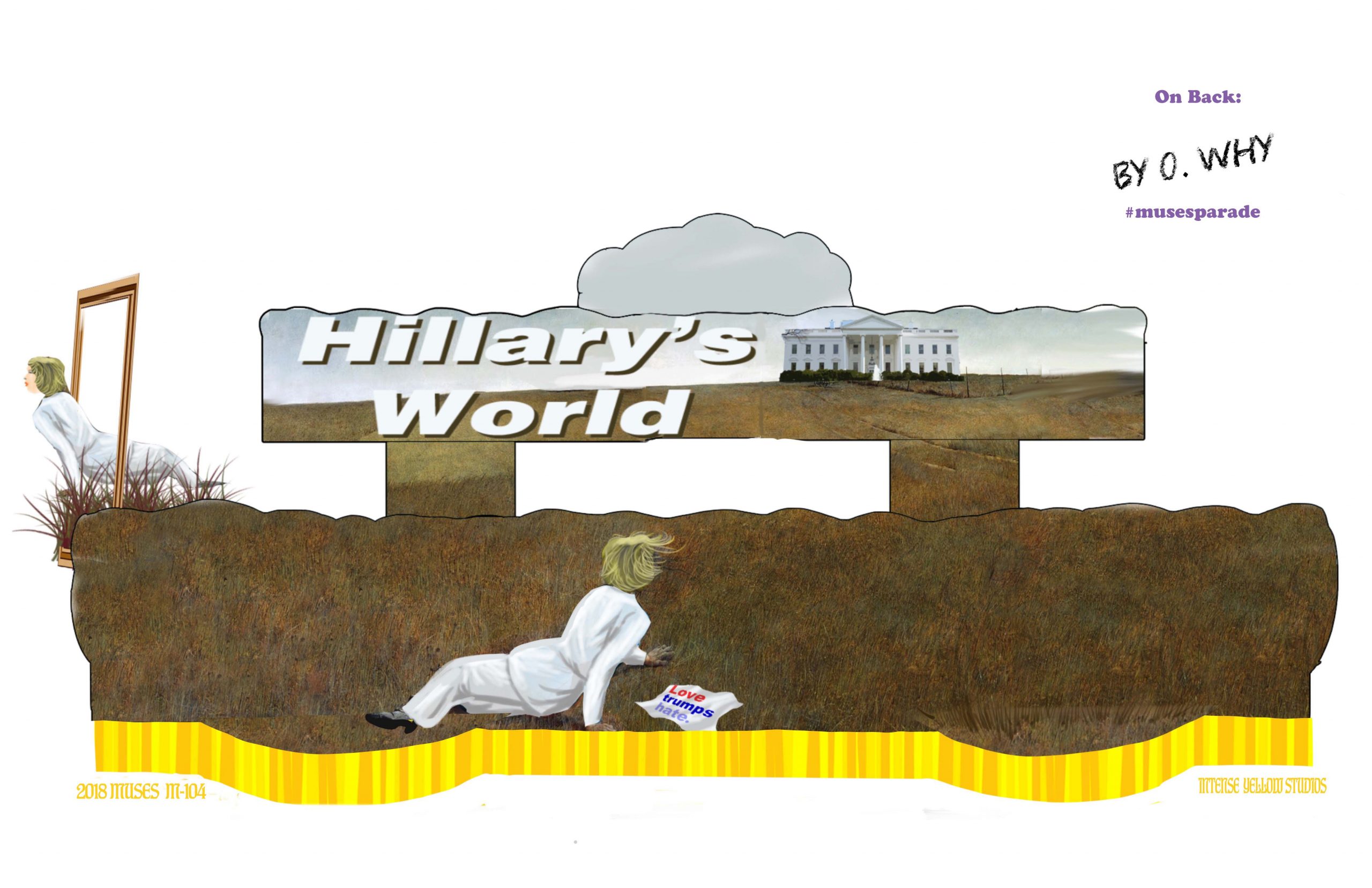 Float 18 – Hillary's World
Hillary's World, broken glass on canvas by O. Why. Hillary's World depicts the struggle and near–achievement of women on the national political scene. The elusive prize is just beyond her reach. The woman crawling through the tawny grass, crippled by politics, was limited electorally but not in popularity. In this style of painting, known as realism–politik, everyday scenes are imbued with conspiracy.
Marching Unit – Rolling Elvi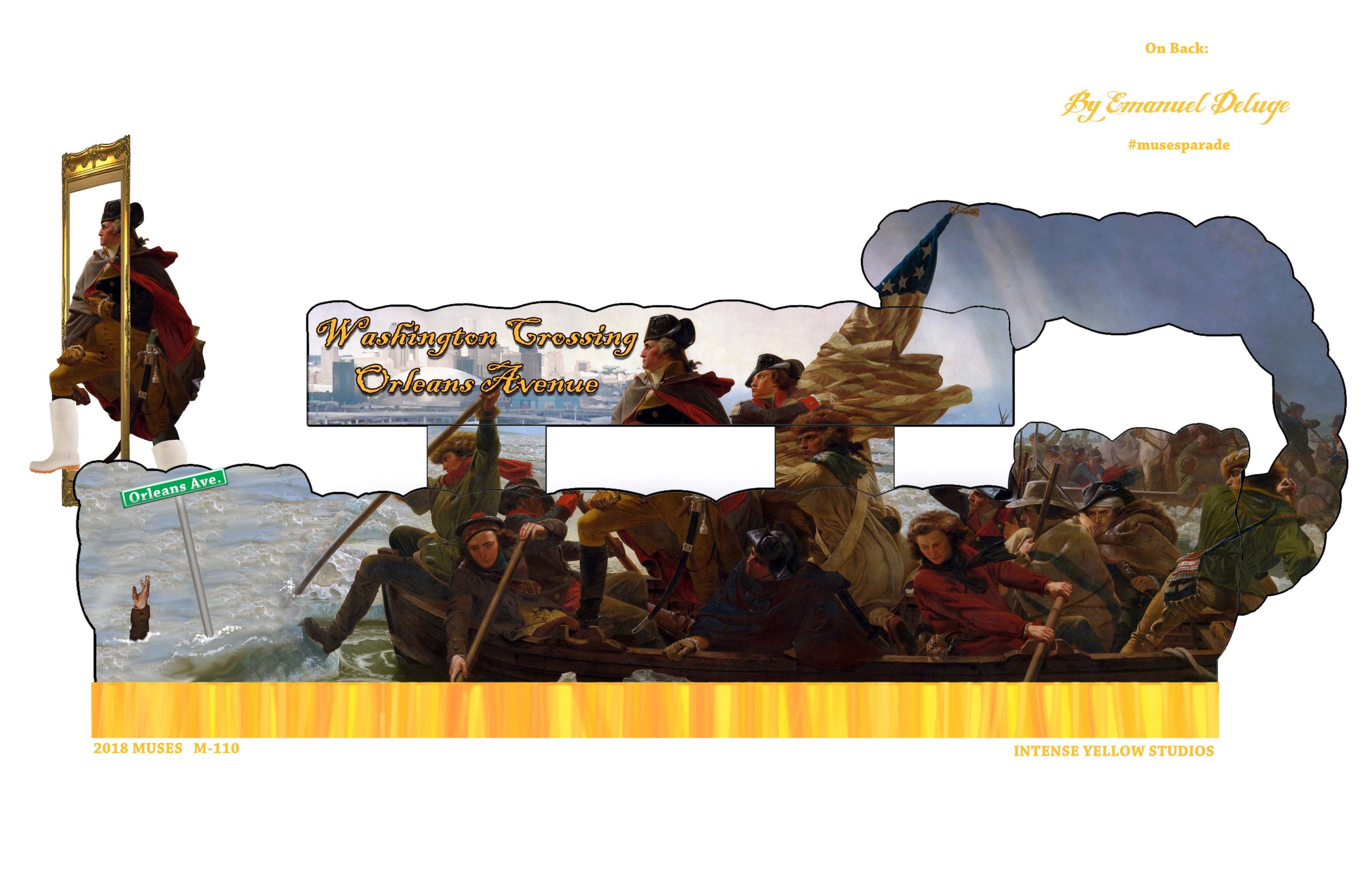 Float 19 – Washington Crossing Orleans Avenue
Washington Crossing Orleans Avenue, incompetence on canvas by Deluge. This painting created in August of 2017, depicts a hero and his followers attempting to cross the intersection of Orleans and Broad during a brief drizzle. They struggle to find their way, with a non–functioning pumping station in the distance. They are parched and dirty from a three–day boil water advisory, yet they flounder on.
Marching Unit – NOLA Cherry Bombs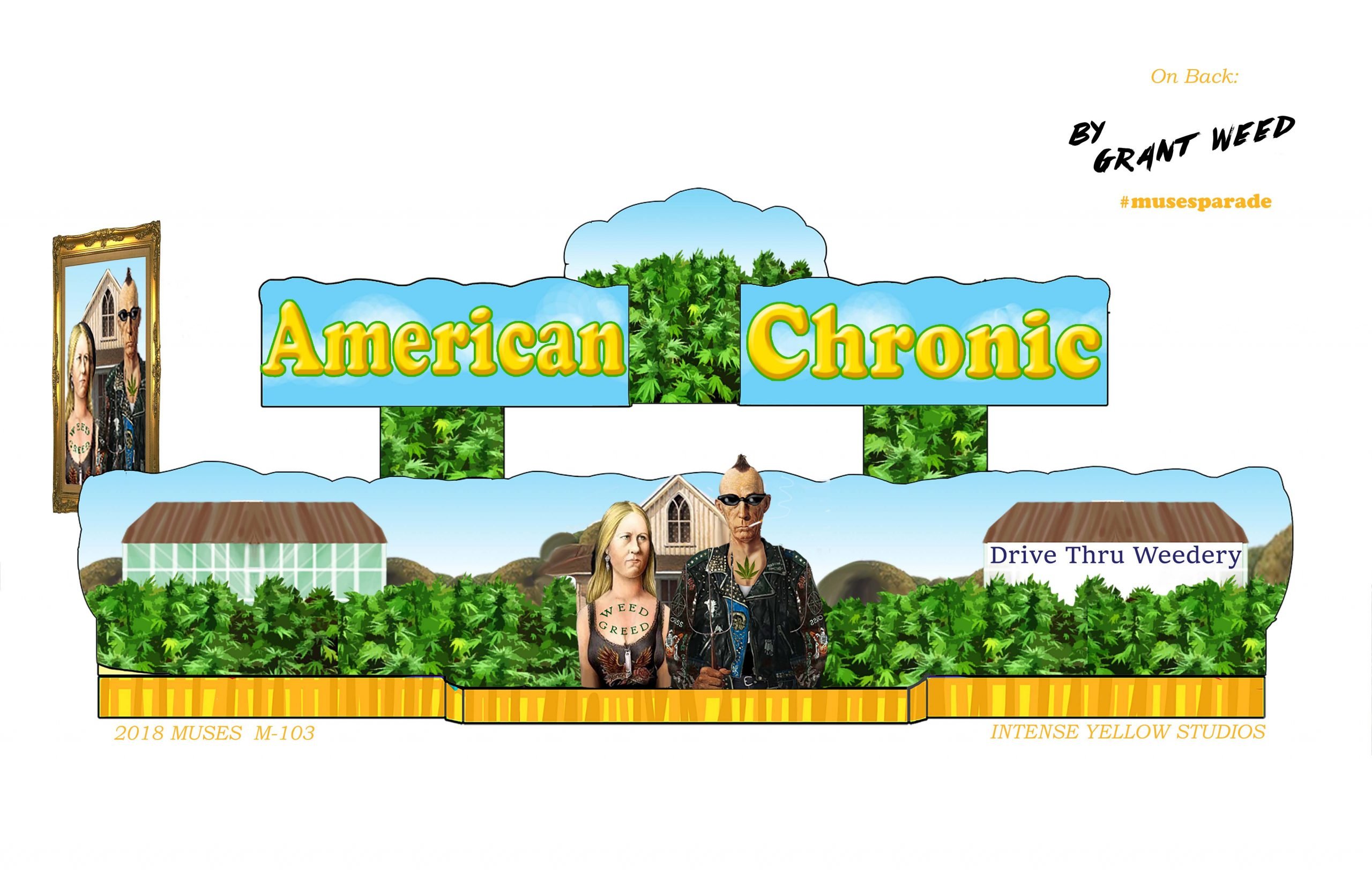 Float 20 - American Chronic
American Chronic, reefer on a hemp canvas by Grant Weed. This great work depicts the modern American farm with drive–thru weedery. The couple represents those who will make America high again. This great work depicts the modern American farm with drive–thru weedery. The couple represents those who will make America high again…
Marching Unit – Bearded Oysters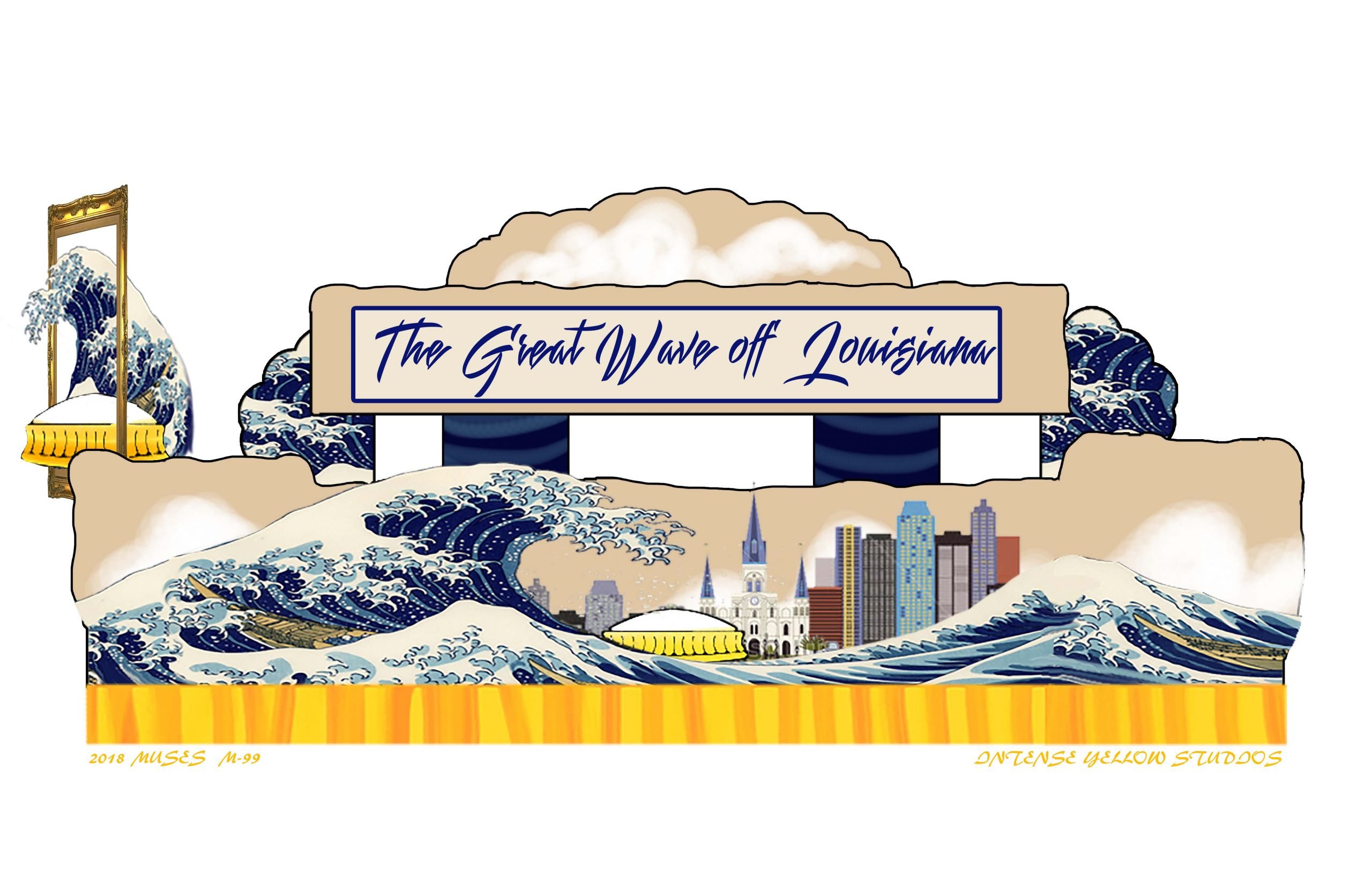 Float 21 – The Great Wave off Louisiana
The Great Wave off Louisiana, fear on canvas by Hurricanna Stayawai. This profound piece has appeared in our nightmares since late 2005 – the Great Wave inundating our vulnerable city.
Marching Unit – Kolossos Art Bikes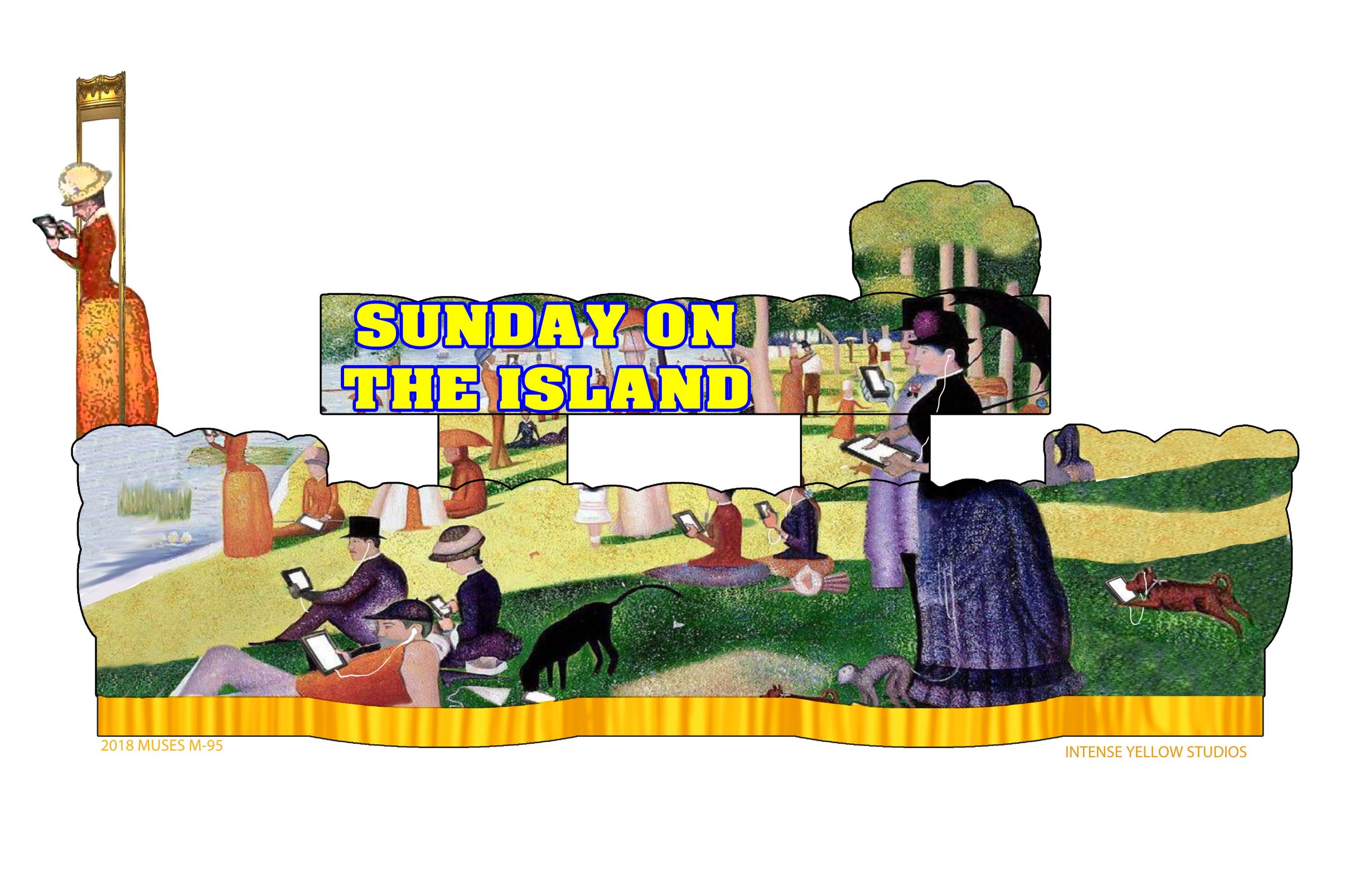 Float 22 – Sunday on the Island
Sunday on the Island, a digital work by George Soleaux. This work makes the statement that we are all living on an island of technology. Every man, woman and child holds tight to a device. A Sunday in the park together, but alone. A family dinner alone. There is little social about this form of media.
 Marching Unit – Organ Grinders and support vehicle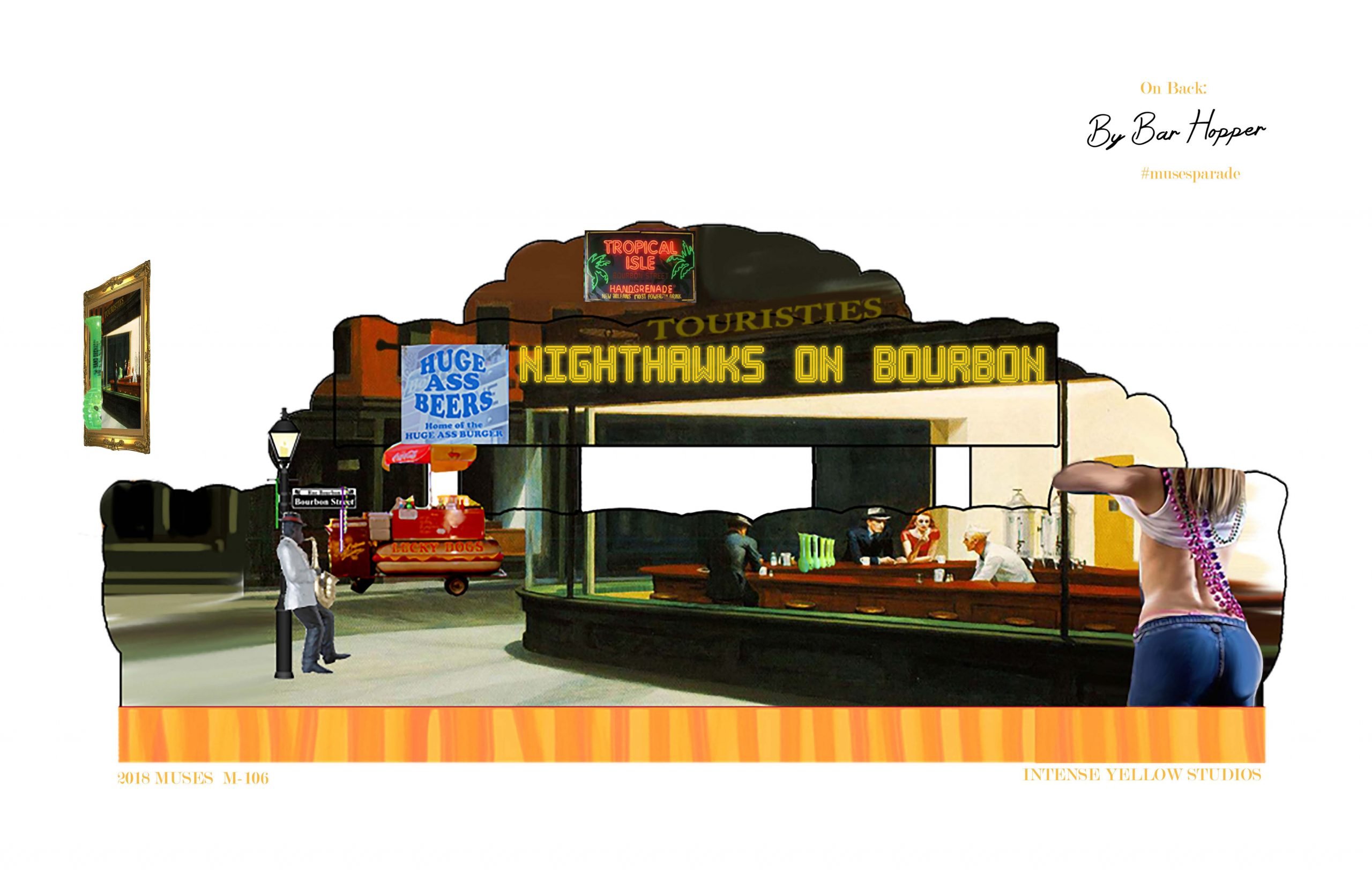 Float 23 – Nighthawks on Bourbon Street
Nighthawks on Bourbon Street, alcohol, urine and dried vomit on canvas by Bar Hopper. This piece is well known to tourists and college students the world over. The stereotypical Lucky Dog stand, musician seeking tips for play, hand grenades and overexposed tourists can't disguise the street's atmosphere of ennui.
Riding Unit – Laissez Boys and support vehicle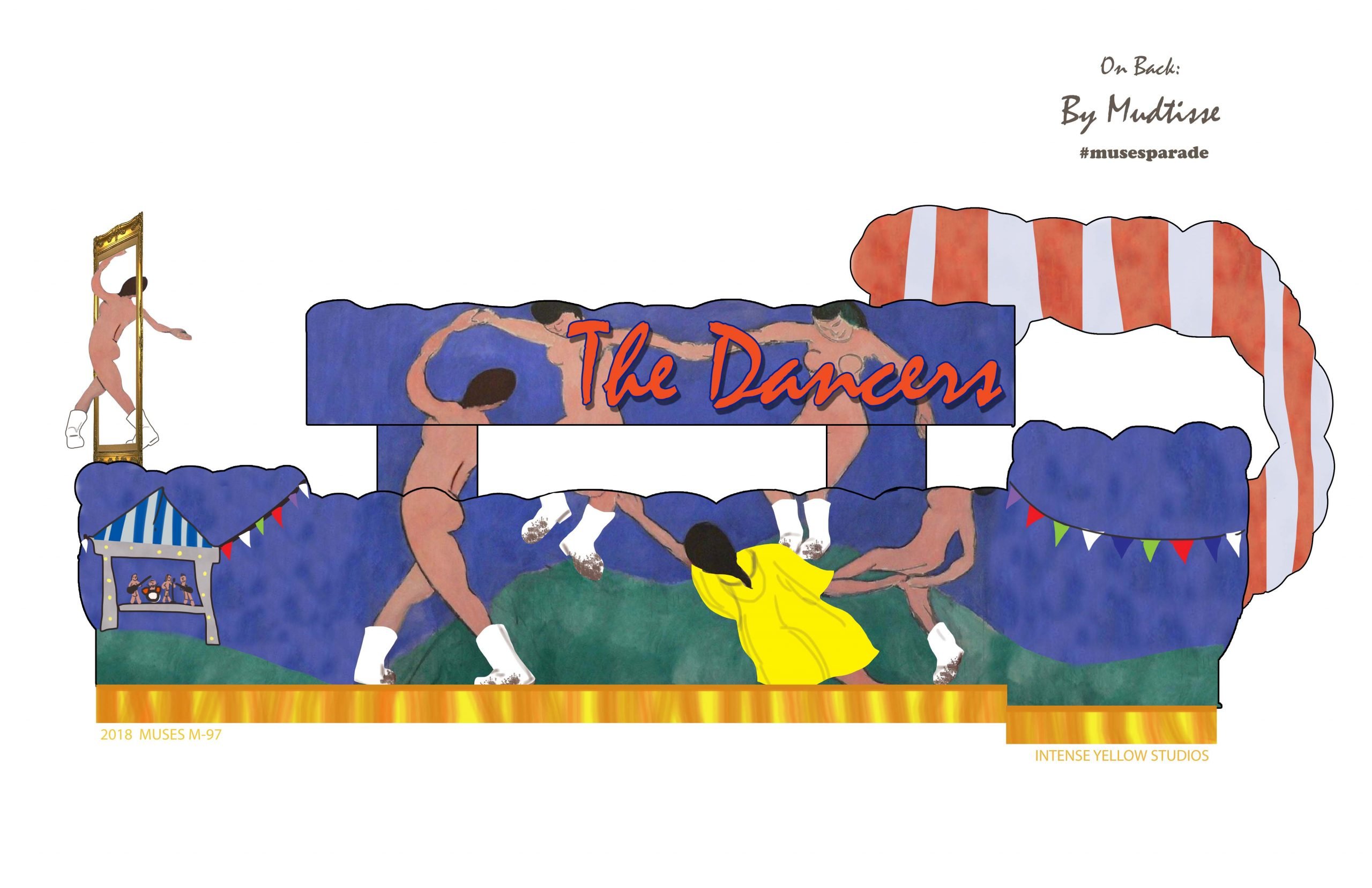 Float 24 – The Dance
The Dance, wet horse manure on canvas by Mudtisse. This work portrays a wet day at Jazz Fest. Forget the rain. Forget the mud. Forgive that funky smell. If the music continues to play, shed your inhibitions, but not your shrimp boots, and DANCE
 Riding Unit – Pink Slip Float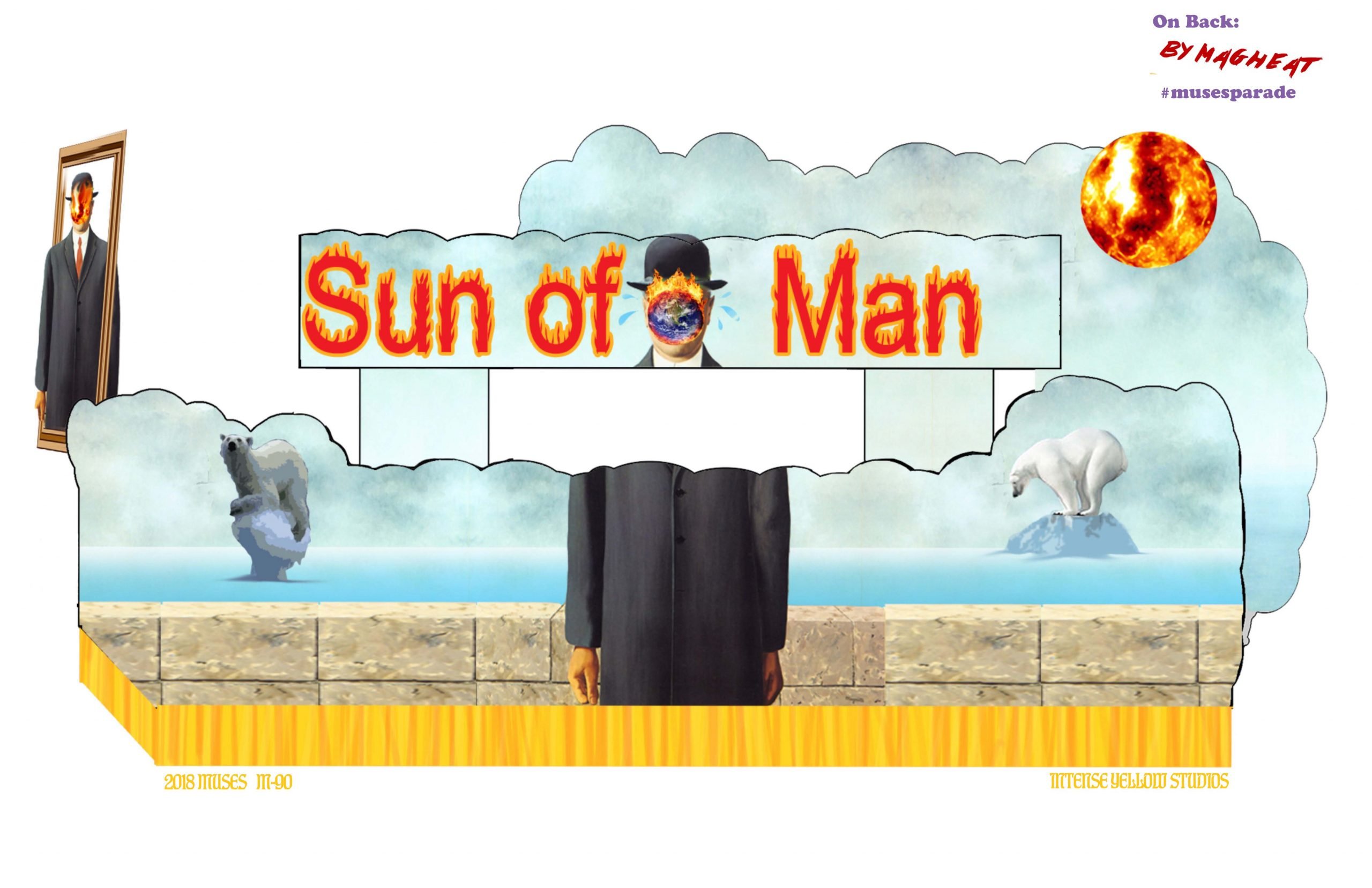 Float 25 – Sun of Man
Sun of Man, sweat and melted icebergs on canvas by McHeat. This masterpiece shows that the sun has baked the green apple beyond recognition. This is one hot float!
Band – BateBunda and the Dance Group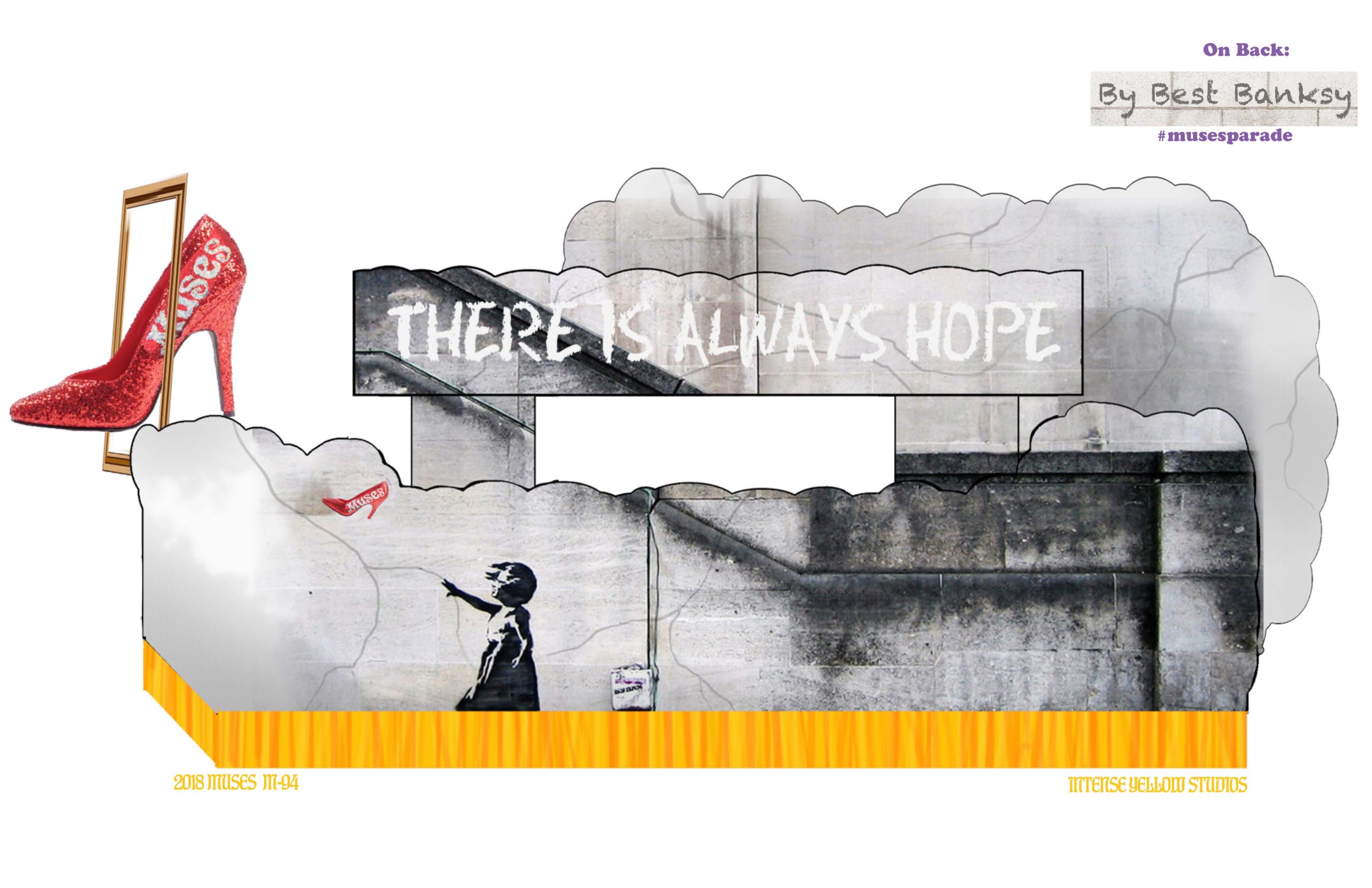 Float 26 – Hope
Hope, a work of graffiti by Best Banksy. Shrouded in mystery, like our closely–guarded float themes, the identity of this artist is yet to be revealed. This work depicts a young girl reaching for a coveted Muses shoe, signaling to all others to keep trying because after all, there is always hope that you'll catch one.
Marching Unit – Bloco Sereia
Float 27 – The Persistence of New Orleans
The Persistence of New Orleans, three hundred years of effort on canvas by Survivadore Daily. 2018, marks New Orleans' 300th birthday. This piece illustrates all that New Orleans has survived to reach this tricentennial milestone. From the early days of French and Spanish rule to yellow fever epidemics to attack by the British. New Orleans has survived hurricanes and the most corrupt of politicians. Through oil spills and crime waves she prevails and even thrives. Onward to the next 300!
Band – Panorama Brass Band and Dance Troupe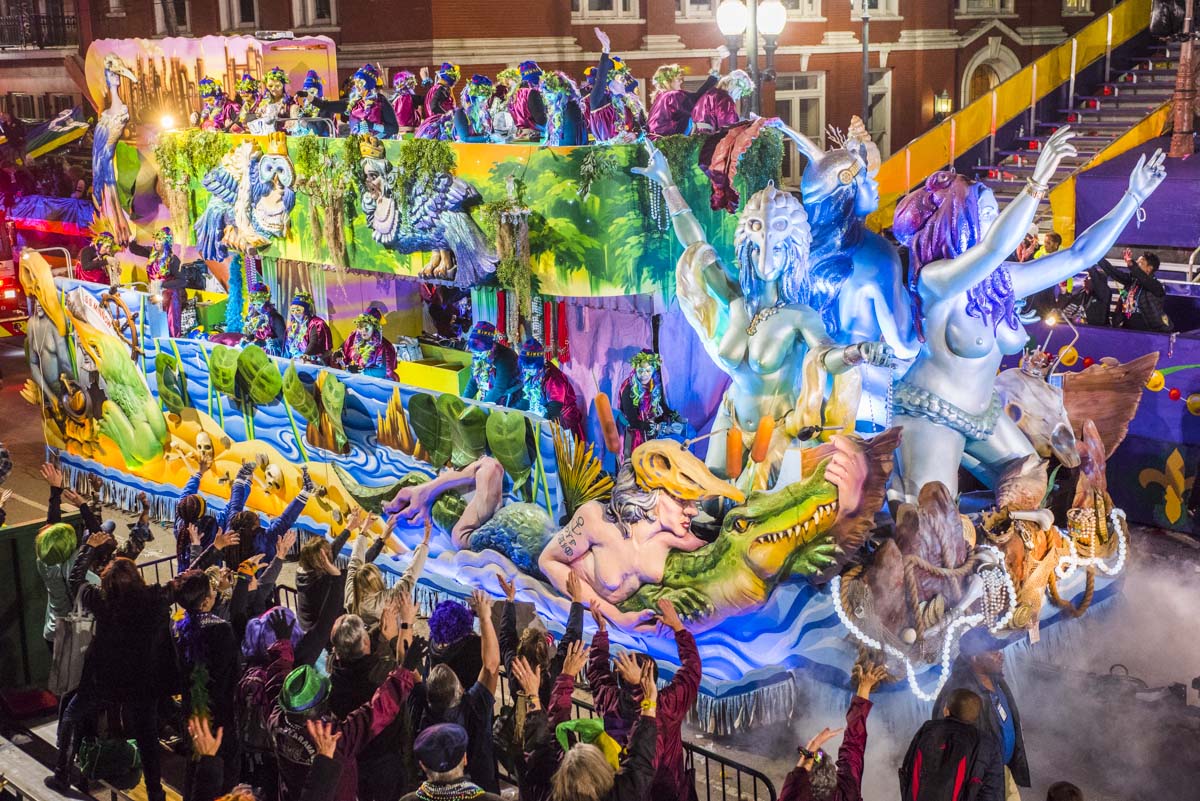 Float 28 – Sirens
Sirens. The Sirens were cast out by the Muses in Greek Mythology, hence they end the parade each year. Set in the swamps of Louisiana mythology, the Sirens inspire the arts and sciences and, most especially, the revelry of Mardi Gras.
Happy are They Whom the Muses Love