Muses Sweet Sixteen
The Sisters of the Krewe of Muses roll tonight for the 16th time and you can expect one SWEET ride!
Throws of the Year
Muses is known for outstanding throws and 2016 will not disappoint.  We have the return of some Muses classics like the light up diamond rings, the shoe bracelet and that reMuseable tote bag, this year in silver and blue.  Some of the sweetest new throws for 2016 are the shoe of the year bead featuring a Candie-style mule, a strobe theme medallion on a bead, a candy necklace with a dangling M, popsicles on beads, a lollipop foot pumice, Muses stickers, light up soccer balls, a big puffy flashing Muses shoe, a Kaleidoscope, and macaroon erasers.  And the Muses plush is the tastiest ever with a donut, cotton candy, cupcake and even a New Orleans Snoball!  Get ready to scream Throw me something sister!
The Muses hold a contest each year for the best cup design submitted by area schools.  The winner for 2016 is Darrell Donaldson of New Orleans Military and Maritime Academy. The annual competition is an activity planned by the Muses Community Outreach Committee.  New Orleans Military and Maritime Academy received a $1,000 donation towards its art program.
Get ready…Here come the Muses! And happy are they whom the Muses love!
The Krewe of Muses is led by the beautiful lighted butterflies and dancing shoes!  These unique artisan puppets always thrill the crowd. And the Big Easy Roller Girls will be passing out a parade bulletin!
Marching Unit – Big Easy Roller Girls
Band – St Augustine High School
Marching Unit – Walking Shoes and Butterflies
Float 1 – The 9 Muses 2015 - The Muses Officers
This signature float hosts the captain and officers of the Krewe of Muses, floating on a glittery cloud, and features the iconic Muses tiles, borrowed from the streets of New Orleans.
Band - Landry - Walker High School Marching Band
Flambeaux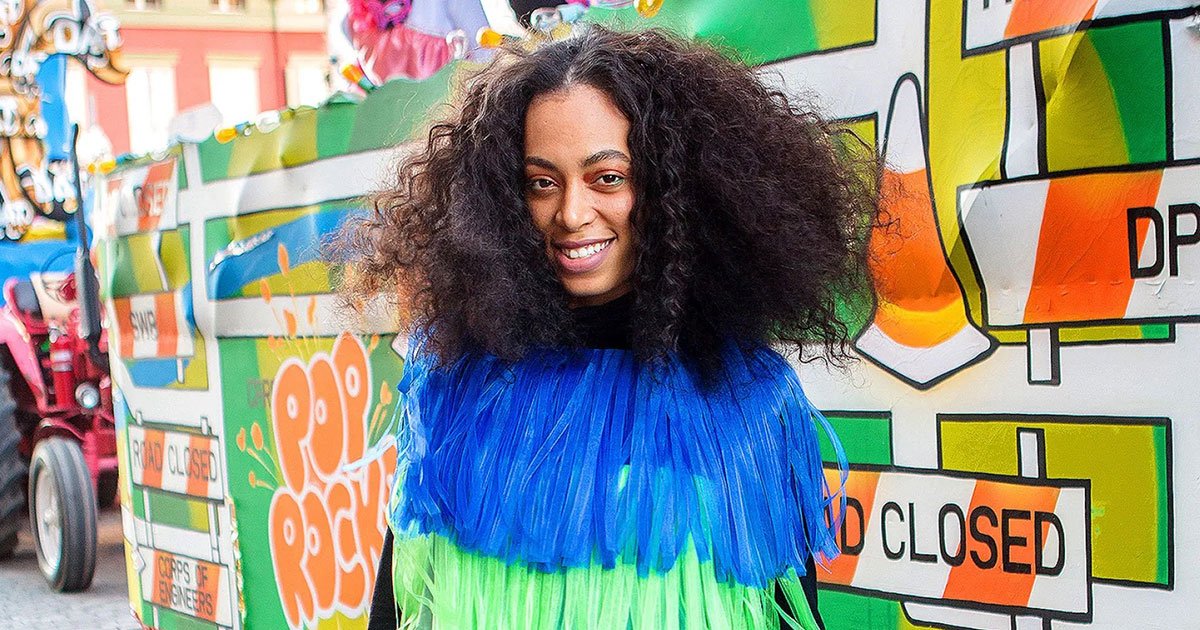 Float 2 – Honorary Muse – Solange Knowles
The Honorary Muse 2016 riding in the Muses Shoe
The Muses' signature 17-foot tall, high-heeled shoe, every inch encrusted in color-changing fiber optic lights, carries the Honorary Muse sister of 2016, Solange Knowles! Solange Knowles, the singer/songwriter, founder of Saint Records and noted creative director, will serve as 2016 Honorary Muse. At the impressive age of 16 Solange released her first studio album. Since then, Solange has graced stages at international festivals such as Glastonbury, Coachella, Bonnaroo, Jazz Fest, Letterman, Fallon and more. Her presence and collaborations among contemporary artists have found her as a past performer for the MoMA Museum Armory show, The New Museum, ICA Boston, Dallas Museum of Art, as well within installations at Art Basel Miami and Switzerland.
In 2013 Solange launched her own record label, Saint Records. Her label is designed to give new and ingenious artists a space to create their music and circulate their art. Solange has also been widely recognized as a fashion icon, and has art directed two footwear collections with Puma to date as well as curatorial projects for Microsoft, alongside artist Mickalene Thomas, and New Orleans' own Prospect 3.
Solange has partnered with the Make it Right Foundation and several other New Orleans non-profit organizations such as Son of a Saint, a mentorship program created by Sonny Lee, for young men who have lost their fathers in the local area. Additionally, her philanthropic work includes working alongside 14 plus, Water for people, and Africa's Out on improving the progression of education, water needs, and Rights for the LGBT community in many countries in Africa.
Band - Katherine Drexel High School Marching Band
Float 3 – Mt. Olympus Brass Band (Coolbone)
Band - Lake Area High School
Float 4 – The Bathing Muses 2016
This beloved signature float bubbles its way down the route filled with beautiful bathing Muses.
Band – Helen Cox
Horse Unit – Lady Godiva Riding Club
Float 5 – Mardi Gras Indian Queens
This year the Krewe of Muses pays tribute to the Mardi Gras Indian Queens from various tribe in the city including:
Cherice Harrison-Nelson, Honorary Muse, 2002, Maroon Queen, Guardians of the Flame, Curator and co-founder of Mardi Gras Indian Hall of Fame
Cara Harrison Daniels, Guardians of the Flame
Herreast J. Harrison, Queen Mother Supreme, Guardians of the Flame
Michele J. Harrison, Guardians of the Flame
Veronica Henry, Third Queen, Golden Blades
Malita Thompson Martin, Guardians of the Flame
Jamilah Y. Peters-Muhammad, Ambassador Queen, Guardians of the Flame
Roslyn Johnson Smith, Guardians of the Flame
Big Queen Tonya, Big Queen, Wild Tchoupitoulas
Denice Smith, Big Queen, Monogram Hunters
Band – Edna Karr High School Marching Band
Float 6 – Title Float – Muses Sweet 16
2016 marks the sixteenth parade for the Krewe of Muses and they are celebrating in sweet style. It's a Sweet 16 that will rival the most outrageous of them! So as the parade rolls we'll let the candy roll, or as they say down here… laissez les bons bons rouler!
Band – McMain Senior High School Marching Band
Float 7 – Molly Marines Chapter LA-1, Women Marines Association
Band – McDonogh 35 Senior High School Marching Band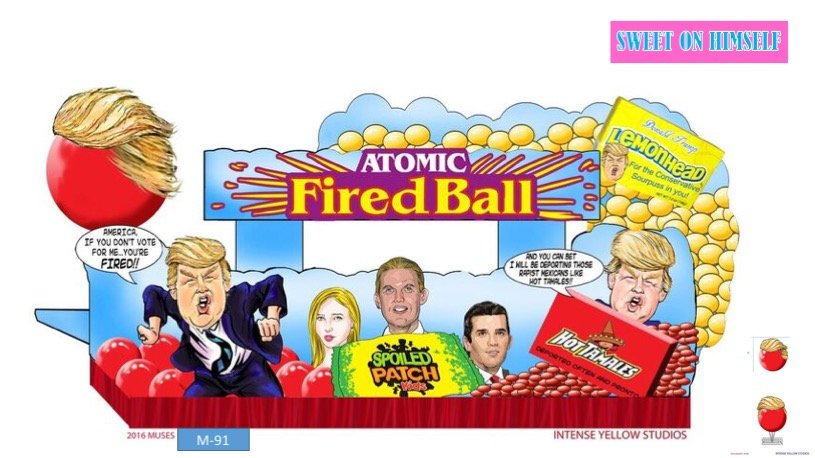 Float 8 – Atomic Fired Balls
These are an acquired taste and are being served at several tea parties this year. We hear they're Donald Trump's favorite candy, along with Spoiled Patch Kids and Lemonheads. He sure doesn't like Hot Tamales though. We're pretty sure this guy is Sweet on Himself.
Band – Martin Luther King Charter School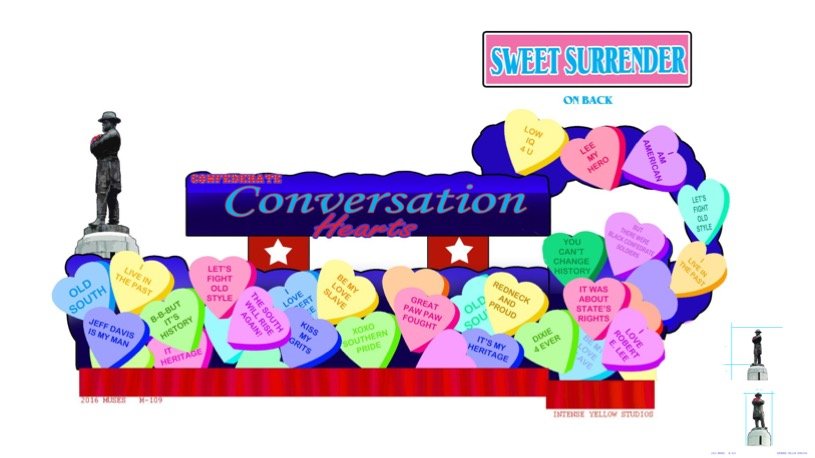 Float 9 – Confederate Conversation Hearts
The conversation has changed - at the office, at every gathering this year.  Now it's all about those statues. Confederate Conversation Hearts sweetens the attitude, but we're just looking for a sweet surrender.
Band – Martin Berhman Middle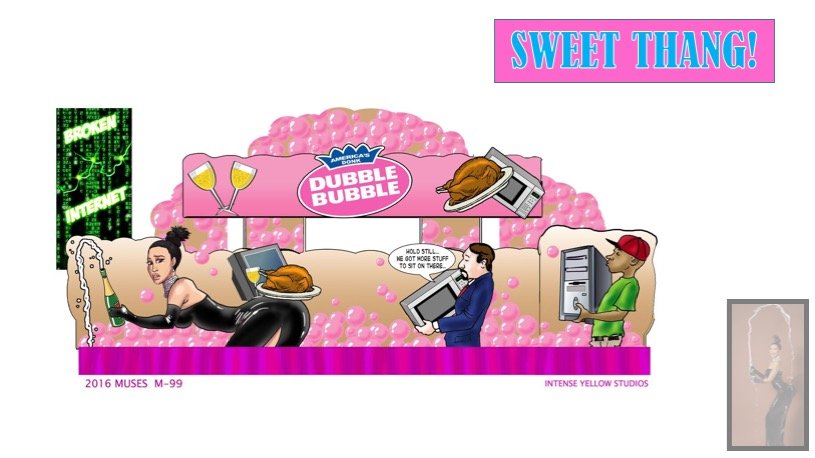 Float 10 - Double Bubble
Here she comes! That infamous character that broke the internet. How did she do it?  With her Double Bubble of course! That's one Sweet Thang!
Band – Walter L. Cohen High School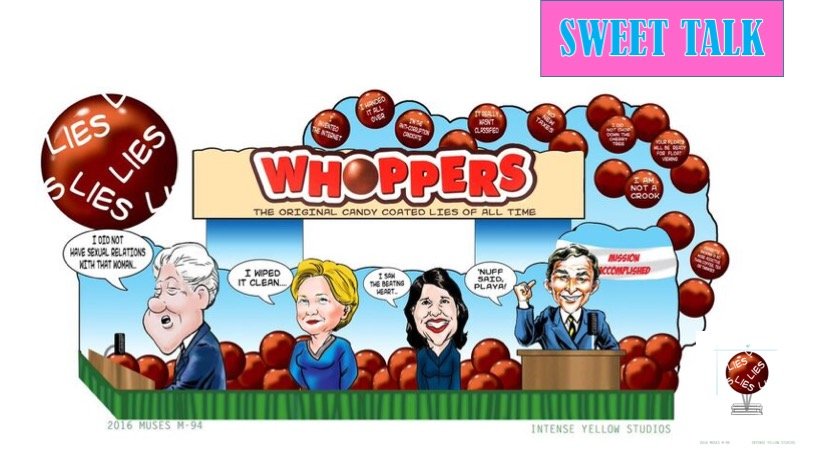 Float 11  – Whoppers
Everybody loves Whoppers…well maybe not the whoppers these guys are dishing out. Those politicians sure are good at Sweet Talk!
Band – George W. Carver High School Marching Band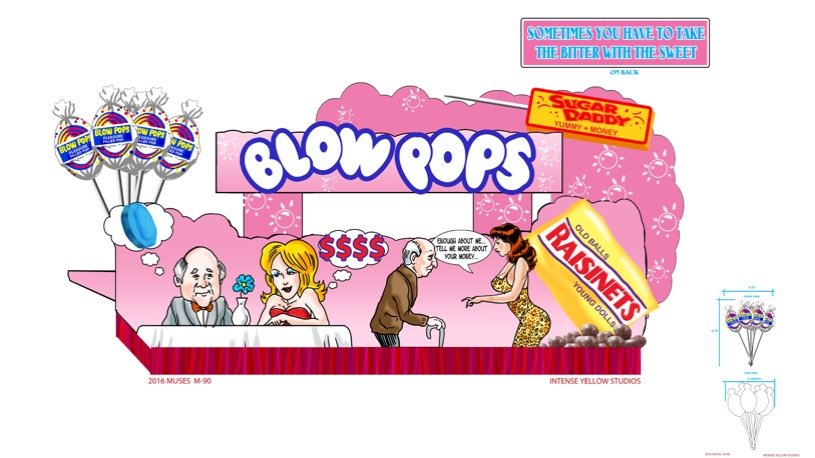 Float 12 - Blow Pops
Holding nothing back, let's tell it like it is, Sugar Daddy's may be delicious, but what really makes it happen are the Blow Pops...some more than others.  Just remember that sometimes you have to take the bitter with the sweet.
Band – West Jefferson High School
Float 13 – PREZ
When it comes to The Sweet Life, no one has it sweeter then the Prez.
Band –  LW Higgins Marching Band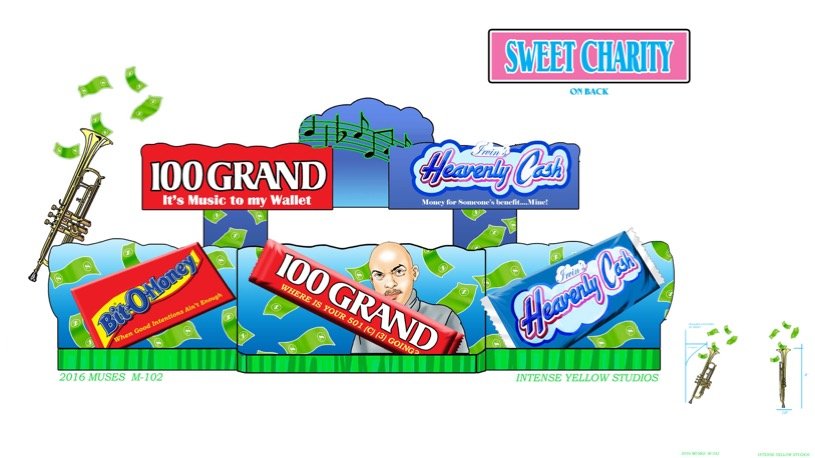 Float 14 – 100 Grand Bar, Bit O' Money & Heavenly Cash
Is that a whole orchestra or just one sweet tune coming out of Irvin Mayfield's trumpet?  And it sounds like it's worth 100 Grand. Irvin's got some Heavenly Cash and a Bit o' Money.  Oh what Sweet Charity!
Band – Kipp NOLA

Marching Unit – High Steppers and ISL Circus Arts Kids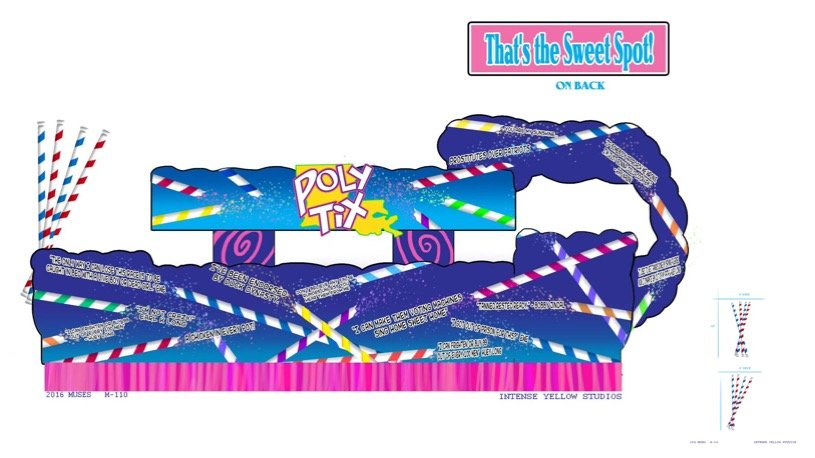 Float 15 – PolyTix
The only thing sweeter and more sugary than PixyStix would be good ole' Louisiana PolyTix.  Such memorable rhetoric flooding the airways! Watch out for cavities as politicians try to find those magic words that will hit the Sweet Spot with voters!
Marching Unit – Camel Toe Lady Steppers & Brass Band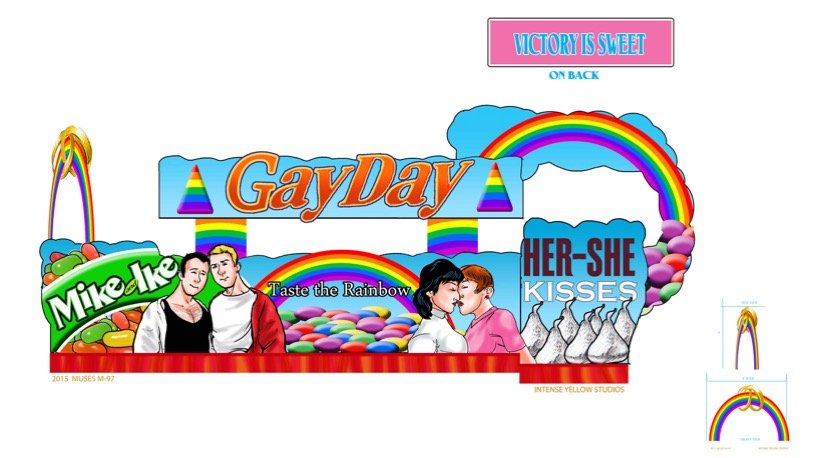 Float 16 - Gay Day
We all love PayDay, but last year we witnessed something new. Mike & Ike stormed the Capitol and we witnessed lots of Her/She Kisses. SCROTUS gave the entire country a chance to Taste the Rainbow and we call that GayDay. Victory is Sweet!
Marching Unit – Pussyfooters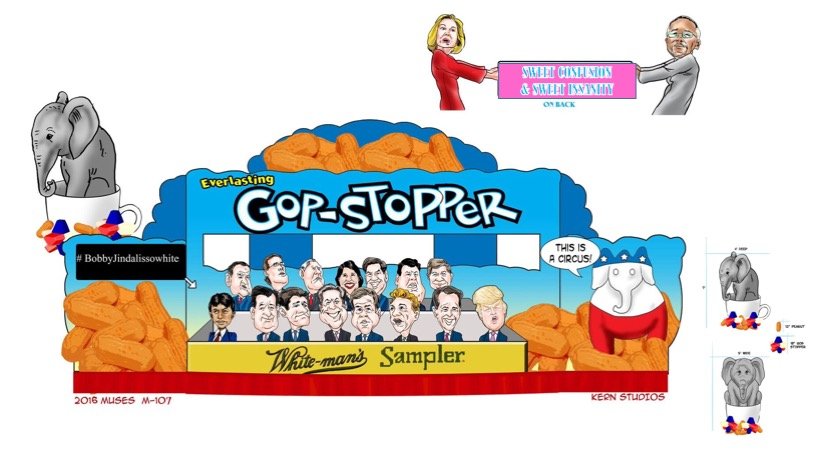 Float  17 - Everlasting GOP-Stoppers
What kind of candy is being served up by the Grand Old Party this year? Looks like it may be a big case of Everlasting GOP-Stoppers.  It started with a huge box of what we like to call the White-man's Sampler. Bobby Jindal jumped on in, despite being very tanned. And every debate turned into a circus. That's what we call some Sweet Confusion and Sweet Insanity.
Marching Unit – Rolling Elvi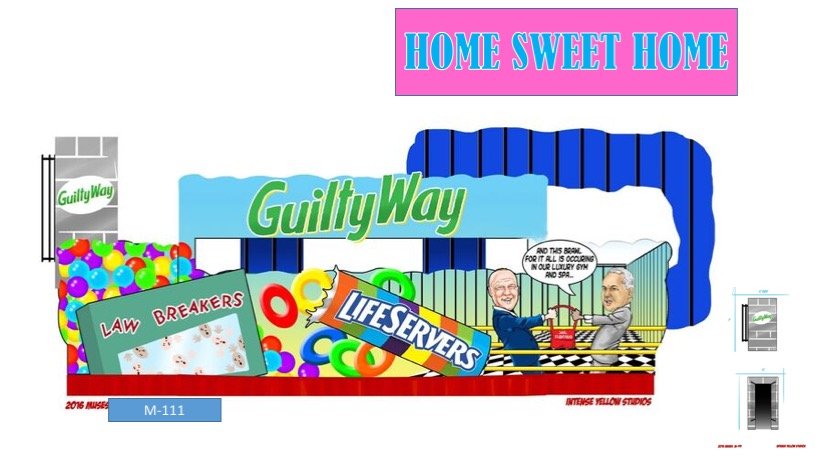 Float 18 - Guilty Way
We've got a fancy new prison in town and it looks like the Mayor and the Sheriff are playing tug of war over our Guilty Way.  It's filled with Lawbreakers and LifeServers so steer clear.  You would not want to call OPP Home Sweet Home.
Marching Unit – Dead Rock Stars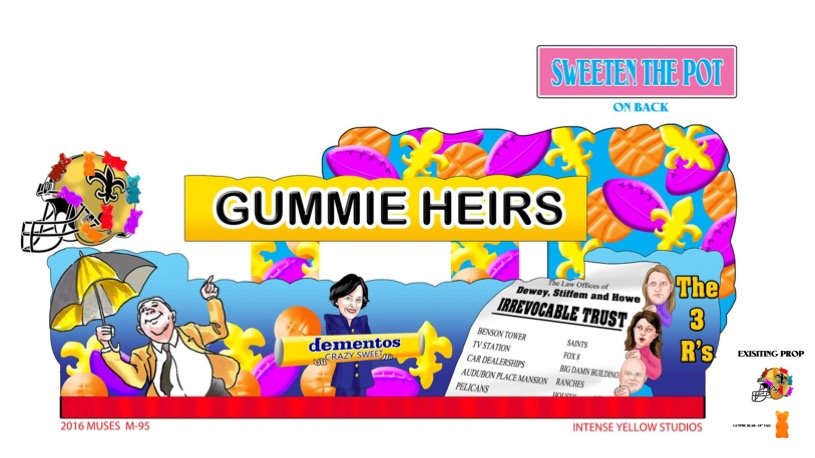 Float 19 - Gummy Heirs
Looks like a sticky situation over at the Saints headquarters and those heirs are sticking to their irrevocable trust like Gummie Heirs. Mr. Benson may not be selling the team but he may have to Sweeten the Pot before this deal is done, unless he's Dementos.
Marching Unit – NOLA Cherry Bombs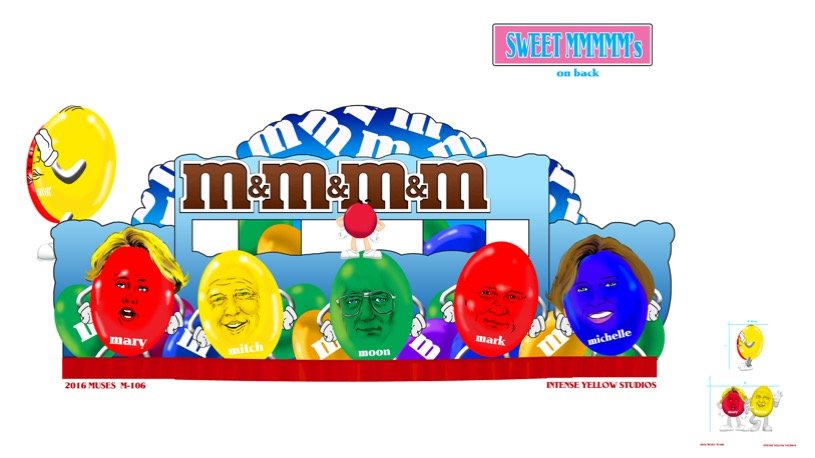 Float 20 - M&M&M&M&M…
We've had some sweet leadership down here…with a hard candy shell.  M & M & M & M & M stands for Mary and Mitch and Moon and Marc. Those are our Sweet M's
Band – Noisician Coalition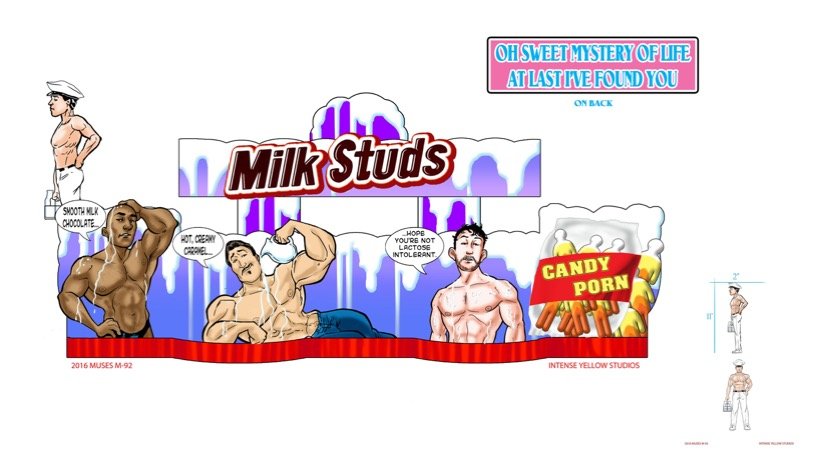 Float 21 - Milk Studs
When you have a parade of over 1,000 women you need a little eye candy. Forget about candy corn, this is candy porn. This float is just a tasty pleasure we call Milk Studs. Oh Sweet Mystery of Life, At Last We Have Found Thee.
Marching Unit – Bearded Oysters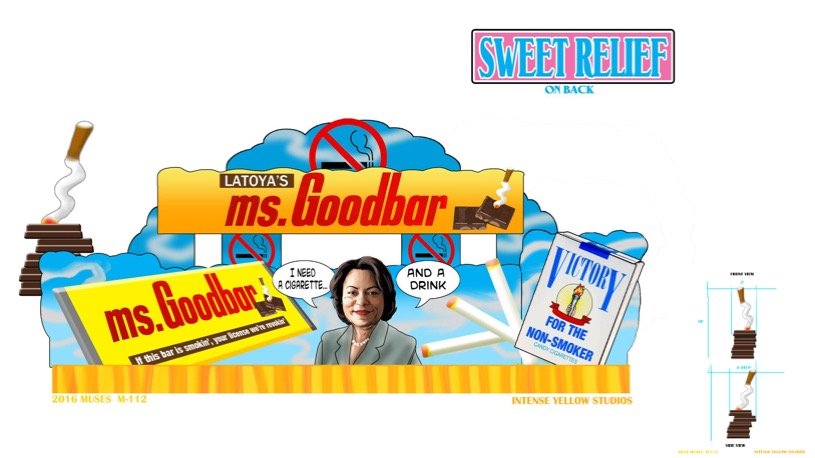 Float 22 - Ms. Goodbar
Have you heard? Drinking in New Orleans bars has gotten healthier lately thanks to a certain city councilwoman who has been snuffing out the dangers. We call her Ms. Goodbar and she has provided what many call Sweet Relief.
Marching Unit - Kolossos Art Bikes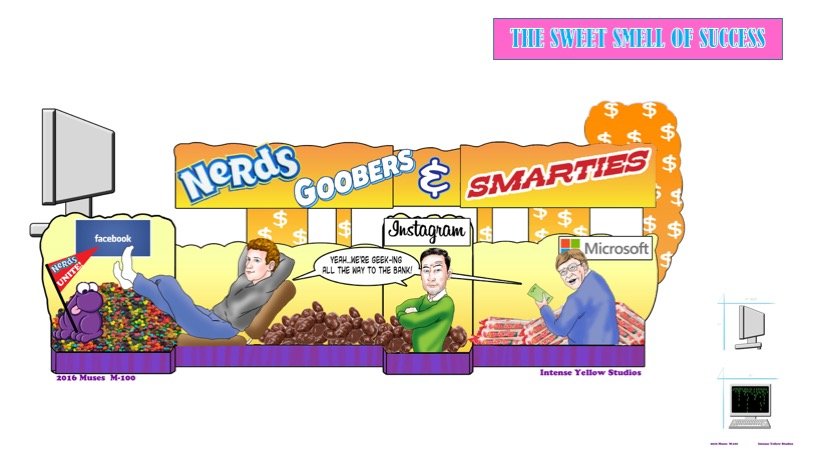 Float 23 – Nerds, Goobers & Smarties
Maybe you should have been nicer to them in high school, because these Nerds, Goobers and Smarties are geek-ing it all the way to the bank. This candy reeks of the Sweet Smell of Success.
Band – Ninth Ward Marching Band
Float 23 – Nerds, Goobers & Smarties
Maybe you should have been nicer to them in high school, because these Nerds, Goobers and Smarties are geek-ing it all the way to the bank. This candy reeks of the Sweet Smell of Success.
Band – Ninth Ward Marching Band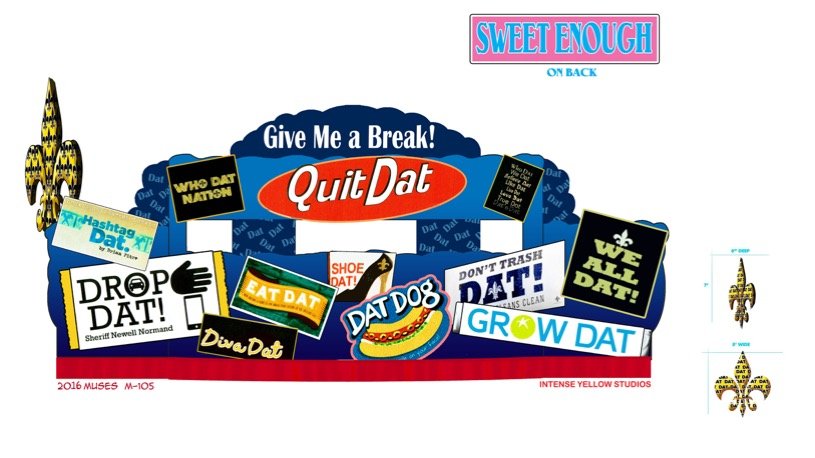 Float 25 - QuitDat
Dat slang dat you hear too often? Dat's enough of dat already. Who Dat? Drop Dat?  Grow DAt? Hashtag Dat? Dat Dat Dat Dat Dat…Gimme a break! Just Quit Dat! Enough of Dat! It's sweet enough!
Riding Unit – Laissez Boys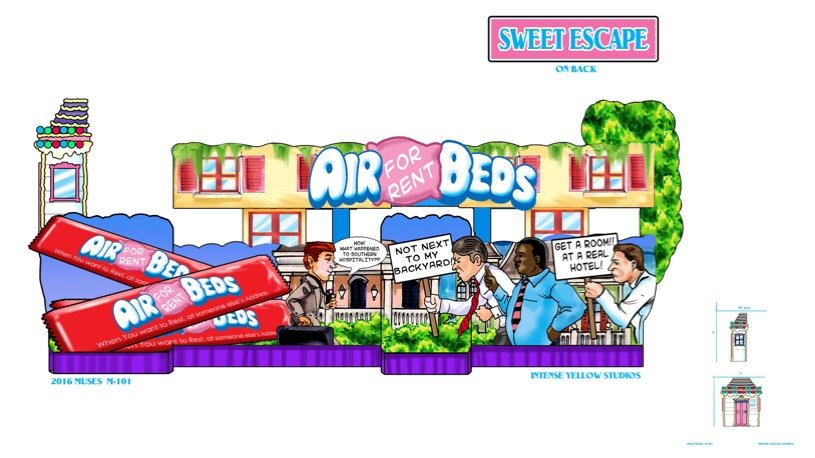 Float 26 – Airbeds
Lovely New Orleans homes in picturesque neighborhoods, all available by the weekend. Just check the web and you'll find lots of AirBeds giving a new meaning to southern hospitality and giving those tourists a cheaper Sweet Escape.
Float 27 – Hackel
It's not Ashley Madison's favorite candy, this always anonymous conspiracy with a crunch called Hackel. Made from pure disaster in China, Russia, Korea and right here in the USA! When it comes to online behavior let's just be Sweet & Discreet.
Band – BateBunda and the Dance Group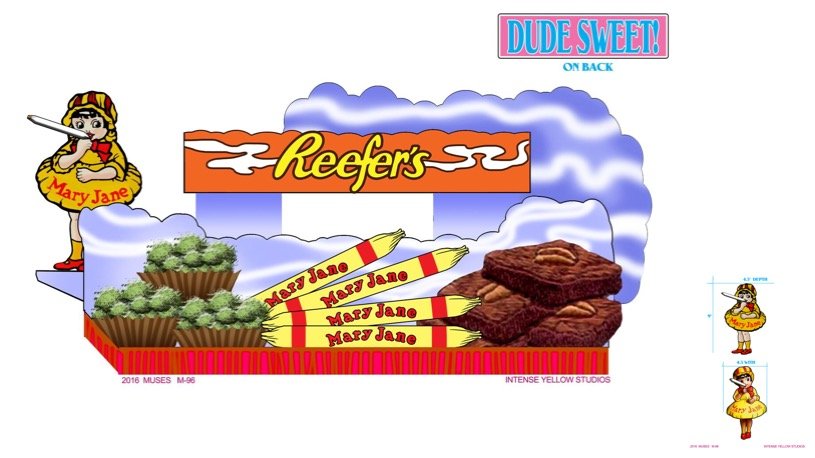 Float 28 - Reefer's & Mary Janes
Here's a candy sure to be consumed in massive quantities. Get laid back and dive into a big batch of Reefers and Mary Janes. Dude. Sweet. Where's my float?
Float 29 – Sirens
The Krewe of Muses has transplanted the legendary sirens from Greek mythology to the swamps of Louisiana.  The sirens were dangerous, yet beautiful bird-women known for enchanting music which lured sailors to shipwreck.  In the parade, these mystical sirens roll by on a cloud of mist, luring parade goers with a special limited edition sirens tattoo available only from the sirens float.  These creatures are certain to leave their mark.
Marching Unit – NOLA Zombie Walk