Happy 15th Birthday Muses!
They are back and have just gotten bigger, bolder and more brilliant! The Sisters of the Krewe of Muses roll tonight for the 15th time!
Throws of the Year
As always, The Krewe of Muses pride themselves on innovative and plentiful throws! Keep your hands up and scream Throw me Something sister while catching…Shoe bracelets, second in the series of Shoe light up beads featuring photos Muses glitter shoes, The Shoe of the Year – a sassy High top Sneaker, Glitter Diary on a cord, Strobe 15th Anniversary Muses bead, can huggie, giant filigree shoes on a beads, Light up Anniversary ball, Key to your Heart light up beads, Rubik's Cube beads, A Glitter cosmetic bag, Light up diamond rings, Metallic Flash Tattoos, Muses Swizzle Sticks, Glitter Rubber Duckies, Plush and a decorate your own shoe toy with markers! Plus the second Micro Comic book by local artist Caesar Meadows – the much anticipated story of Carnivalia –the 10th Muse.
And of course the Muses go–cups! The winner of our annual student Mardi Gras Cup Art Contest is Myron Solomon of McDonough #35 High School. The annual competition is an activity planned by our Community Outreach Committee. McDonough #35 High School will receive a $1,000 donation towards its art program. Congratulations to Myron. Check out his beautiful art on your cups!
2015 Parade - Are You There, God? It's Us, Muses
The Krewe of Muses turns 15 and, in the Carnival tradition of satire and the spirit of good fun, takes an amusing look back at the good, the bad and the downright confusing aspects growing up. Oh, the anguish of those teen years…may the parade roll more smoothly than they did.
Marching Unit – Big Easy Roller Girls
Band – St Augustine High School
Marching Unit – Walking Shoes and Butterflies
Float 1 - The 9 Muses 2014 – The Muses Officers
This signature float hosts the Captain and officers of the Krewe of Muses, floating down the route of a glittery cloud featuring the recognizable Muses tiles, borrowed from the streets of New Orleans.
Band – Landry – Walker High School Marching Band
Flambeaux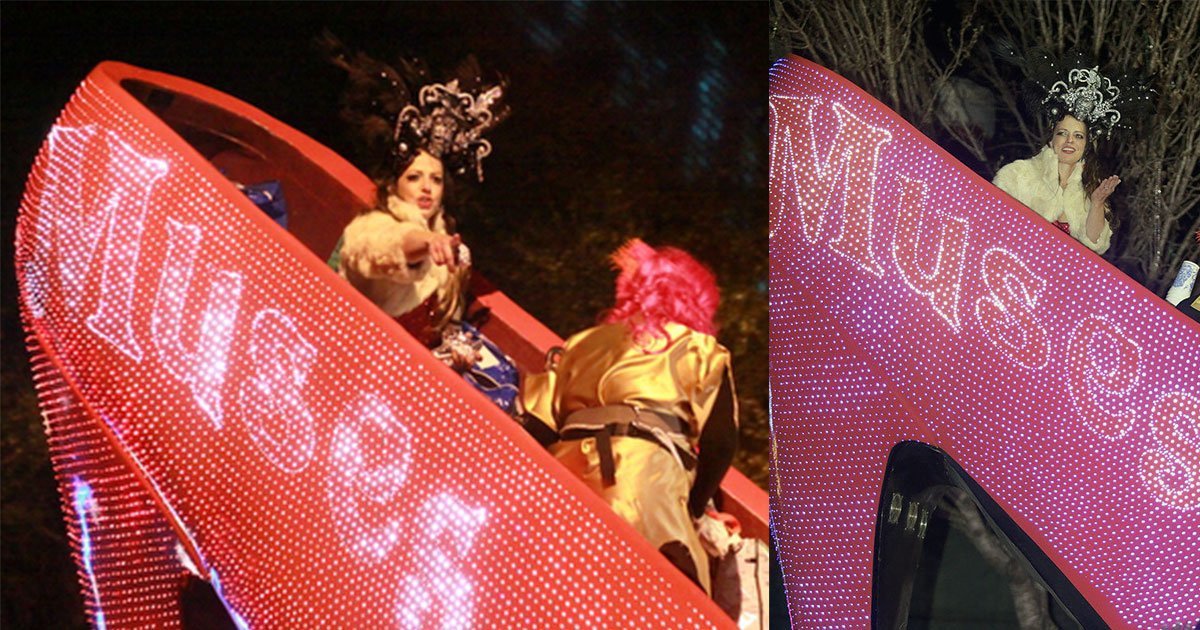 Float 2 - Honorary Muse – Sue Zemanick
The Honorary Muse 2015 riding the Muses Shoe
The Muses' Signature high–heeled Shoe, every inch encrusted in fiber optic lights, carries the Honorary Muse sister of 2015, Chef Sue Zemanick! Chef Sue Zemanick is the executive chef at Gautreau's and Ivy, will serve as 2015 Honorary Muse. Sue began her culinary career at the age of 15 while working in fine dining restaurants in Wilkes–Barre, Pennsylvania. She graduated in the top of her class at the Culinary Institute of America in Hyde Park, New York. Upon arriving in New Orleans she began cooking at Commander's Palace. She later moved on to cook at Gautreau's and was promoted to Executive Chef in 2005.
In 2007, Sue was named as a "Chef to Watch" by the Times-Picayune food critic. In 2008 she was chosen as a "Top Ten Best New Chef" by Food & Wine Magazine as well as "Chef of the Year" by New Orleans Magazine. Gautreau's has been consistently rated one of the "Top Ten Best Restaurants in New Orleans" by the Times-Picayune. In 2011, Sue was a contestant on Bravo's Top Chef Masters Season 3, and in 2014, she won the Beard Foundation's "Best Chef of the South."
Band – Katherine Drexel High School Marching Band
Float 3 – Mt. Olympus Brass Band (Coolbone)
Band – Lake Area High School
Float 4 – The Bathing Muses 2014
This beloved float bubbles its way down the route with beautiful bathing Muses.
Band – Helen Cox
Horse Unit – Lady Godiva Riding Club
Float 5 – Molly Marines Chapter LA–1, Women Marines Association
Marching Unit – Molly Marines
Band – Edna Karr High School Marching Band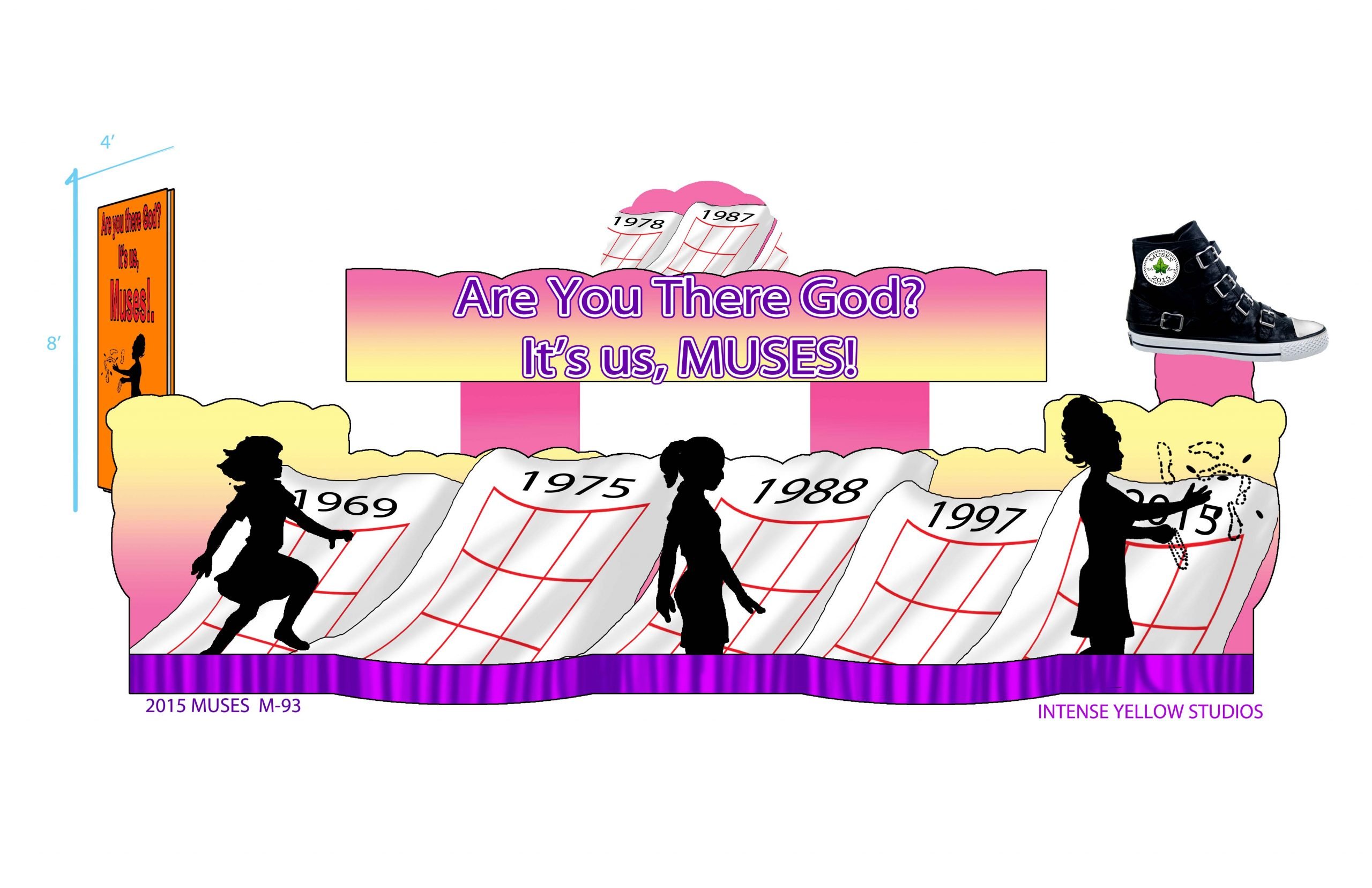 Float 6 - Title Float – Are You There God? It's Us Muses
The pre–teen years were hard on all of us…so as Muses turns 15 we look back at the anguish and the joys of those important developmental, adolescent years that made us who we are.
Band – McMain Senior High School Marching Band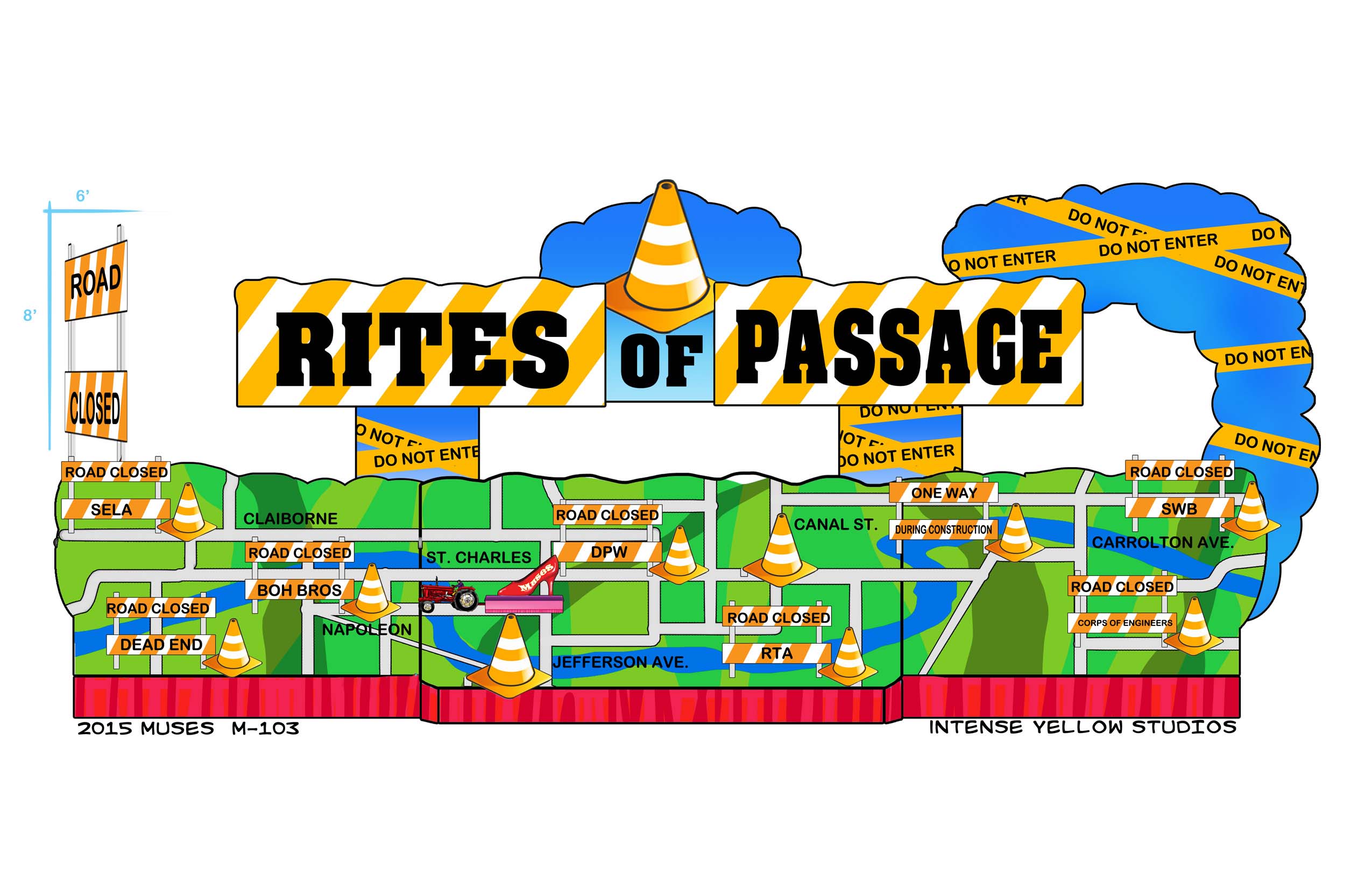 Float 7 - Rites of Passage
Adolescence is full of those precious moments – your first dance, your welcome to adulthood…Rites of passage. There are very few rites of passage in our town these days. And like adolescence – every turn proves to be yet another obstacle. We hope these floats can make it through the route….
Band – Martin Luther King Charter School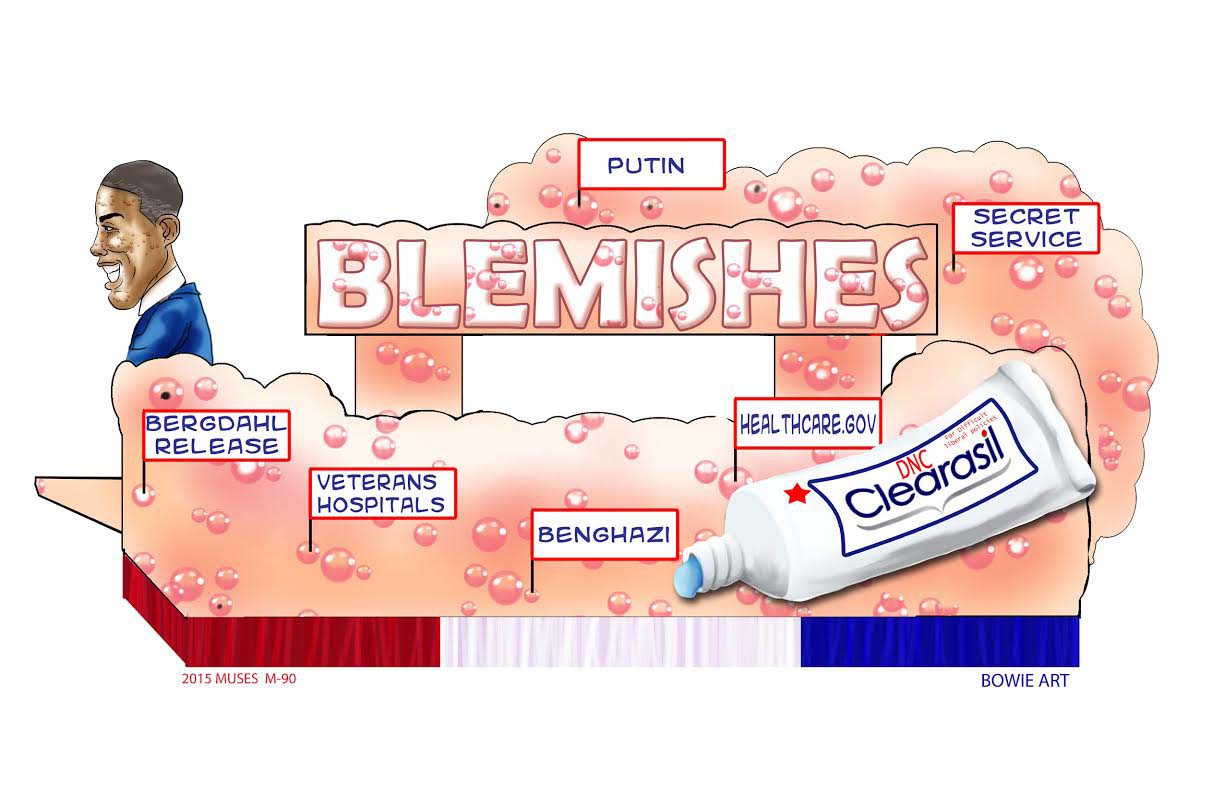 Float 8 - Blemishes
Those horrible blemishes…looks like everyone gets them. Every teen and every administration. Get that DNC Clearasil out cut we got some zits to deal with!
Band – Joseph S Clark Senior High School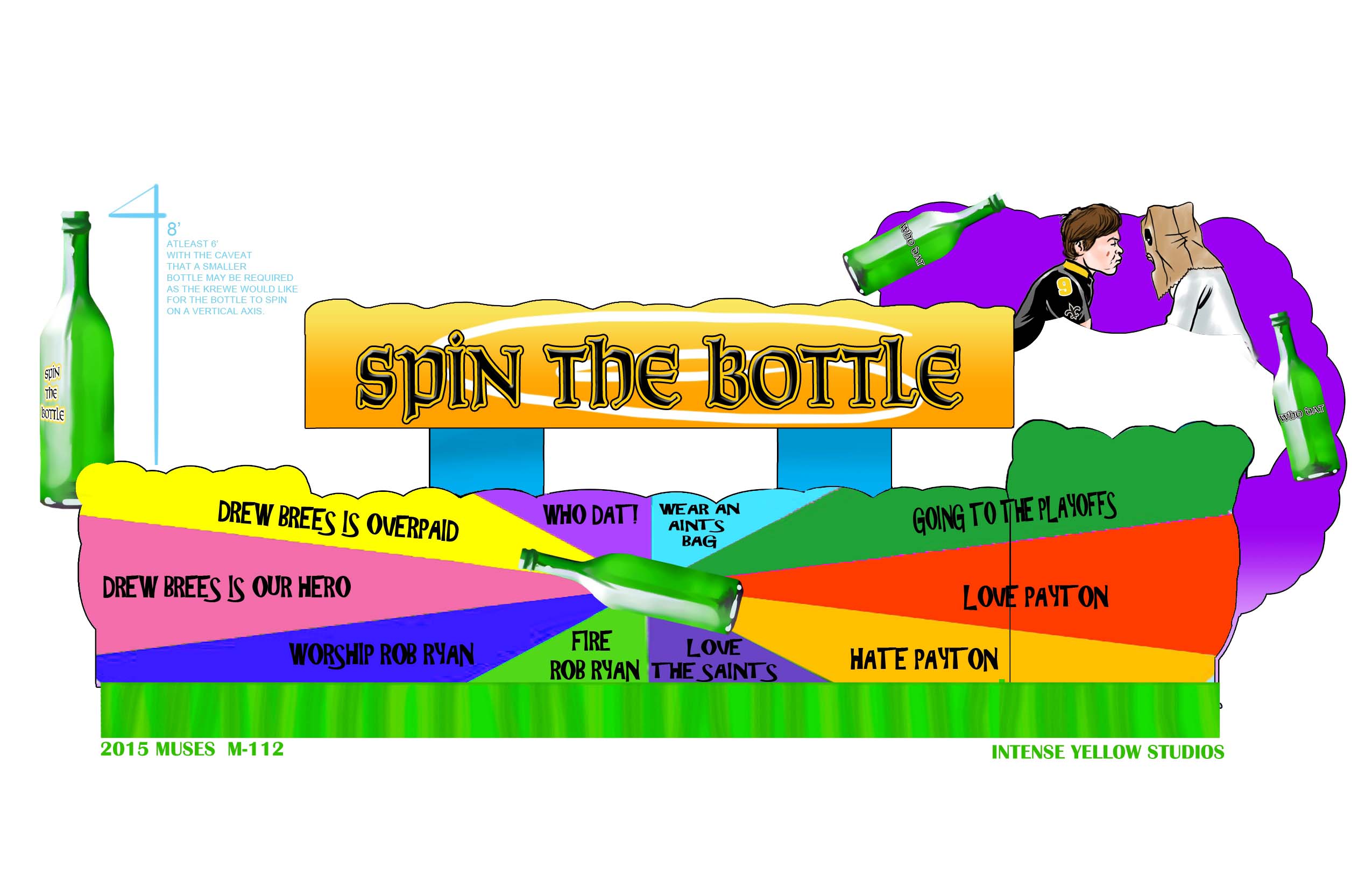 Float 9 - Spin the Bottle
The bottle spins and you never know Who Dat you're gonna have to kiss – or who dat gonna show up at the dome on Sunday. One week we're doing the super Bowl Shuffle…the next we're blinging up our bags.
Band – Walter L. Cohen High School and Support Vehicle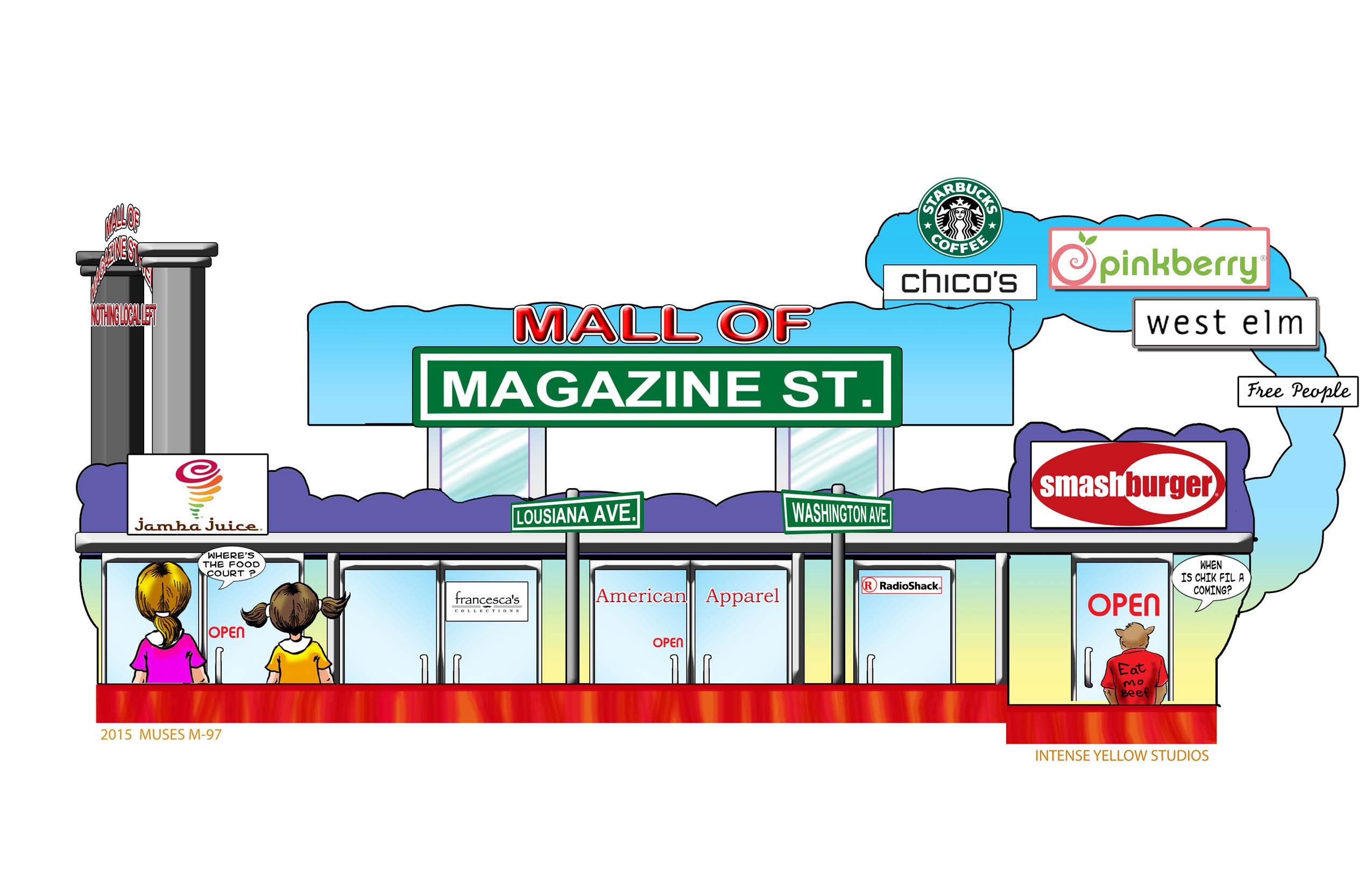 Float 10 - Mall Rats
Teens sure do love the mall! Well these days the mall rats don't have to haul it out to da' parish. The mall seems to have taken over a historic street in New Orleans. Mom and Pop had better move aside. The rents are up and the Mall of Magazine Street is open for business.
Band – Martin Berhman Middle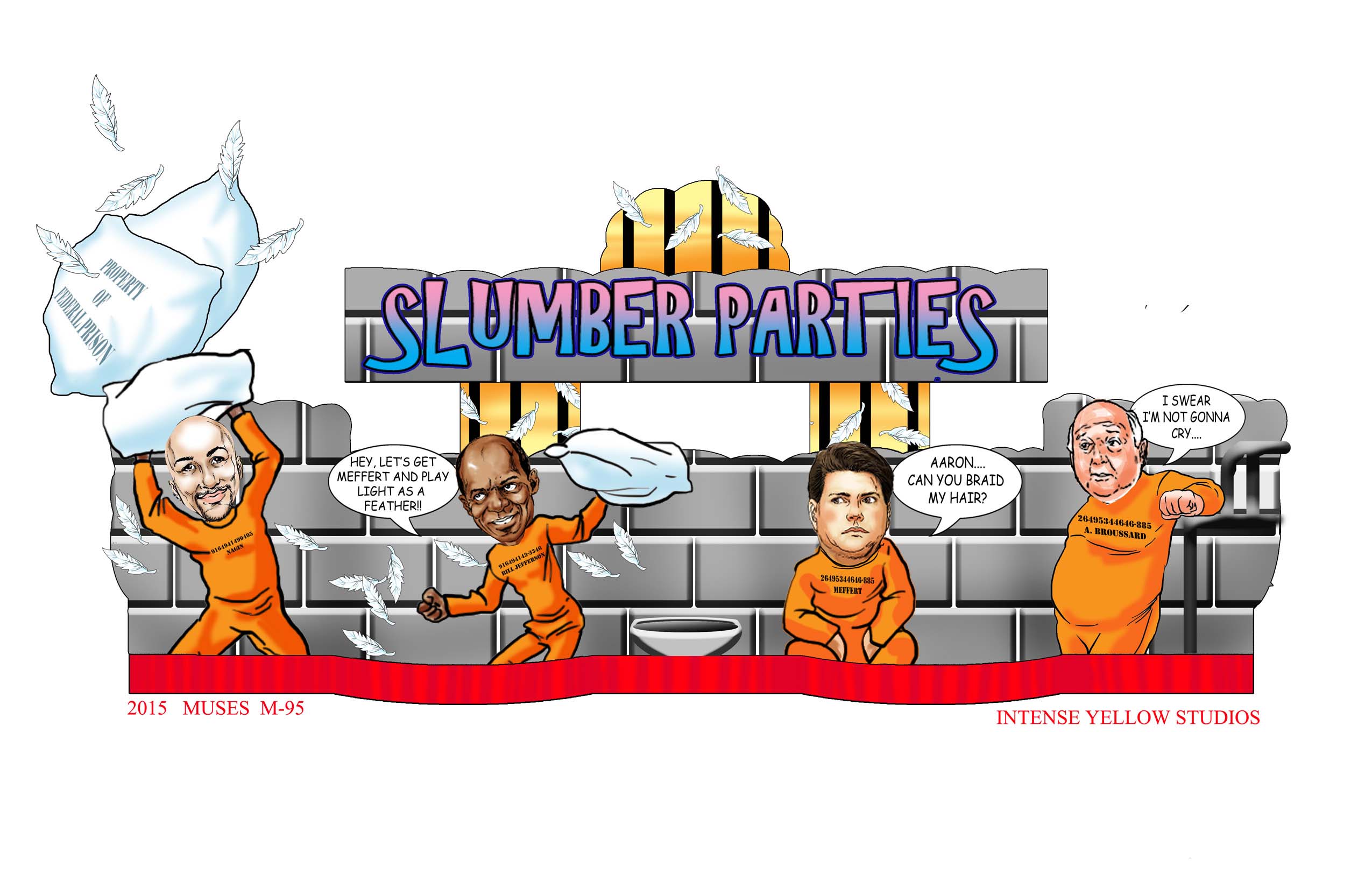 Float 11 - Slumber Parties
They're staying up late, playing "light as a feather," braiding hair and having pillow fights. It's not a teenage slumber party! It's federal prison with our pals Ray, Bill, Greg and Aaron. So don't fall asleep first or drop the soap.
Band – West Jefferson High School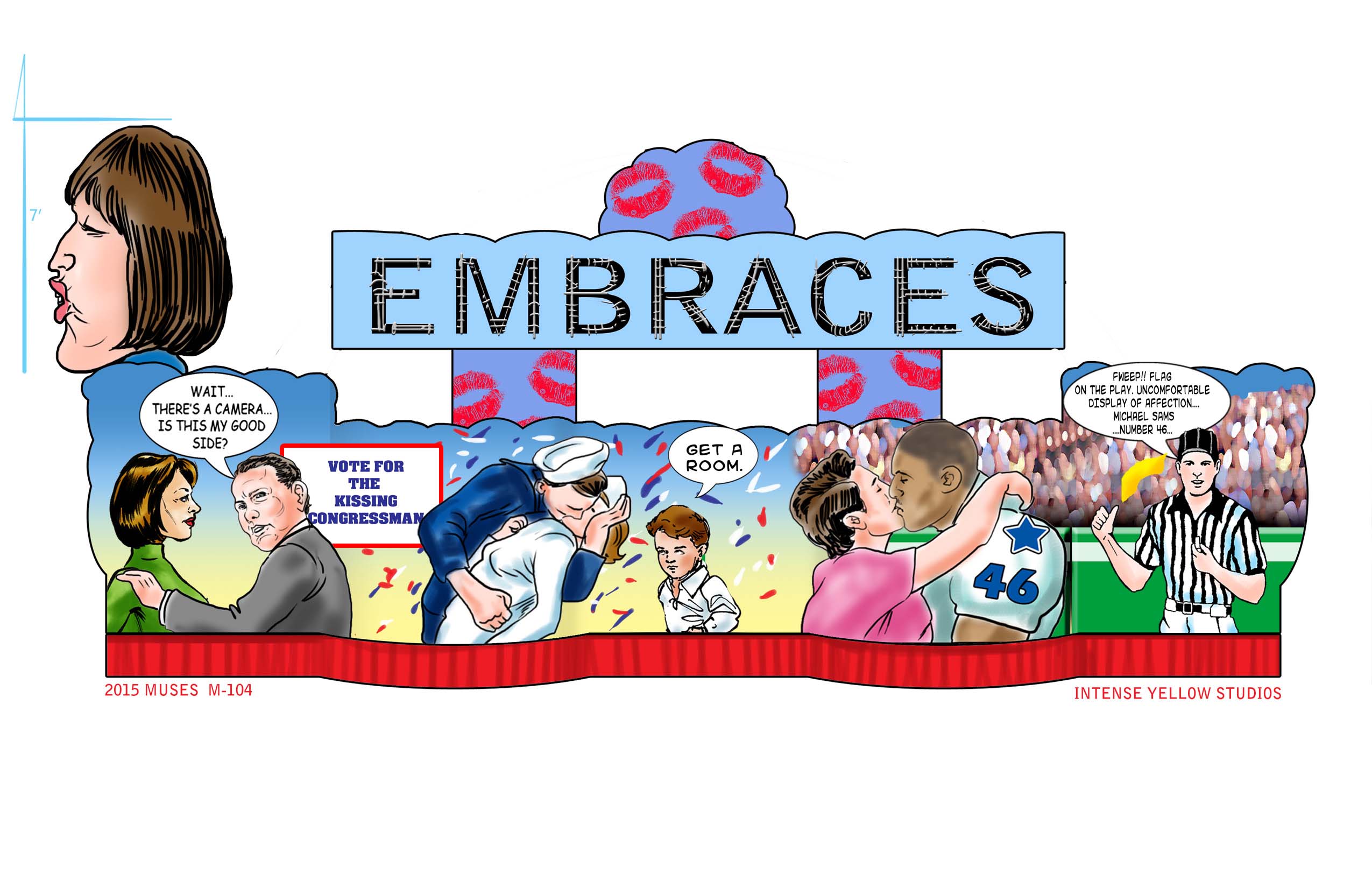 Float 12 - Embraces
Those awkward braces…and awkward embraces. They seem to be making lots of news these days – history – for drafted NFL stars and even kissing congressmen. Smooch away – just be careful and don't get caught!
Band – LW Higgins Marching Band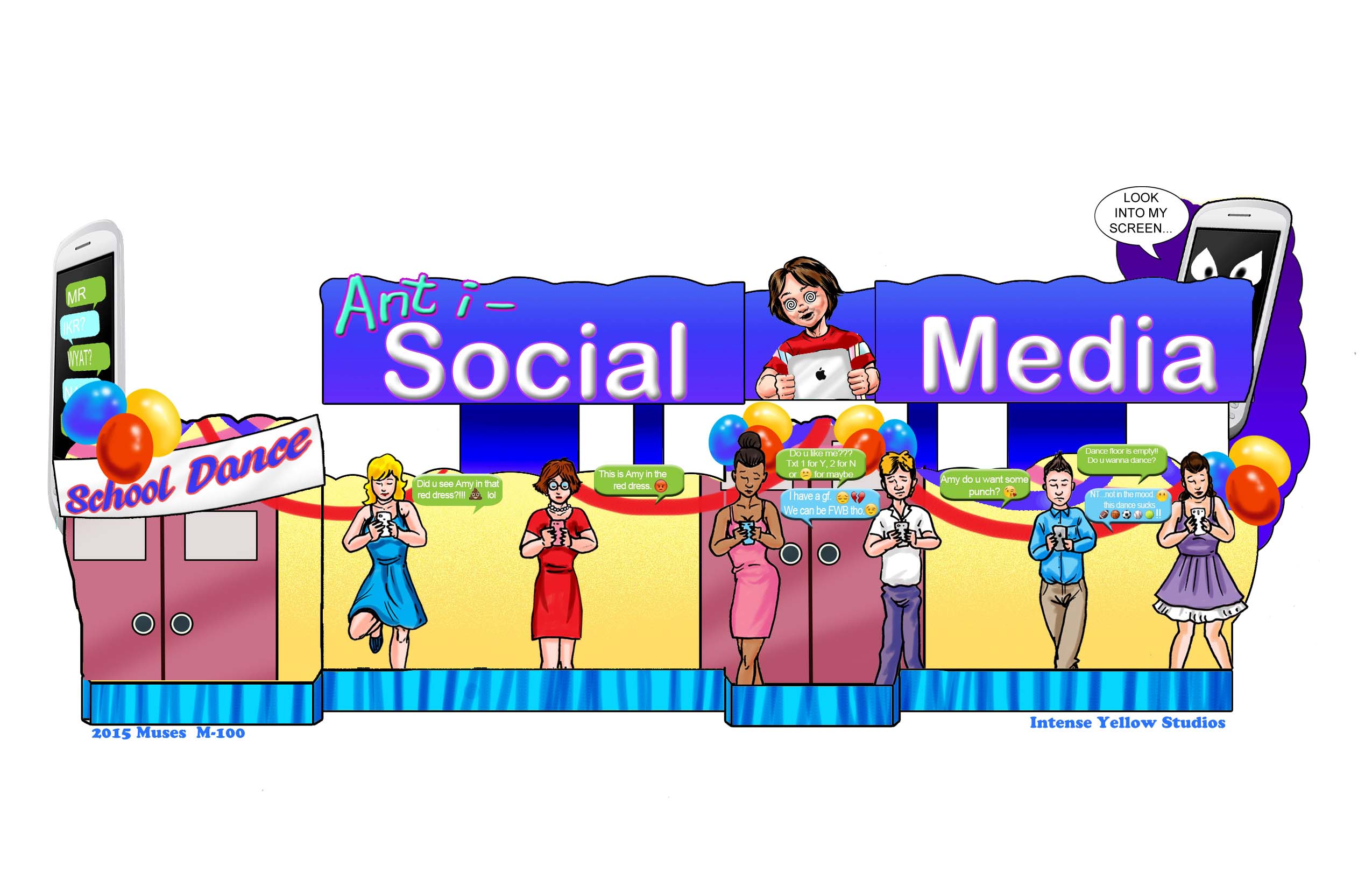 Float 13 - Anti–Social Media
There's social media that keeps us all in touch…but then if you're a teen there is anti–social media. Why have a sweaty–palm conversation when you can text the girl across the dance about the guy who thinks you're cute and he can text the girl standing next to you about the other person who is texting for a ride home? OMG Bae n BBFN ;–).
Band – George W. Carver High School Marching Band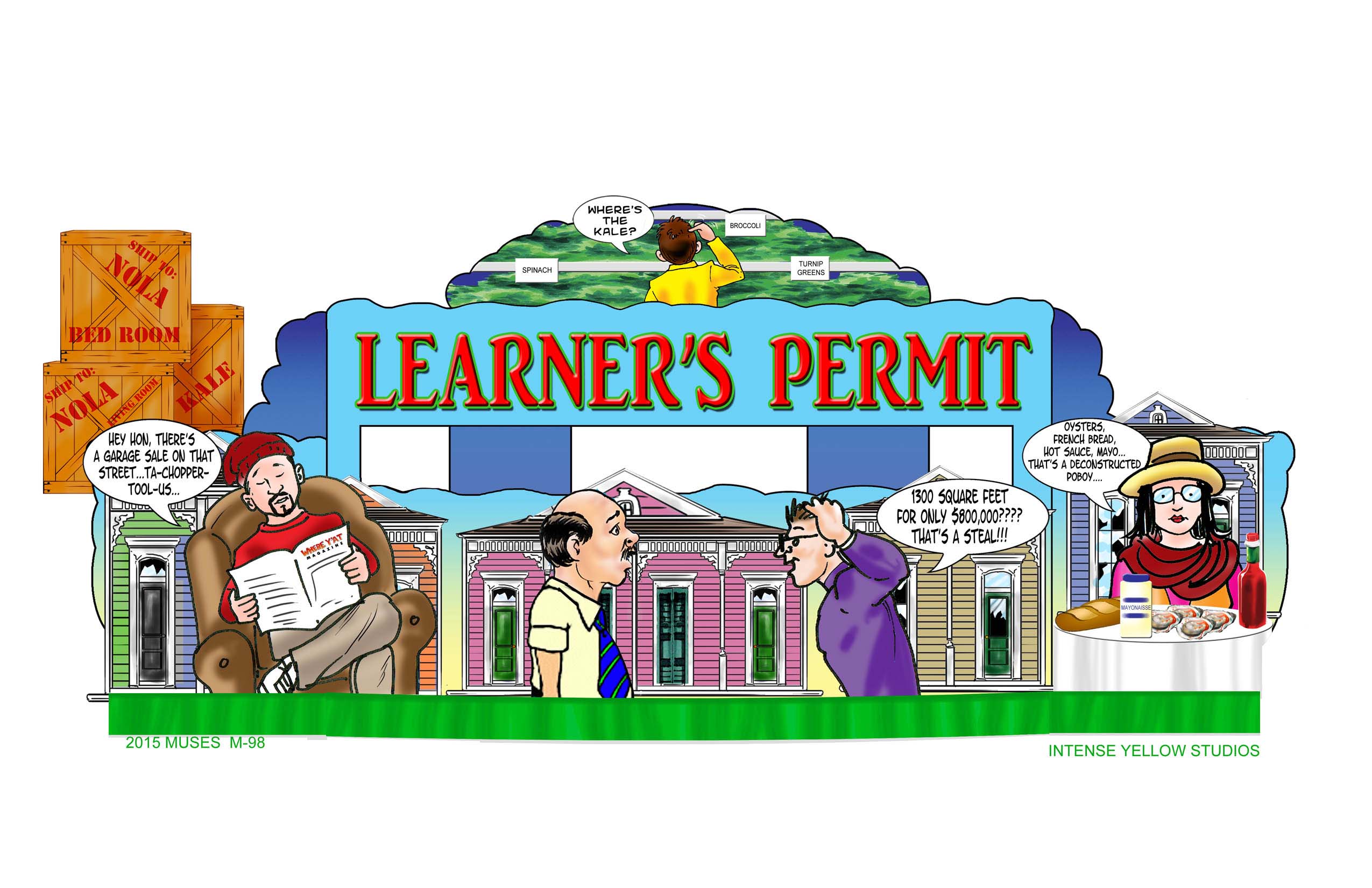 Float 14 - Learner's Permit
They're new to town and raising the roof on real estate prices, learning how to spell TCHOUPITOULAS and where to find a deconstructed po' boy. New Orleanians are definitely getting their learners permits on NOLA life. New Orleans…proud to kale it home!
Band – Kipp NOLA
Marching Unit – High Steppers and ISL Circus Arts Kids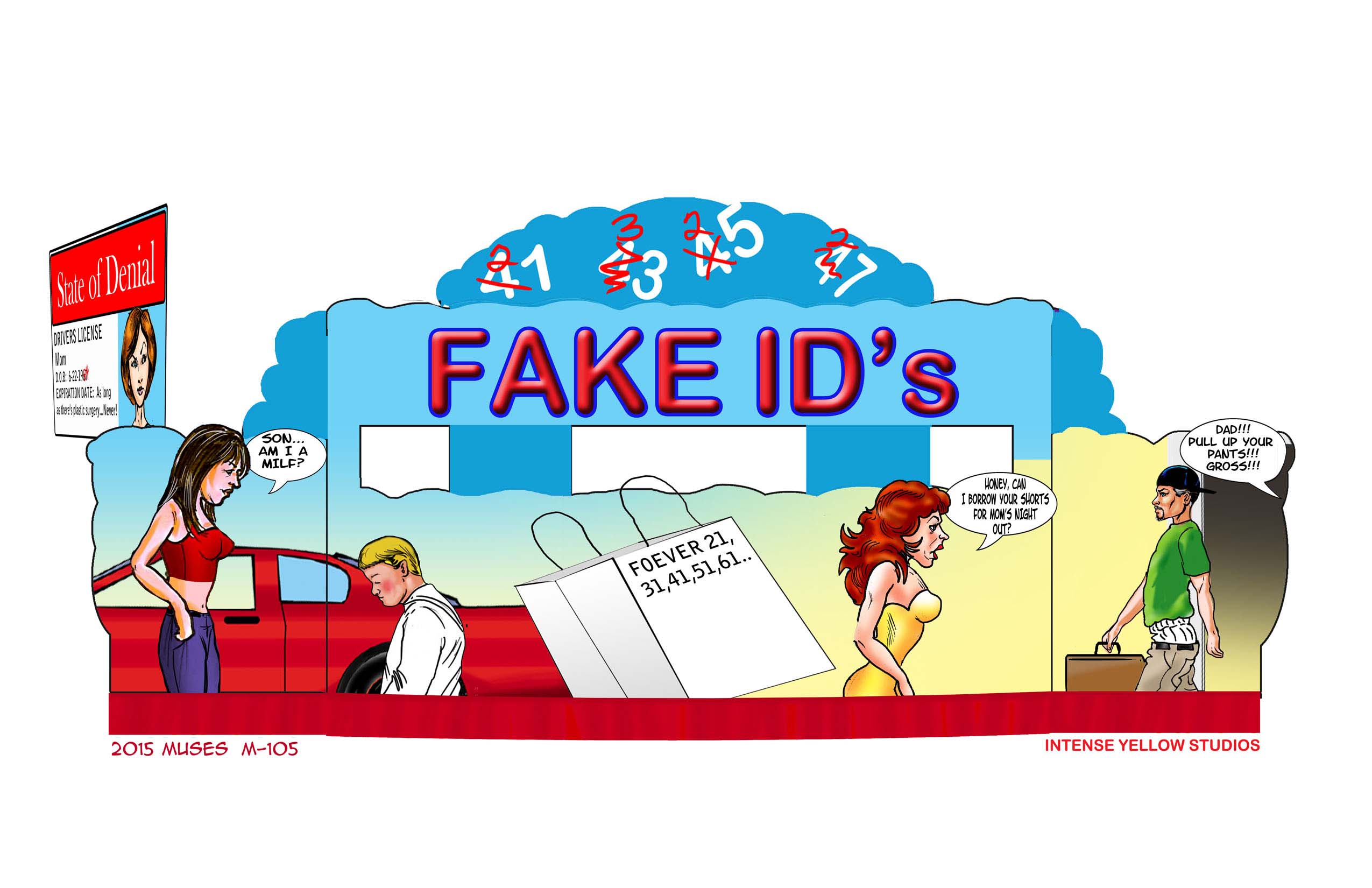 Float 15 - Fake ID's
Once you went all out to get that Fake ID just so you could get in to the coolest bars (okay when we were 15 the drinking age was only 18)…these days it seems the parents are seeking their own fake IDs from the State of Denial…pull up your pants, stop wearing midriffs after 50 and yes, Dear, you are too old to shop at Forever 21!
Marching Unit – Camel Toe Lady Steppers & Brass Band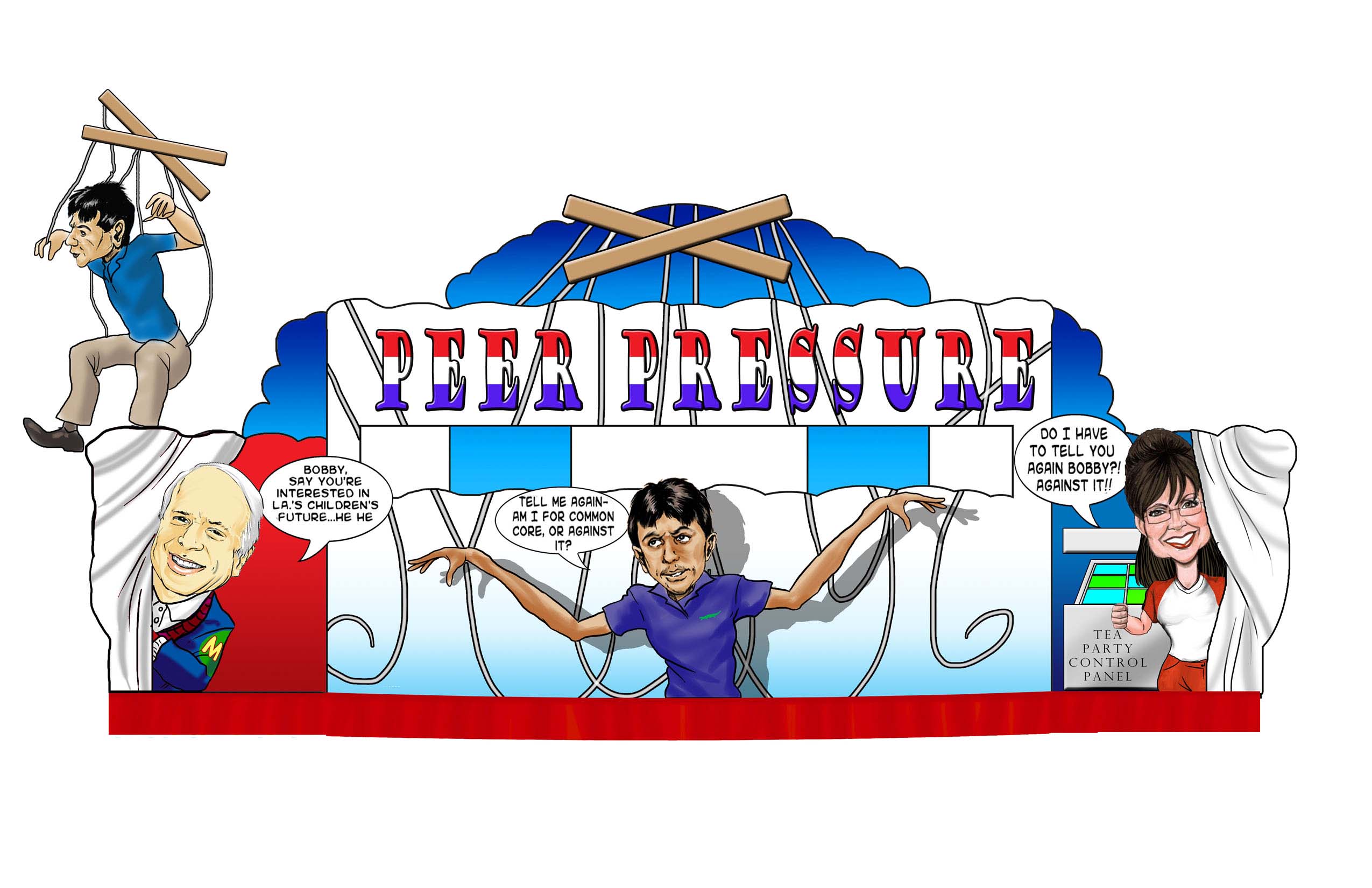 Float 16 - Peer Pressure
Oh the challenges of being a tall, gangly, awkward teen…or always looking like one, despite age or elected office. Some kids will let those bullies tell them what to do, what to say and what to think. Oh the power of peer pressure.
Marching Unit – Pussyfooters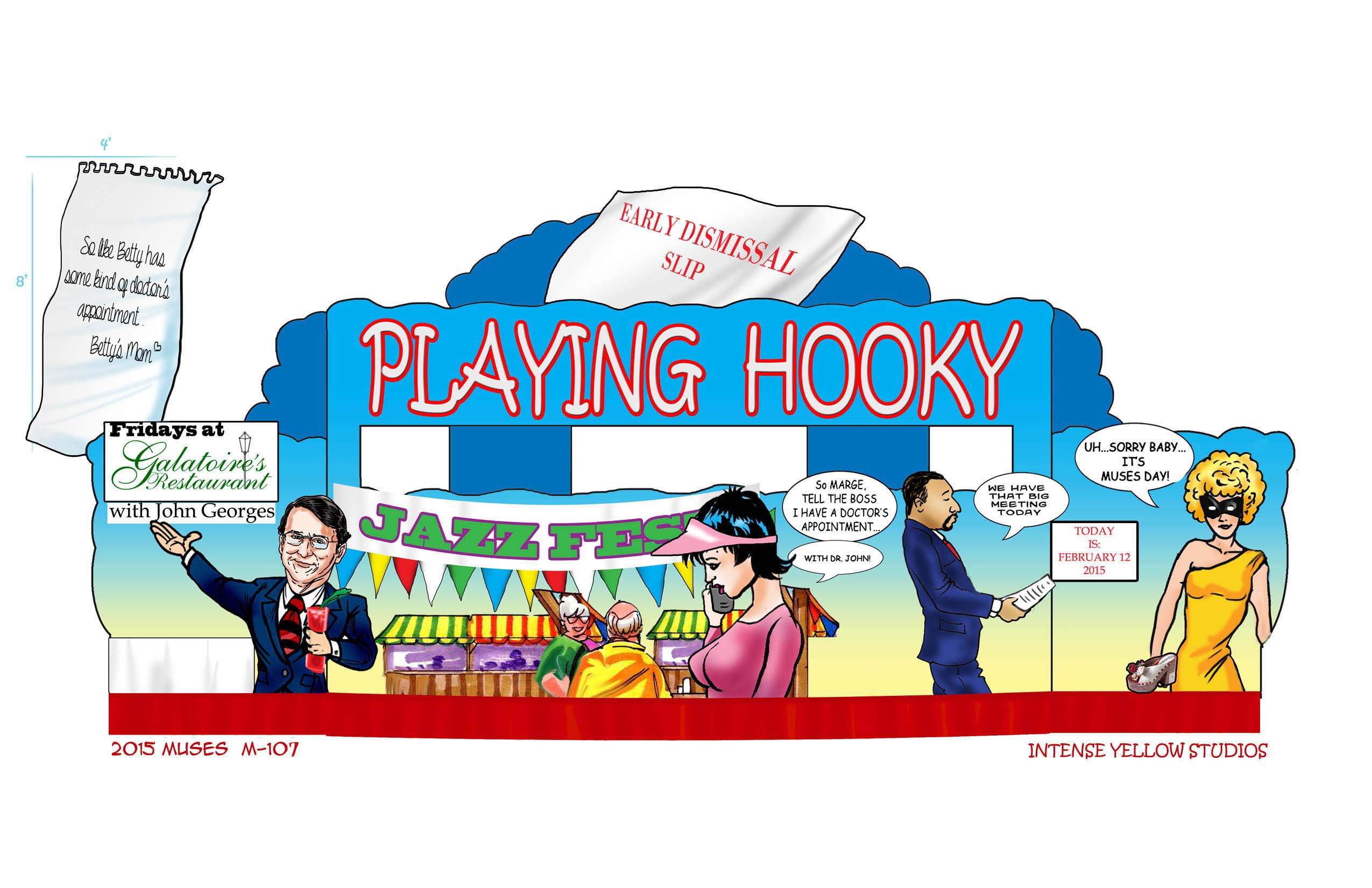 Float 17 - Playing Hooky
It's Friday in New Orleans and you just can't concentrate on work. Sounds like the perfect day to call in sick. Playing hooky is a NOLA tradition….from scheduling that Dr.'s appointment that happens to fall on Jazz Fest Thursday (with Dr. John, of course) to sneaking out for a long liquid lunch to the always understandable day off – the day after Muses. Go ahead…play hooky tomorrow!
Marching Unit – Rolling Elvi
Float 18 - I Put What Where?
Is this normal? Can I still go horseback riding? Was that supposed to happen? OMG! Where did that come from? I swear those were not there yesterday! Those teen years are so full of questions and every day unleashes a new level of angst and confusion!
Marching Unit – Dead Rock Stars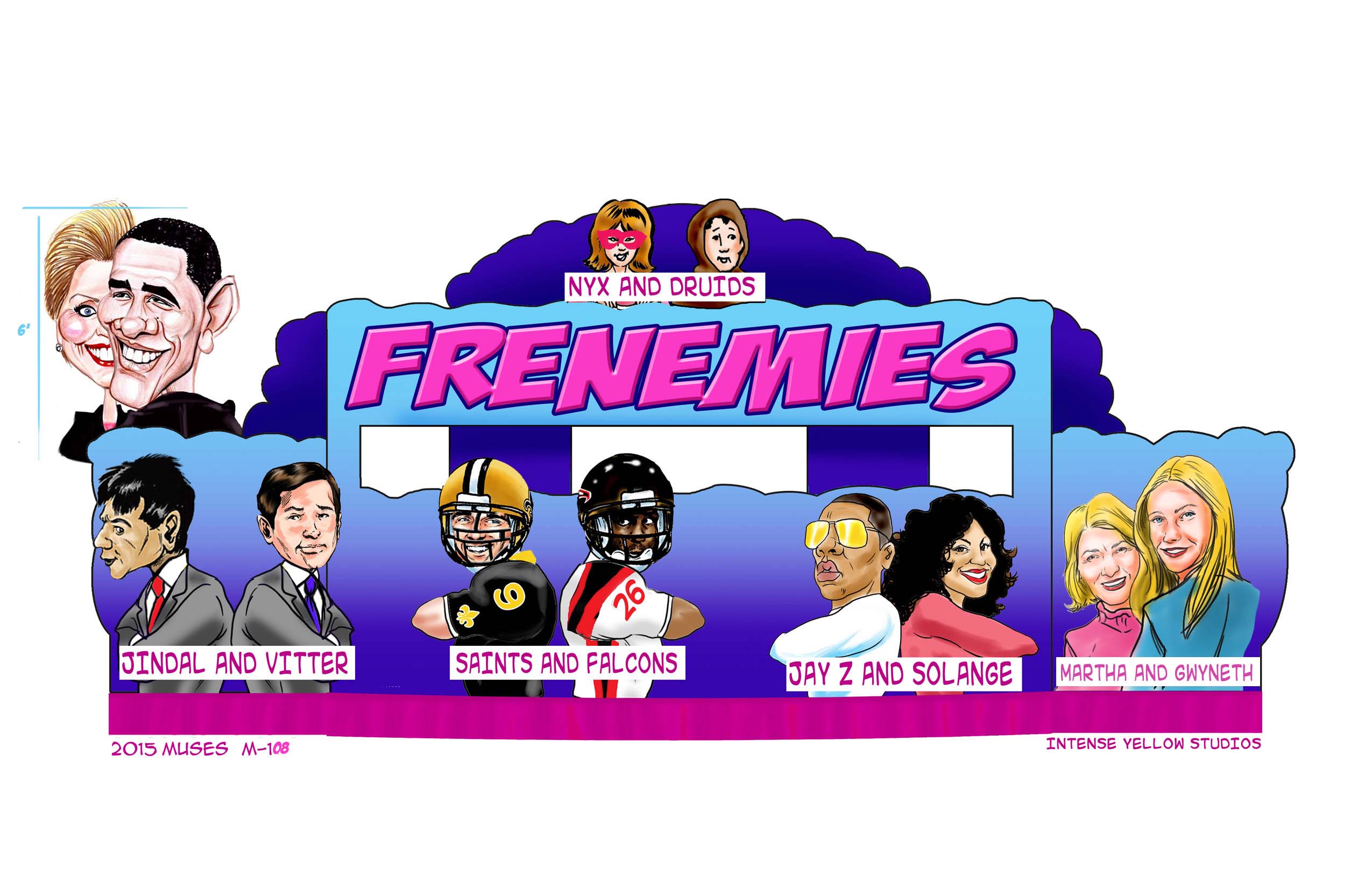 Float 19 - Frenemies
When you're a teen, friends are the most important thing in your life…but how many are true friends and how many are actually Frenemies!? Well as Hillary and Barak "hug it out" and Martha and Gwyneth smile nice for the camera…check your pals and watch your back.
Marching Unit – NOLA Cherry Bombs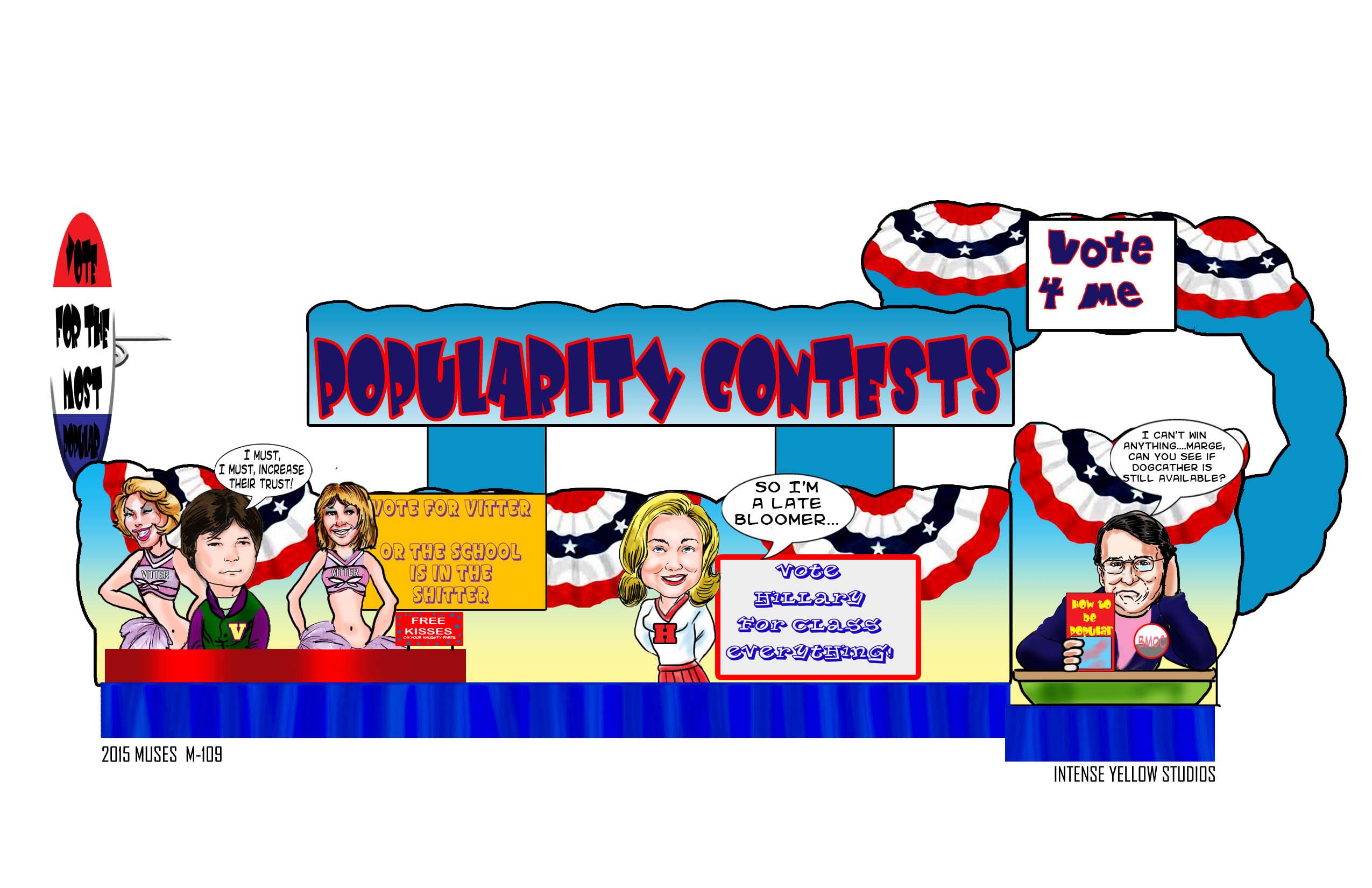 Float 20 - Popularity Contests
It's time for class elections and we want to know…is this an election or a popularity contest? The cheerleaders seem to be backing David…or are those girls for hire? Hillary is now running for Class Everything and our local pal John Georges is seeking yet another office…is the dog catcher election coming up?
Band – Noisition Coalition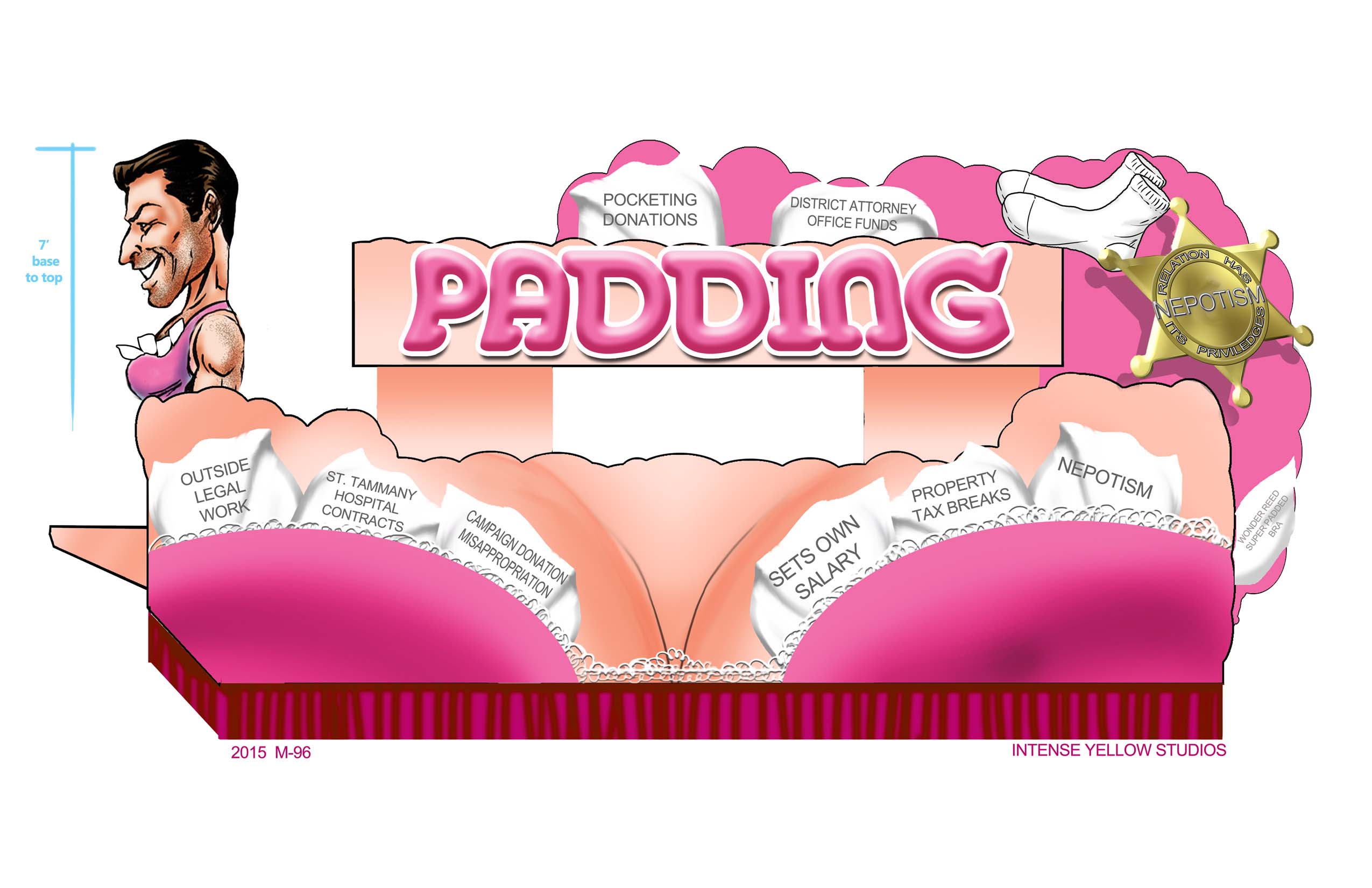 Float 21 - Padding
What do Water Reed and a flat chested teen girl have in common? Lots and lots of padding…and eventually they both get busted.
Marching Unit – Bearded Oysters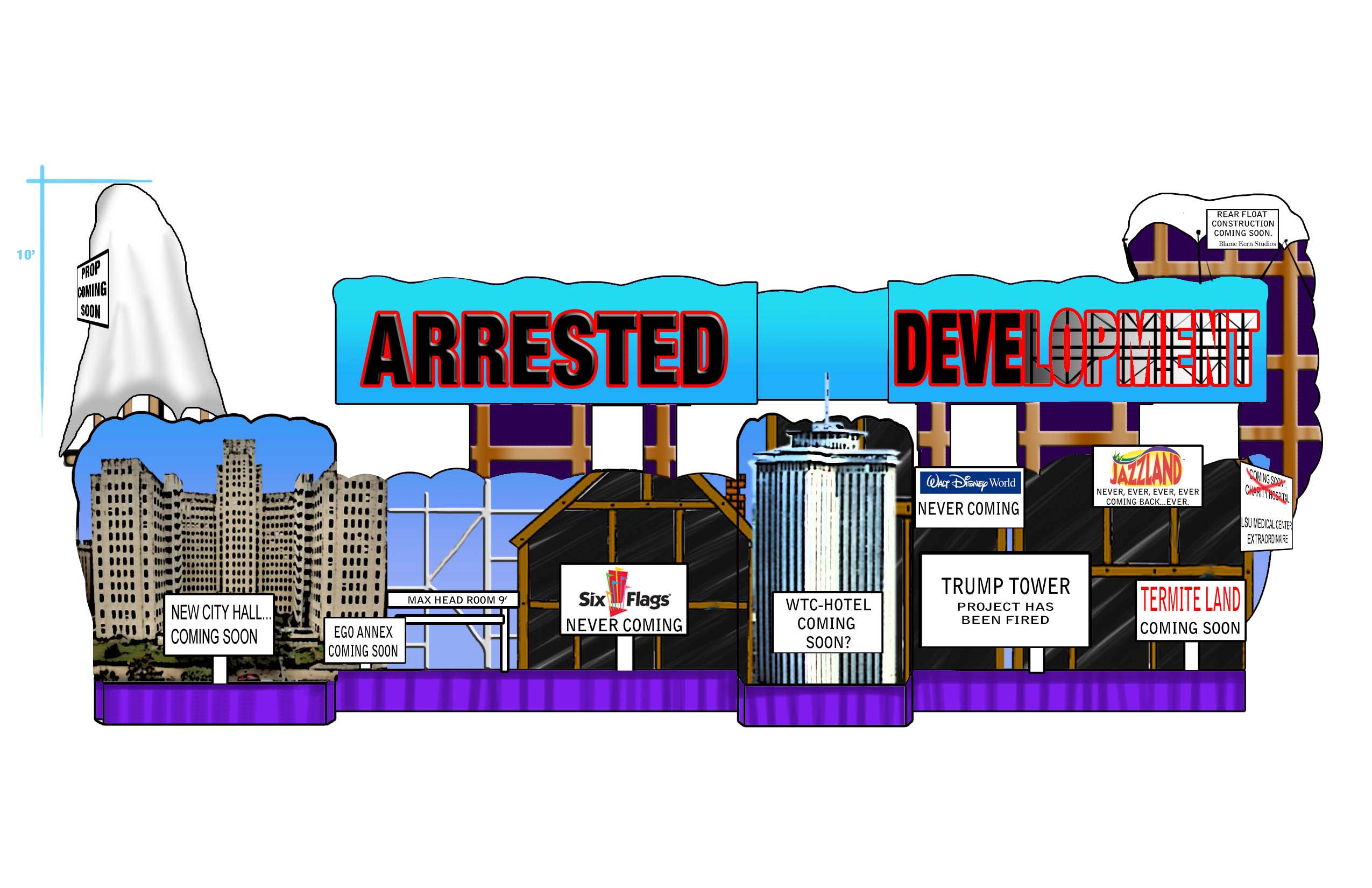 Float 22 - Arrested Development
Things start to changing and then BAM! Arrested Development. Those dreams of growth and change and progress just seem to dwindle away…
Band – Kolossos Art Bikes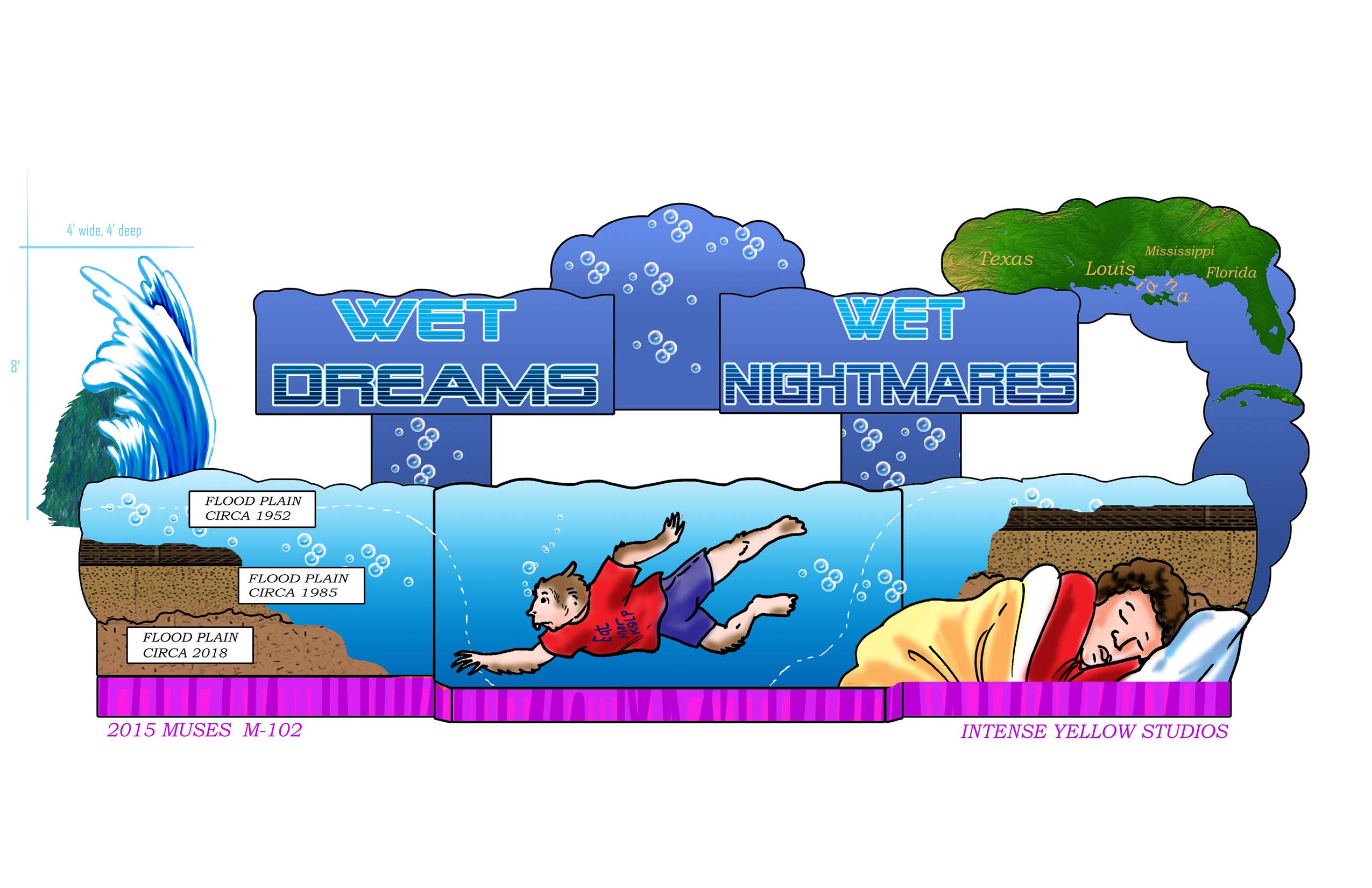 Float 23 - Wet Dreams/Wet Nightmares
There's a giant wave sweeping over the bottom of the state…water surging into homes and over our eroded wetlands….is this really happening (again)? No. It's just a wet dream.
Riding Unit – Pink Slip Float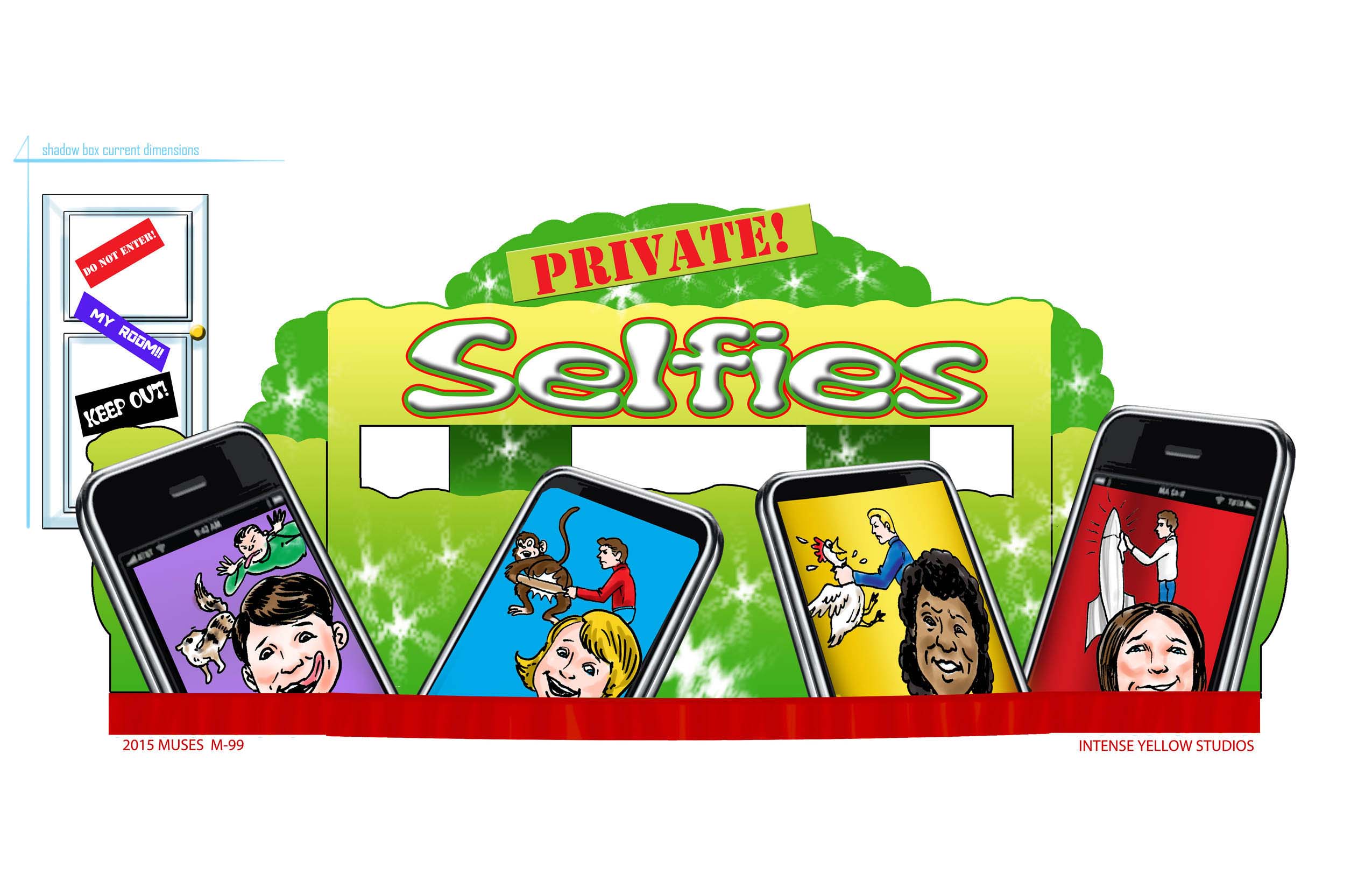 Float 24 - Selfies
The sign on the door says KEEP OUT! PRIVATE! DO NOT ENTER. Those teens sure guard their privacy. Why don't those kids want the grownups in their room? Maybe it's because they're taking Selfies.
Riding Unit – Laissez Boys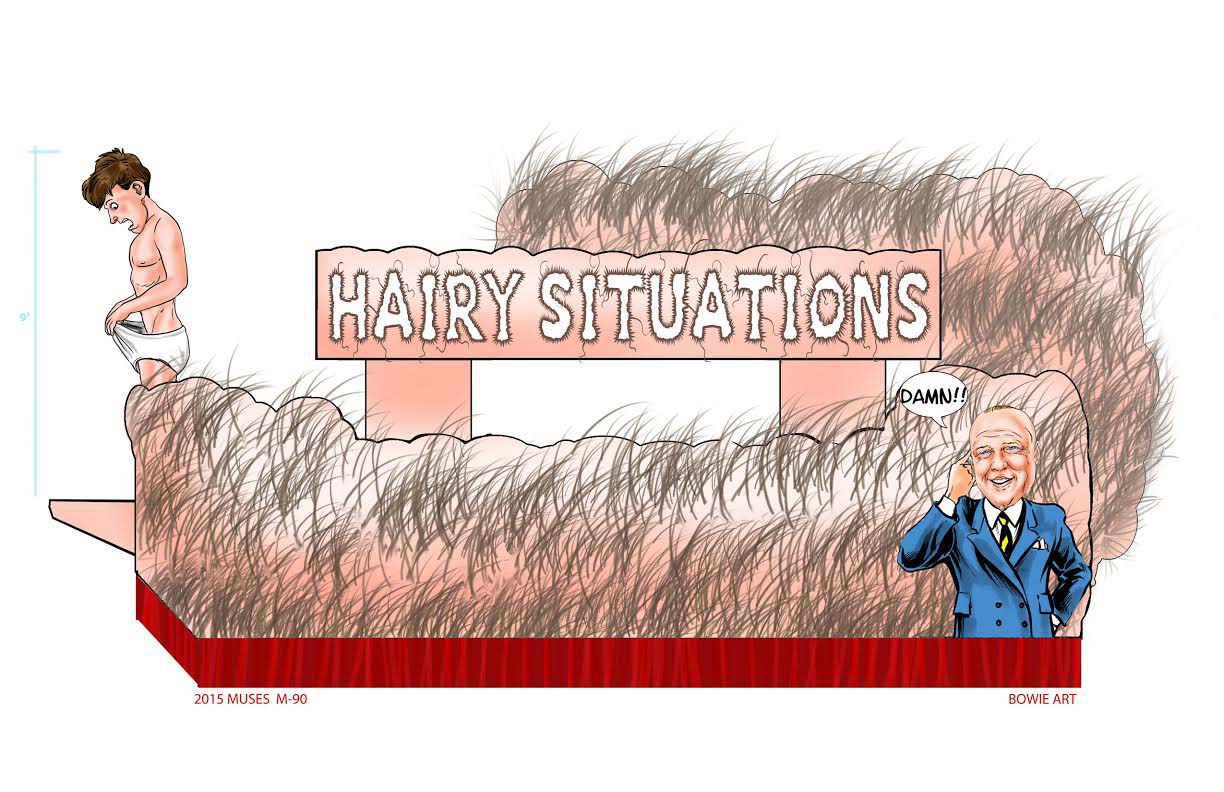 Float 25 - Hairy Situations
Teen years are filled with those situations…you remember…those shocking Hairy Situations. Well hairy for everyone except Mitch.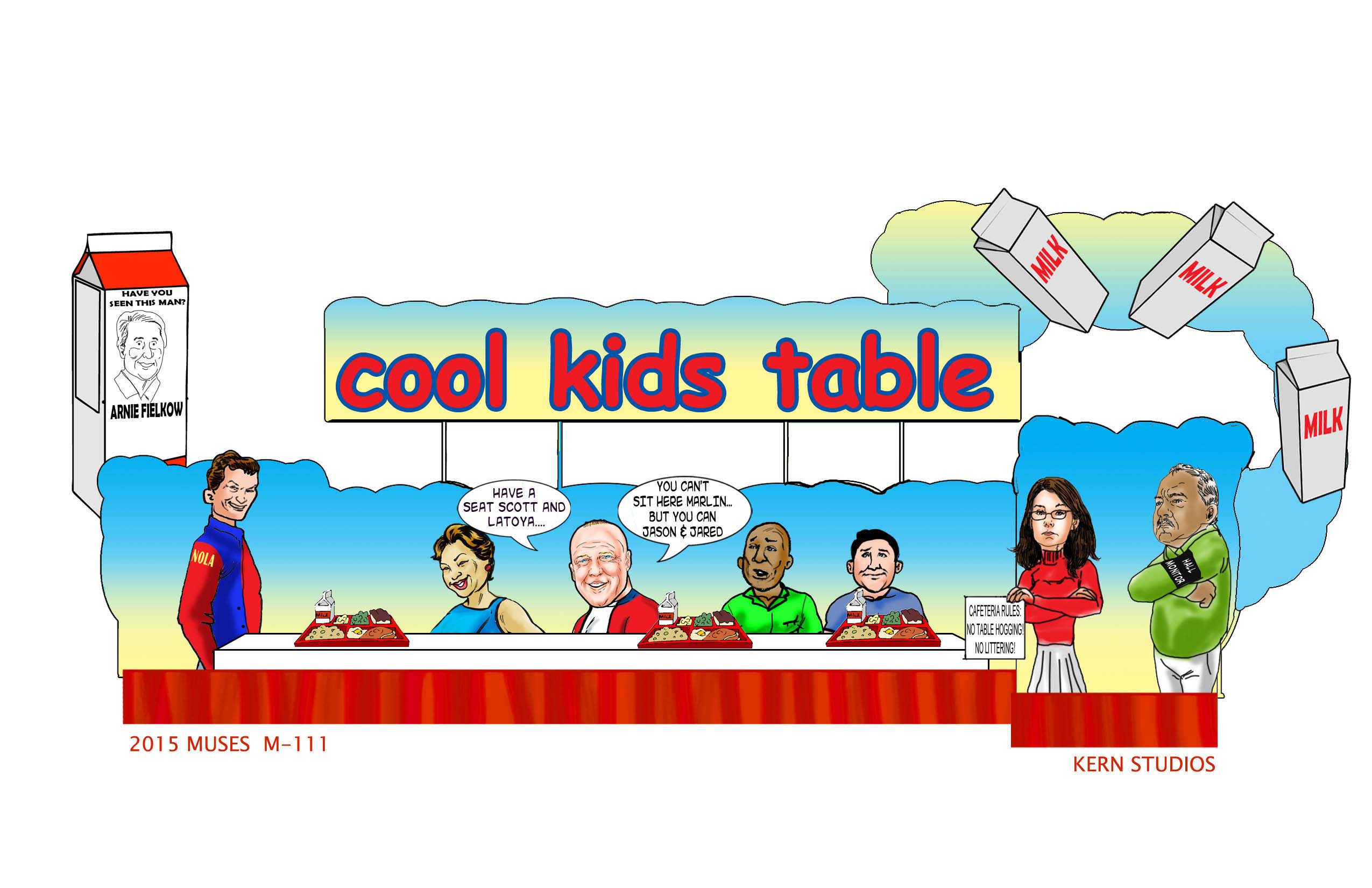 Float 26 - The Cool Kids Table
Speaking of Mitch…who's running the cool kids table in the cafeteria? It's our BMOC – Big Mitch on Campus – he decides who get to sit with the Cool kids. And who does not. This week it looks like Marlin – our hall monitor – is NOT welcome. And Stacy has made a poster board sign to remind everyone of the rules.
Band – BateBunda and the Dance Group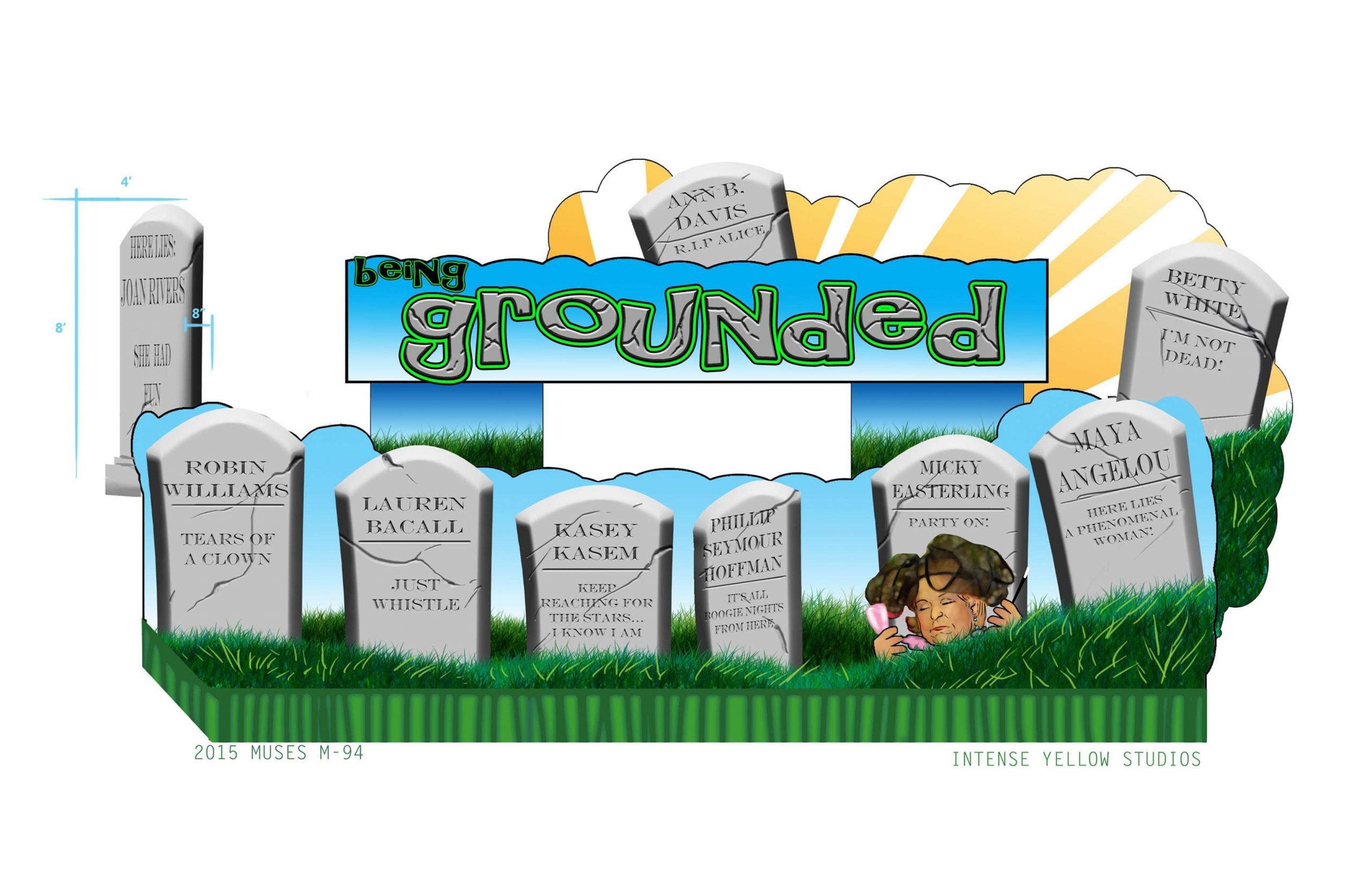 Float 27 - Being Grounded
No one likes being grounded…and we hate seeing who was grounded this past year….many Muses to the Muses including inspirations like phenomenal woman Maya Angelou and our posthumous honorary Joan Rivers. (We would rather have seen you both in our Shoe!) And even our own socialite Mickey Easterling is popping up for the party and a stiff one. Cheers to you all.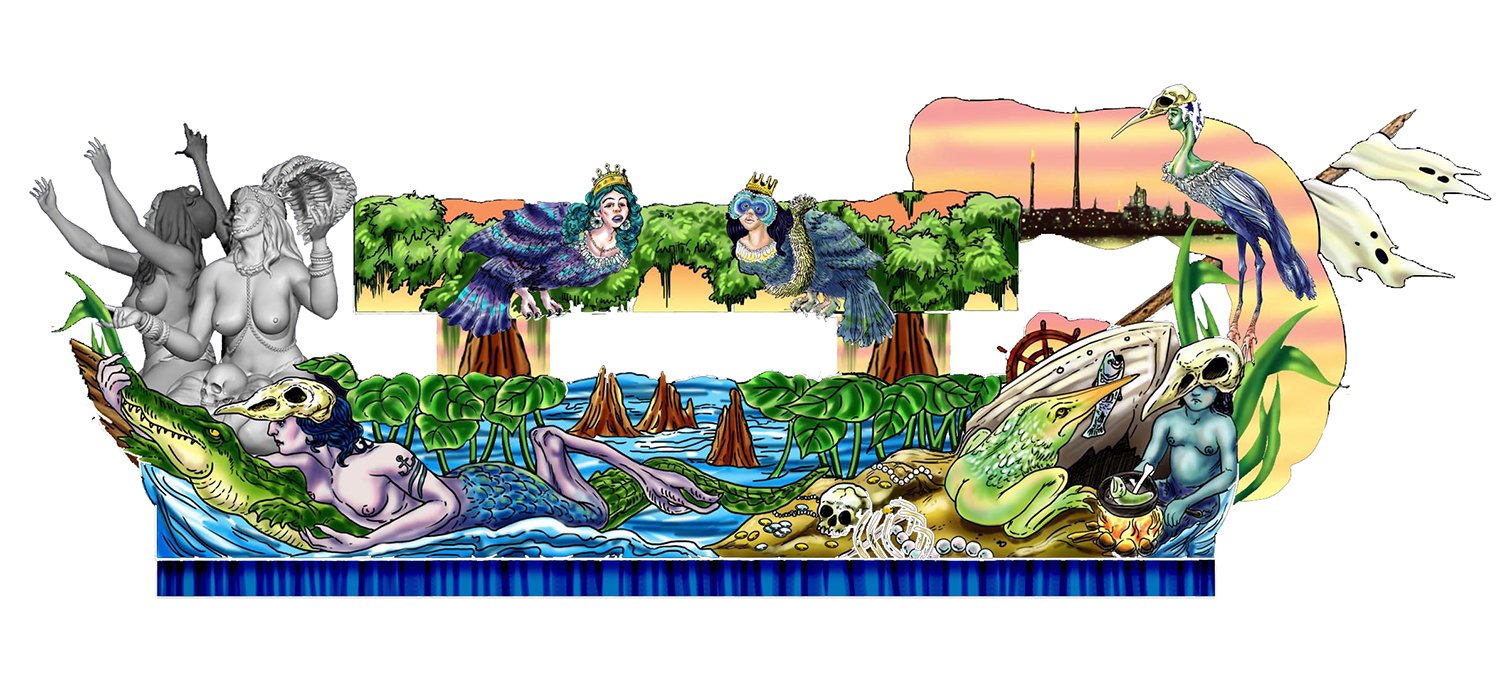 Float 28 - SIRENS
The Krewe of Muses have taken the legend of Sirens from Greek Mythology to the swamps of Louisiana. The Sirens were known to lure men to their deaths…and, for the first time ever, these mystical Sirens roll by on a cloud of mist, luring parade goers with a special limited edition Sirens tattoo. These creatures are certain to leave their mark.
Marching Unit – NOLA Zombie Walk