2020 Visions – NostradaMuse Sees All
Twenty years ago, the Krewe of Muses paraded for the first time. On this the 20th day of the 2nd month of 2020, these Goddesses show they will continue to inspire far into the future. It's in the cards.
The stars aligned for this magical night and Zeus, the god of the skies, has smiled down upon his 9 daughters as they celebrate twenty years of sisterhood!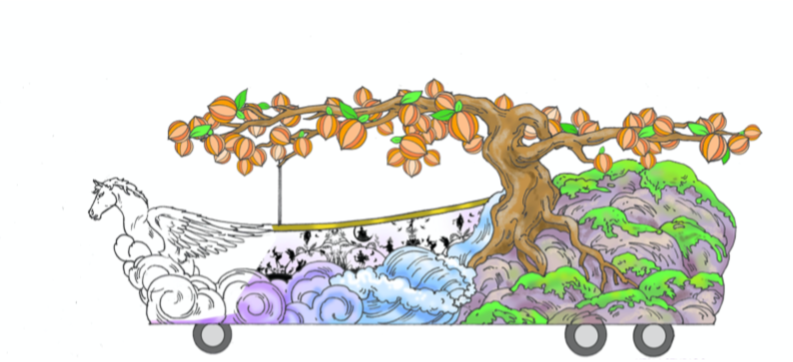 Float 1 - Goddessey
Here comes The Goddessey, Carnival's most beautiful float on a journey to inspire. Widely known as patrons of the arts, Muses are truly patrons of knowledge. And you can't have knowledge without illumination. This float is all about illumination — the nine Muses are depicted in silhouette because the focus is not on themselves but what they inspire. lighting the way this year for the first time is the Peach Posse, carrying lanterns alongside the Goddessey.
Peach Lanterns
Band – Landry – Walker High School Marching Band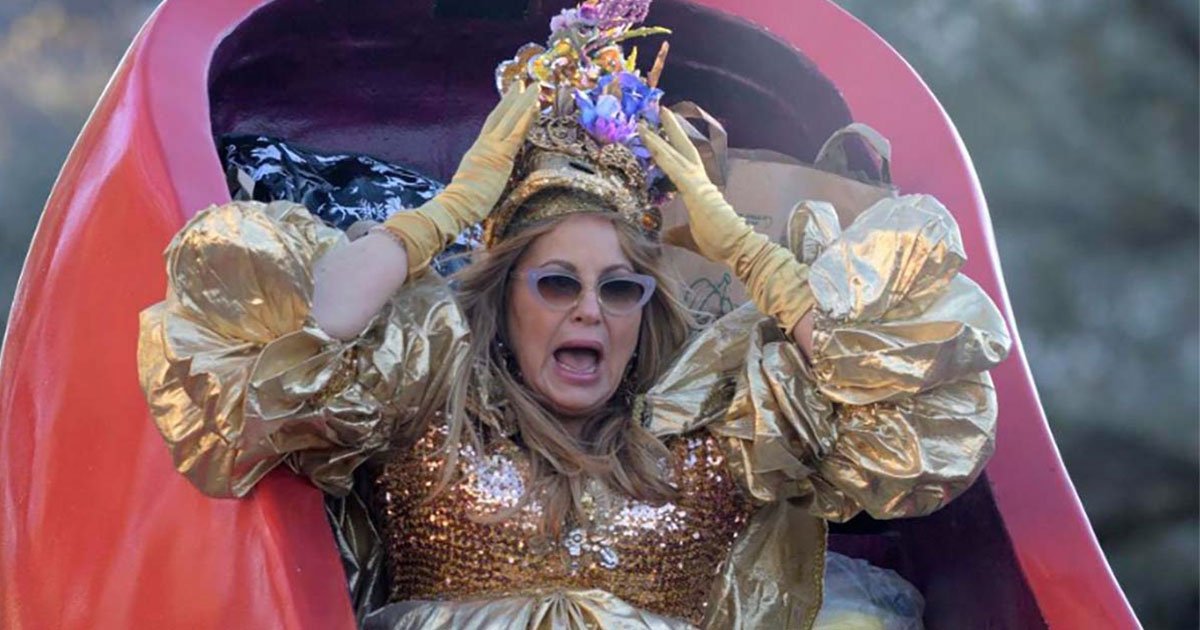 Float 2 - Muses Shoe
The Muses Shoe steps out again honoring another inspiring woman: Actress and comedian Jennifer Coolidge is known for her comedy roles in the teen sex farce trilogy "American Pie," and for her turn opposite actor Reese Witherspoon in the "Legally Blonde" series. She's played a host of other roles in films including "A Night at the Roxbury," "Zoolander," "The Spy Who Shagged Me" and many more. The wacky Christopher Guest mockumentaries "Best in Show," "A Mighty Wind" and "For Your Consideration" featured Collidge's hilariously earnest characters.
"Jennifer Coolidge is most deserving of leading the Muses. We've spent 20 years trying to make the people of New Orleans laugh and earned a reputation for our wit and humor," said Krewe of Muses Captain Staci Rosenberg in the statement. "So we celebrate our 20 years of sisterhood by honoring a New Orleans sister who makes the world laugh."
Flambeaux
Band – John F. Kennedy High School
Float 3 - Happy birthday to us!
You only turn 20 once and there is no better day for it than 2.20.2020!  So we're serving up a sparking birthday cake with a classic Muses' float celebrating 20 years of Sisterhood!  These ladies knew it when they rolled 20 years ago…the future is female!
Band – Helen Cox High School
Float 4 – Mount Olympus Brass Band – Coolbone
Our friends Coolbone give New Orleans' charm to the "Mount Olympus Brass Band" once again this year! We're proud to have them in the Muses parade!
Band – Edna Karr High School Marching Band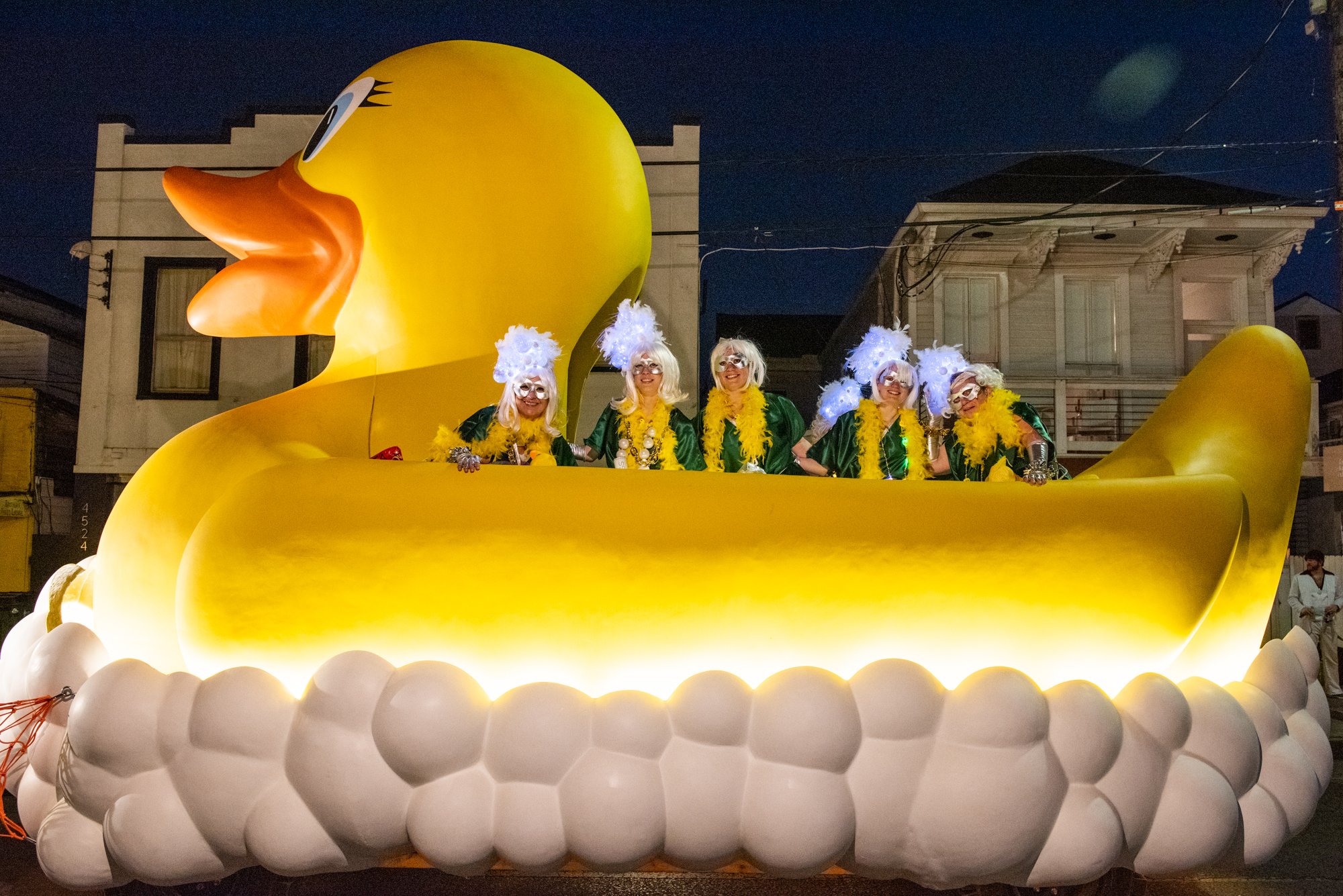 Float 5 - Bathtub and Duckies
Here comes the Muses bathtub filled with bubbling bathing beauties! And Muses Bathtub makes way for Ducklings. Muses' Mama Duck and Baby Duckies are waddling down the route. (seems the theme has a teaser here – and we are fortunate to get an early hint…keep your eyes on the TAIL of each float for more.)
Band – McDonogh 35 Senior High School Marching Band
Float 6 - Molly Marines
Chapter LA-1, Women Marines Association
We are proud to honor these female warriors the US Marine Corps.
Marching Unit – Molly Marines
Band – Carmouche Performing Arts Academy
Float 7 - Title: 2020 Visions – NostradaMuse Sees All
The great and powerful NostradaMuse is known for prophecies that are accurate, intuitive, and instinctual. How does she do it?  Let's explore her tools of divination and methods of prognostication.
Band – Martin Luther King Charter School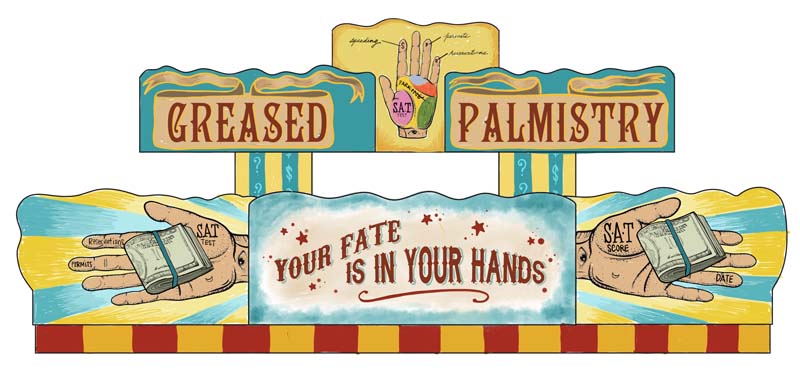 Float 8 - Greased Palmistry
When Aunt Becky wanted to see her daughters' future, she used greased palmistry… plus photoshop, cash, and a donation or two. NostradaMuse sees a new wardrobe of Mossimo orange jumpsuits in her future.
Band – Booker T Washington High School
Float 9 - Throwing Bones
Down here some throw the bones. But lately, they just fall on their own. You have to be careful when you have skeletons in your closet.
  Band – Walter L. Cohen High School
Float 10 - Reading Tea Leaves
Put away the English Breakfast Tea... now we're using English BREXIT tea and the leaves are spelling BEDLAM, BONKERS, CHOAS, CATASTROPHE. Boris is hoping those leaves will spell success for him and not "you're out too!"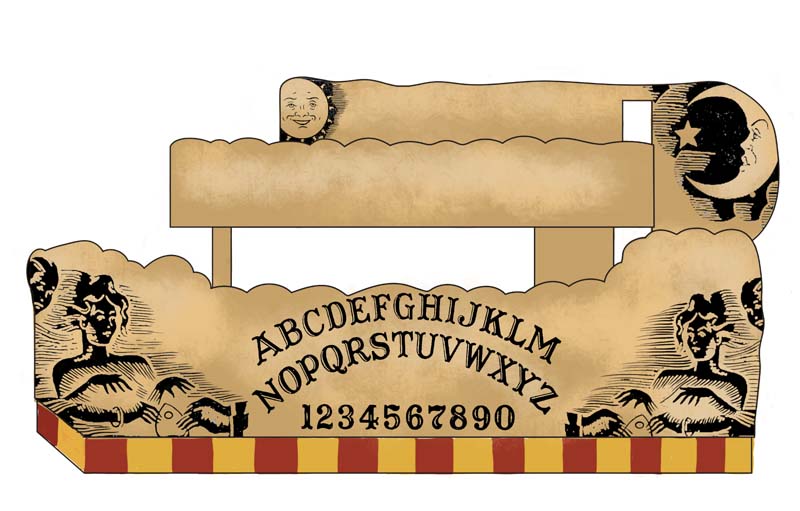 Float 11 - Emoji Board
Everyone's so busy these days. Who wants to wait for the spirits from beyond to spell out "you will meet a tall dark stranger" when they can point to the eggplant?
Float 12 - Love Motion No. 9
Put away the potions and plug in your phone. NostradaMuse says it's less about the magic than the motion. Swipe right for Mr. Right Now and stay charged up for romance.
Band – G W Carver High School
Float 13 - Numerology
Numerology never really made sense to most of us, but this year it makes Census to the folks in Washington. In fact, the government is counting on it while it's counting on you (well, most of you). Even NostradaMuse is having trouble seeing if all of those boxes will be checked. Those door-to-door numerologists can be so intimidating.
Oh and what's that following the Numerology float! Why it's the US government encouraging all to participate in its own methods of forecasting the future - number of political representatives.
Band – Kipp Leadership Academy
High-steppers and ISL Circus Arts Kids
Float 13A – Census Float
Band – P. A. Capdau Jr. High School
Float 14 - Saints Altar
If only we could alter the past few seasons, or just a few plays, or even a bad call or two. But hope springs eternal, so light those candles. Another season's coming up.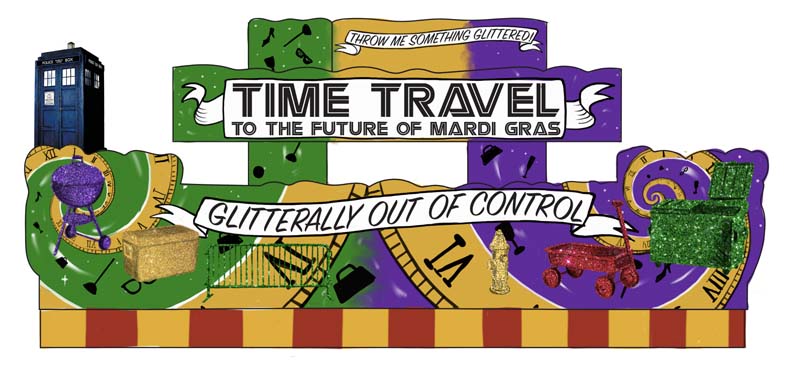 Float 15 - Time Travel to the Future of Mardi Gras
Dr. Who's time machine just landed in Mardi Gras 2050 and it's GLITTERALLY OUT OF CONTROL!  Not only are the riders glittering coconuts, shoes, purses and glasses, but it's everywhere you look! The barricades are glittered! The ice chests are glittered! The cops' uniforms are glittered! New Orleans' future is looking downright sparkly.
Marching Unit – Camel Toe Lady Steppers
Float 16 - Fortune Selling - I Cha Ching
Is that an oil rig in Old Faithful? Are they mining the Grand Canyon? Is that a national park for rent? You don't have to be a psychic or work at the EPA to see that in America today, I Ching has become I ChaChing. Forget environmental regulation – these days it's all about the prophets.
Marching Unit – Pussyfooters
Float 17 - The All-Seeing Eye
It's out there - at stores, on street corners, on porches, everywhere. Beware of the ALL SEEING EYE! Watch your speed. I see some mail in your future.
Marching Unit – Organ Grinders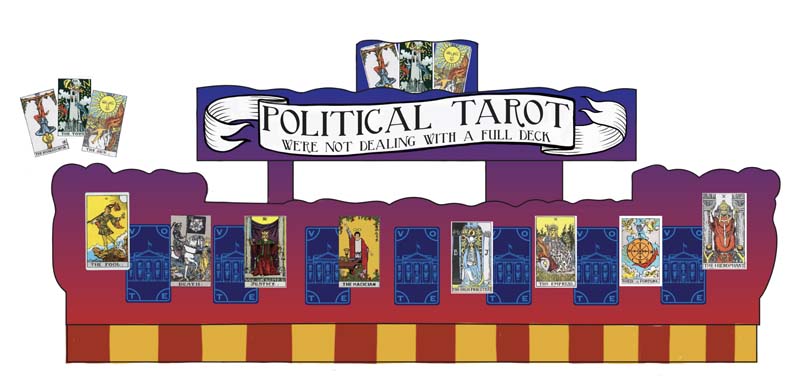 Float 18 - Political Tarot
Our future is in the cards, and this reading is all over the place!  The tower of media is babbling, and the wheel of fortune keeps turning out the polls. And we're definitely not playing with a full deck.
Marching Unit – NOLA Cherry Bombs
Float 19 - Margaret Orracle
Like any sensible New Orleanian, when bad weather threatens, NostradaMuse turns to Margaret Orracle.  And like any good orracle, Margaret can conjure the spirit of Nash for hurricane season, if needed.
Marching Unit – Dead Rock Stars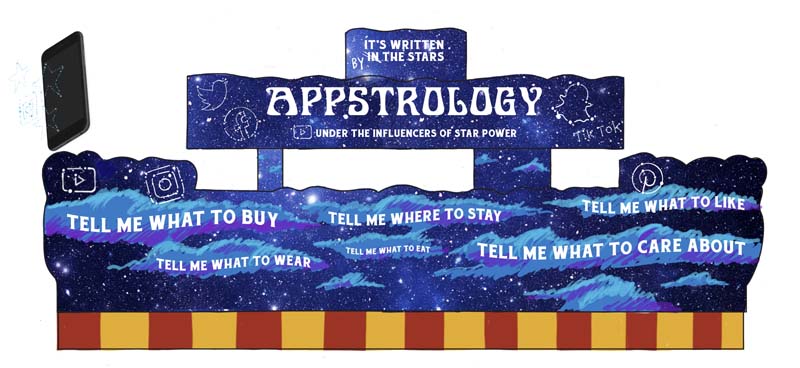 Float 20 - Appstrology
It was once written in the stars, now it is written BY the stars. We ask them what we should wear, where we should eat, where we should stay. We are all under the influence. WWKKD?
Marching Unit – Rolling Elvi
Float 21 - Dem Ole Cajun' Almanac
Just like in dem ole days we still turnin' to dat ole Cajuns' Almanac, by Boudreaux and Thibodeaux. It'll predict the weather, the best days to plant your sugar cane, and the right week to hold your fais do-do. It just won't tell you the LSU/Alabama score. And it's all void if there's a hurricane or an oil spill, cher.
Marching Unit – Bearded Oysters
Float 22 - Marie Laveau To-Go Voodoo Drive-Thru
NostradaMuse sees a future of authentic New Orleans experiences blending together better than frozen daquiris and a go-cup full of gris gris. Get the luck charm or don't take the paper off the straw!
Marching Unit – Kolossos Art Bikes
Float 23 - Reversal of Fortune Cookies
You crack it open seeking wisdom of the ages – but the truth needs to be heard. Never take advice from a dessert. (some of the advice given here – Owls make great pets. You can rewire anything yourself. Spandex looks good on everyone. A good son never moves out.  Invest in Sucre.
Rolling Unit – Laissez Boys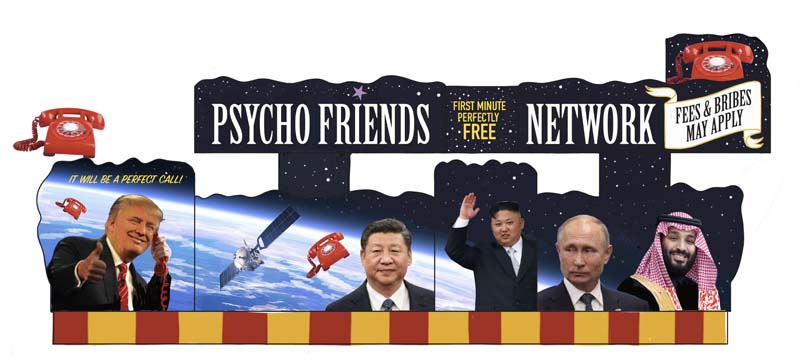 Float 24 - Psycho Friends Network
Hold the phone… you've got a perfect call coming from the Psycho Friends Network. And it's not from Dionne Warwick. It is international. It is authoritarian. It is insightful. It is informative. Fees and bribes may apply (we suspect this call will be recorded, transcribed, and leaked). Who needs friends when you've got dictators?
Riding Unit – Pink Slip Float
Float 25 - Magic Wait Ball
When we want to know what is happening in our city of mysteries, we need only shake the Magic Wait ball. Is the water safe to drink? Are the city servers back online? What will explode next? But WAIT. The answer is always the same… ASK AGAIN LATER!
Marching Unit – Bloco Sereia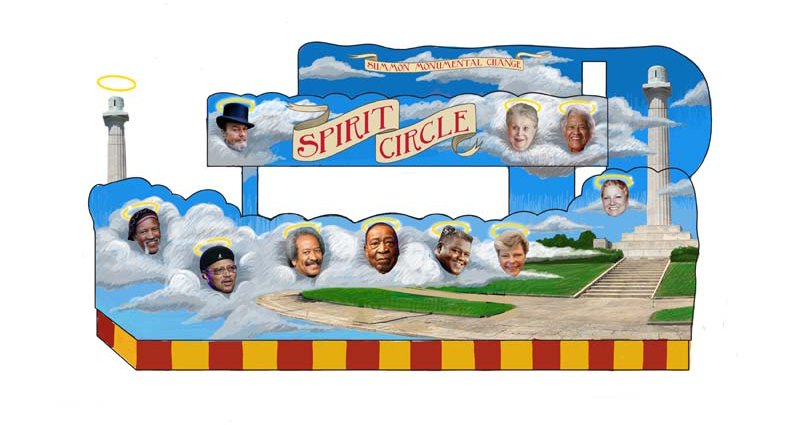 Float 26 - Spirit Circle
NostradaMuse seeks to summon monumental change. She is calling on positive paranormal energy to bring joy to an empty stump: true New Orleans souls we can all be proud of.
Marching Unit – Krewe of Revolution & support unit
Float 27 - Runes
Seeking answers, NostradaMuse throws runes, stones scratched with symbols that have been used by prognosticators for thousands of years. Down here you need runes the size of Stonehenge not to lose them in a pothole!
Marching Unit – SkinzNBonez
Float 28 - The End is Nigh
Oh no…someone is predicting the apocalypse AGAIN! All that planning and work and stress for nothing, because the END IS NIGH! Or is it? From Christopher Love to Y2K, Rasputin to Heaven's Gate, folks have gotten it wrong. For now, we're only nearing the end of our 2020 parade. We promise we'll be back next year, so don't drink the Kool-Aid.
Marching Unit – Sisterhood of the Fishy Pusses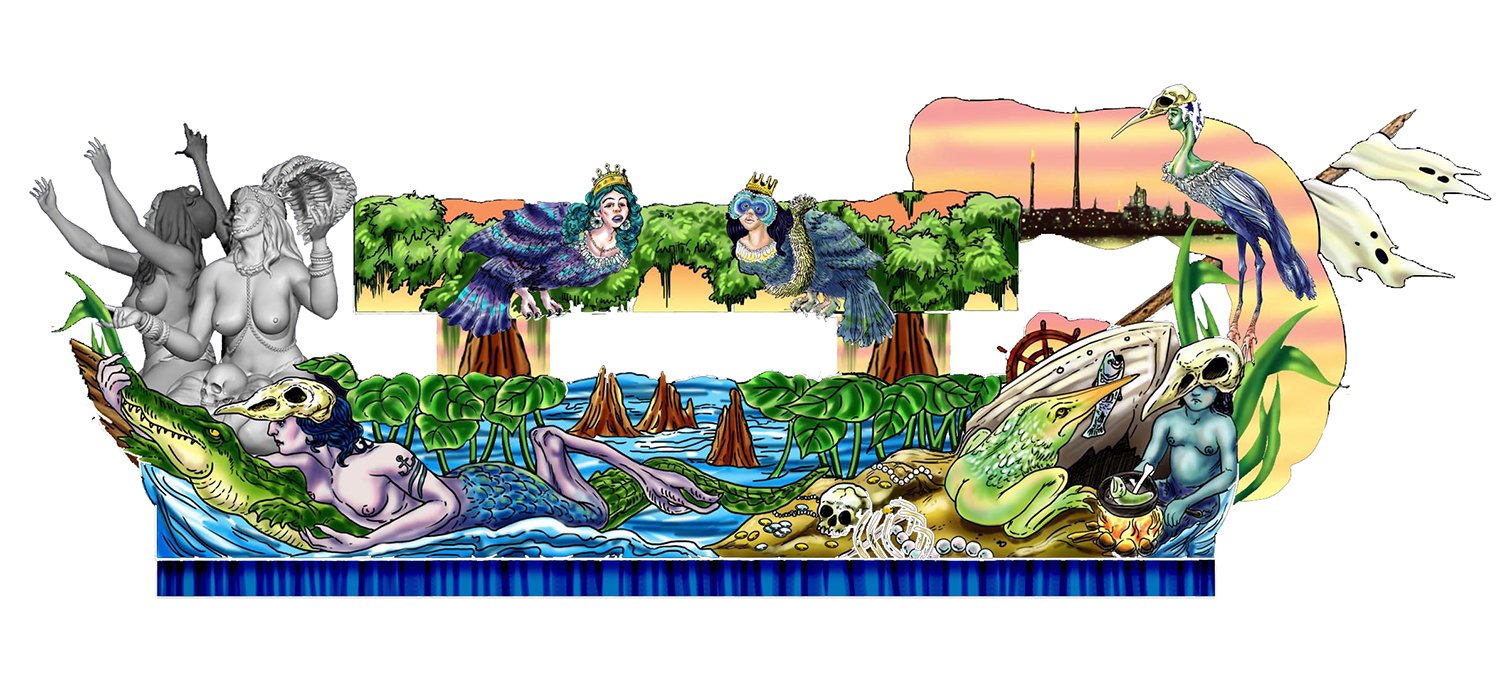 Float 29 - Sirens
The Sirens, cast out by the Muses, end the parade each year. The Sirens lure sailors to their doom and the Muses inspire the arts and sciences and, most especially, the revelry of Mardi Gras.
Happy are They Whom the Muses Love!