Who are the Muses?
We Celebrate Women of Legend, Women of Art, Women of History, Women of New Orleans.
To the people of New Orleans they are street names, often mispronounced. In Greek mythology the nine Muses were the daughters of Zeus. Their mother was Mnemosyne, the goddess of memory. The Muses were wild until reformed by Apollo, who tamed them and taught them ways to express themselves.
Initially, the Muses didn't have personalities or names, but later they were all assigned names and specific virtues. Clio was the Muse of history, Urania of astronomy, Euterpe of lyric poetry, Polyhymnia of songs to the gods, Melpomene of tragedy, Thalia of comedy, Terpsichore of dance, Calliope of epic poetry, and Erato of love poetry.
They will gather for Mardi Gras 2005 and celebrate the legend of the Nine Muses. They will celebrate their wildness before they were tamed, their virtues after they were appointed and their place in the mystique of New Orleans, where each virtue seems to thrive. 
Specialty Floats
Look for the fabulous Muses Shoe – entirely covered in fiber optics that change colors as the shoe steps out down the avenue and the word Muses magically appears and disappears on the side…and The Bathing Muses Bathtub (details to follow!)
Throws 2005
For 2005 the Krewe of Muses, a krewe that has become known for wonderful and unusual throws, proudly introduces the best throws ever found on St. Charles Avenue.
This year the Muses are throwing:
Theme throws! Muse TV – we'll turn you on – is on the air and to commemorate the theme of this year's parade Muses will be throwing fabulous pink and black theme beads with a clear polystone TV as well as theme Frisbees in neon colors and Muse TV dolls and Muse TV can huggies.
Shoemania! Muses love their shoes and this year's shoe bead is a hot pink slingback with silver glitter stars. Also look for the return of the popular shoe bracelet – this year being thrown alone or with matching earrings and the Historic Bead featuring a Muses shoe from each year. Pink squeaky shoes are tossed as squeaky toys for the Mardi Gras hound or as clips or three on a bead!
Lighting up the throws this year is the first ever fiber optic bead, muse leaf strobes, flashing Muses blue bracelets and a noisy flashing ball. Tiny bootie beads also light up.
Girlie stuff! The 5th Anniversary Commemorative Musie doll is wearing the same costume as the members and an ivy head wreath and beads! Purses are back with hot pink trim and ribbon.
The Glitter shoe – Muses own specialty throw. Only the most fortunate Mardi Gras reveler will be handed a specially decorated real shoe – the ultimate Muses fan treasure. Shoes are made by a select few individual members of the krewe, often signed and dated.
Also, look for soccer balls, glass beads and other fabulous Muses throws for 2005!
The Muses and the Community
One of the goals of the krewe of Muses from the first Krewe meeting in 2000 was to create an organization deeply involved in the community. As they did for their charter year the Muses chose to hold a contest for the design of the official krewe cup. Entries were sent to New Orleans area public schools.
The 2005 Cup contest winner is L.E. Rabouin High School student, 16-year-old Rashawn Williams. Rashawn's art will appear on the Krewe of Muses cup with her depiction of the Muse of Music and Flutes. (Rashawn will be in the stands – please acknowledge her.)
To enhance community involvement the Krewe of Muses also works with different groups on the decoration of the masks for the riders. Members visit homes and hospices in the greater New Orleans area and reach out to involve the community in the parade! As each float is mentioned we will also mention who did the mask projects.
In 2003 the Muses created The Krewe of Muses Foundation, a non-profit charitable organization devoted raising and distributing money in the community. Muses also has held shoe drives among its membership in the past 2 years collecting shoes for women in New Orleans area battered women's shelters and programs like Dress for Success.
In conjunction with the honorary Muse project, the Krewe is donating $1,000 to the New Orleans Musicians' Clinic. The New Orleans Musicians' Clinic was founded in 1998 with the vital mission of providing access to primary and comprehensive health care for professional musicians and their families in the greater New Orleans metropolitan area.
With extensive volunteer support from medical professionals, lawyers, musicians, social workers, graphic designers, students and music lovers, the NOMC has developed a membership of more than 900 musicians and their families and has provided health services through more than 3200 patient encounters.
And Now…Muses 2005 rolls!
Float 1 – The Muses 2005 (Muses Officers)
The Captain and Nine Muses lead the 668 riding members of the Krewe of Muses parade. The entire organization is now over 1000 members strong.
The Captain of the Krewe of Muses is in the first position on the float. The nine Muses are Clio was the Muse of history, Urania of astronomy, Euterpe of lyric poetry, Polyhymnia of songs to the gods, Melpomene of tragedy, Thalia of comedy, Terpsichore of dance, Calliope of epic poetry, and Erato of love poetry.
The float is lit by fiber optic Muse tiles across the front and state-of-the-art color-changing bulbs.
This float's mask partner is Our Lady of Lourdes Senior Center
Float 1a – The Go-Go's
Rock legend and the queens of the girl-band — The Go-Go's honor the Muses this year as they celebrate the inspiration of Euterpe, Goddess of Music. There is no better way than with the Go-Go's — a musical favorite of Muses and inspiration to us all!
The Go-Go's are Charlotte Caffey (lead guitar), Belinda Carlisle (lead vocals), Kathy Valentine (bass), Gina Schock (drums), Jane Wiedlin (rhythm guitar), and together they are responsible for such classics as "Our Lips Are Sealed," "We Got The Beat," "Vacation," and "Head Over Heels." Since breaking up in 1985, they have re-united for several concert tours.
Jane Wiedlin can be seen on this season's Surreal Life on VH1.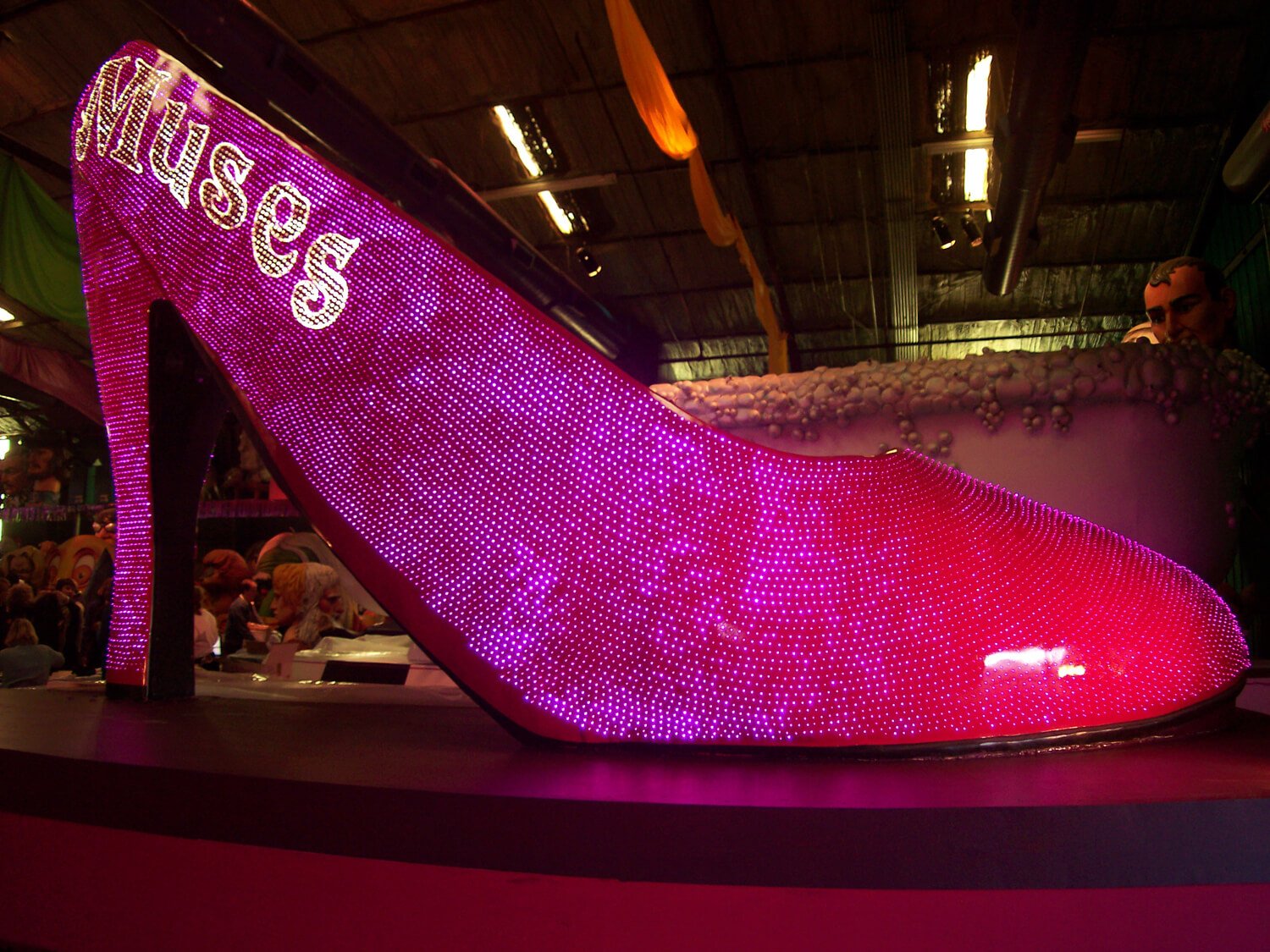 Float 1b – The Muses Shoe
Stepping out on the Avenue for the first time is the Muse Shoe – a 17-foot tall stiletto pump encrusted with the latest in fiber optic technology. The Muse Shoe changes colors and lights up with the krewe name. As befits a krewe with more than 1000 female members, the largest shoe in New Orleans will be the Muses signature float for years to come.
The shoe is carrying Muses' honorary Euterpe, Muse of Music Charmaine Neville. Neville says, "I try to cover the whole spectrum and do just everything. I don't want to be stagnated and stuck in a rut...."
Her work has paid off - as one reviewer recently wrote, "Charmaine Neville is beginning to rival her father and uncles in terms of popularity in New Orleans."
She began her career backing up the Neville Brothers and went on to perform with the Survivors, a band whose alumni list includes Harry Connick Jr. and Bobby McFerrin. Time Magazine named Charmaine Neville, the best pair of lungs [in New Orleans], and stated that her "delightful scat-singing and good-humored blues … had visitors dancing in the aisles at the Snug Harbor bar."
Float 2 – The Bathing Muses
Another new float from the Krewe of Muses…the Bathing Muses will become a Muses tradition and appear every year. This year the bathtub is lighting up brighter then ever and offering fabulous throws and squeaky—clean fun.
This float's mask partner is Audubon Senior Center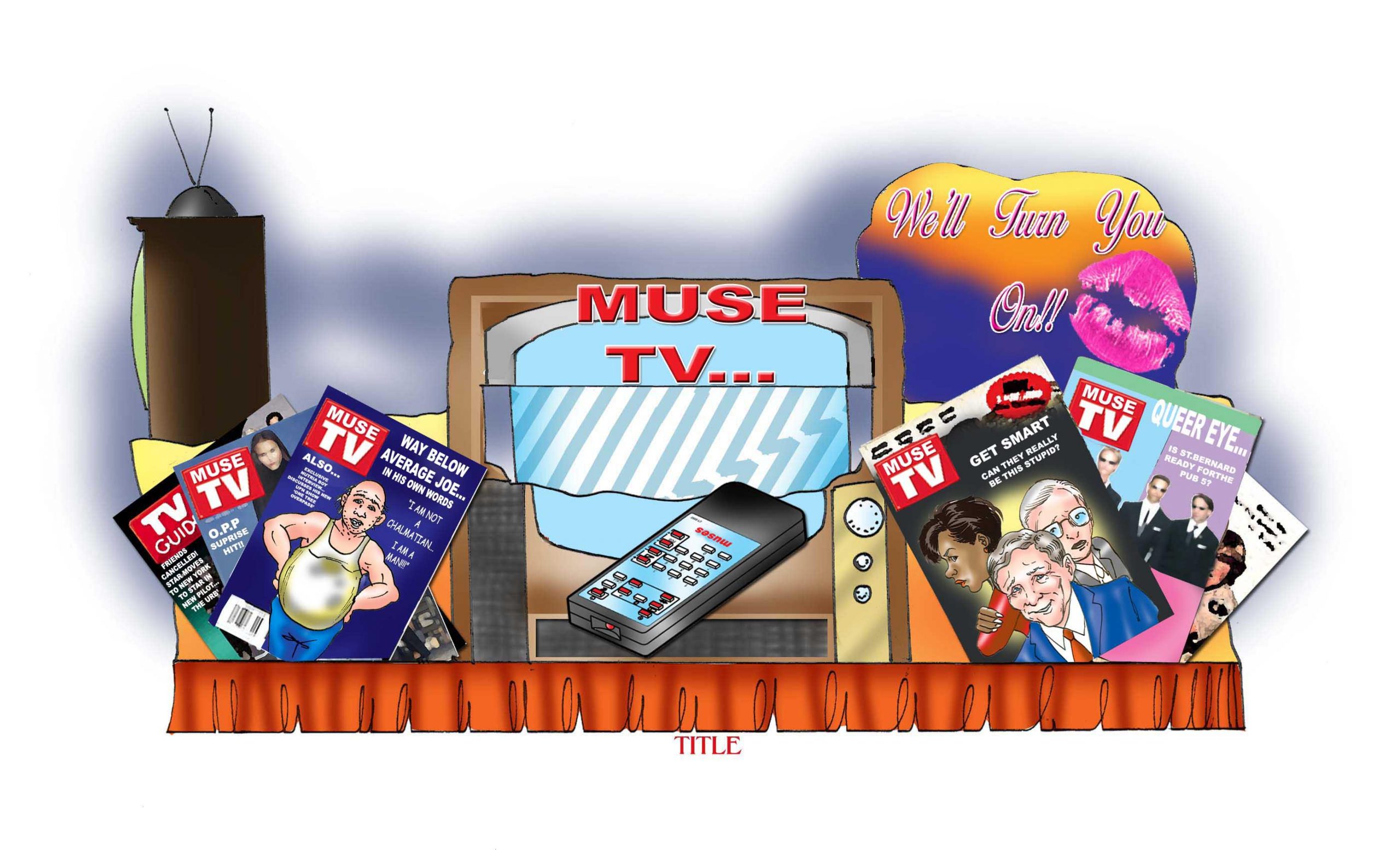 Float 3 – Title Float – Get Ready New Orleans – Tune In and Turn on Muse TV!
In the good-humored satirical tradition of Mardi Gras get ready for a line-up of laughs. Nothing is sacred on Muse TV – not local politics, national figureheads, or pop culture. It looks like these television shows will score some high shock ratings!
This float's mask partner is Anna's Home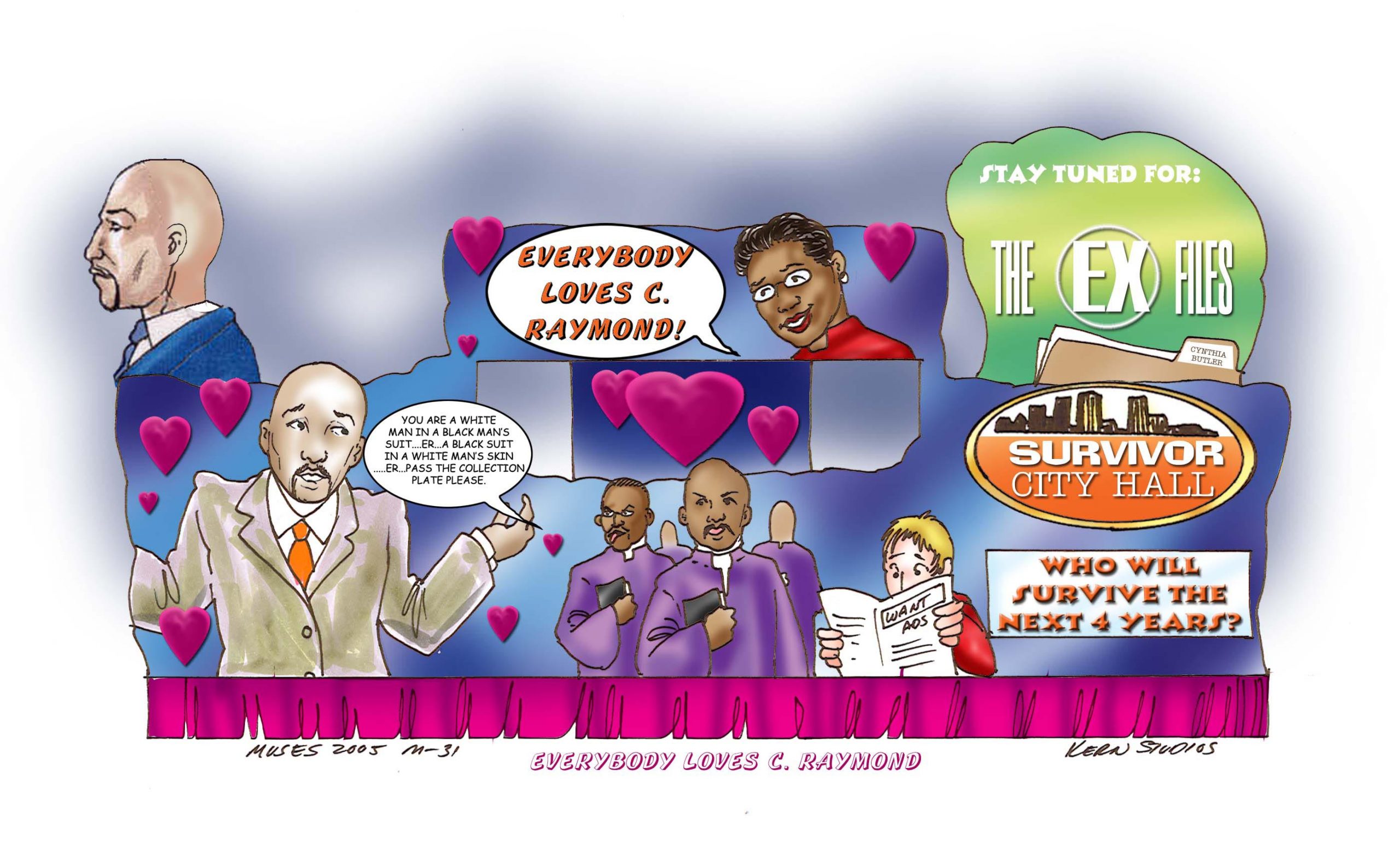 Float 4 – Everybody Loves C. Raymond
It's Everybody Loves C. Raymond – or do they? This Muses TV show stars our own Mayor C. Ray Nagin and co-stars Kimberly Williamson Butler, Gary Forrster, Patrick Evans, Bath James, The Bishop Paul Morton and many others…
This show is also known as the "EX-Files" and will be followed by "Survivor: City Hall" – who will survive a 4-year term?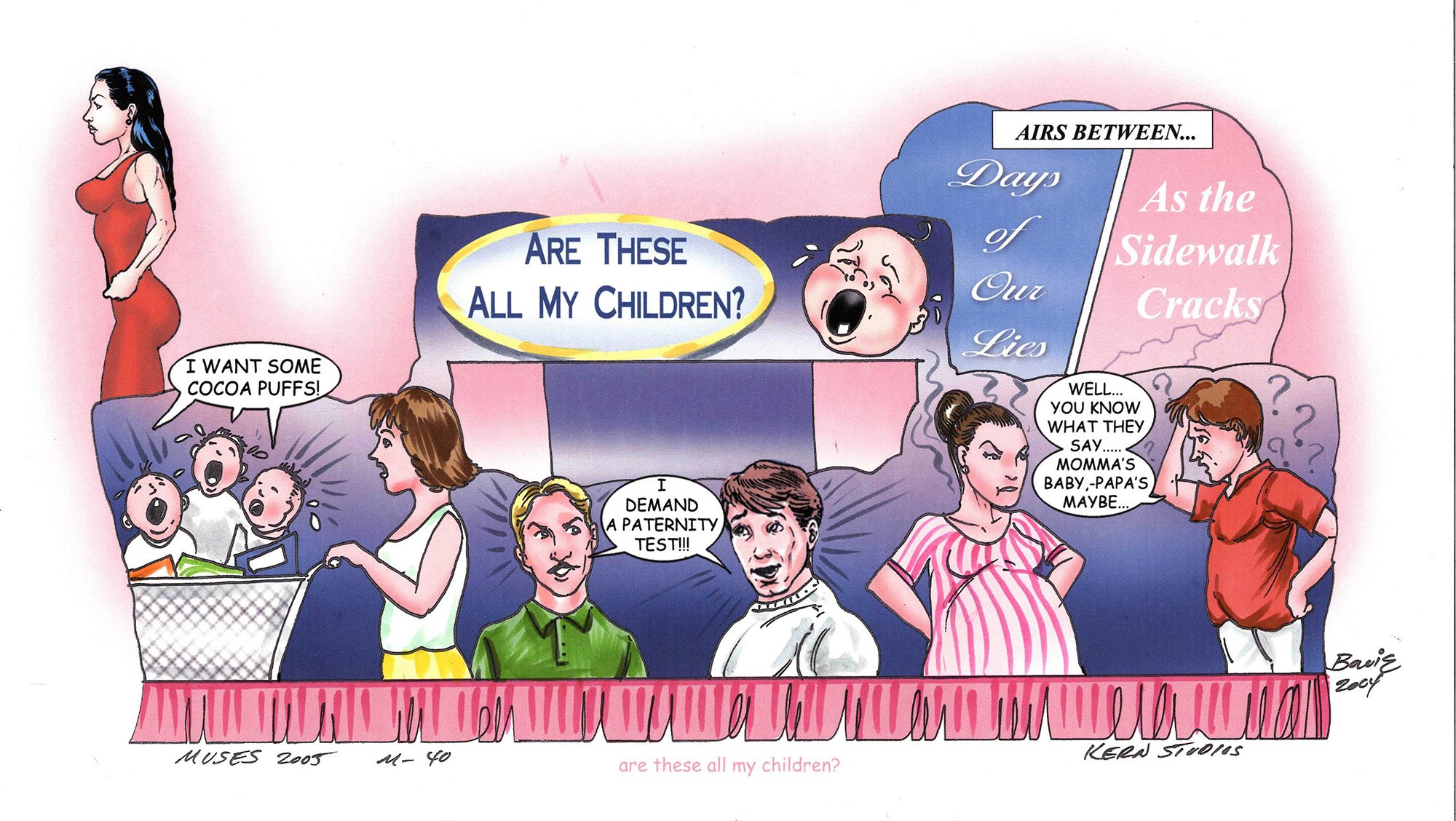 Float 5 – Are These All My Children?
It's daytime TV at its best and Susan Lucci is in her staring role asking the question many Muses ponder… "Are These ALL my children?" This Muse TV show is dedicated to the thousands of women out there who feel the same – as well as paternally confused father.
This show is followed by other daytime favorites "As the Sidewalk Cracks" and "The Days of our Lies."
This float's mask partner is Martin's Landing Assisted Living at Lambeth House
Float 6 – Law & Disorder
They may get Emmy's for Law & Order – but down here it's Law & Disorder with our own version of Justice – just slightly off balance.
Law & Disorder stars some of our favorite Louisiana judges…on sale – 2 for 1! And stay tuned for "Crossing Jordon."
This float's mask partner is Lazarus House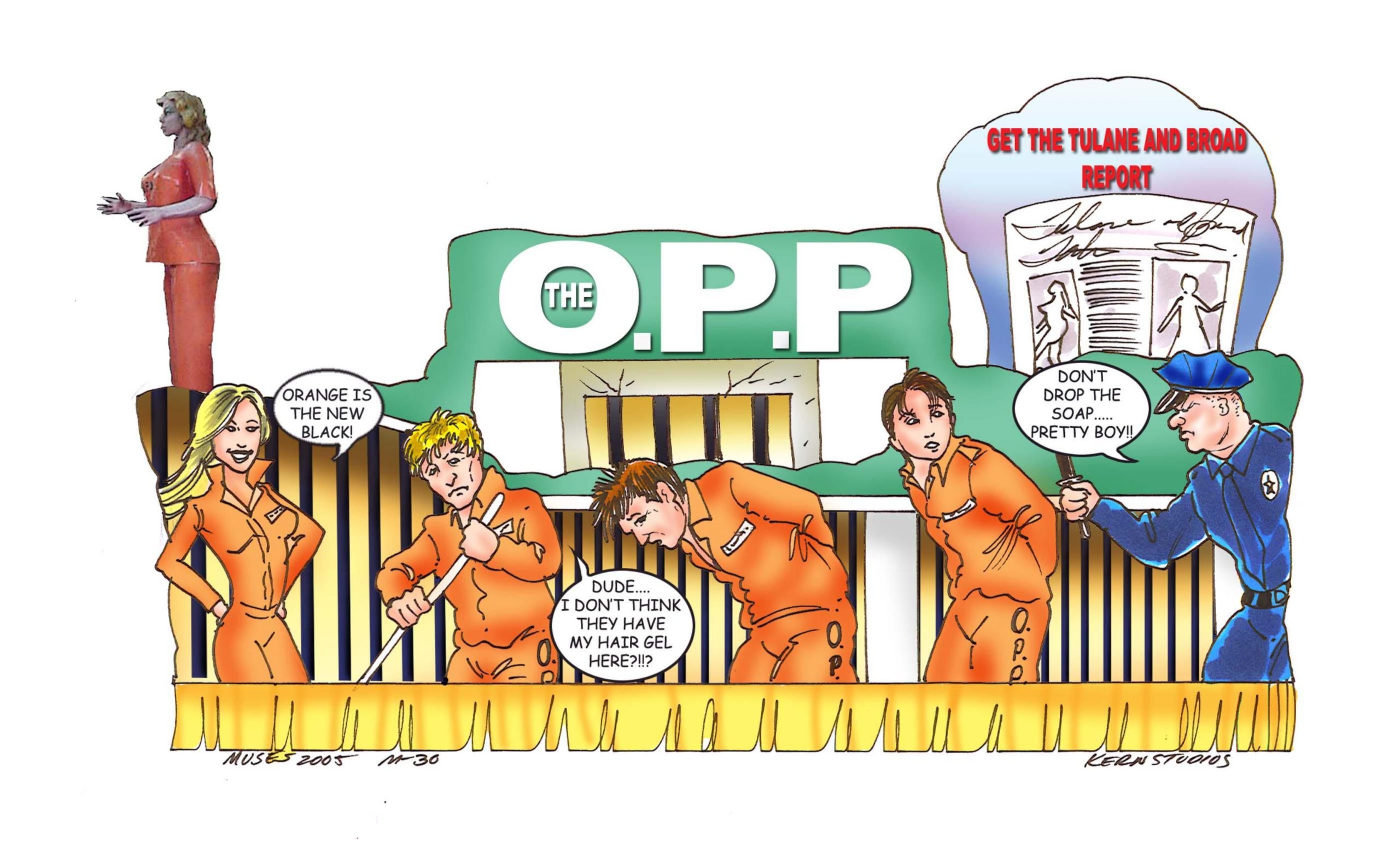 Float 7 – The OPP
You may have heard about the hottest west coast kids on television's The O.C. Well they are visiting New Orleans and have ended up in their new show this season…The OPP. Orange is the new black as these hip kids spend some time at Tulane & Broad.
Stay tuned for that sexy new series…Desperate Houseplants.
This float's mask partner is The Care Center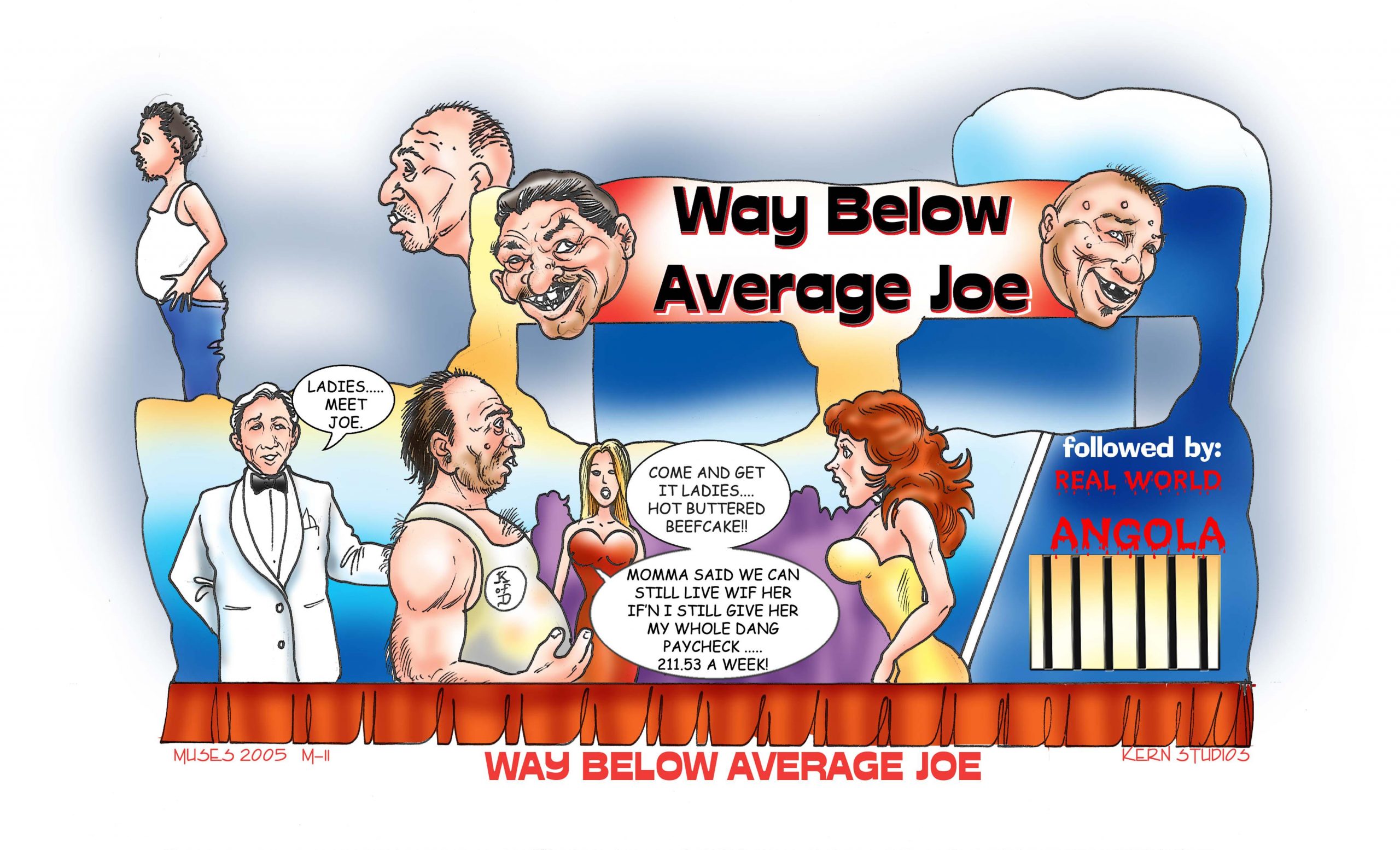 Float 8 – Way Below Average Joe
Now this is what we call REALITY TV…you've seen the Bachelor…The Bachelorette…Well ladies…meet Joe – Way Below Average Joe that is. He is all man and, believe it or not, he's single. He'd like to meet you and so would his roommate – Mom.
Way Below Average Joe is followed by "Real World – Angola." Meet cellmates Edwin Edwards, Martha Stewart and Scott Peterson and let's see the antics.
This float's mask partner is YWCA Senior Center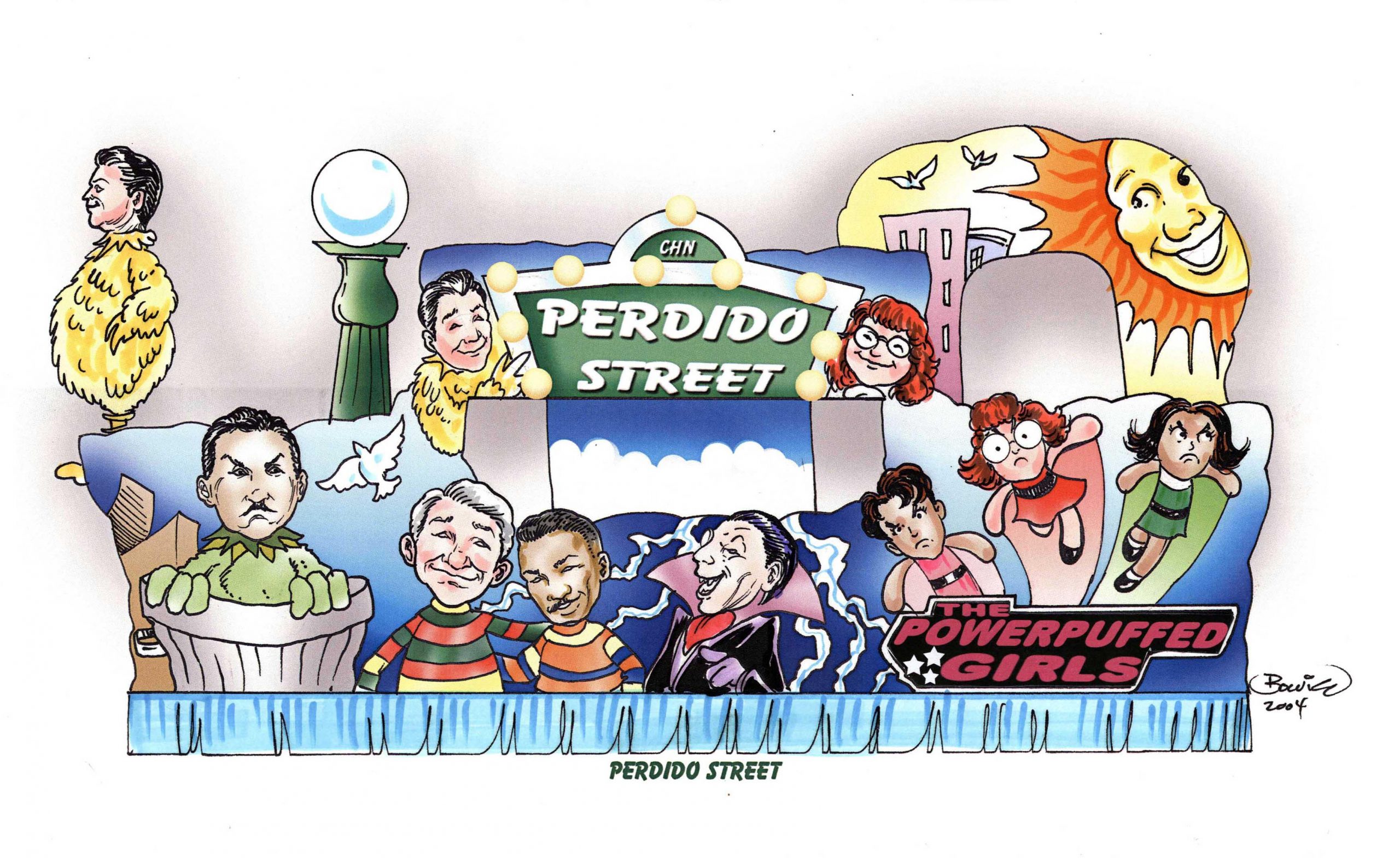 Float 9 – Perdido Street
Sunny Day – sweeping the corruption away. I'm on my way to where the council is sweet. Can you tell me how to get – how to get to Perdido Street?
Look! It's all of your favorite characters…Big Batt, Eddie and Oliver, Charles Rice as The Count and of course Oscar the Grouch…but he says 'this place stinks and he is moving to Tulane Avenue.
Stay tuned for those super chicks Jackiebell, Cindycup and SunRenee in The Powerpuffed Girls!
This float's mask partner is Woldenberg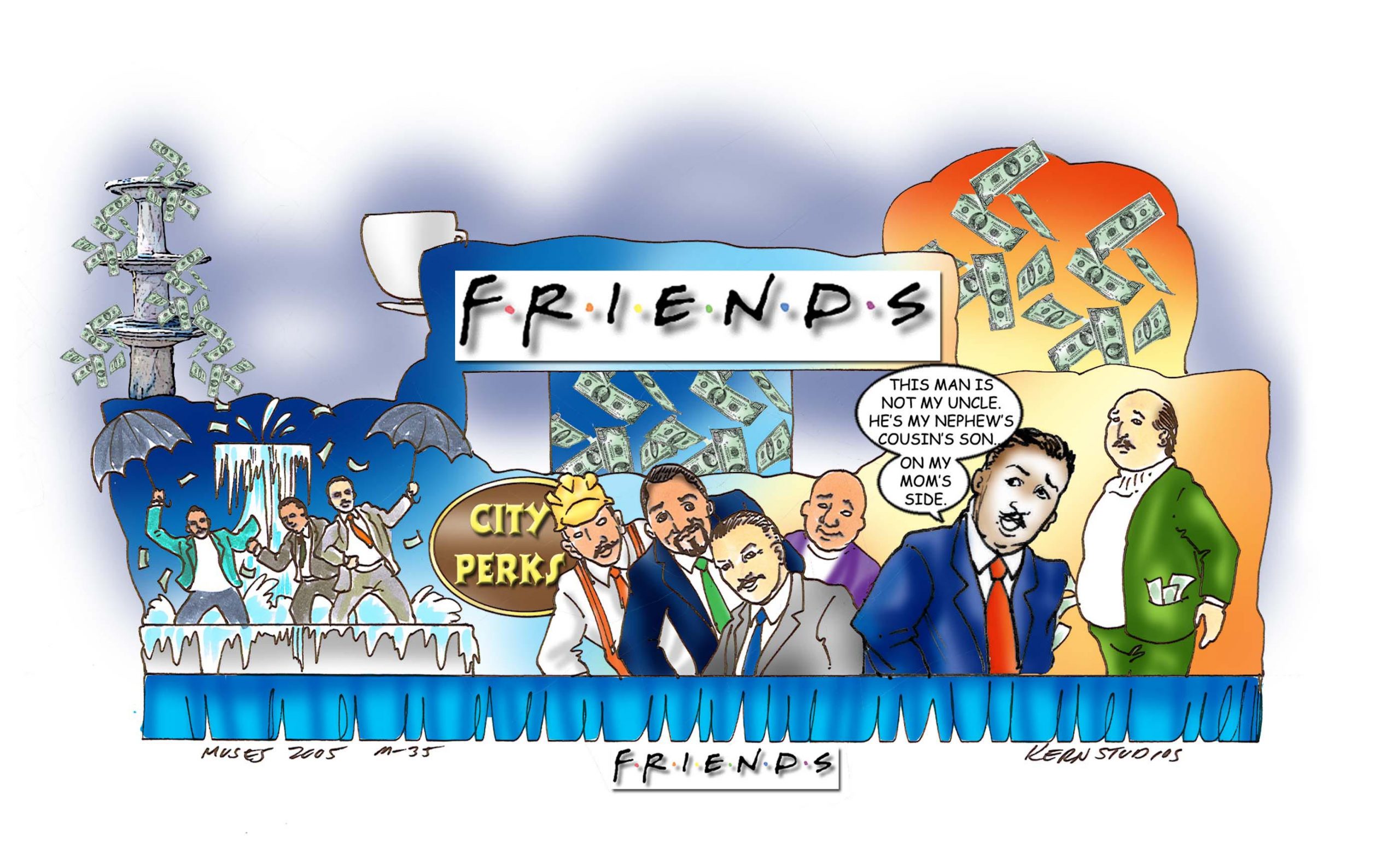 Float 10 – Friends
After 8 seasons it's back – everyone's favorite mayor starring in FRIENDS…on course the script for this popular series has been written by The Times Picayune – with creative consultant Jim Letten.
This float's mask partner is Odyssey House Family Services
Float 11 – Get Smart
President George W. Bush stars in Get Smart. We see him talking on his shoe phone and under the cone of silence with his boss Dick Cheney. And there's Condelesa Rice as Agent 99 and Colin Powell as agent 66. And look…ohhh. It's the evil head of CHAOS. What a shame he missed him by that much.
This float's mask partner is Metropolitan Battered Women's Group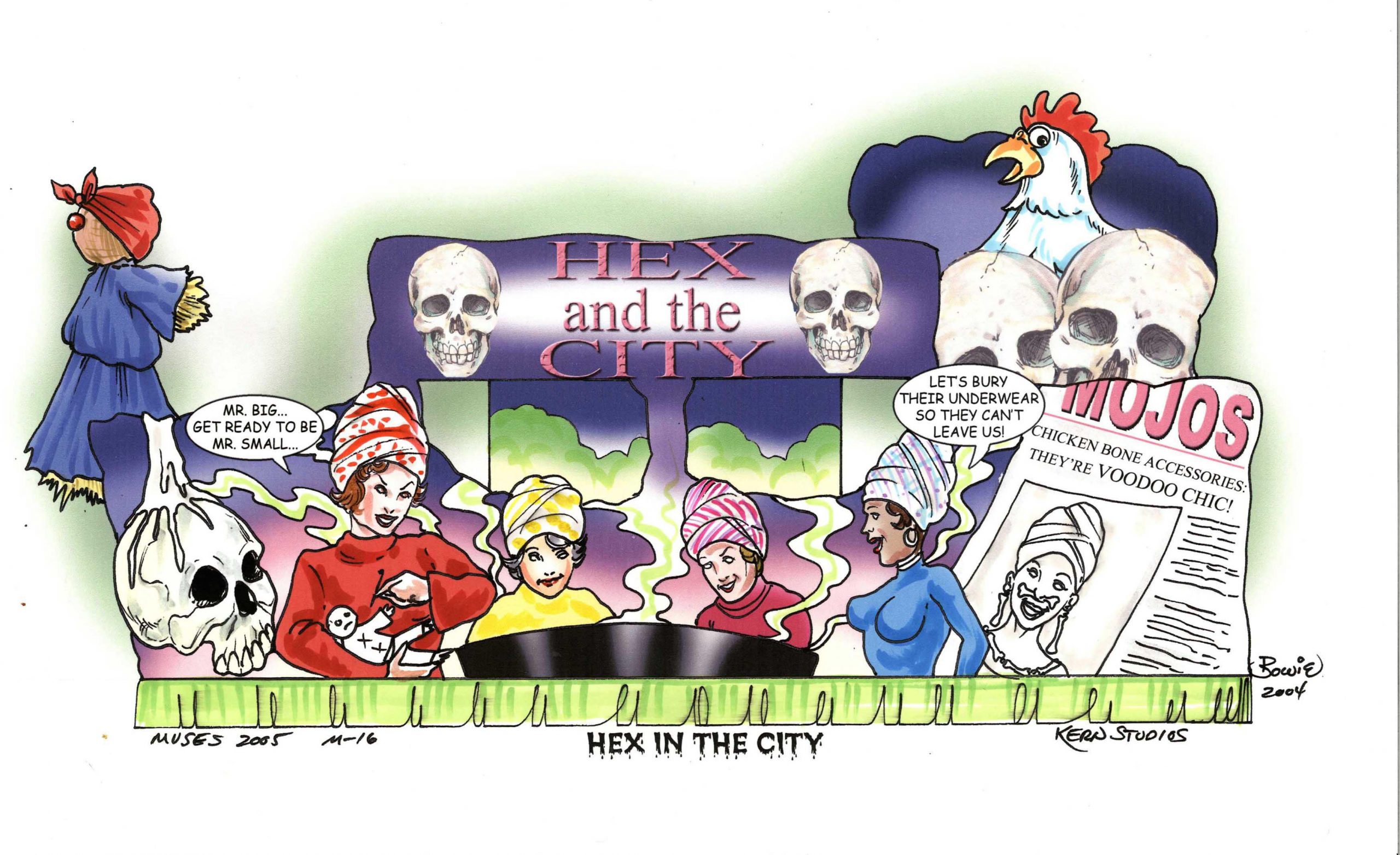 Float 12 – Hex & The City
Ladies – we don't care what they do in New York…down here it's Hex & The City. Marie and her friends are conjuring up a batch of Mojos and casting a few single girl spells.
This float's mask partner is Covenant House
Float 13 – Arrested Development
Okay – on Fox TV it's Ron Howard's new Emmy winning series. On Muse TV it's a different story. Top stories on Arrested Development are Albertson's in Mid City, The new Saints stadium, Convention Center phase 4, Pat Swilling's Applebees in the east, the Hornets training camp, The world Trade Center hotel and the NEW city hall. Sounds like this show will go on for many seasons.
This float's mask partner is Uptown Shepherd's Center
Float 14 – Let's Make a Deal
It's the city tax assessor's favorite game show…Let's Make a Deal. And it looks like Anne Rice is on of the contestants. Of course you may lose your winnings if you play Ray Nagin's Wheel of Misfortune…which may bump Let's Make a Deal out of its time slot.
This float's mask partner is Grace House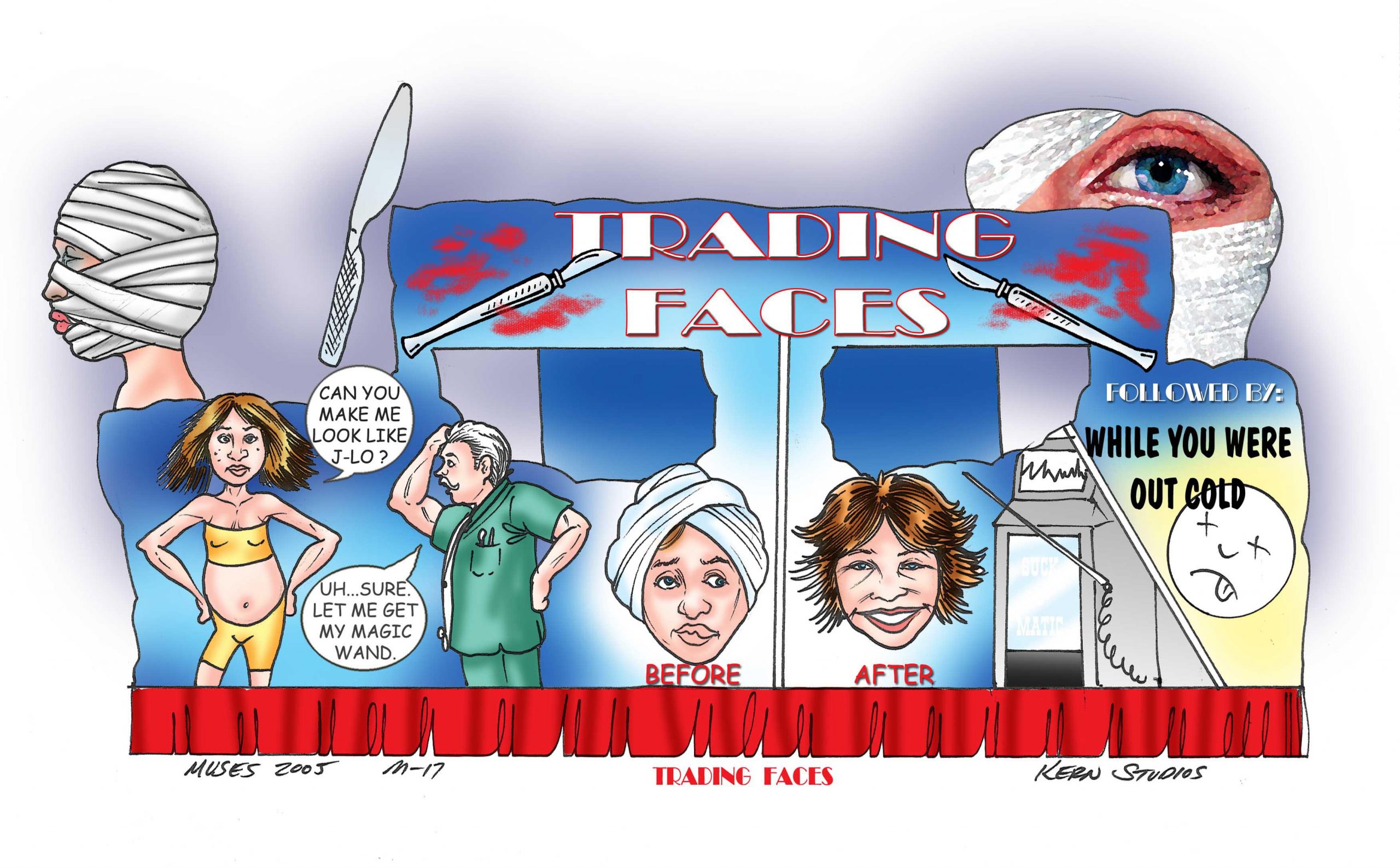 Float 15 – Trading Faces
Forget the Swan – it's time to Nip tuck it in for Trading Faces. You want J. Lo's butt? Gwenth's nose? It's all possible on Trading Faces.
Followed by While You Were Out Cold and Nip/Tuck it in.
This float's mask partner is Bethany United Methodist Church
Float 16 – This Old Blighted House
Muse TV proudly presents that amazing home improvement show…This Old Blighted House. Host Bob Villa doesn't look amused by this New Orleans challenge.
And stay tuned for Antique Roadshow…Chris Owen goes on tour!
This float's mask partner is Odyssey House Men's Program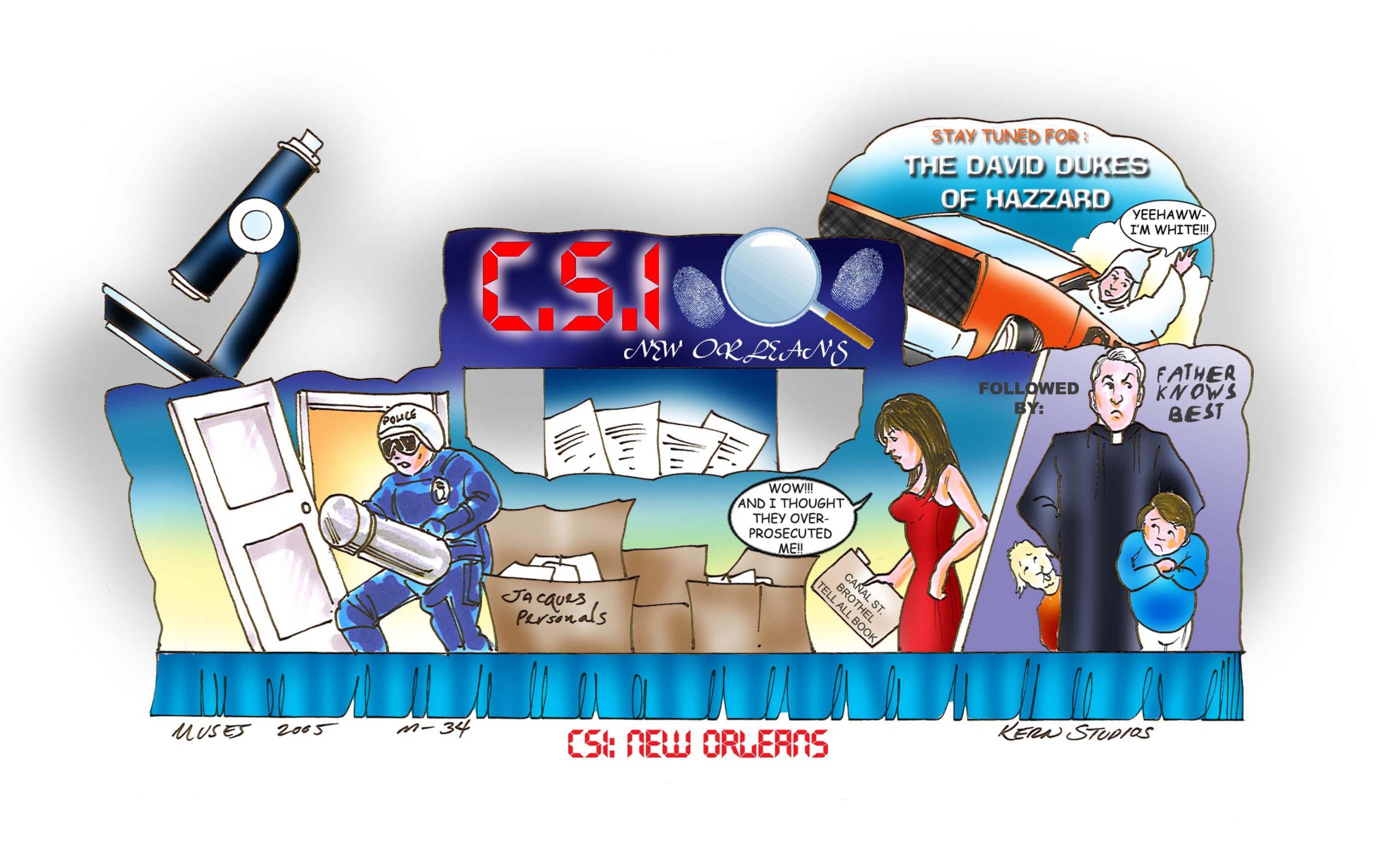 Float 17 – CSI: New Orleans
Well it's about time CSI: New Orleans aired…because sometimes life is better then fiction. The first episode reveals the exciting raid featuring armed FBI agents and battering rams to knock down the door of a sleeping suspect. Hmmm. Even Jeannette seems to think this is a bit too much.
This is one fun filled prime time line up with The David Dukes of Hazard and Father Knows Best.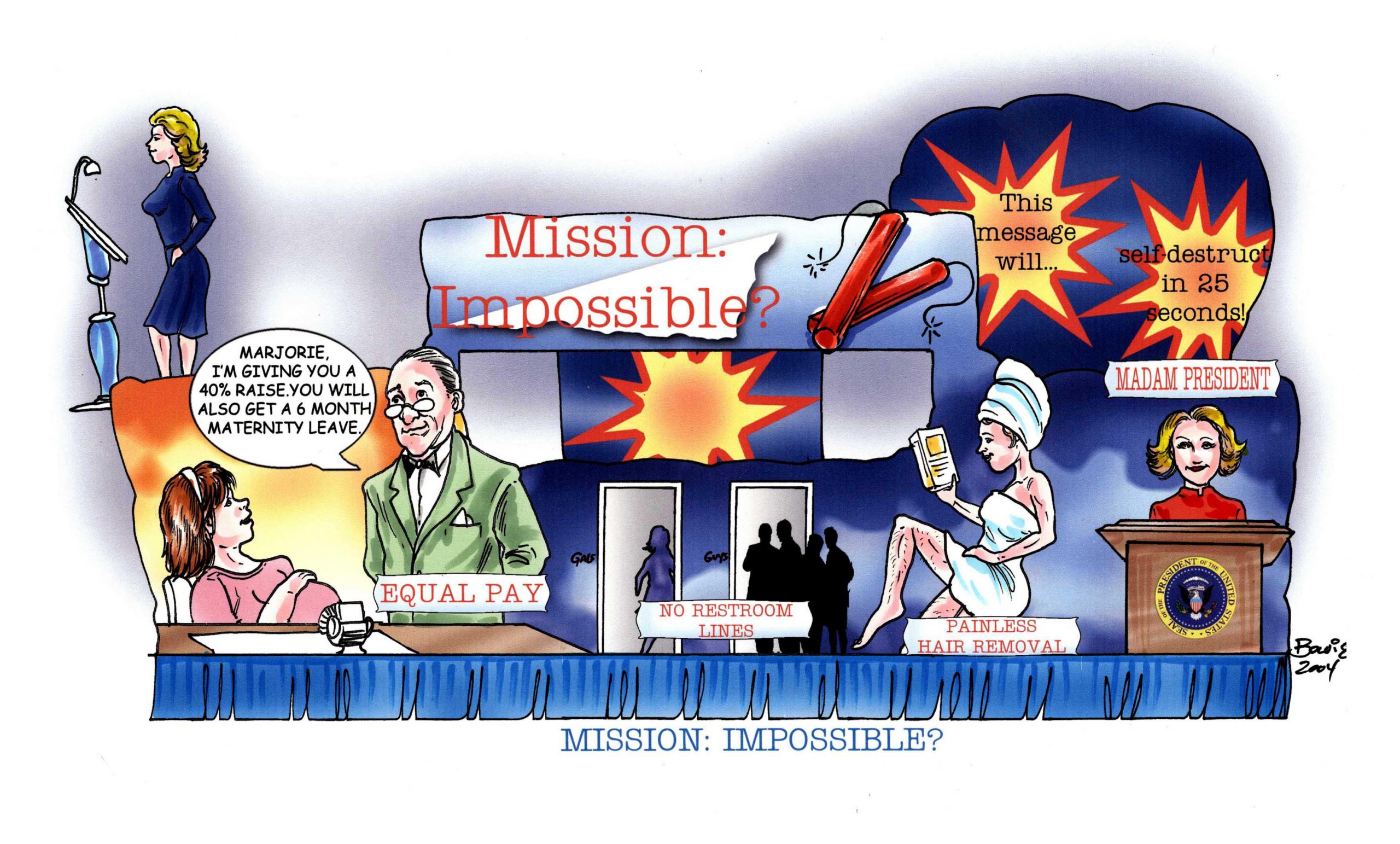 Float 18 – Mission Impossible
It looks like Muse TV is showing a mission that will self destruct before the float rolls by…Equal pay, short Ladies' room lines, painless hair removal and Madam President…or will it?
"I am Hillary Rodham Clinton and I endorse this message."
This float's mask partner is Covenant Nursing Home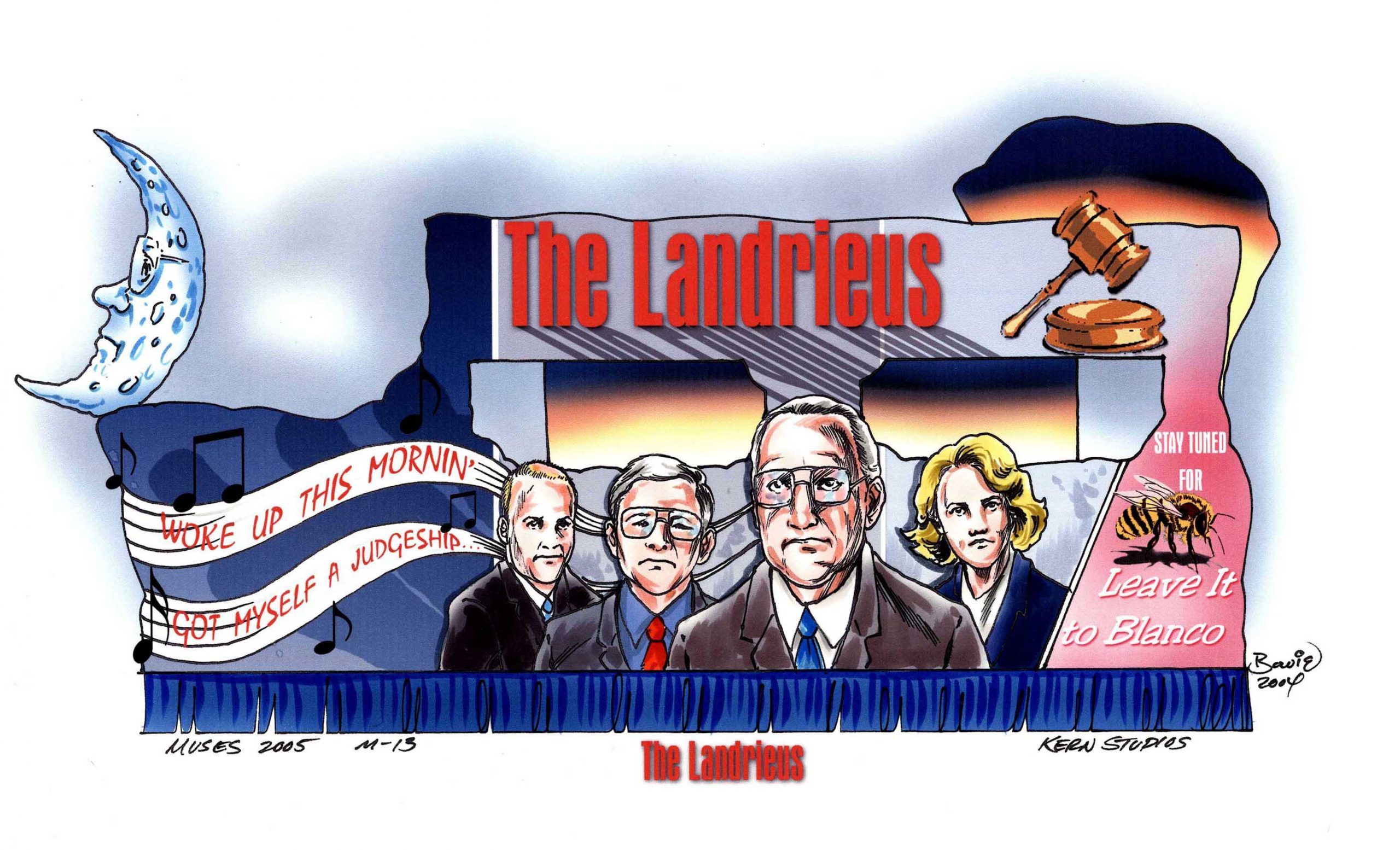 Float 19 – The Landrieus
The Sopranos may be a tight family but they can't hold a candle to our family…
The Landrieus, starring Moon, Mitch, Mary and cousin Charles…
And this show will be followed by last year's hit series "Leave it to Blanco" – which happens to be followed by "Coach."
This float's mask partner is Raintree Children's Services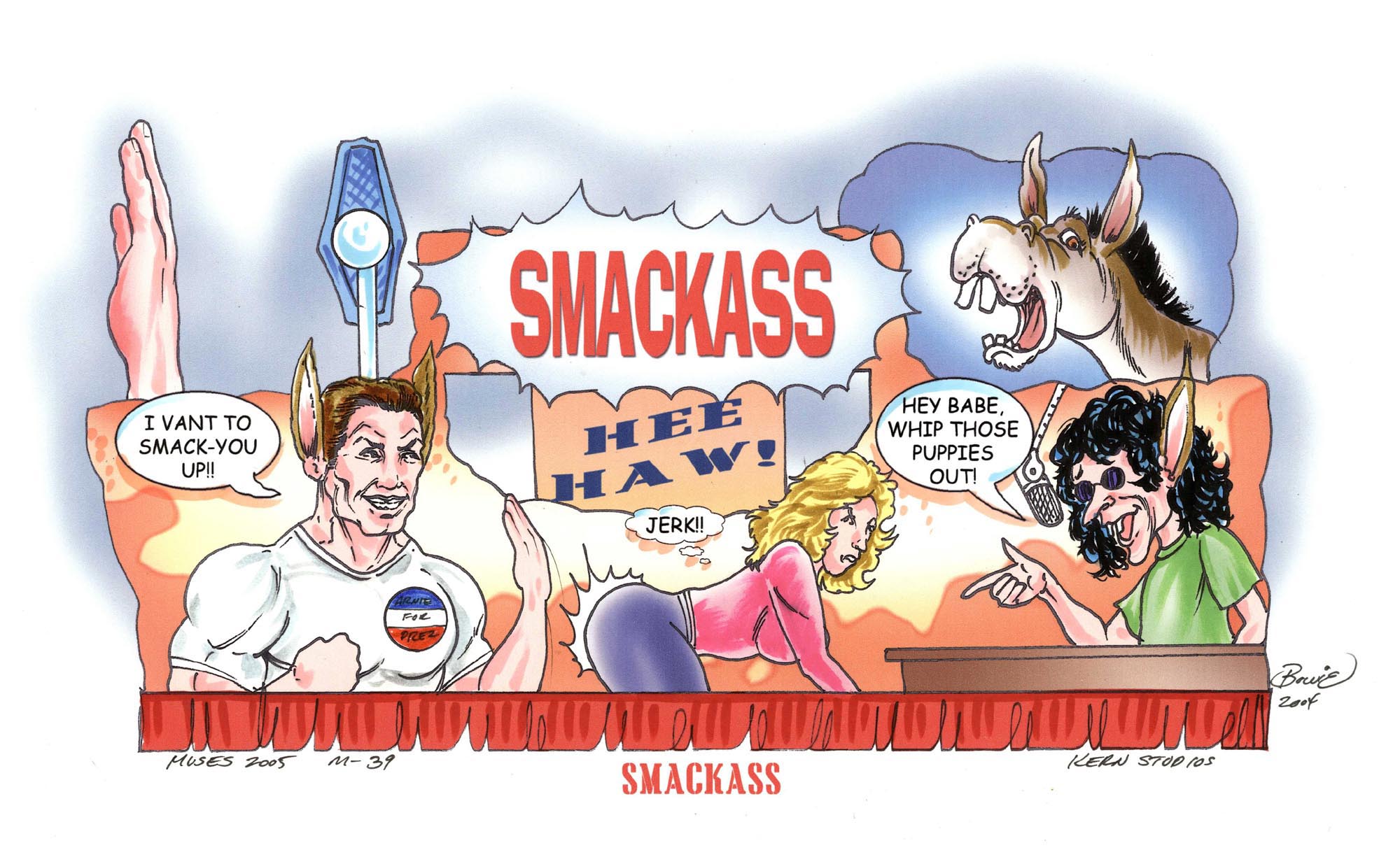 Float 20 – Smack Ass
As if we did not know what show was airing on WJRK…Let's see the real jackasses on SmackAss.
The producers of Muse TV wish they could cancel the inspiration behind this show.
This float's mask partner is St. Francis Villa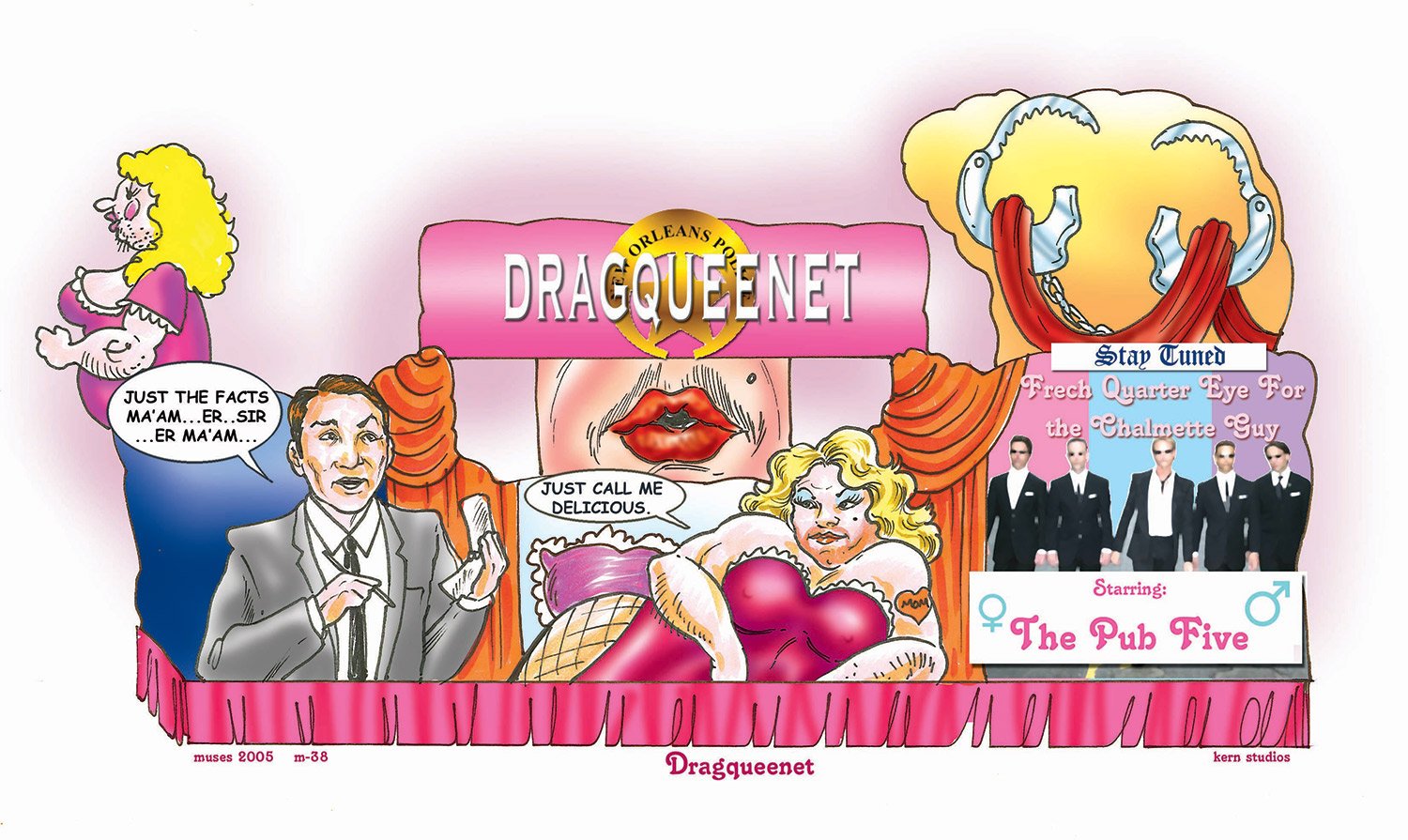 Float 21 – DragQueenNet
They'll be saying, "just the facts ma'am, I mean sir, I mean ma'am" on Dragqueennet. And this show is followed by French Quarter Eye for the Chalmette Guy starring the Pub Five.
This float's mask partner is Touro Senior Day Care Center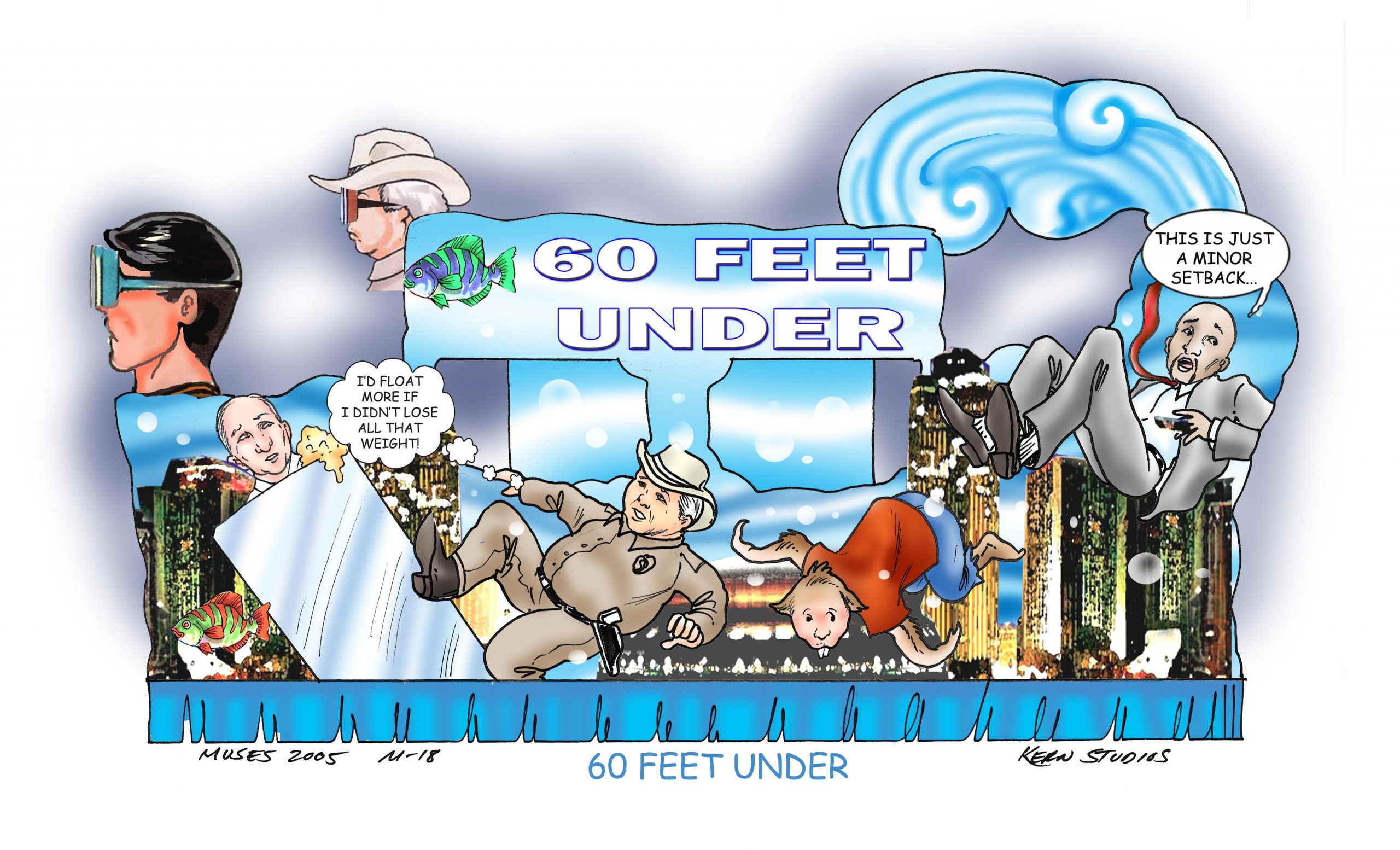 Float 22 – Sixty Feet Under
Muse TV presents a weather exclusive – It's New Orleans and it's…Sixty Feet Under! But don't worry – the mayor says it is just a minor setback. Some of our favorite New Orleans characters who decided not to battle the contra flow are down here too!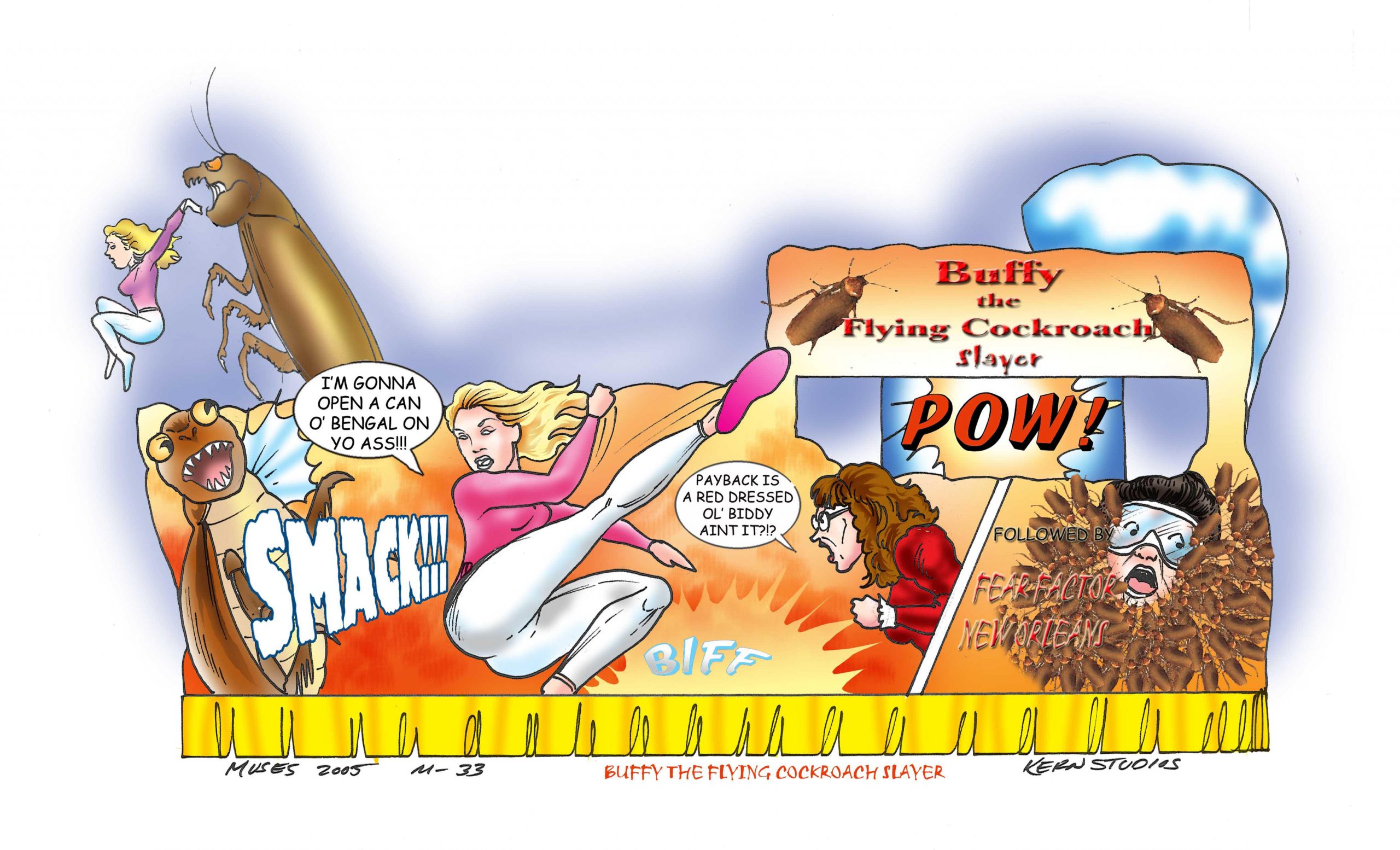 Float 23 – Buffy
Forget the vampires…on Muse TV Buffy is battling a far more terrifying enemy – Yes – it's Buffy – The flying cockroach slayer!
Followed by Fear factor New Orleans.
This float's mask partner is Chateau de Notre Dame
Float 24 – Happy Sirens
She's back – our siren. In Greek mythology the sirens were cast our by the Muses so each year the Muses parade is ended with these Muses gone wild.
Our Siren is celebrating the 5th anniversary of the krewe of Muses parade and she thinks it was 5 times better then the first time!
This float's mask partner is Kingsley House
Happy Mardi Gras and happy are they whom the Muses love.