Welcome to the 10th anniversary parade of the Krewe of Muses
If you have not already fallen in love with this dynamic all–female krewe tonight is the night as the Krewe of Muses proudly presents.
The Muses Guide to Love and Romance – rolling three days before Valentine's Day 2010 – is the Muse attempt to advise the men of New Orleans to ensure that all of the women of our city and beyond have a better and more romantic Valentine's Day.
Mused throws get better every year. This year look for special 10th Anniversary plush toys, strobe theme beads, a platform shoe for 2010, the return of the Sweet Musings sleep mask, a new super light–up shoe, the fabulous shoe bracelets and now a shoe necklace, Cupid's arrows and much more! And of course, keep your eyes open for the special glittered shoes! And the luckiest will also get a copy of the Muses Guide to Love and Romance featuring all float sketches.
The Muses Cup Art Contest is open to New Orleans area students and encourages involvement in the creative arts. This year's student artist and cup design winner is Dylan Pham, a student at McMain Secondary School.
In recognition of Pham's winning design featuring the muse Calliope, McMain Secondary School will receive a $1,000 donation towards its art programming.
Marching Unit – Big Easy Roller Girls
Float 0 – Muses Birthday Cake – Happy 10th!
Band – U.S. Marine Corp
Marching Unit – Molly Marines
Marching Unit – Walking Shoes and Butterflies
Float 1 – The Muses 2010 – The Krewe of Muses Officers
Happy are they whom the Muses love!
Band – St Augustine High School
Flambeaux
Float 1a – Honorary Calliope – Mary Matalin
The 2010 featured muse is Calliope, traditionally known as the Muse of Eloquence and Poetry. The name Calliope translates as "beauty of voice", and she was especially known for her persuasiveness, offering wise counsel to politicians and inspiring brilliance in debate.
In the spirit of the season, we have chosen as Honorary Muse, Mary Matalin, a woman who exemplifies the art of straightforward discussion and persuasive speech.
Matalin has served as political advisor and strategist for several presidential administrations, authored two national bestsellers, and hosted her own critically acclaimed television and radio public affairs shows. She currently serves as a CNN contributor and the Editor–in–Chief of the Simon and Schuster imprint, Threshold Editions.
Mary and her husband, political consultant James Carville, moved to New Orleans with their two daughters in 2008 and quickly became involved in the City's community affairs and rebuilding efforts. She serves on the boards of the Academy of the Sacred Heart and Bureau of Governmental Research, and is a member of Women of the Storm. Strong supporters of New Orleans and its promising future, Matalin and Carville were chosen as co–chairpersons of the 2013 Super Bowl Host Committee.
The Honorary Muse recognition project is a community–focused activity that honors local women who have made a contribution to the New Orleans community.
Band – Xavier Prep High School Marching Band
Float 1b – Mt. Olympus Brass Band (Coolbone)
Band – O. P. Walker High School Marching Band
Float 1c – Muses to the Saints
Band – Warren Easton Marching Band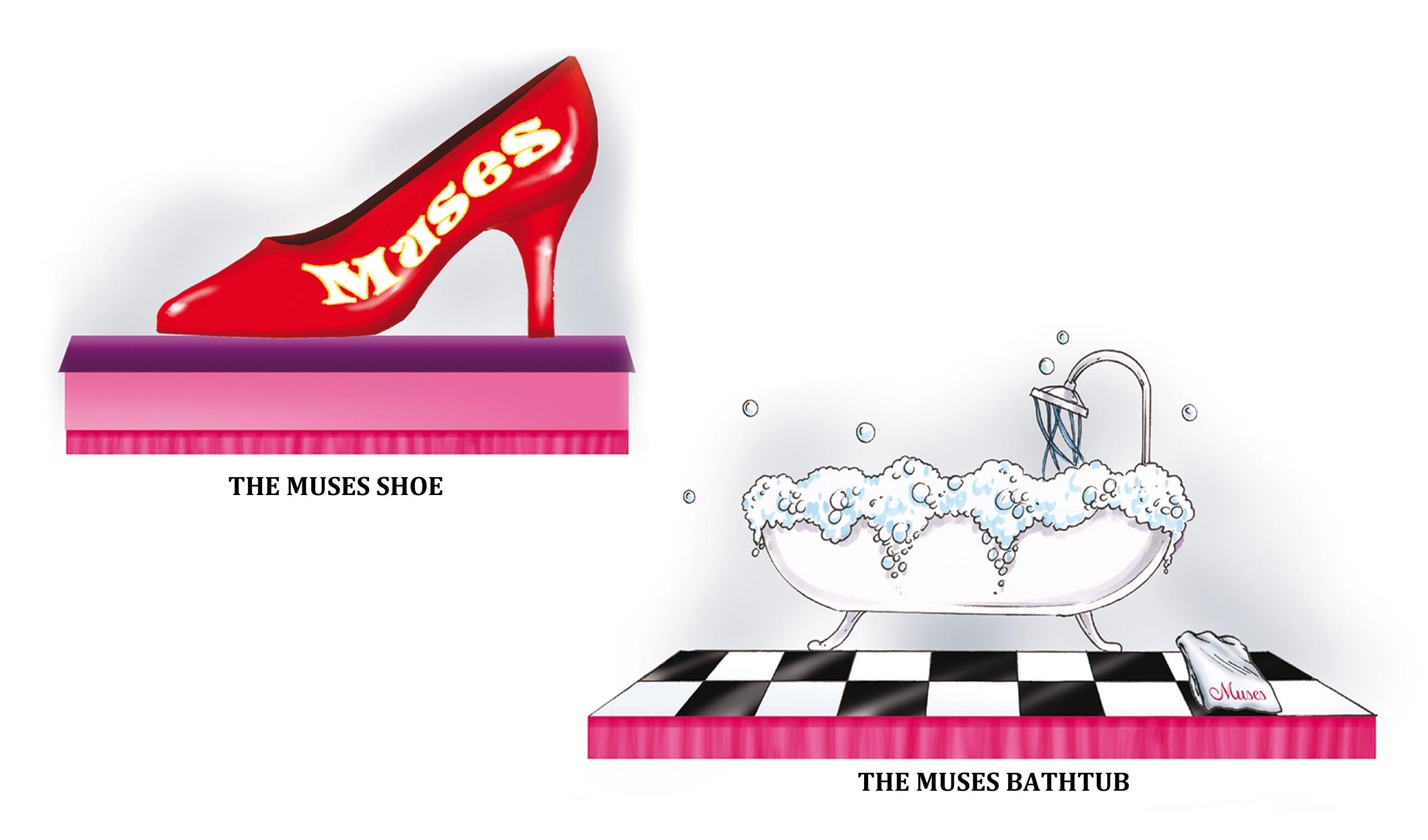 Float 2 – The Bathing Muses
Band – George Washington Carver Sr. High
Float 3 – Title Float – The Muses Guide to Love & Romance
Here it comes – the ultimate guide to love and romance. The Muses studied piles of self help books…tossed them all aside and decided to state the obvious that is rarely said aloud. Listen up gentlemen...you have lots to learn tonight!
Band – Joseph S. Clark High School
Horse Unit – Lady Godiva Riding Club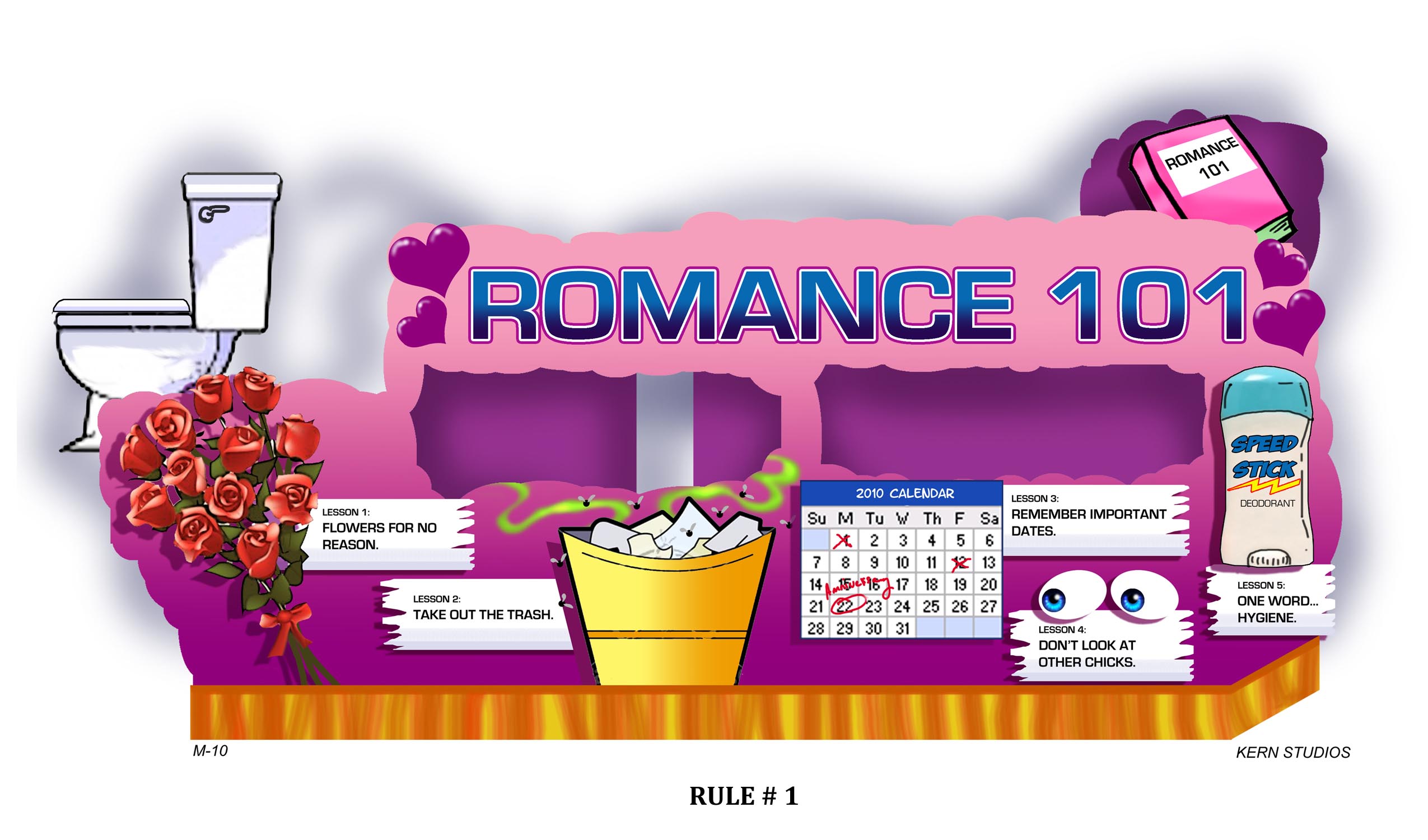 Float 4 – Romance 101
It is a short list but an important one! Put the toilet seat DOWN! Send flowers for no reason! Take out the trash! Remember important dates! Don't look at other chicks! One word – HYGENE!
Band – East St. John High School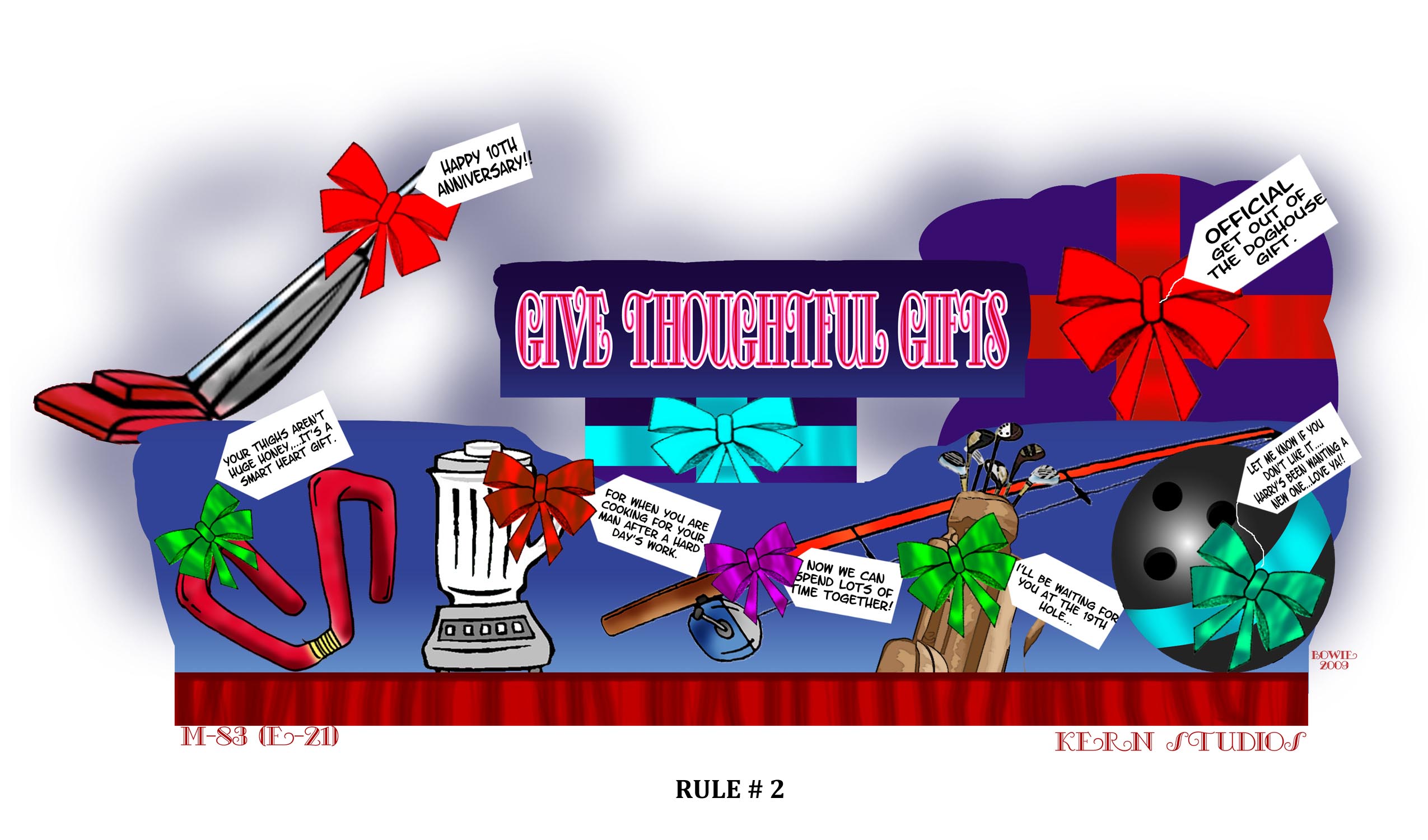 Float 5 – Give Thoughtful Gifts
We have all been the victim…that special anniversary approaches and he gave you a bowling ball, vacuum cleaner, thigh master! Listen up boys! Give thoughtful gifts!
Band – Rabouin High School Marching Band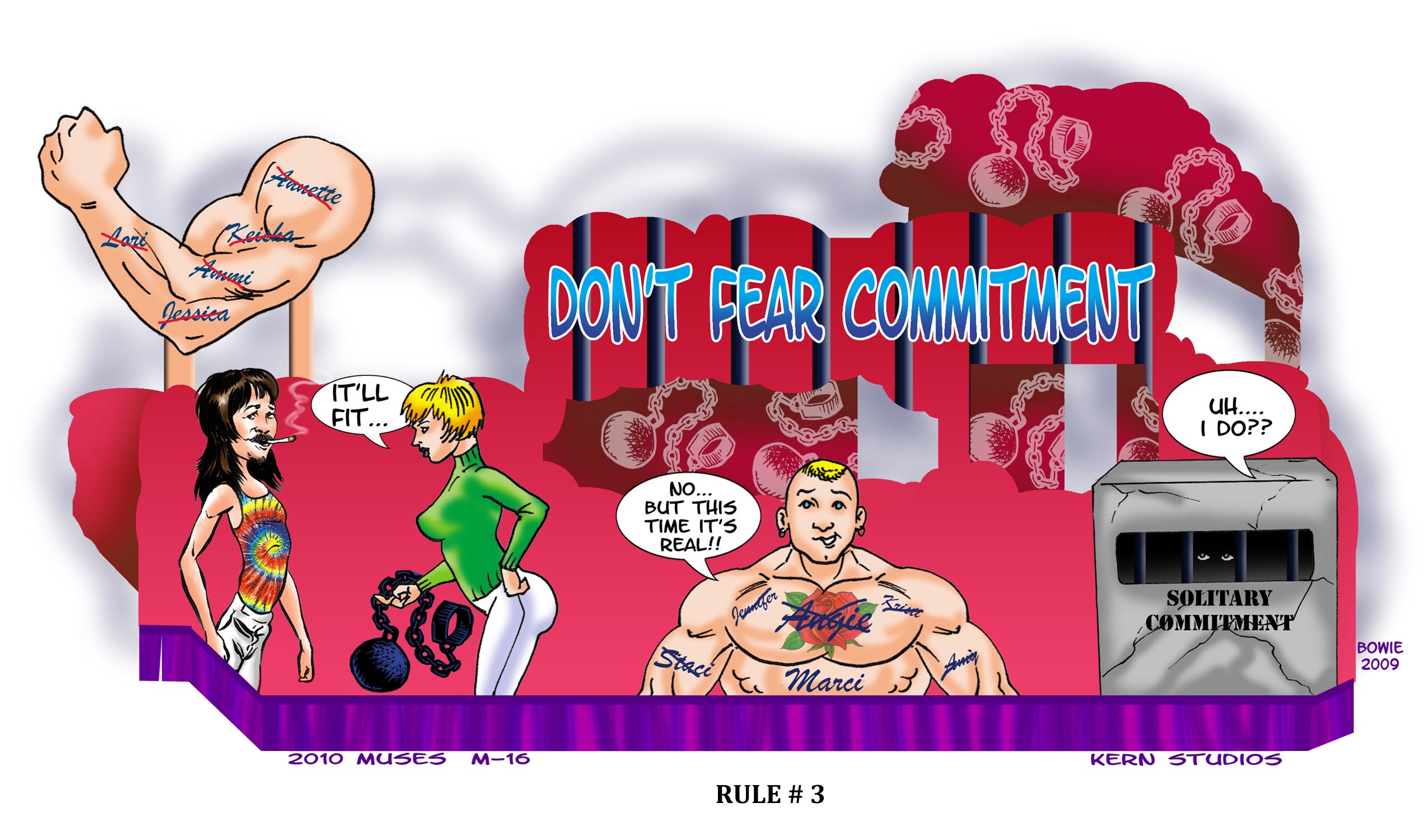 Float 6 – Don't Fear Commitment
You know deep down you want it…so don't fear that ball and chain!
Band – McDonogh 35 Senior High School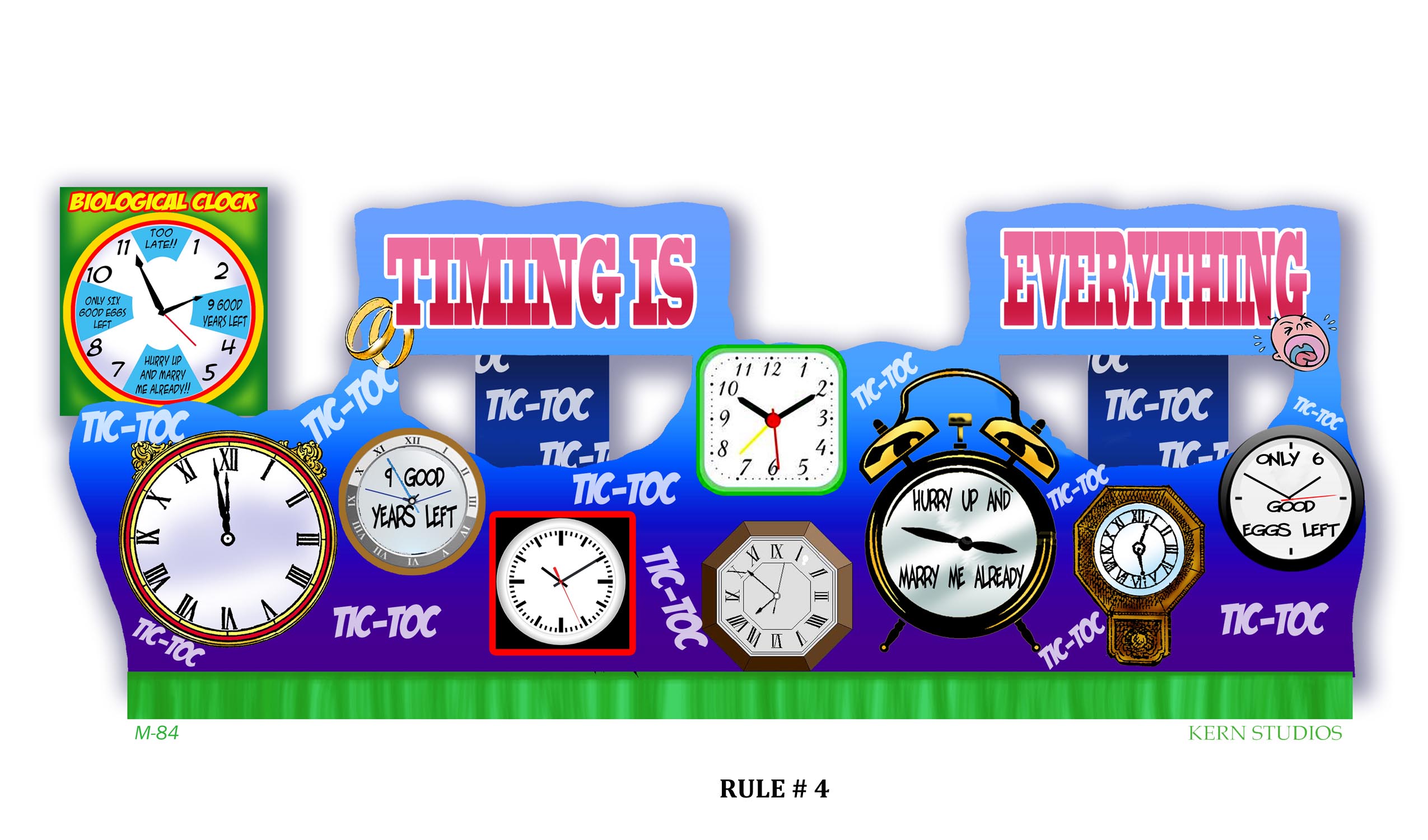 Float 7 – Timing is Everything
The biological clock is ticking away…only 3 good eggs left! Hurry Up and marry me already! Men – you need to hear it loud and clear…timing is everything!
Band – St. Mary's Academy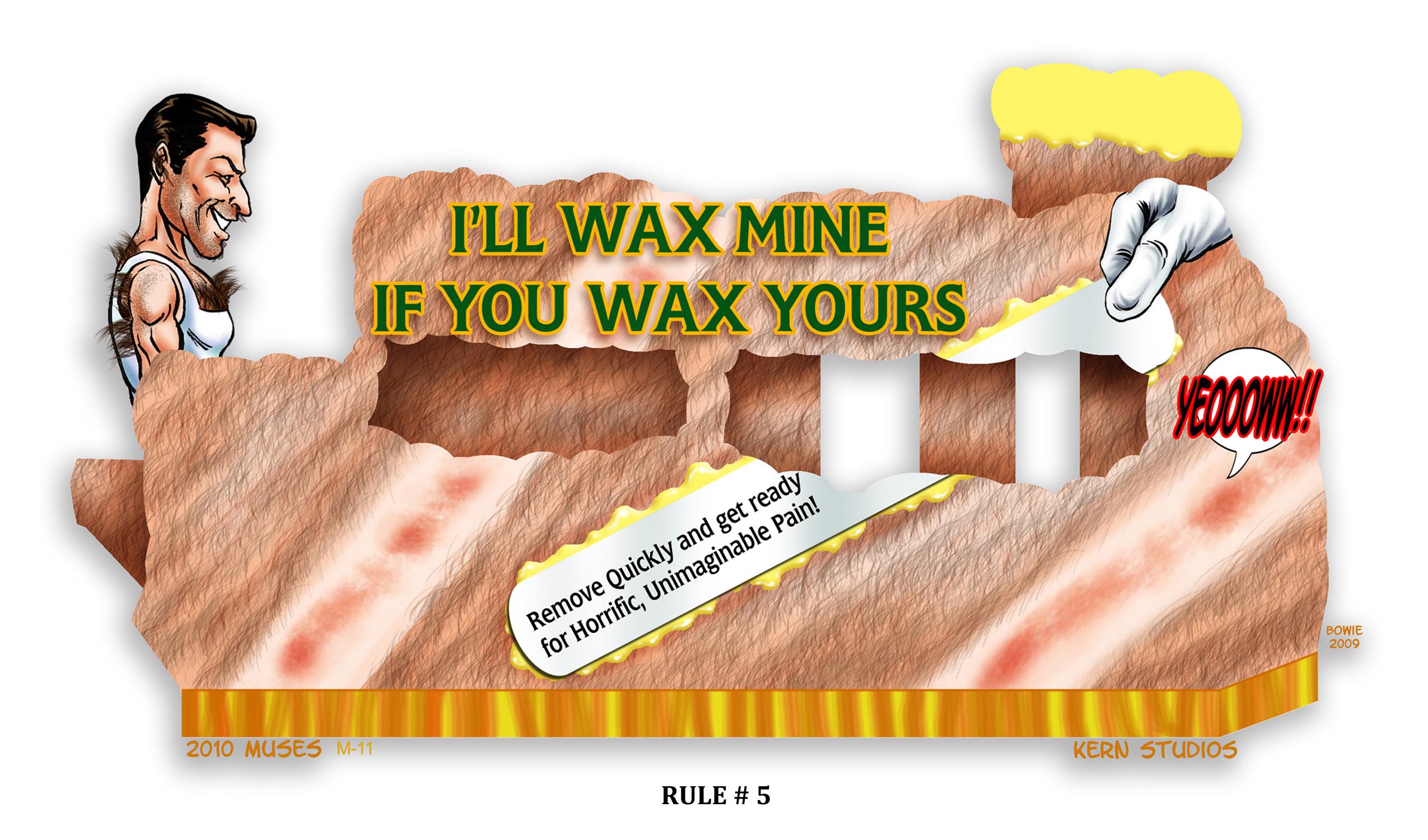 Float 8 – I'll Wax Mine If You Wax Yours
Your back, your ears…we have a new rule in Muses land…I'll wax mine if you wax yours!
Band – Sarah T. Reed High School
Float 9 – My Eyes Are Up Here
All girls know this feeling…so we are saying it loud and clear. Gentlemen…MY EYES ARE UP HERE!
Band – Fredrick Douglass High School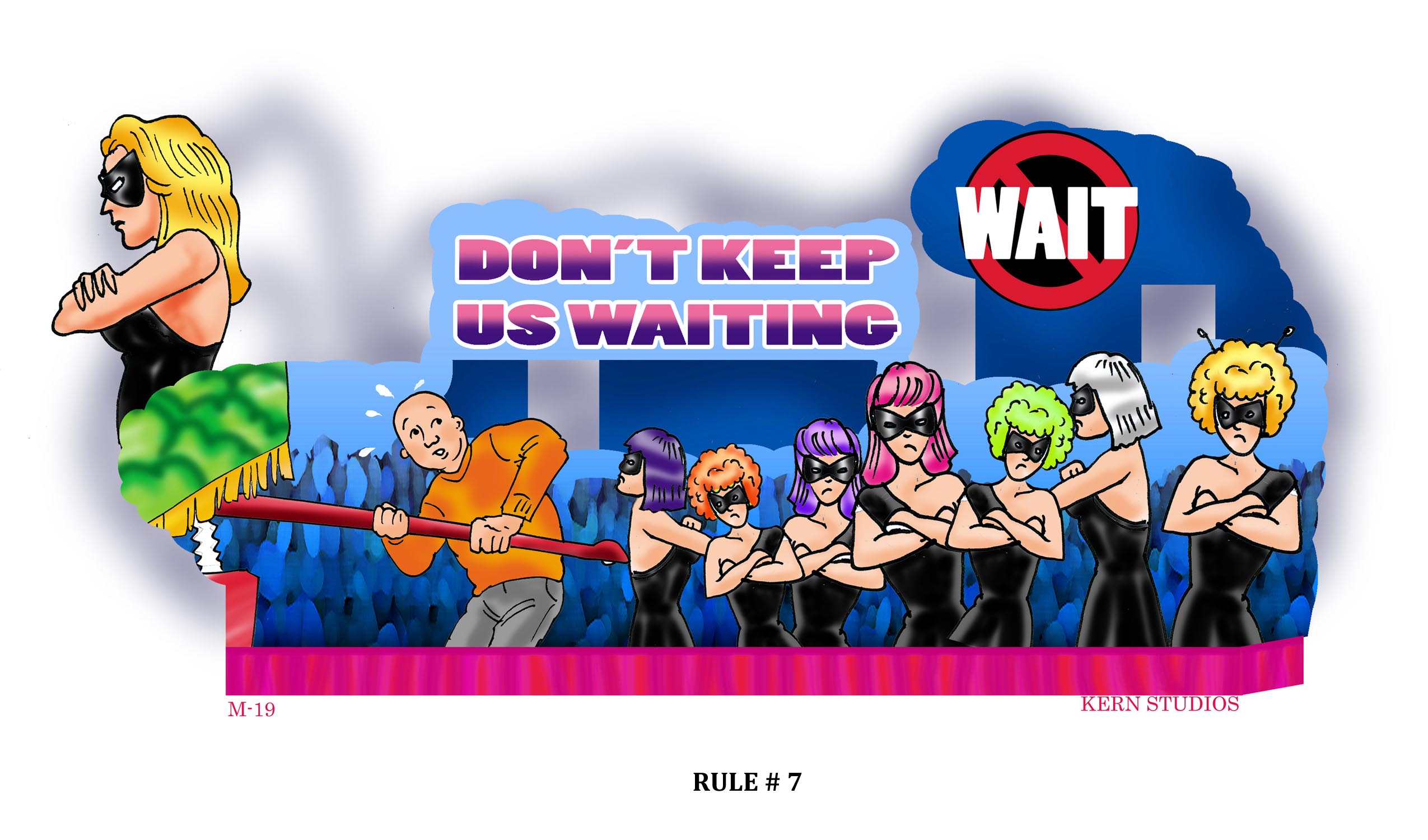 Float 10 – Don't Keep Us Waiting
This float is a tribute to the men of the Krewe of Chaos with memories of 2009. Please – Don't keep us waiting!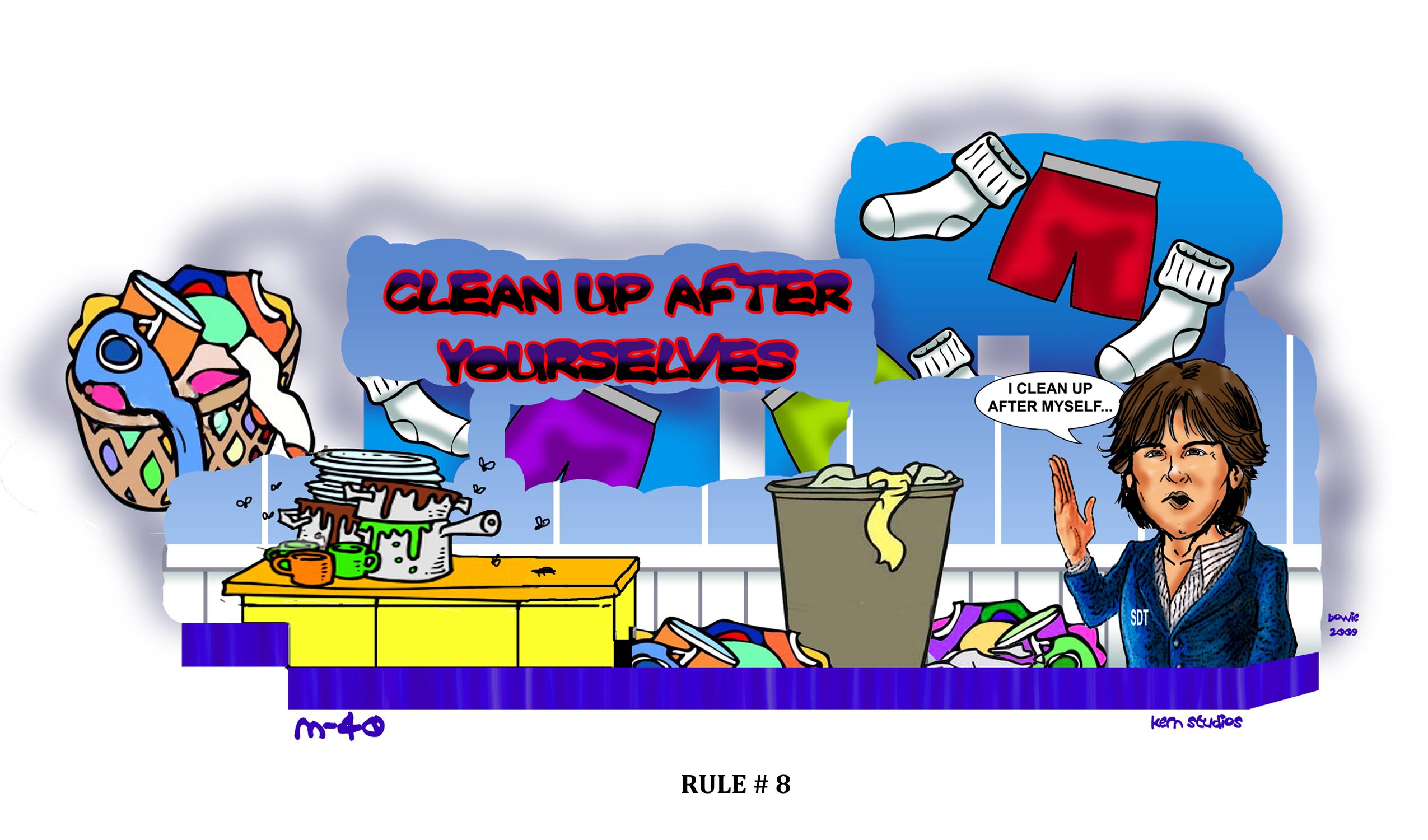 Float 11 – Clean Up After Yourselves
Some of the rules are basic but we all know only money and laundry can spoil a relationship so please clean up after yourselves!
Band – McMain Senior High School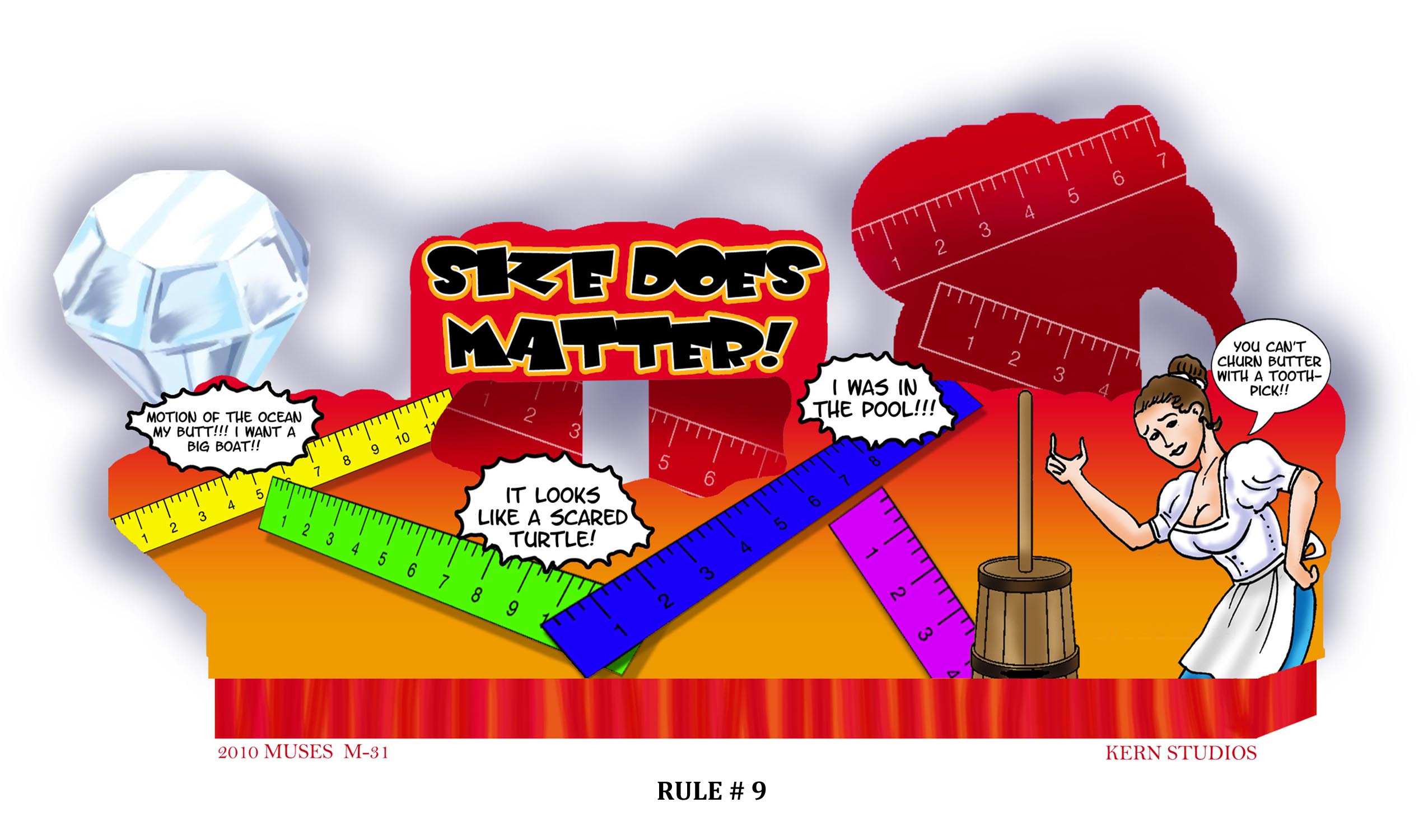 Float 12 – Size DOES Matter
Motion of the ocean my butt…Muses want a big boat! And like the old saying goes…You can't churn butter with a toothpick!
Band – Walter L. Cohen High School
Float 13 – We Need To Talk
Let's face…sometimes we don't understand each other. So the Muses have published the Male–Female/Female–Male dictionary. Some example: When she says "Sure – go ahead" she really means "How brave are you?" And when he says "Will you marry me" he really means "I want to make it illegal for you to do it with other men."
Marching Unit – New Orleans School of Circus Arts
Band – Martin Berhman Middle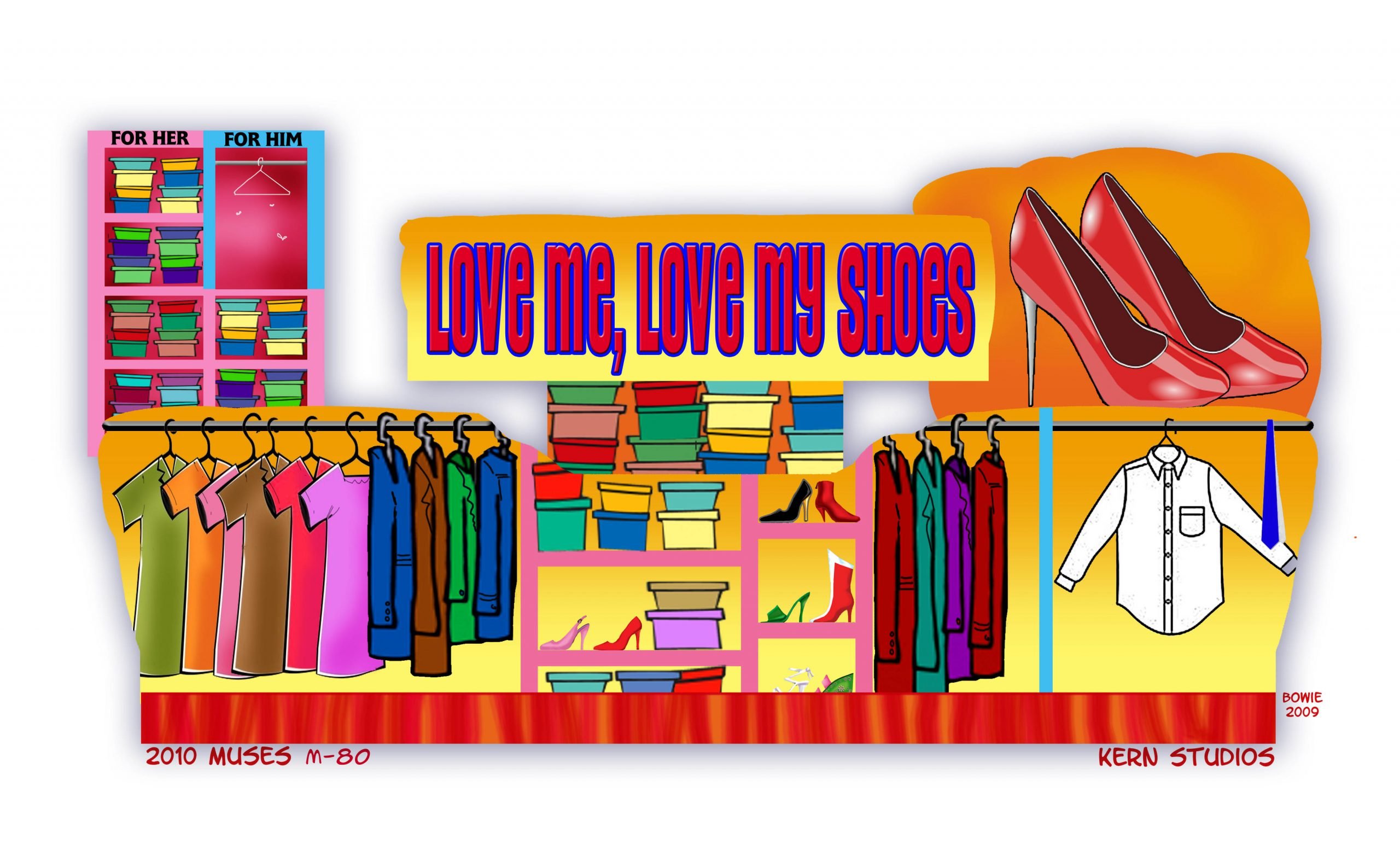 Float 14 – Love Me, Love My Shoes
Closet space…when you live with a Muse you never hae enough. Because if you love her you have to love her shoes too!
Band – Martin Luther King Charter School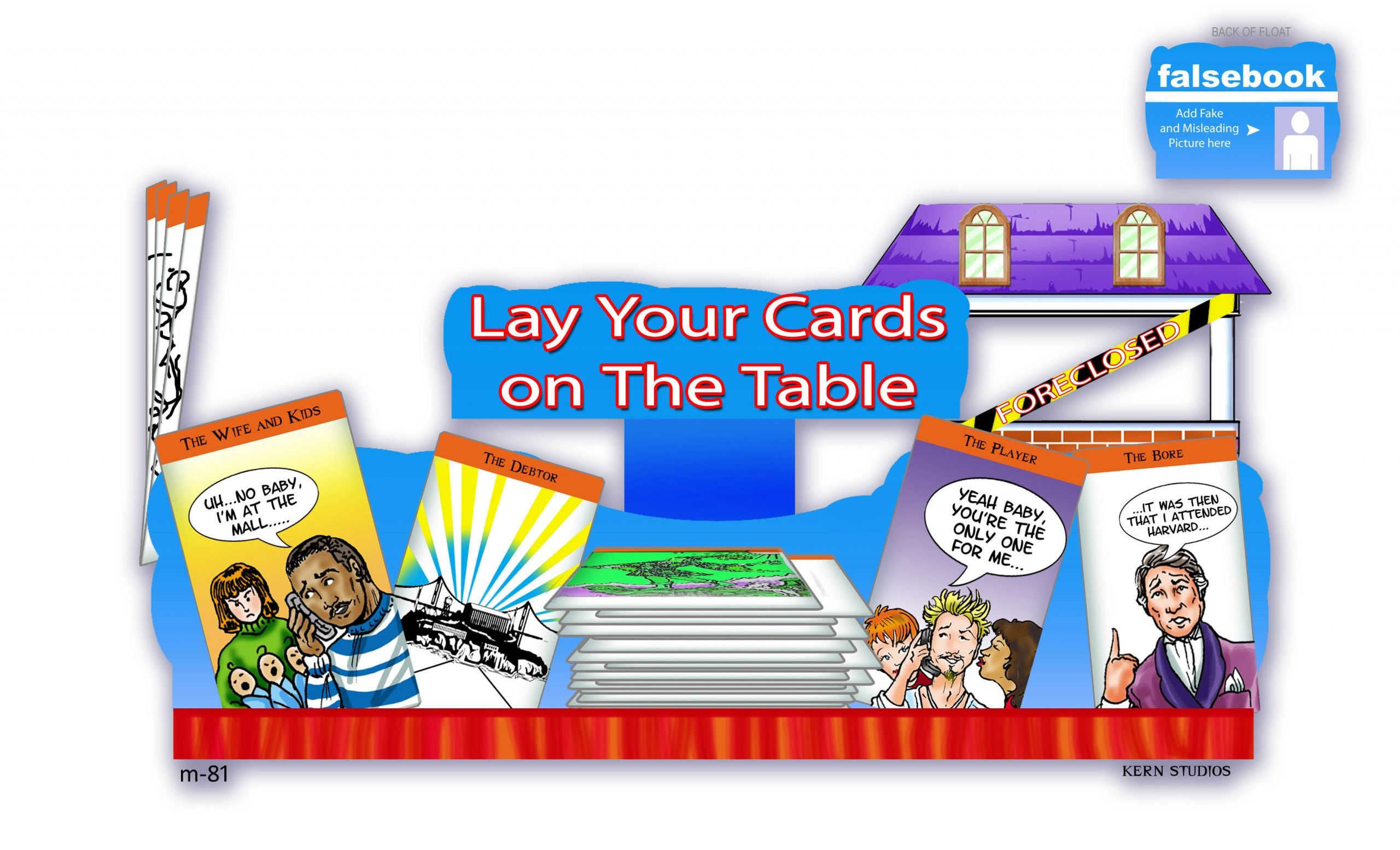 Float 15 – Lay Your Cards on the Table
Hmmmm, she thought to herself…I wonder if there is anything about him I don't know. Lay your cards on the table gentlemen!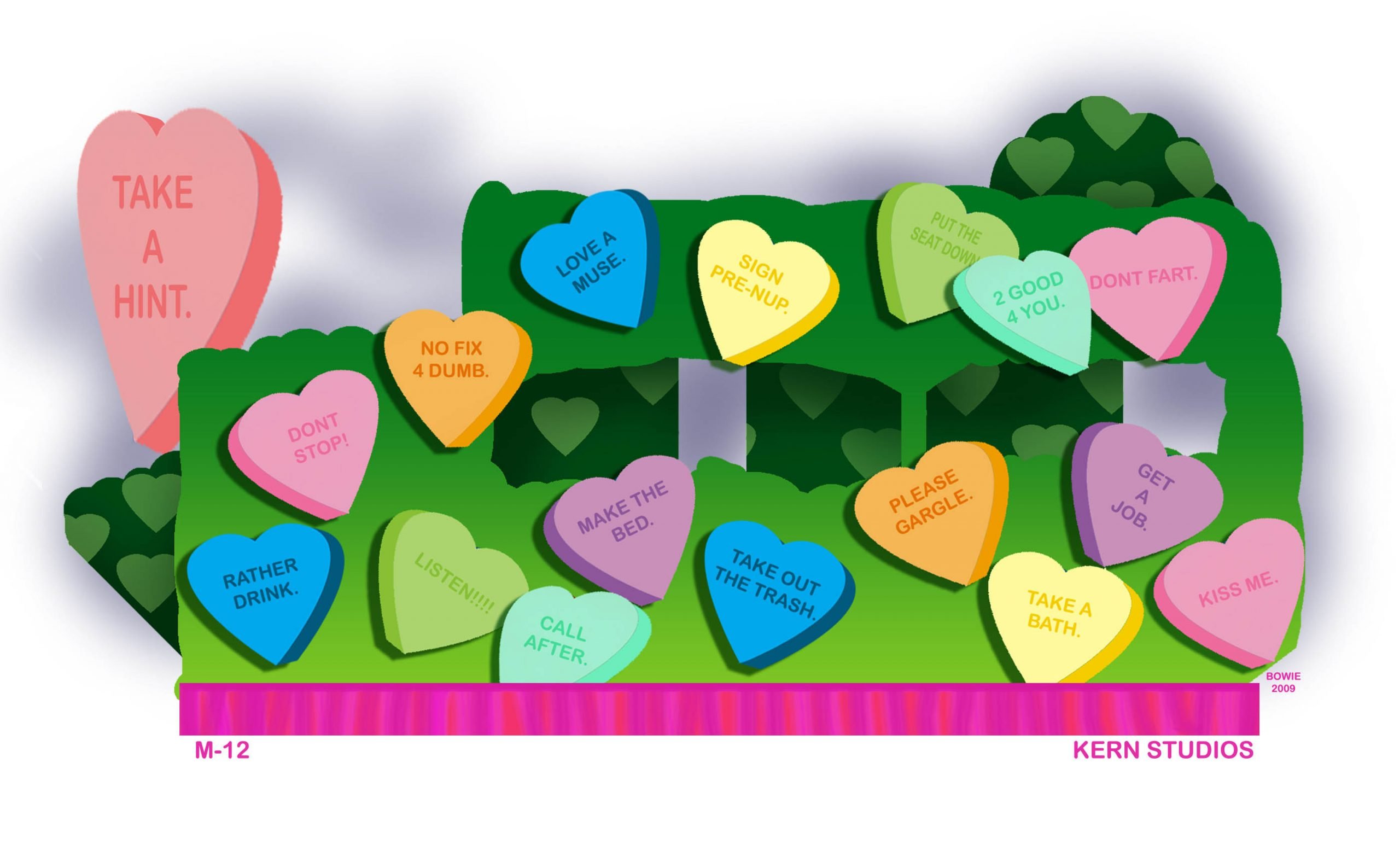 Float 16 – Take a Hint
Remember those adorable candy hearts? The Muses Guide to Love and Romance has rewritten them with a few, more valuable hints.
Marching Unit – Rolling Elvi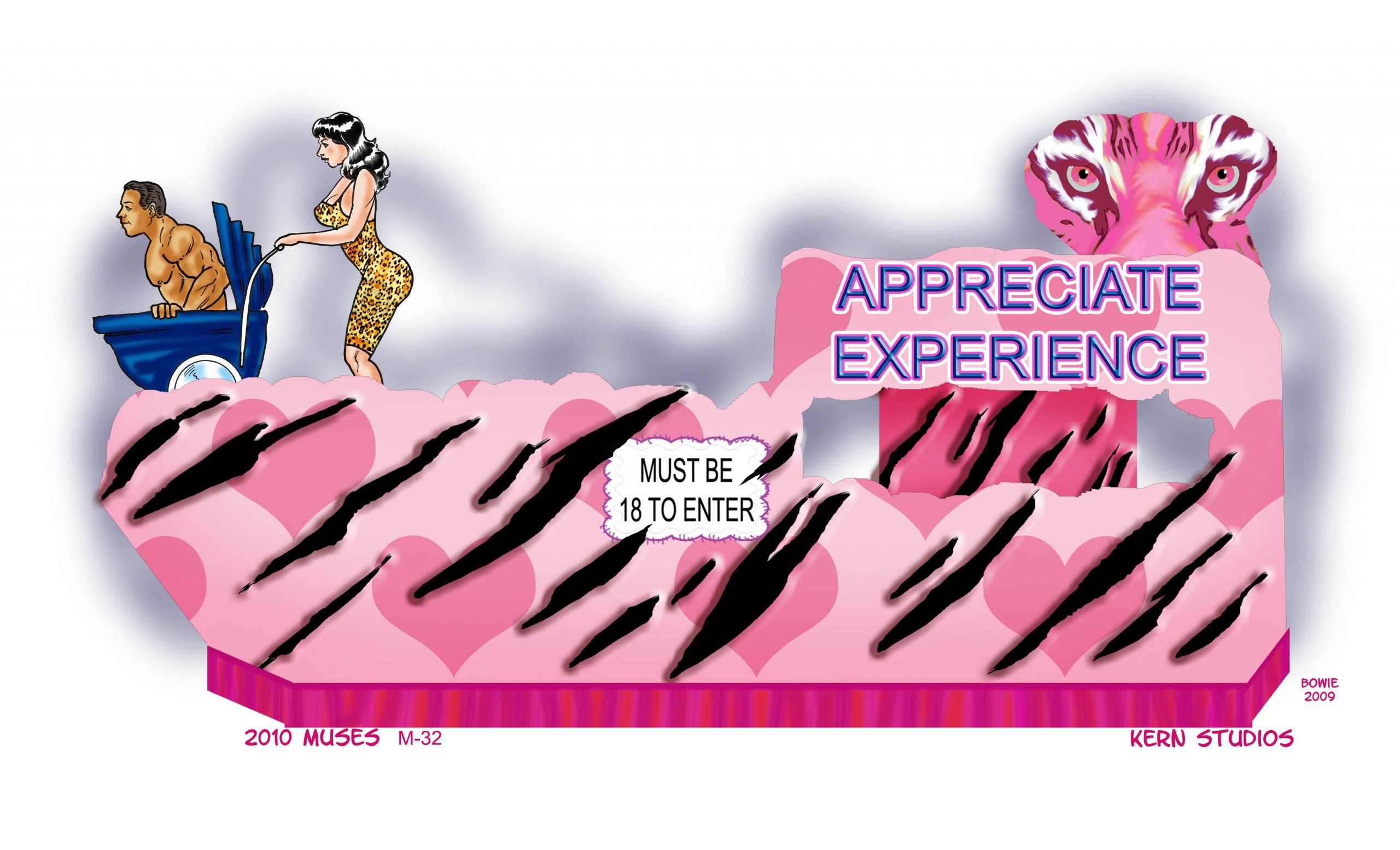 Float 17 – Appreciate Experience
Here come the cougars asking you to appreciate experience! And in this club te men must be 18 – not older – to enter.
Drill Team – Pussyfooters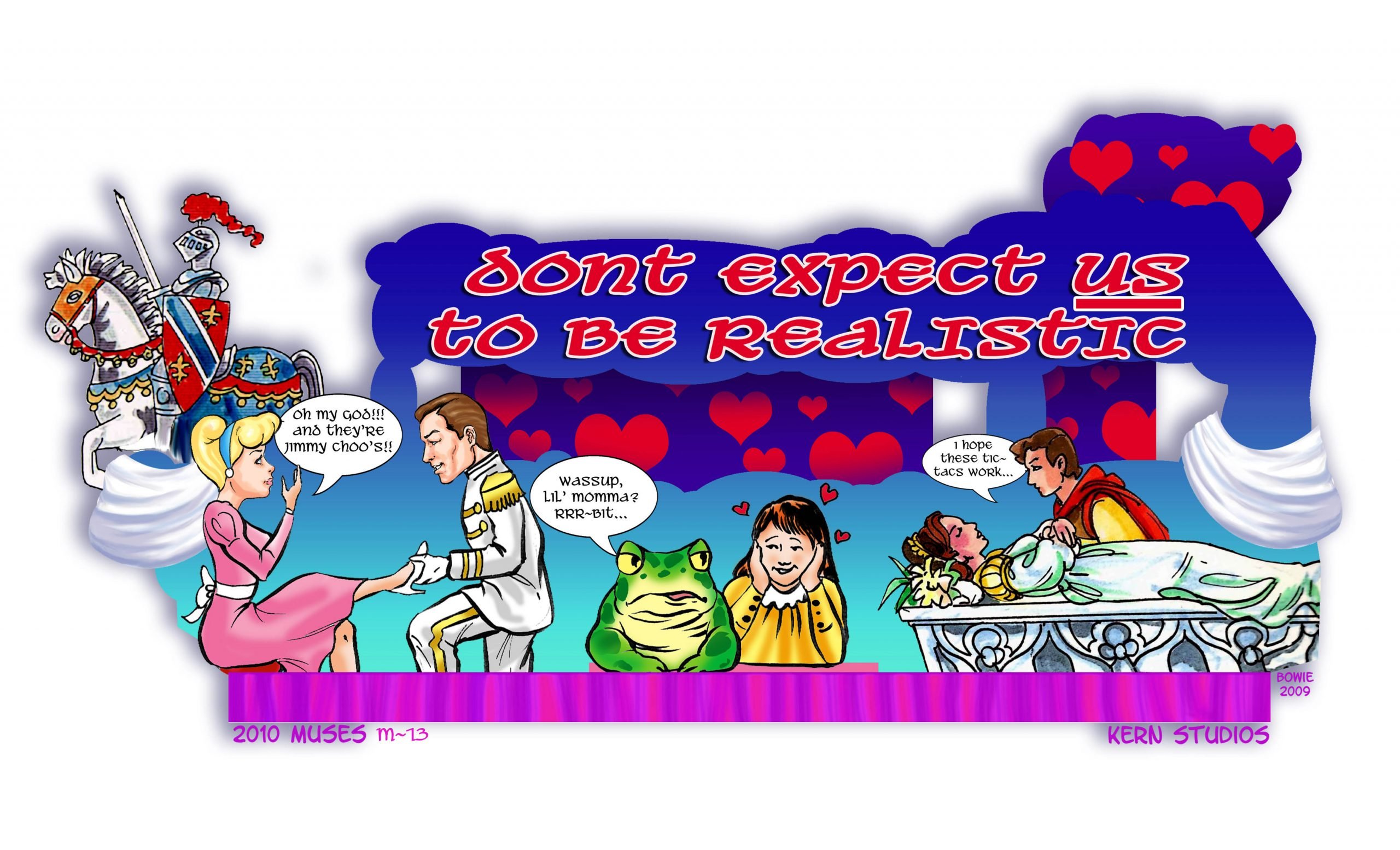 Float 18 – Don't Expect US to be Realistic
You have to understand….women have been brainwashed for years with stories of prince charming and kissing frogs…they want the men to know…don't expect them to be realistic!
The Muses on this float would like to honor their Muse sister, Major Rocky Deckert who is serving abroad with the United States Marine Corps and was not able to ride this year.
Marching Unit – Camel Toe Lady Steppers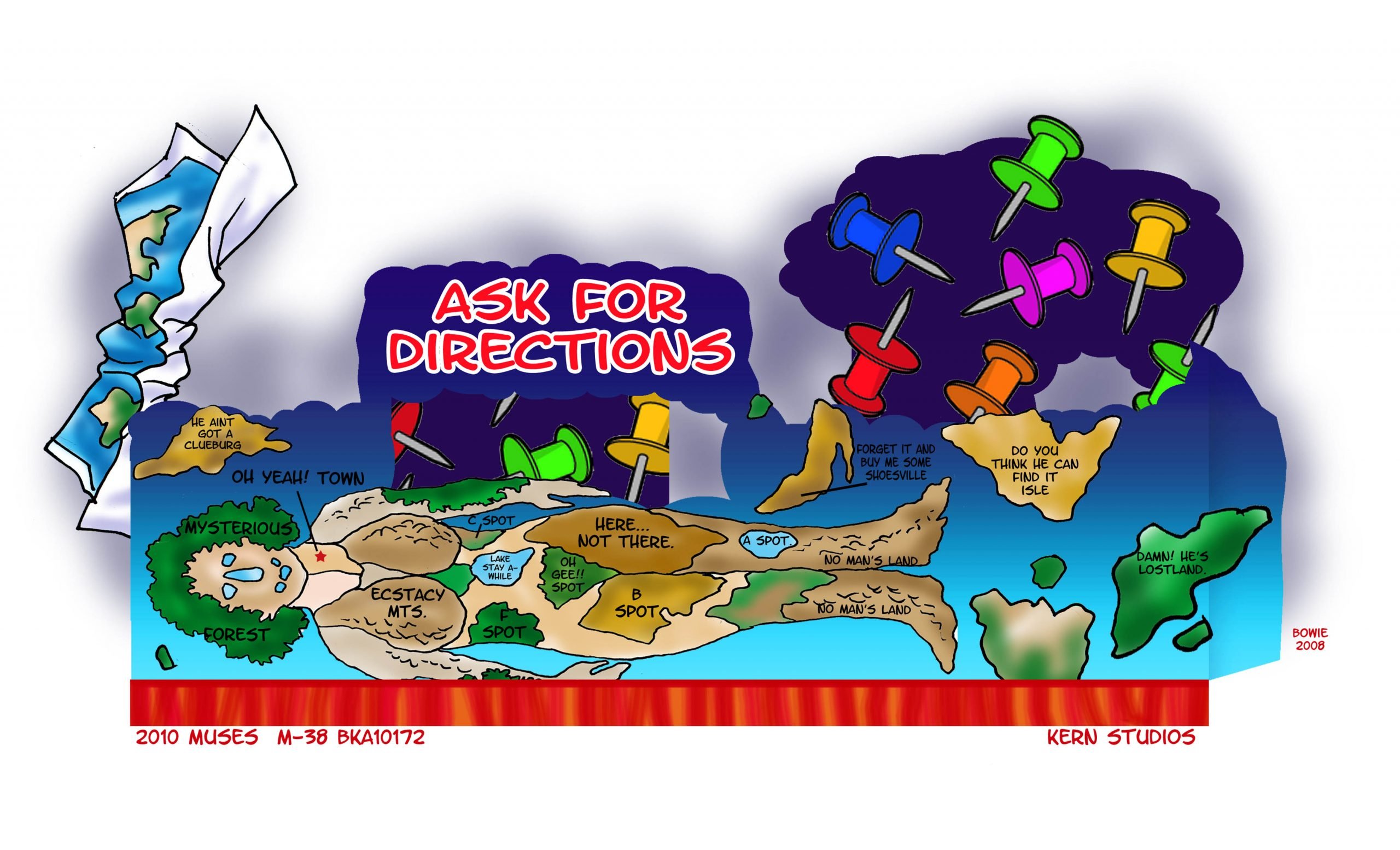 Float 19 – Ask for Directions
The Muses know men don't often like to ask for directions…but to get them to them promise land it is strongly recommended.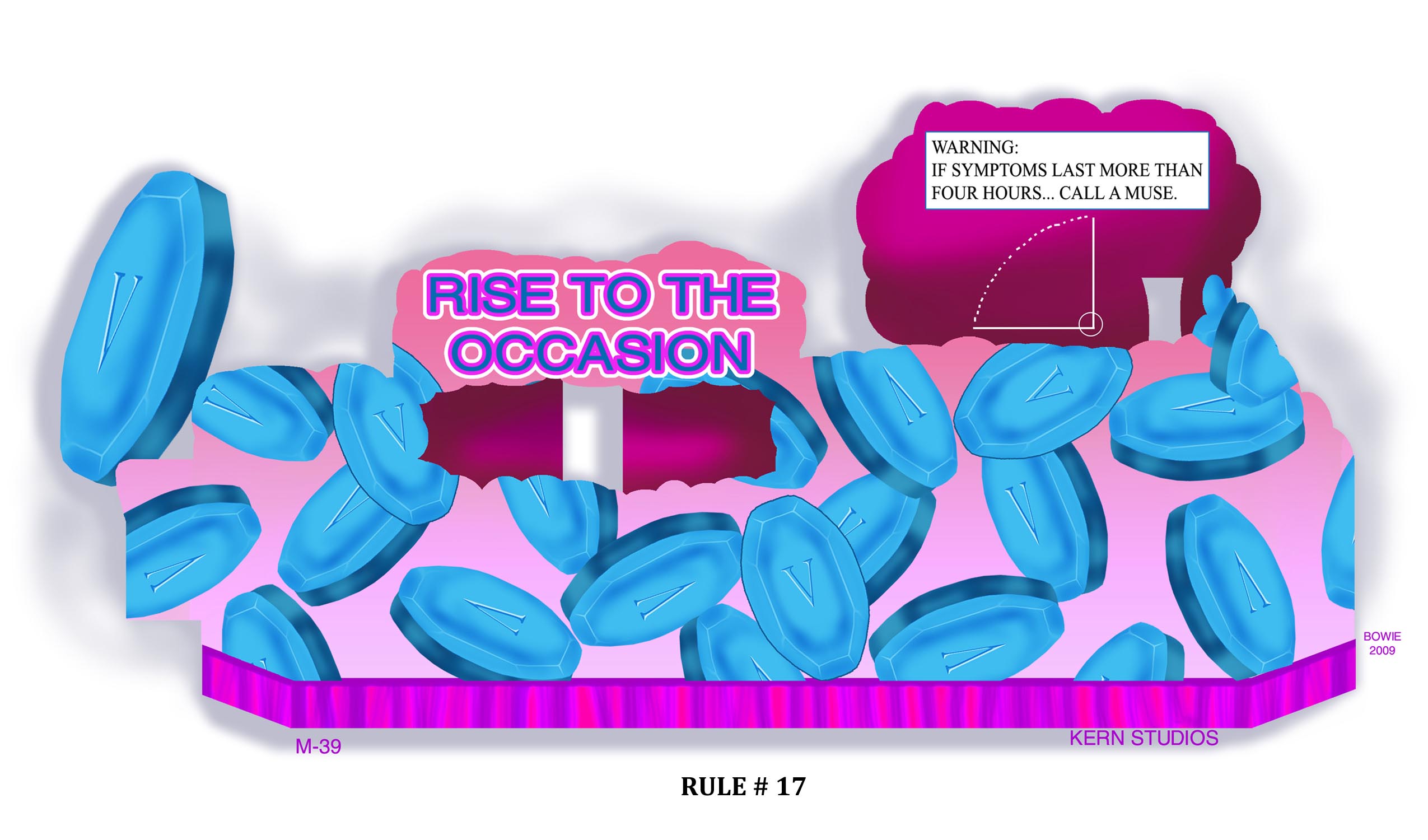 Float 20 – Rise To The Occasion
Always be prepared to rise to the occasion…and if symptoms last for more then 4 hours call a Muse!
Marching Unit – Bearded Oysters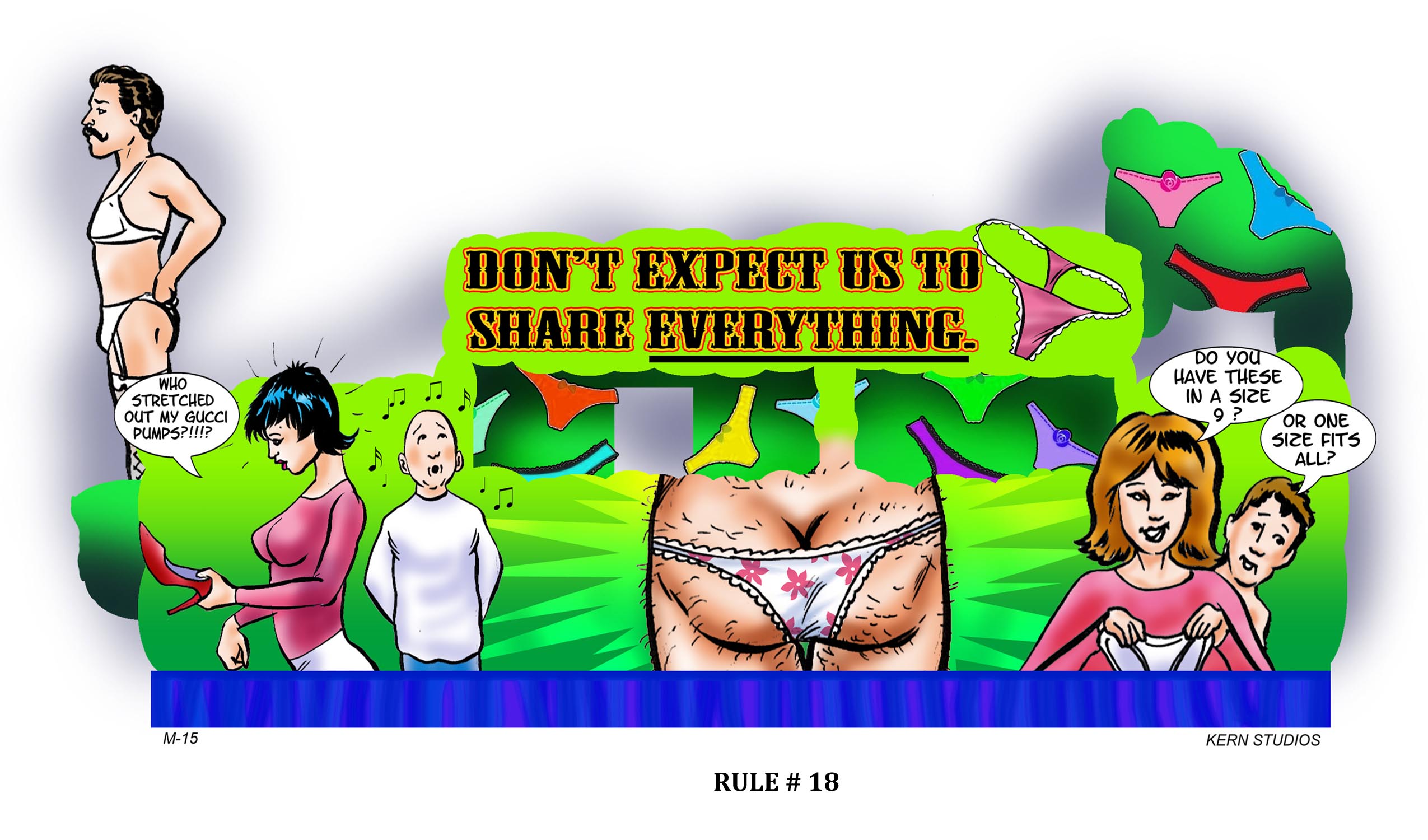 Float 21 – Don't Expect Us To Share Everything
You know how easy it is to stretch out Jimmy Choo pumps or a nice La Perla negligee? Sadly some of the Muses do and they would like the men to know you should to expect them to share everything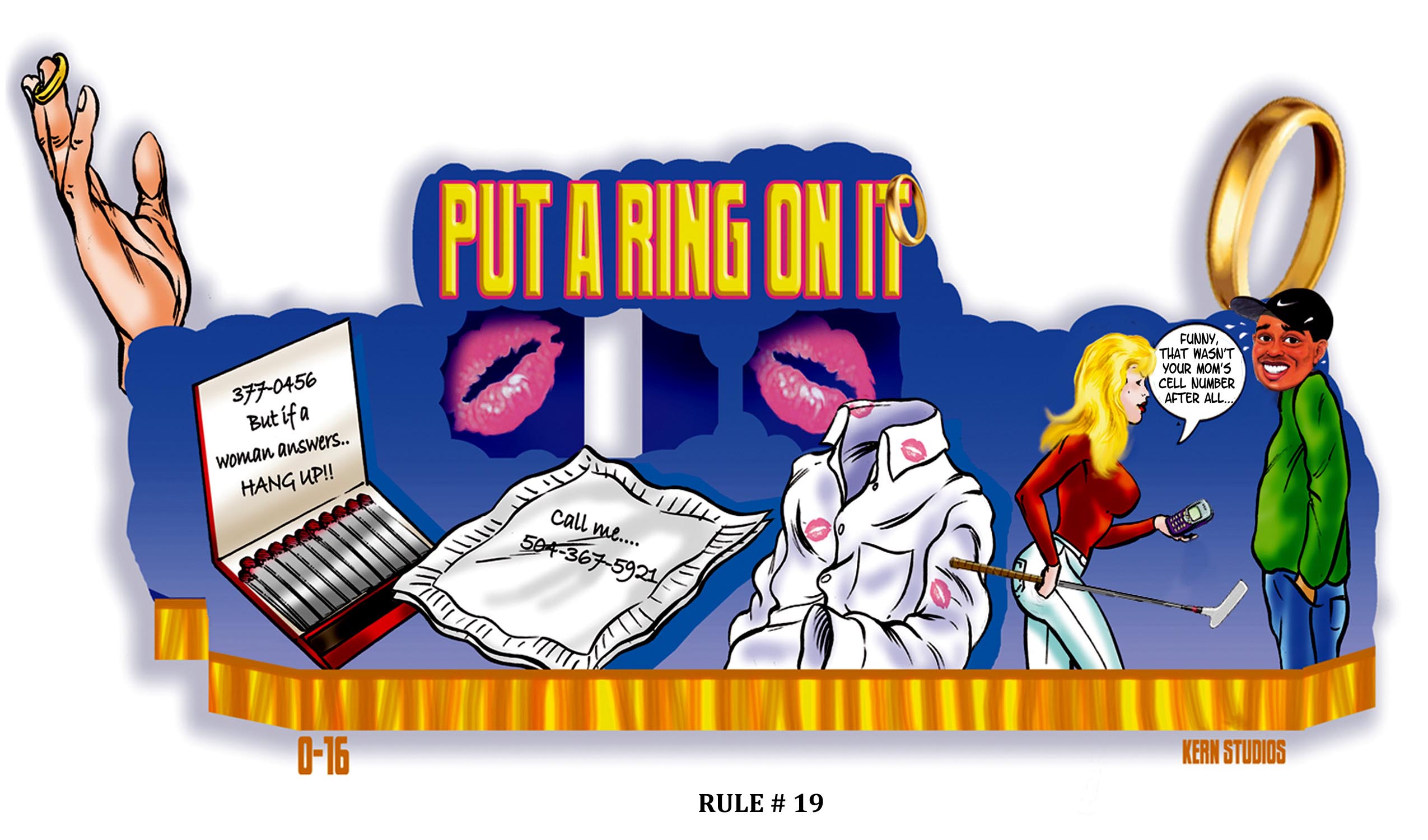 Float 22 – Put A Ring On It
Men… If you are married please do us a favor and PUT A RING ON IT!
Marching Unit – 610 Stompers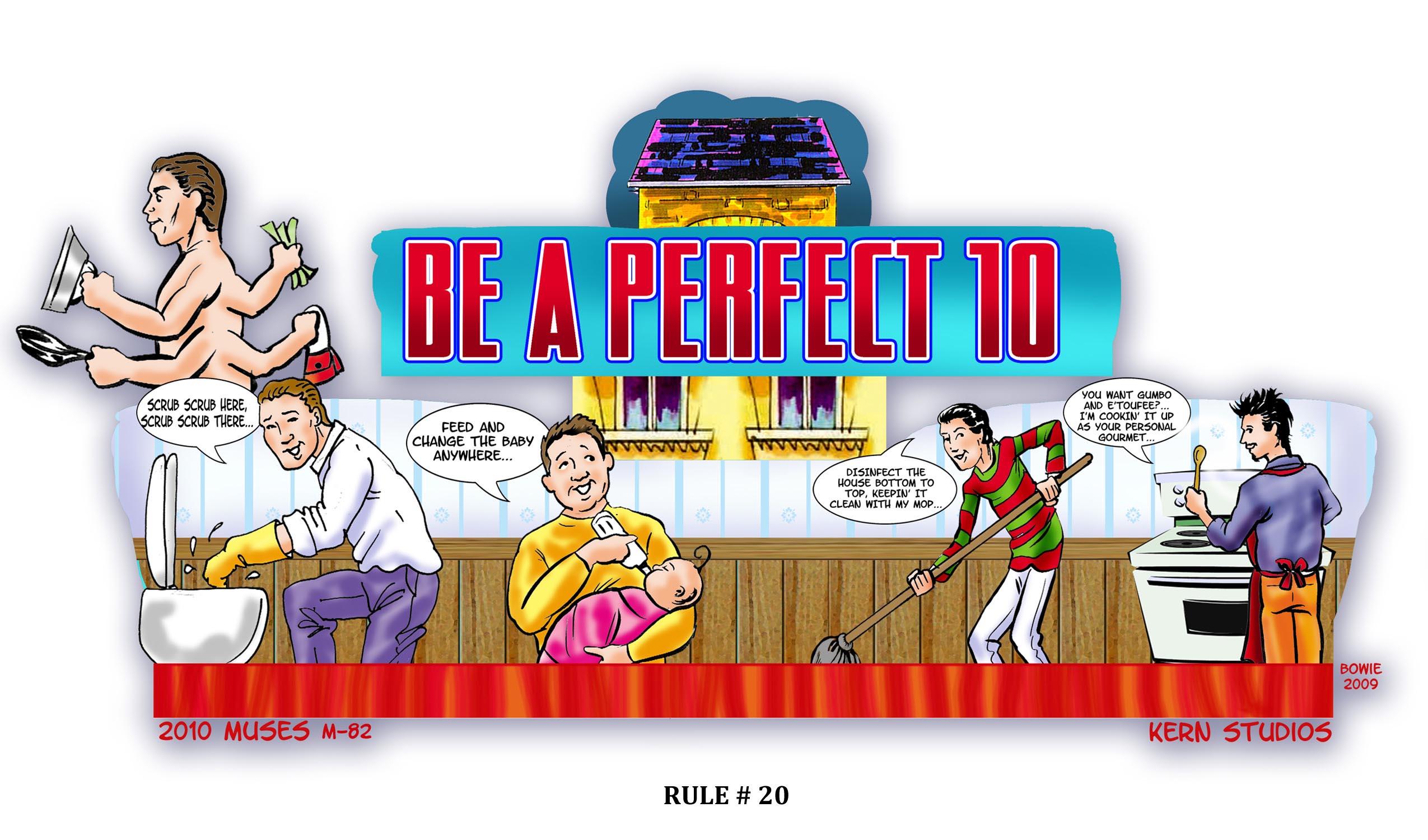 Float 23 – Be a Perfect 10
All of this advice to men to the ladies thinking about the perfect man…and how to be the perfect 10! This is him – the perfect guy with 10 arms and something useful in everyone…no remote control in sight!
Marching Unit – Muffalotas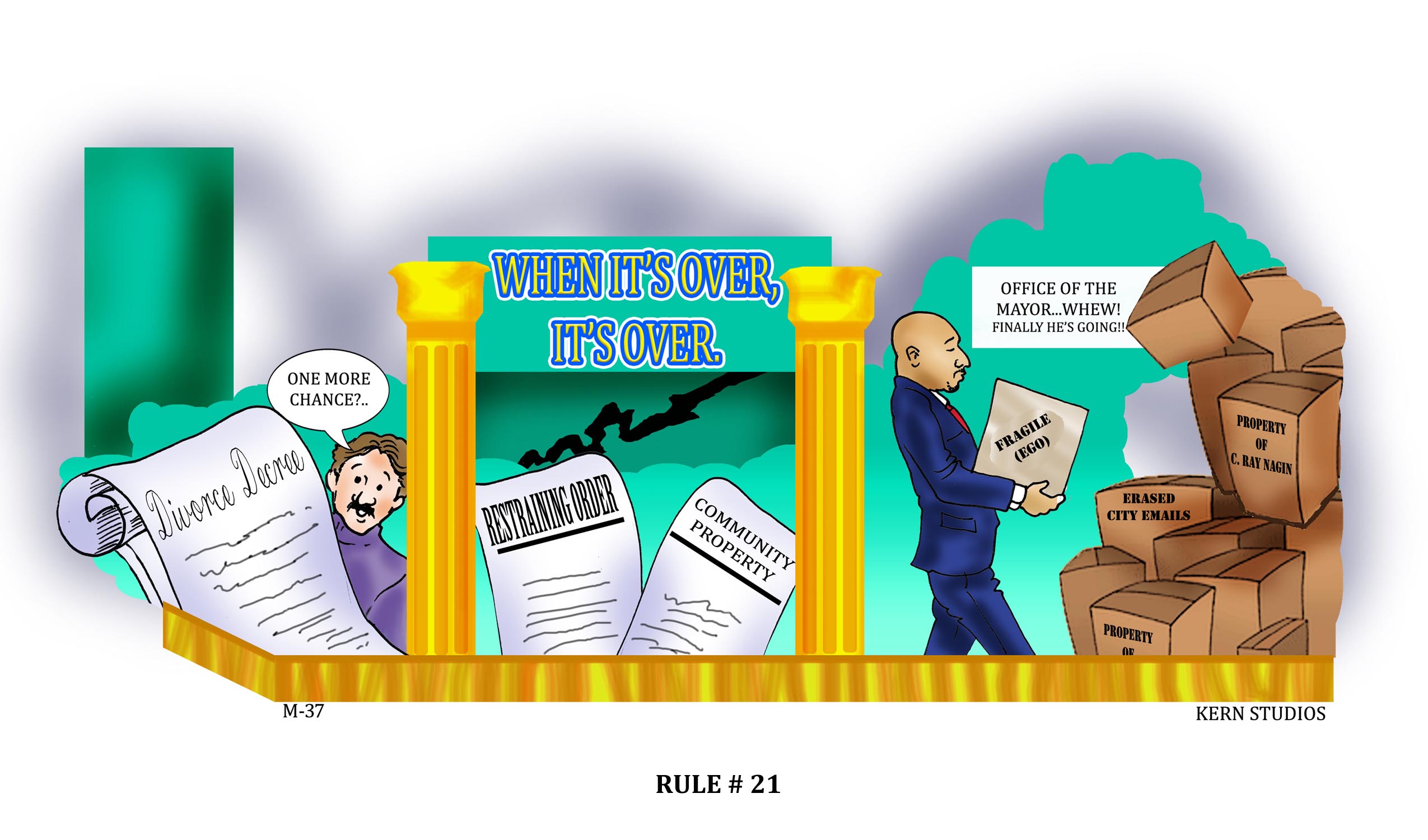 Float 24 – When It's Over, It's Over
From that picturesque cake topper to a brutal ending…it isn't always love and romance. This float states it clearly – when it's over…it's over..and our friend C. Ray – the object of many a joke over the past 8 years of parades is packing up!
Band – Panorama Brass Band
Float 25 – Sirens 2010
How Do I Love Thee? Let me Count the Parades!
It has been ten amazing years and ten wonderful rides for the women of Muses and they want to tell the city thank you…they have loved every ride. How do I love thee New Orleans…let me count the last ten parades! Muses all look forward to many many more!