Who are the Muses?
To the people of New Orleans they are street names, often mispronounced. In Greek mythology the nine Muses were the daughters of Zeus. Their mother was Mnemosyne, the goddess of memory. The Muses were wild until reformed by Apollo, who tamed them and taught them ways to express themselves.
Initially, the Muses didn't have personalities or names, but later they were all assigned names and specific virtues. Clio was the Muse of history, Urania of astronomy, Euterpe of lyric poetry, Polyhymnia of songs to the gods, Melpomene of tragedy, Thalia of comedy, Terpsichore of dance, Calliope of epic poetry, and Erato of love poetry.
They will gather for Mardi Gras 2004 and celebrate the legend of the Nine Muses. They will celebrate their wildness before they were tamed, their virtues after they were appointed and their place in the mystique of New Orleans, where each virtue seems to thrive.
Throws 2004
For 2004 the krewe of Muses, a krewe that has become known for wonderful and unusual throws, proudly introduces the best throws ever found on St. Charles Avenue. These include a new shoe bead for 2004 – featuring a shiny red stiletto boot! This year's historic bead features a shoe from each year the Muses have rolled. Other specialty beads include the theme bead, red and gold teddy bear bead, light up camera and hairdryer and a bead bearing translucent blue letters spelling MUSES! The blinky bead of the year features three blue blinking pumps.
This year the Muses are throwing a beaded can holder, a fabulous shoe bracelet, Muses squeaky toys, footballs and special spears in animal print bearing the Muses logo. Muses are also throwing new Muses toothbrushes – individually wrapped – and Muses soaps shaped like little red glittery shoes.
Keep your hands up and your eyes open for a new mesh purse, a gift bag including a brush, comb, clips and scrunchy, theme flying disc, feathery shoe key ring, stretchy headbands, blinking wreaths, and amazing glitter tattoos, which look like you were just kissed by a Muse. Kiss-shaped strobe light earrings and rings, blue doubloons, can huggies and a special cup designed by Kevin Thomas from Warren Easton High School. And if you are really lucky you will catch it all in a mini MUSES throw bag! 
The Muses and the Community
One of the goals of the krewe of Muses from the first Krewe meeting in 2000 was to create an organization deeply involved in the community. As they did for their charter year the Muses chose to hold a contest for the design of the official krewe cup. Entries were sent to New Orleans area public schools.
The 2004 Cup contest winner is Kevin Thomas from Warren Easton High School.
The Krewe of Muses is proud to have donated $500 to Warren Easton High School as a result of Kevin winning this contest!
Mask Partners
To enhance community involvement the Krewe of Muses also works with different groups on the decoration of the masks for the riders. Members visit homes and hospices in the greater New Orleans area and reach out to involve the community in the parade! As each float is mentioned we will also mention who did the mask projects.
In 2003 the Muses created The Krewe of Muses Foundation, a non-profit charitable organization devoted raising and distributing money in the community. Muses also has held shoe drives among its membership in the past 2 years collecting shoes for women in New Orleans area battered women's shelters and programs like Dress for Success.
And Now …The Parade
Horse unit – Stepping in Style Horse Riders
Flambeaux
Float 1 – The Muses 2004 (Muses Officers)
The Captain and Nine Muses lead the 670 riding members of the Krewe of Muses parade. The entire organization is not over 900 members strong.
The Captain of the Krewe of Muses is in the first position on the float. The nine Muses are Clio was the Muse of history, Urania of astronomy, Euterpe of lyric poetry, Polyhymnia of songs to the gods, Melpomene of tragedy, Thalia of comedy, Terpsichore of dance, Calliope of epic poetry, and Erato of love poetry.
"We are all of one heart – free of care. When a Muse is around there are no troubles there. The Muses set their hearts upon song and their spirits are free. Seems Muses is just exactly what Mardi Gras needs. Not a soul shall feel sorrow, no one shall be glum…watch out New Orleans because here we come."
To toast the Muses in the words of Hesiod: Happy are they whom the Muses love
The Mask Partner for this float was Lambeth House.
Band – St. Augustine Marching 100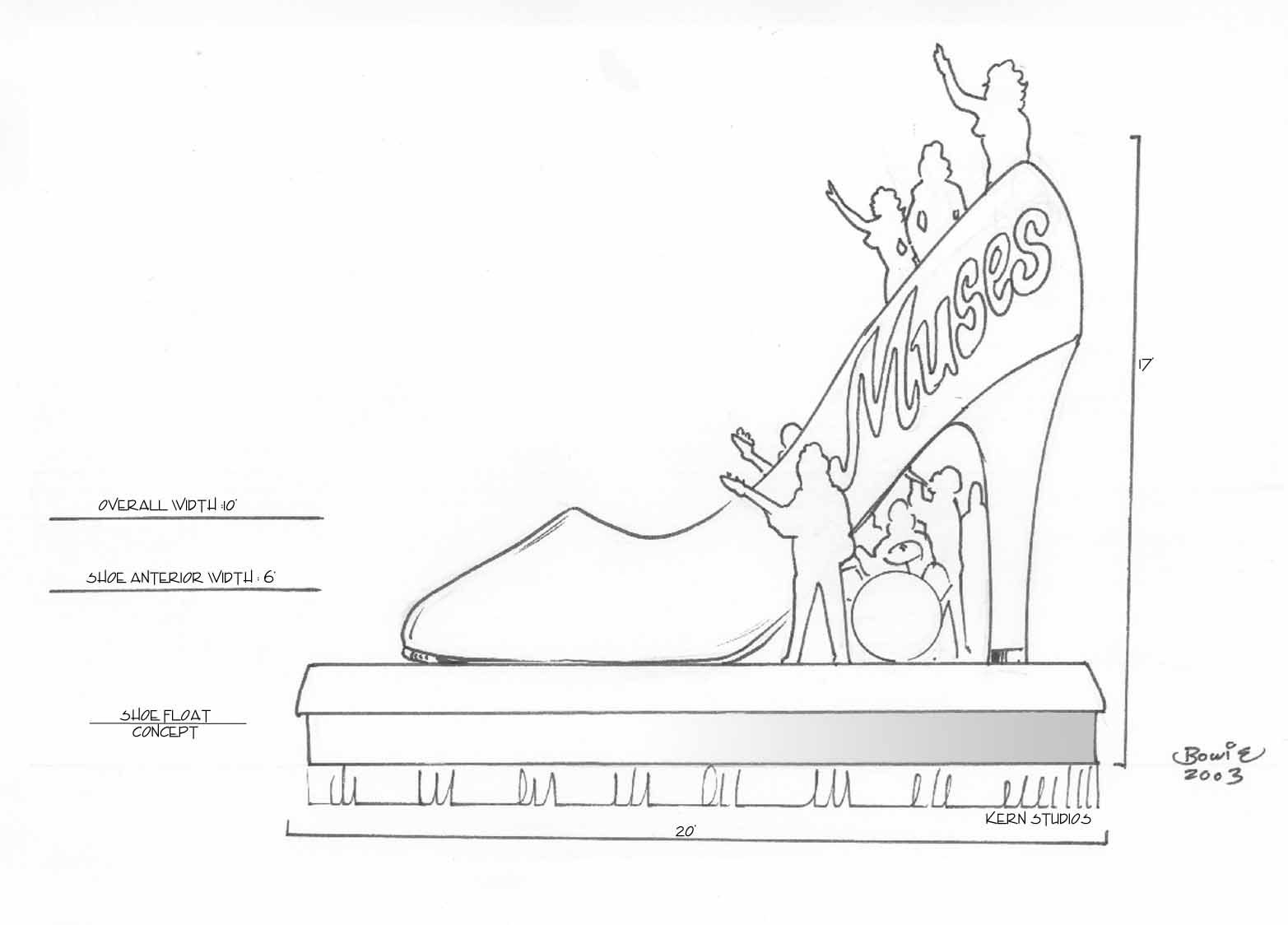 Float 1a – The Muse Shoe
Stepping out on the Avenue for the first time is the Muse Shoe – a 17-foot tall stiletto pump encrusted with the latest in fiber optic technology. The Muse Shoe changes colors and lights up with the krewe name. As befits a krewe with more than 900 female members, the largest shoe in New Orleans will be the Muses signature float for years to come.
And this float also features The Mount Olympus Brass Band — Coolbone.
New Orleans Circus School & Walking heads (Crescent City Artist)
Band – Xavier Prep Marching Band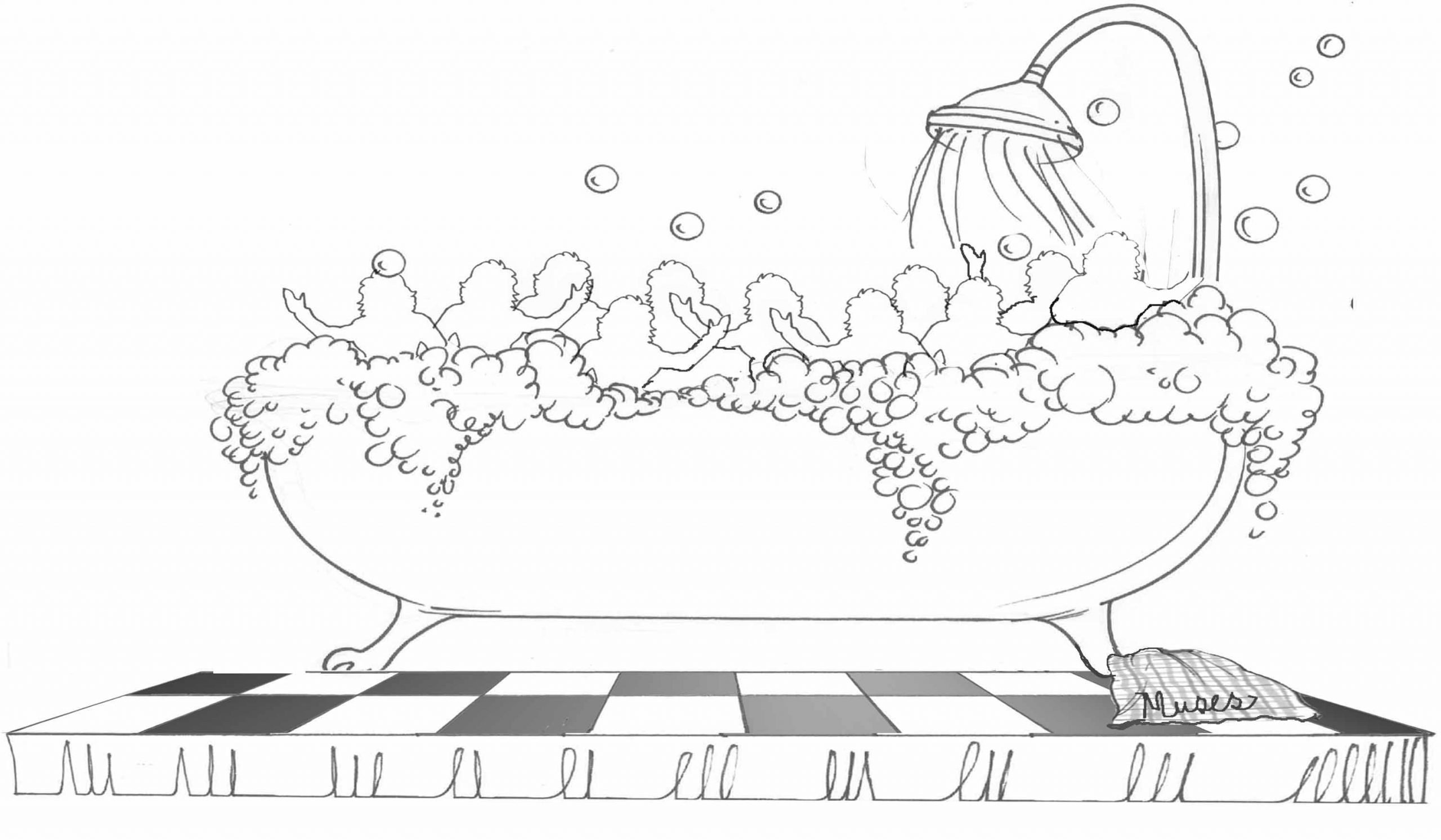 Float 2 – The Bathing Muses
Another new float from the Krewe of Muses…the Bathing Muses will become a Muses tradition and appear every year. And the Krewe introduces this new exciting float by throwing special custom-made soaps shaped like tiny shoes!
The Mask Partner for this float was Audubon Senior Center.
Riding this year is New Orleans own Becky Allen, who is being honored by Muses as Thalia, Muse of comedy. One of the most recognized icons of New Orleans, the original "Miss Mardi Gras" Becky Allen has been entertaining both local and international audiences for decades, first gaining prominence on the historic stages of Le Petit Theatre and The Beverly Dinner Theatre, quickly establishing herself as a force to be relished! Since the 1970's, she has partnered with actor/writer/director Ricky Graham in a series of record-breaking cabarets (with the legendary composer Freddie Palmisano), and original shows like And The Ball And All and Daryl's Perils. A multiple Big Easy Award-winner, she is also the face of Mardi Gras in New Orleans, gracing the covers of several books, postcards, art photographs, and websites
Band – John F. Kennedy Marching Band
Flambeaux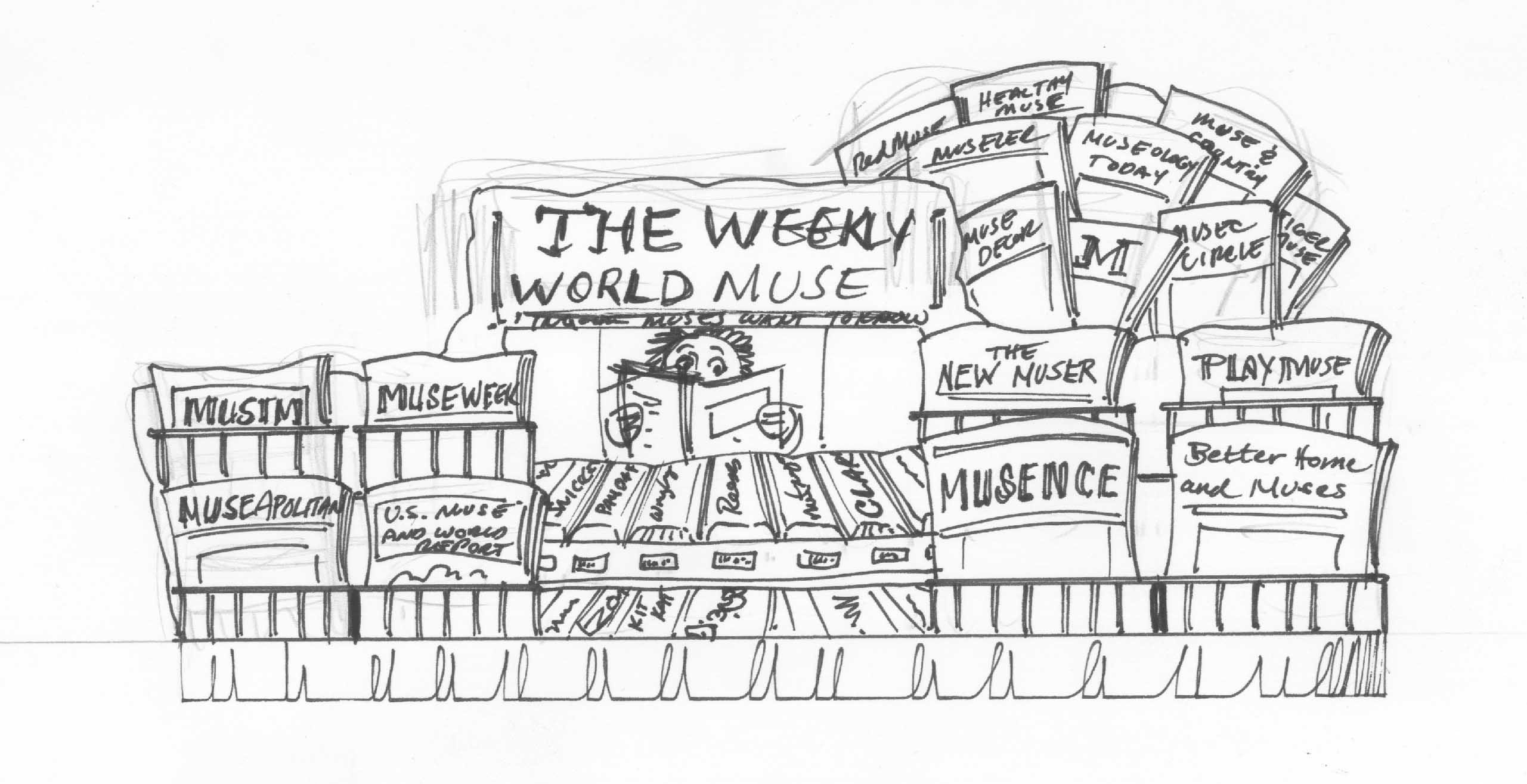 Float 3 – Theme 2004 – Inquiring Muses Want to Know
If you're out making groceries be sure to pick up a copy of the newest tabloid paper at the checkout…The Weekly World Muse! Inquiring Muses want to know! They want to know the latest local gossip, scandal — national and local, celebrity scoop and all the news not fit to print.
The Mask Partner for this float was The Care Center.
Band – George W. Carver Marching Band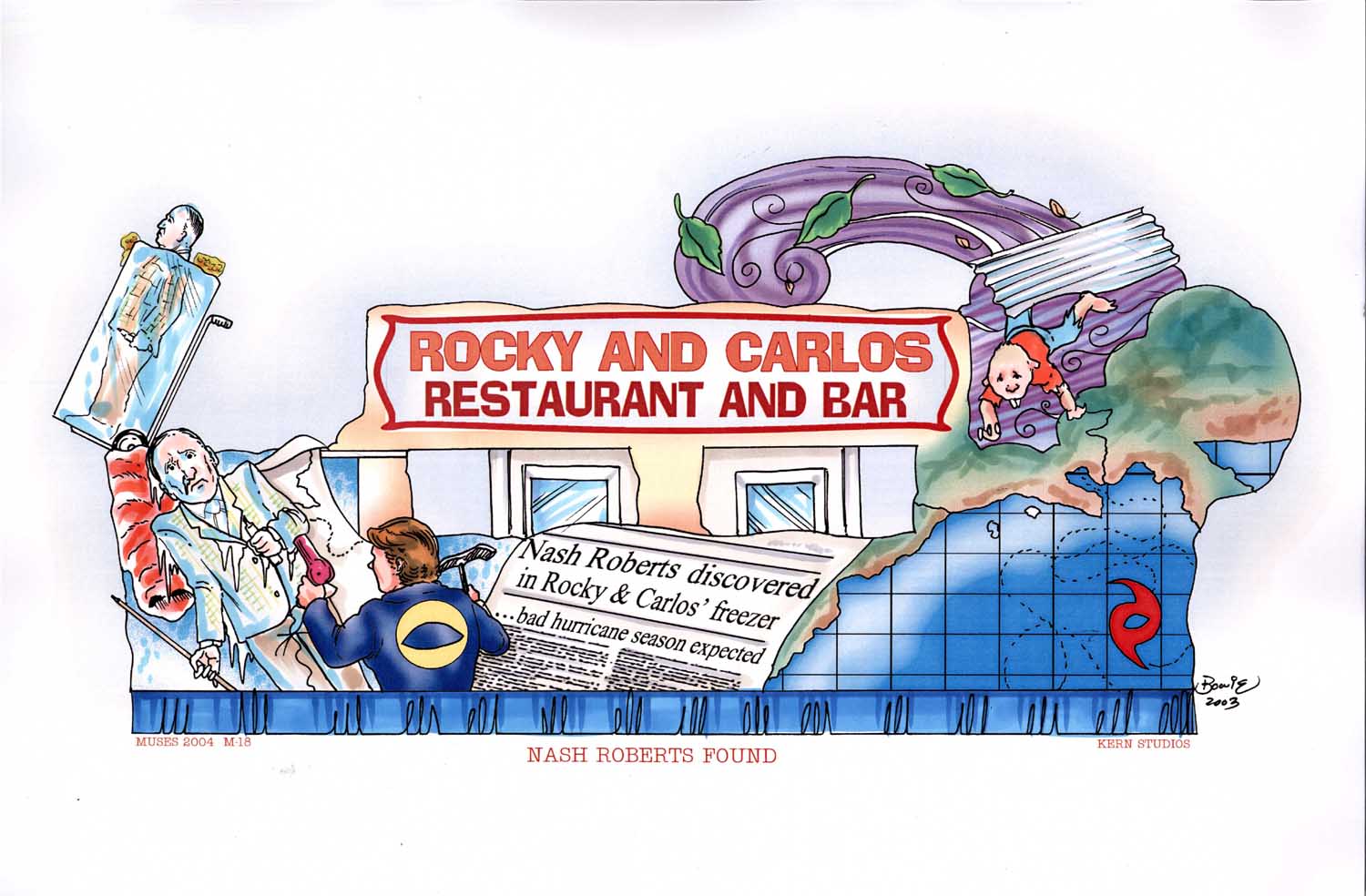 Float 4 – Nash Roberts Found
Have you heard the news? New Orleans favorite meteorologist Nash Roberts has been found…and as suspected he has been kept frozen in Chalmette institution Rocky and Carlos' freezer. Nash was awaiting a busy hurricane season. Seems the station staff is thawing him out for a broadcast. Is that macaroni on his head??
The Mask Partner for this float was Anna's Home.
Band — O. P. Walker Marching Band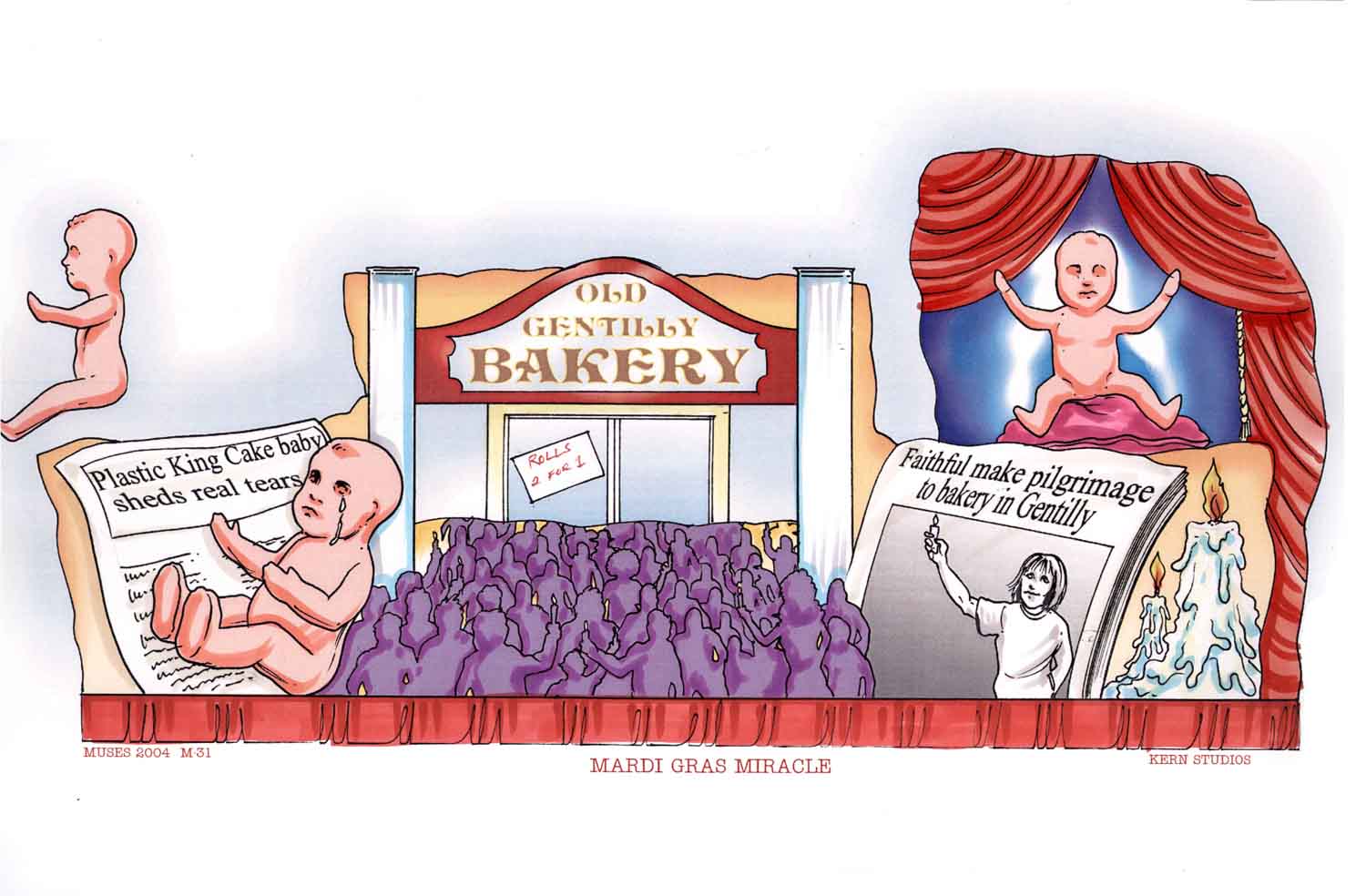 Float 5 – Mardi Gras Miracle
Plastic King Cake Baby Sheds Real Tears!!! The faithful are making a pilgrimage to the bakery in Gentilly, now right up there with the shrines at Lourdes and Medjugorje.
The Mask Partner for this float was Odyssey House Men's Program.
Band – Joseph S. Clark Marching Band
Horse Unit – Crescent City Cowboys
Float 6 – Half Boy – Half Swamp Rodent
Step aside Batboy – you've got nothing on Nutria Boy! He was found under the Westbank Expressway – half-boy and half nutria and he is wearing his favorite t-shirt – the one that says, "Eat more chicken." Is he an accident of nature or an experiment gone very very wrong…and why does he love Tabasco brand pepper sauce so much?
The Mask Partner for this float was Touro Senior Day Care Center.
Band – Frederick Douglas High School Marching Band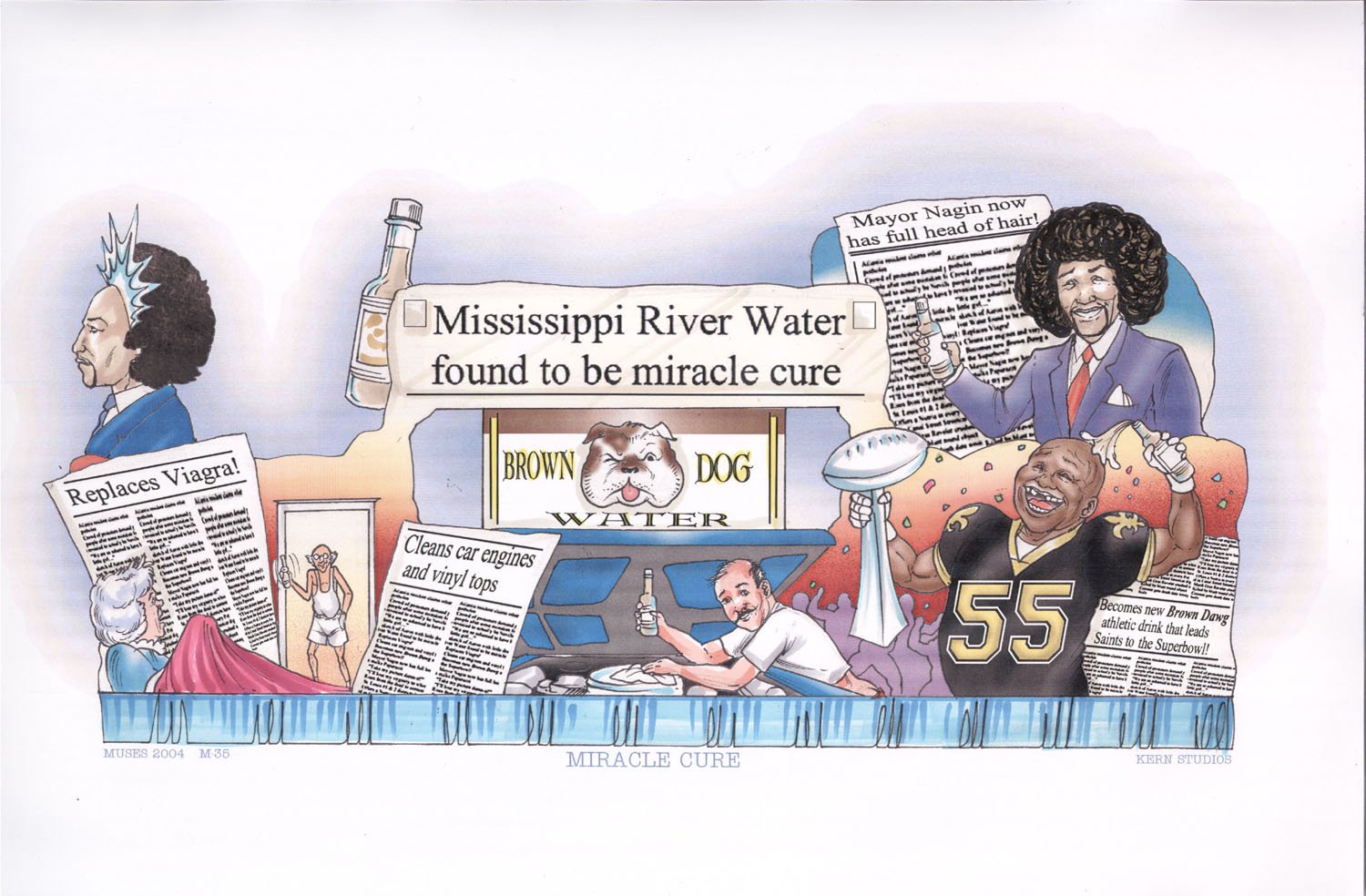 Float 7 – Miracle Cure
Mississippi River Water found to be miracle cure. It replaces Viagra and cleans car engines and vinyl tops! It's being bottled as new Brown Dawg athletic water that is leading the Saints to the Superbowl. And YES! Mayor Nagin now has a full head of hair.
The Mask Partner for this float was Grace House.
Band – Alfred Lawless Senior High School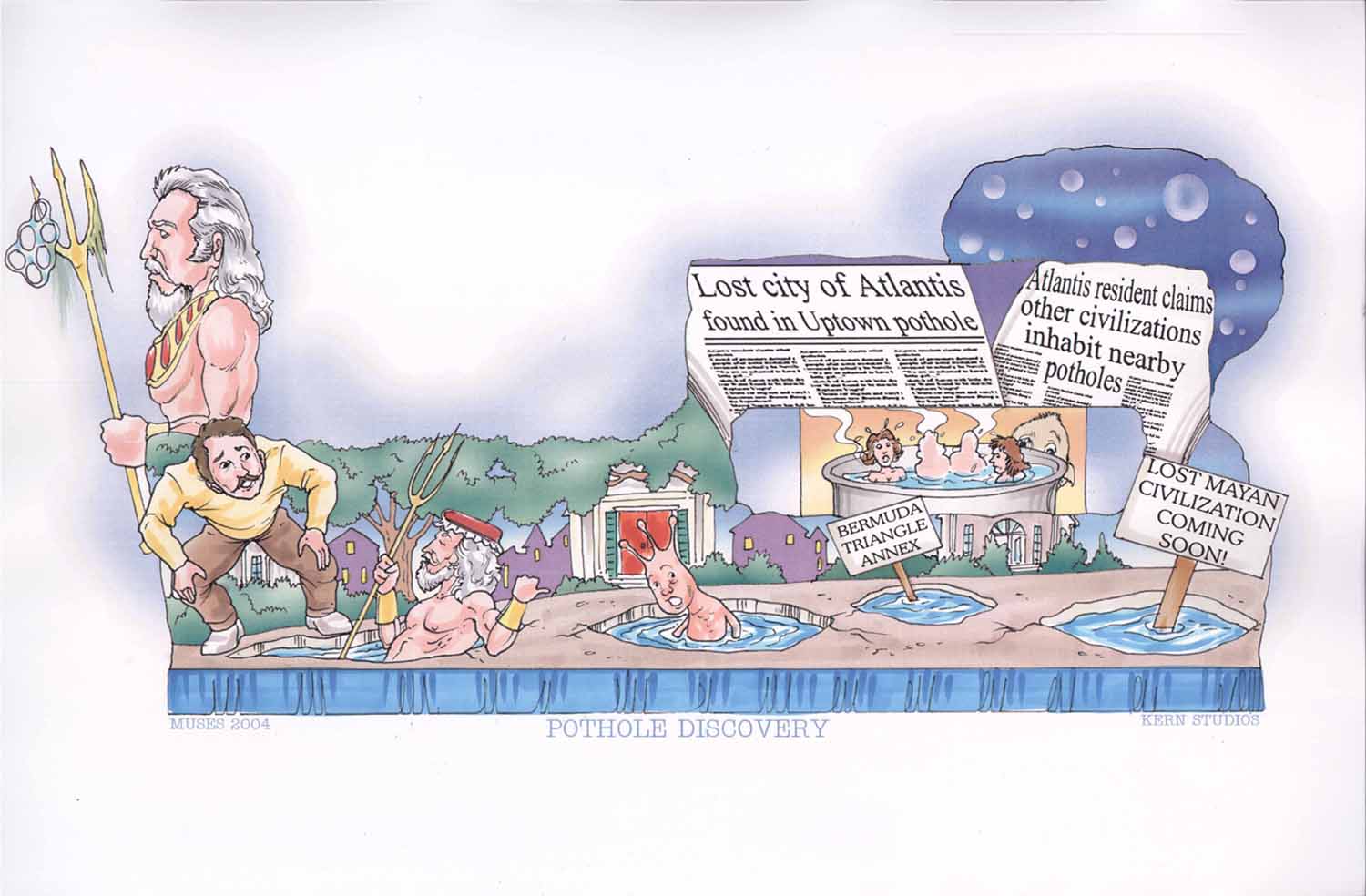 Float 8 – Pothole Discovery!
We've all hit New Orleans potholes and some are so big that whole cars have been lost, but did you hear about the newest New Orleans discovery? The lost city of Atlantis has been found in an Uptown pothole!
Next time you hit a hole you'd better check for residents!
The Mask Partner for this float was Bethany United Methodist Church.
Band – Fannie C. Williams Marching Band
Horse unit – Buffalo Soldiers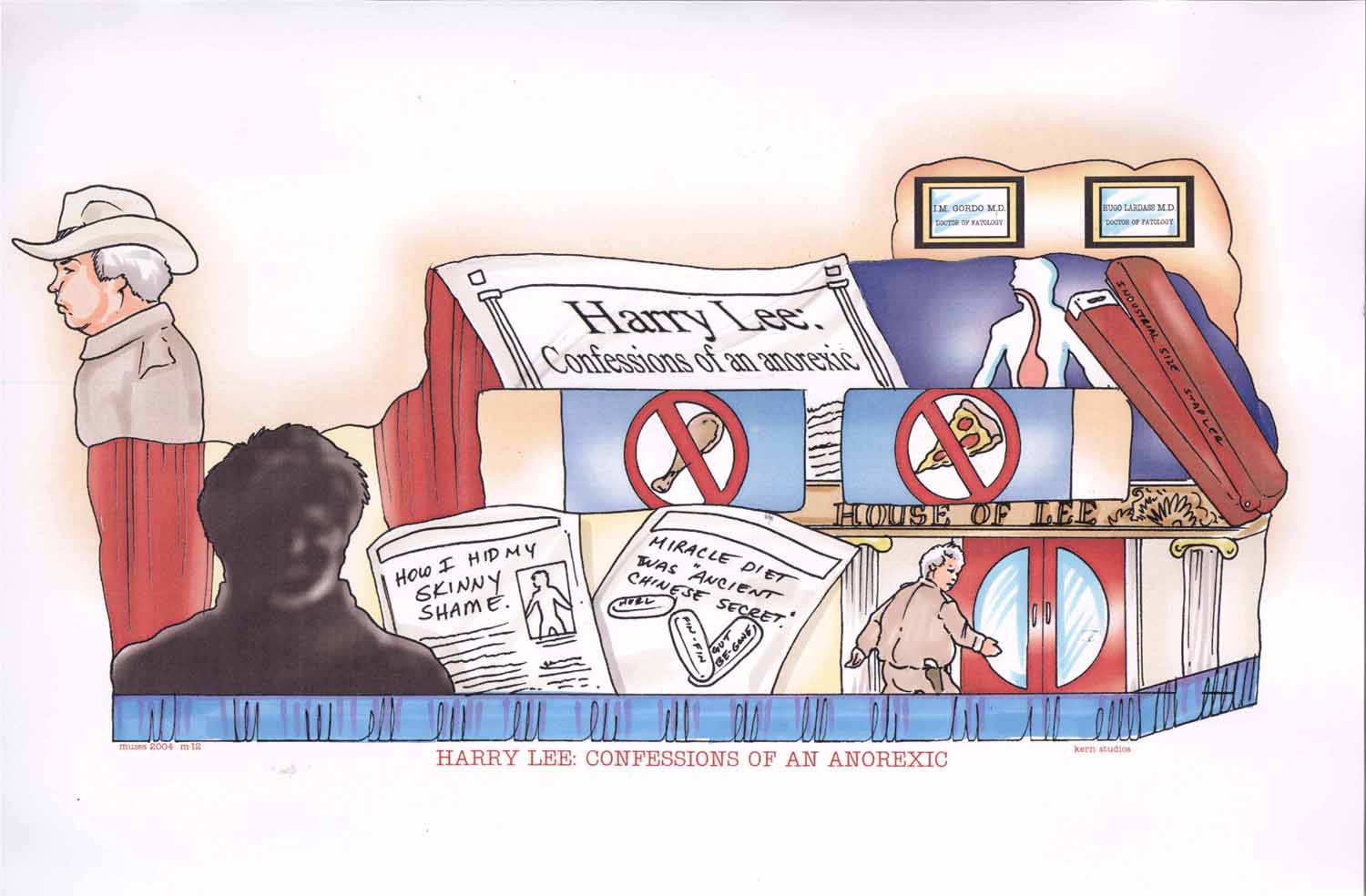 Float 9 – Harry Lee: Confessions of an Anorexic
Here it comes…Jefferson Parish Sheriff Harry Lee's latest revelation …he was an anorexic, hiding his skinny shame.
The Mask Partner for this float was Lazarus House.
Band – Thurgood Marshall Middle School
Float 10 – Historic Discovery
Chris Owens was present at Louisiana Purchase signing! All of the hoopla around the bicentennial has shown us the truth! The entertainer convinced Napoleon to sell after her famous "horsy dance." And there are rumors of her having illegitimate children with Thomas Jefferson!
We all know Chris looked fabulous for her age but we didn't realize how fabulous!
The Mask Partner for this float was Summerville Senior Living Center.
Band – Israel Augustine Middle School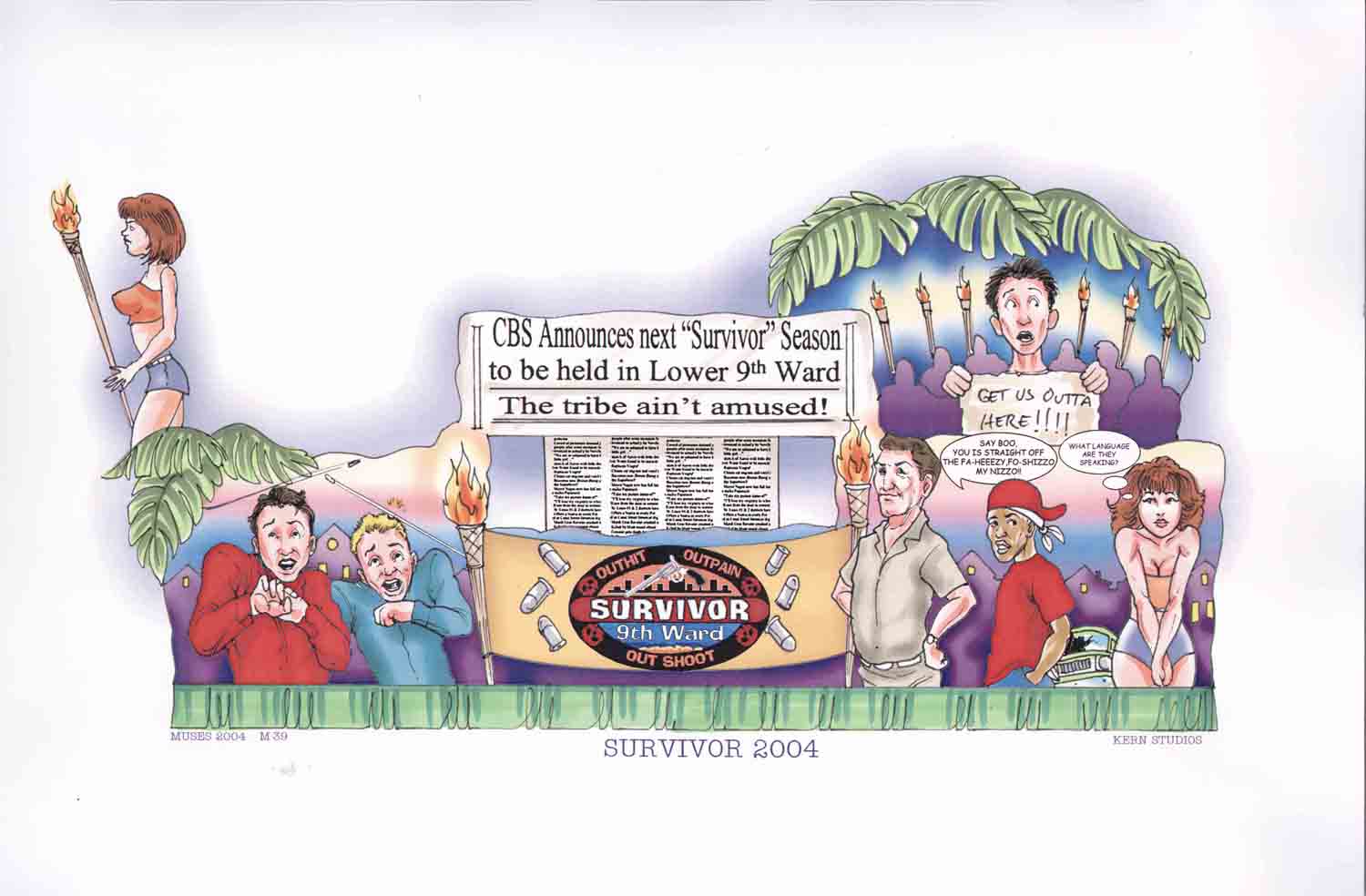 Float 11 – Survivor 2004
CBS announces the next Survivor season to be held in Louisiana Swamp! And it seems the tribe is not amused! They will be dodging giant mosquitoes bearing West Nile virus, being forced to eat strange raw foods and running from alligator attacks! And, to top it off, there's a mad oyster disease scare.
The Mask Partner for this float was Metropolitan Battered Women Group.
Band – O. P. Walker Middle School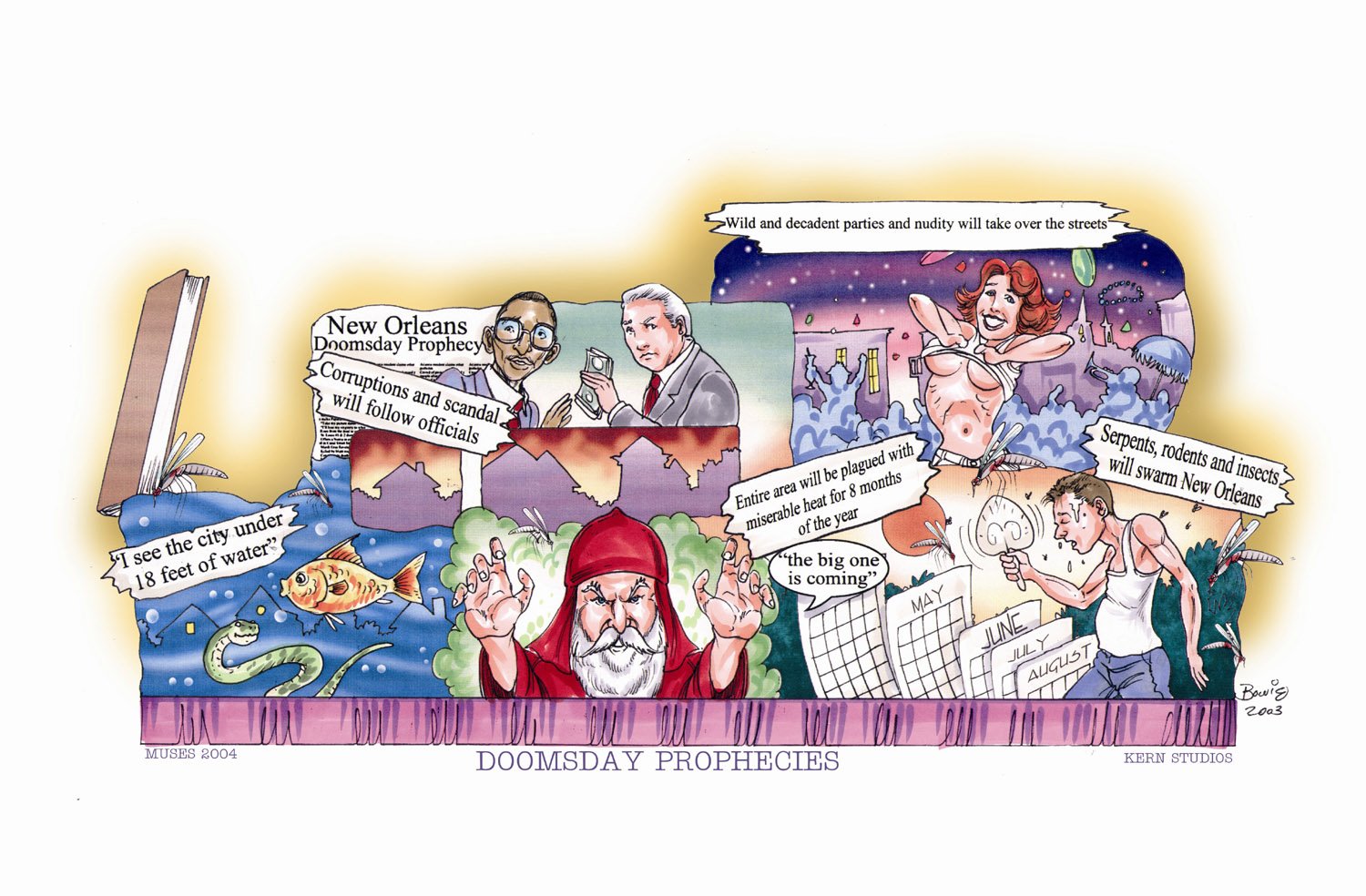 Float 12 – Nostradamus New Orleans Predictions
Here they are – the recently unearthed Nostradamus predictions for New Orleans, Louisiana…The city will be under 18 feet of water…Wild decadence and nudity take to the street…corruption and scandal will follow political officials…insects will swarm the city…we will be plagued with miserable heat for several months of the year. (Wait a minute, these are prophecies for the future!?)
We can take it!
The Mask Partner for this float was the YWCA Rape Crisis Center
Band — Green Middle School
Horsewomen to the Muses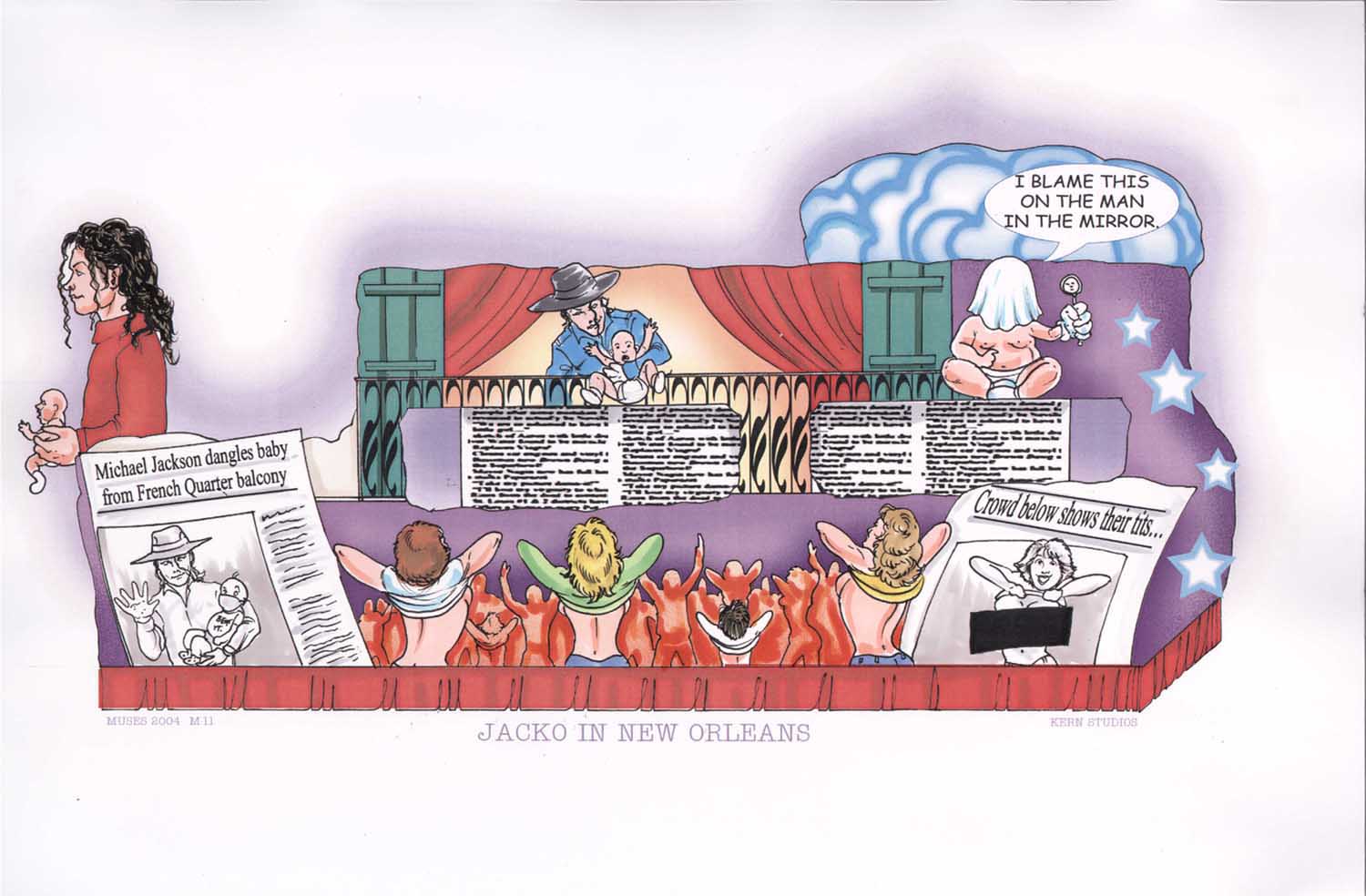 Float 13 – Jacko in New Orleans
He's heerrrrreee! Michael Jackson visits New Orleans and it seems he is dangling a baby from a French Quarter balcony. Do we have public outrage? No – the crowd below is baring all! Looks like the baby is the catch of the year.
And it seems that Michael is inviting our friend Nutria boy to his Neverland Ranch to sedate him with root beer and chicken! Michael loves all children – even furry ones with long yellow teeth. Nutria boy seems less than excited.
The Mask Partner for this float was YWCA Senior Center.
Band — Andrew J. Bell Junior High Marching Band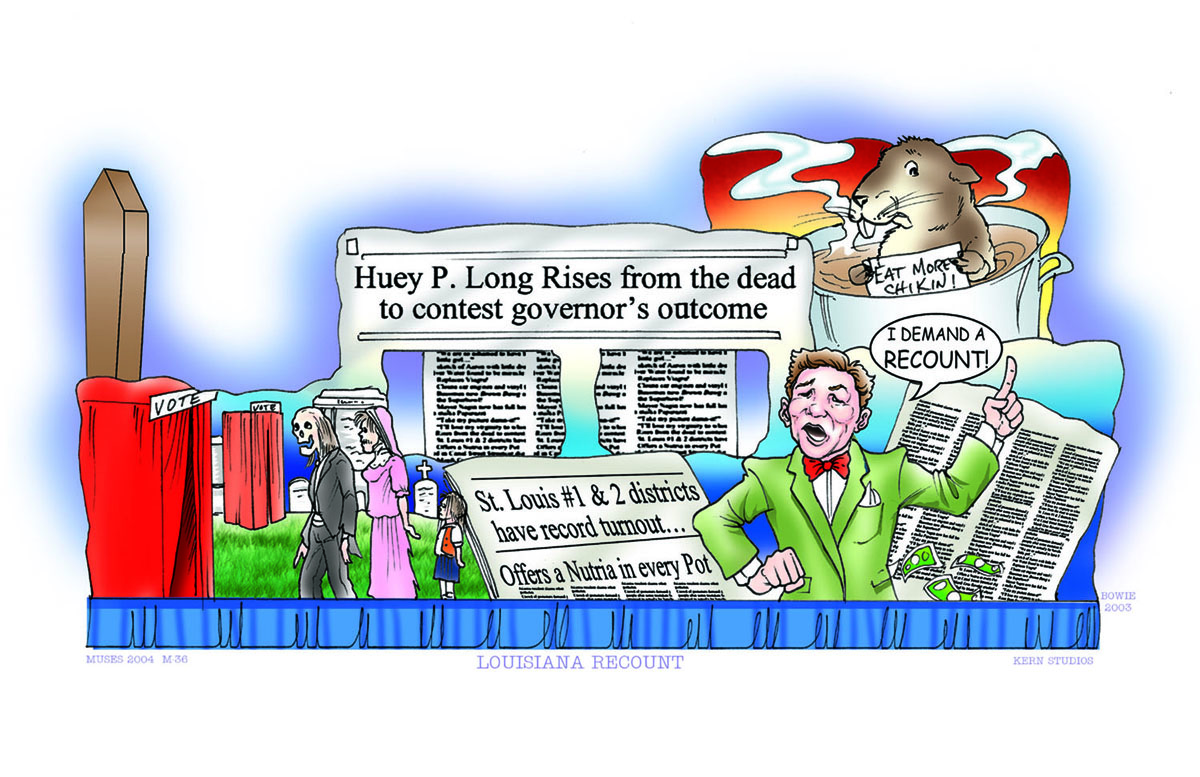 Float 14 – Louisiana Recount
The Kingfish has risen from the dead! Huey P. Long is back to contest the recent governors' race outcome. He says if he weren't already dead this election would have killed him.
Beware Nutria Boy – he is offering a nutria in every pot…
And Huey wants to know…"What do you call that? A Queenfish!"
The Mask Partner for this float was YWCA Battered Women's Shelter.
Band – Rebirth Brass Band and The Lady Buckjumpers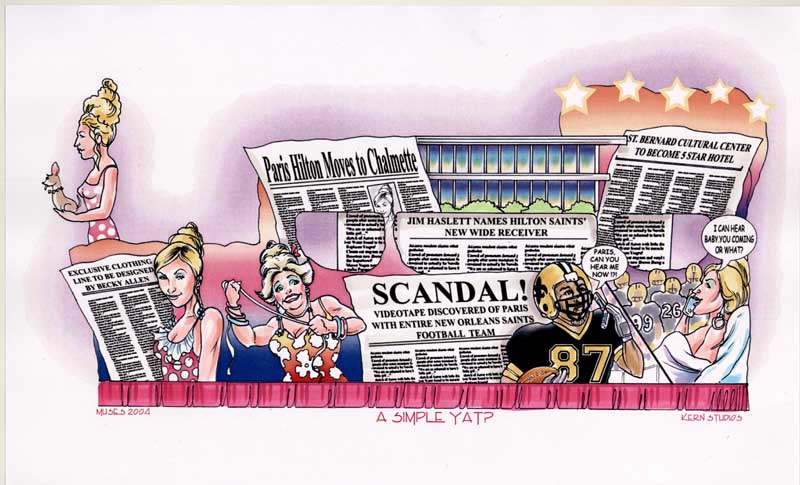 Float 15 – The Simple Yat
It's a Simple Yat …tabloid princess Paris Hilton has moved to Chalmette. To meet the heiresses' standards, Becky Allen has designed an exclusive clothing line for her and the St. Bernard Cultural Center is being turned into a five star hotel. But in a shocking scandal, a secret videotape of Paris with the entire New Orleans Saints football team has been discovered. And now we know who Joe Horn was really talking to on that infamous cell-phone call.
The Mask Partner for this float was Covenant Nursing Home.
Band – Ninth Ward Marching Band
Float 16 – Alien Baby Conceived
Oh my goodness! It seems that Mayors Morial and Nagin were closer than we thought. Their Alien Baby is planning to take over the city and then the world! And he must be the offspring of greatness! Now that is a New Orleans' style scandal!
The Mask Partner for this float was Martin's Landing Assisted Living at Lambeth House.
Drill Team – Pussyfooters
Band – Pinettes Brass Band Float
Float 17 – Copeland – Rice Nuptials
They have appeared together in the news for years and now the unthinkable has happened…Anne Rice and Al Copeland in wedded bliss! Seems the couple was married by the honorable Judge Bodenheimer at Venetian Isles Marina.
And it looks like the happy couple is opening the new Lestat Burger fast food chain – they serve it very very rare!
The Mask Partner for this float was Jefferson Parish Care Center.
Marching Unit – Camel Toe Lady Steppers
Band – Mo'lasses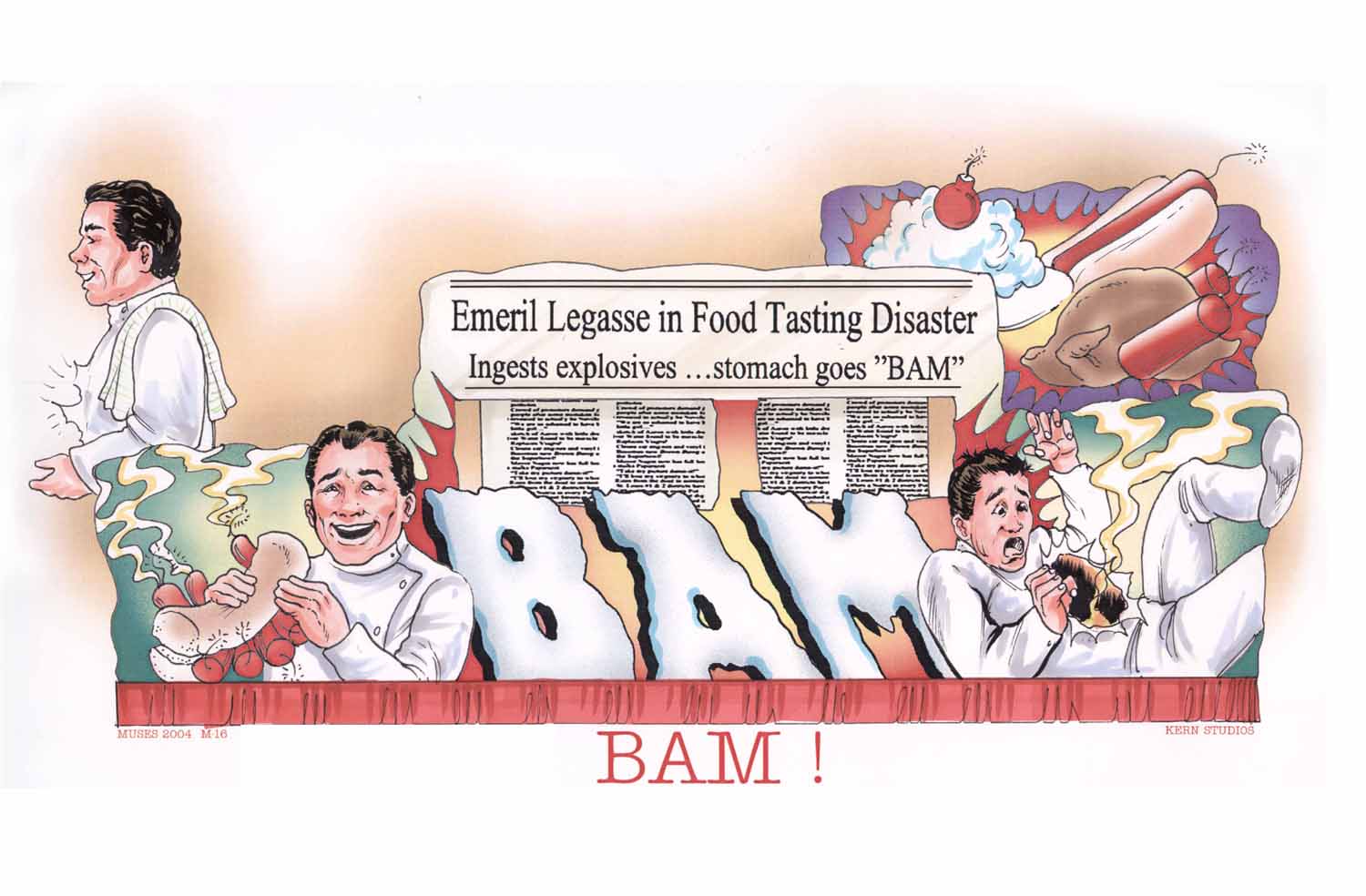 Float 18 – BAM!
Oh NO! Emeril has been in a food tasting disaster! What he mistook for a hot sausage po'boy turned out to be explosives and the celebrated chef actually went BAM!
The Mask Partner for this float was Kingsley House
Marching Unit — Rolling Elvi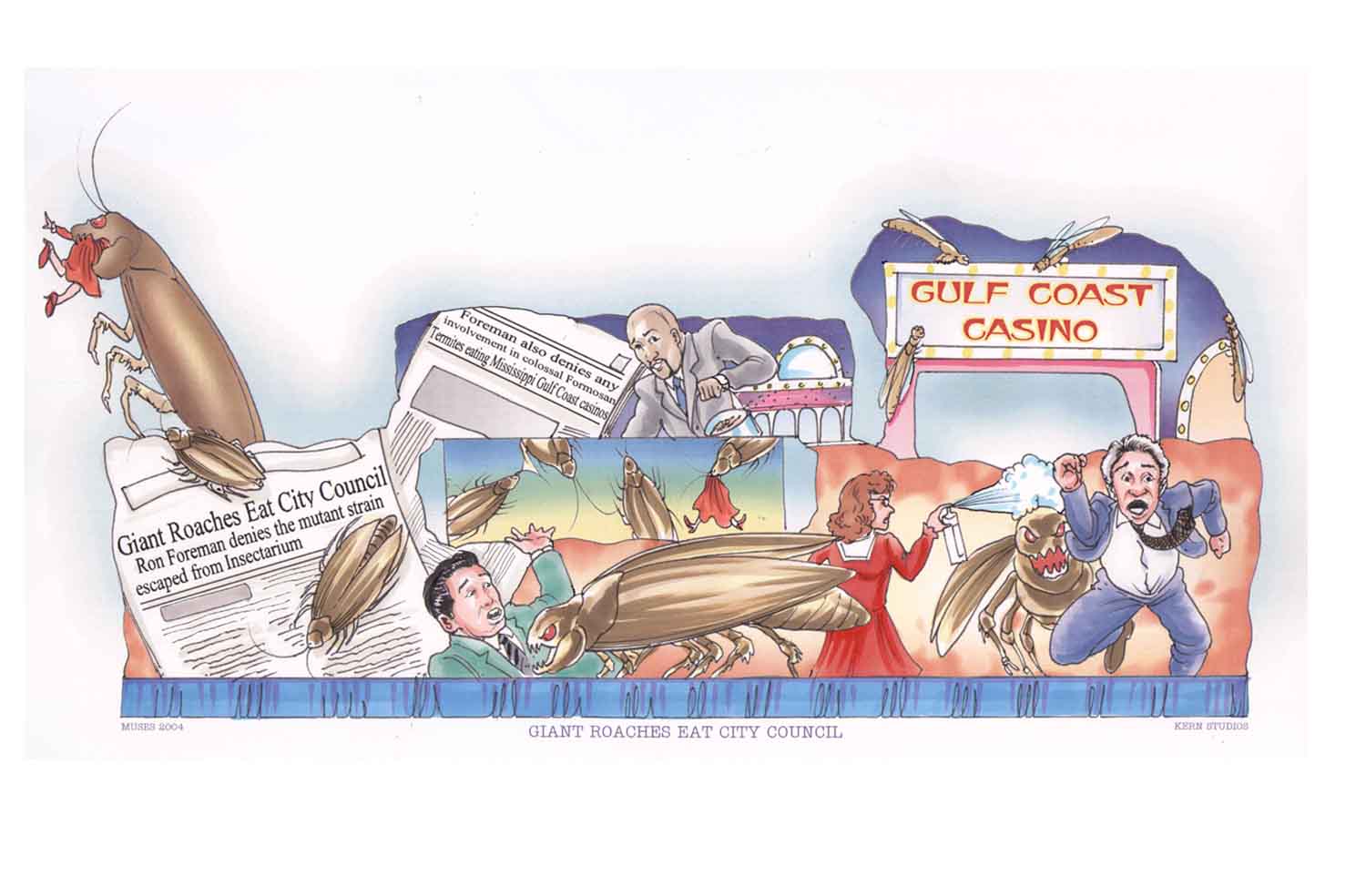 Float 19 – Giant Roaches Eat City Council
Watch out! It seems that Giant Roaches have eaten the City Council! Ron Foreman denies the mutant strain escaped form the new Insectarium! Foreman also denies involvement in the tragedy of the giant Formosan termites that are eating all the Mississippi Gulf Coast Casinos!
Who is that sneaking away with a bucket of bugs and some Mississippi River Miracle water???
The Mask Partner for this float was Lazarus House.
Marching Unit — Southern University Jaguar Gold Dancers
Band – Some Like It Hot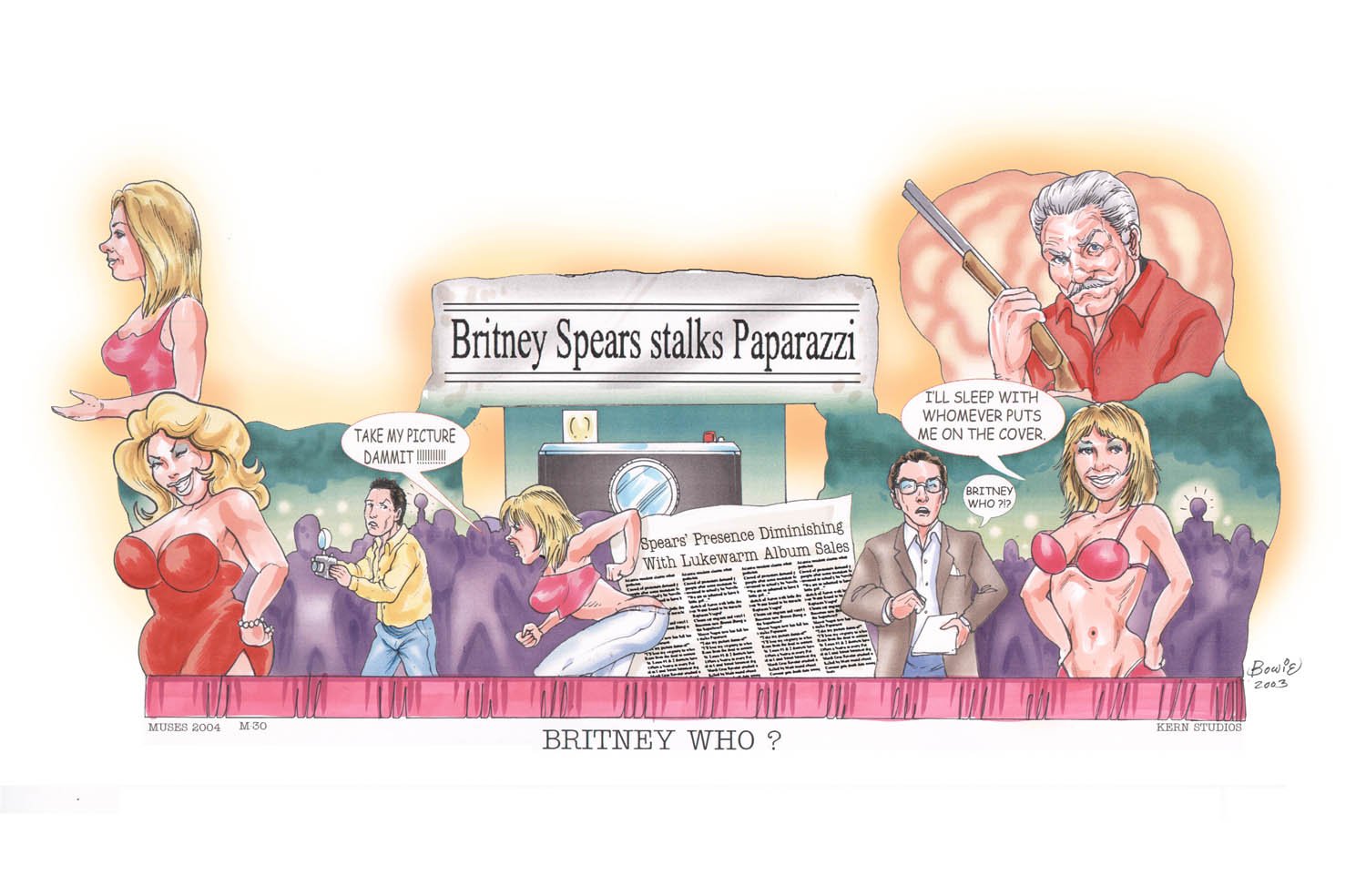 Float 20 – Britney Who???
There is a former tabloid pop queen who just can't seem to get the press she used to…
She is offering it all and her gun-totin' daddy is trying to help but no one wants to take her picture. Even Times-Picayune columnist Chris Rose is asking…Britney WHO?
And we see a recent thought on the back…her latest hit song…Oops I forgot my prenup!
The Mask Partner for this float was Odyssey House Family Services.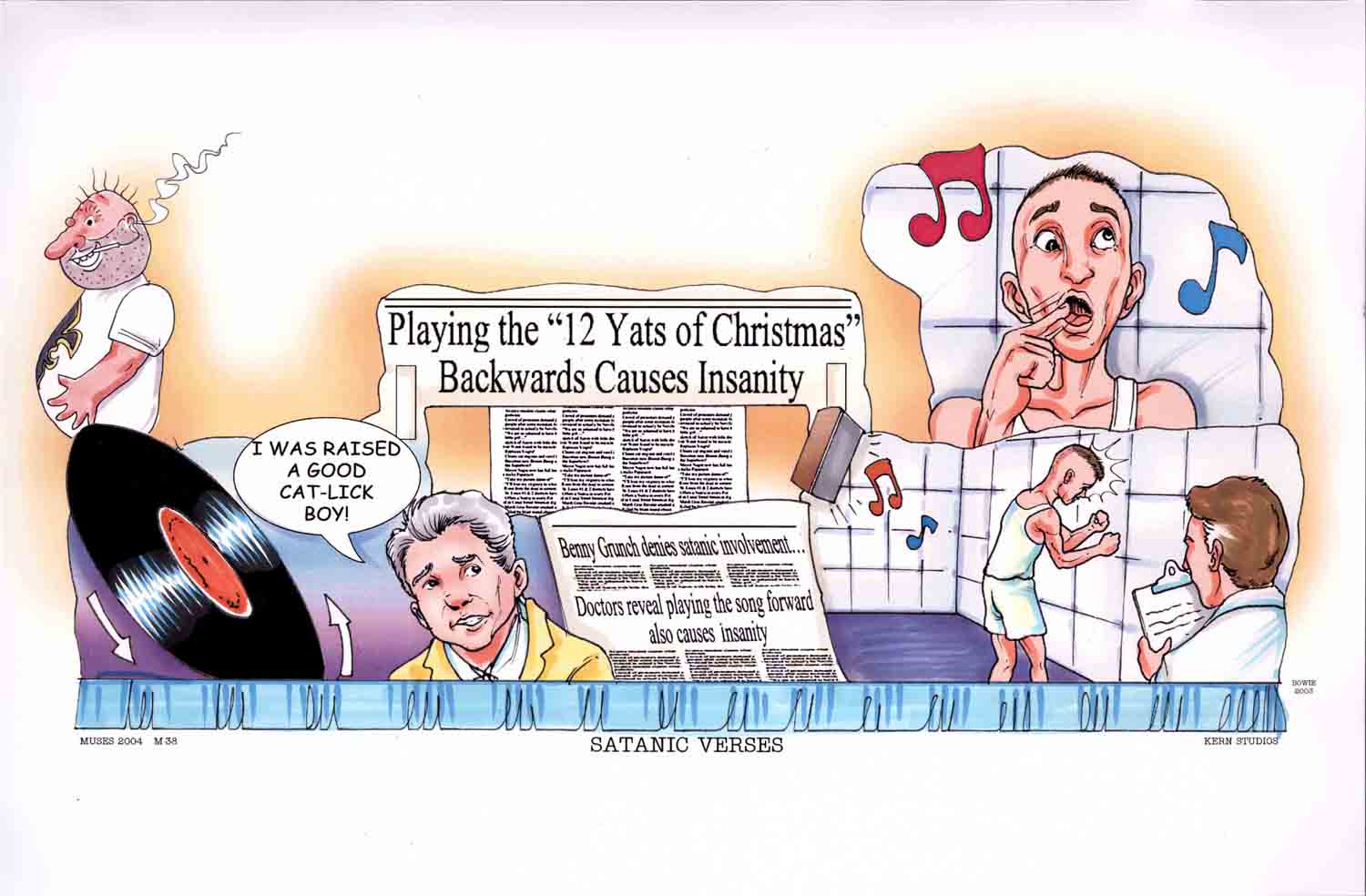 Float 21 – Satanic Verses
Doctors have discovered it is true…Playing the song "The 12 Yats of Christmas" backwards causes insanity. Benny Grunch denies satanic involvement.
Doctors reveal that playing "The 12 Yats of Christmas" forwards ALSO causes insanity.
The Mask Partner for this float was St. Francis Villa.
Band – Riverside Ramblers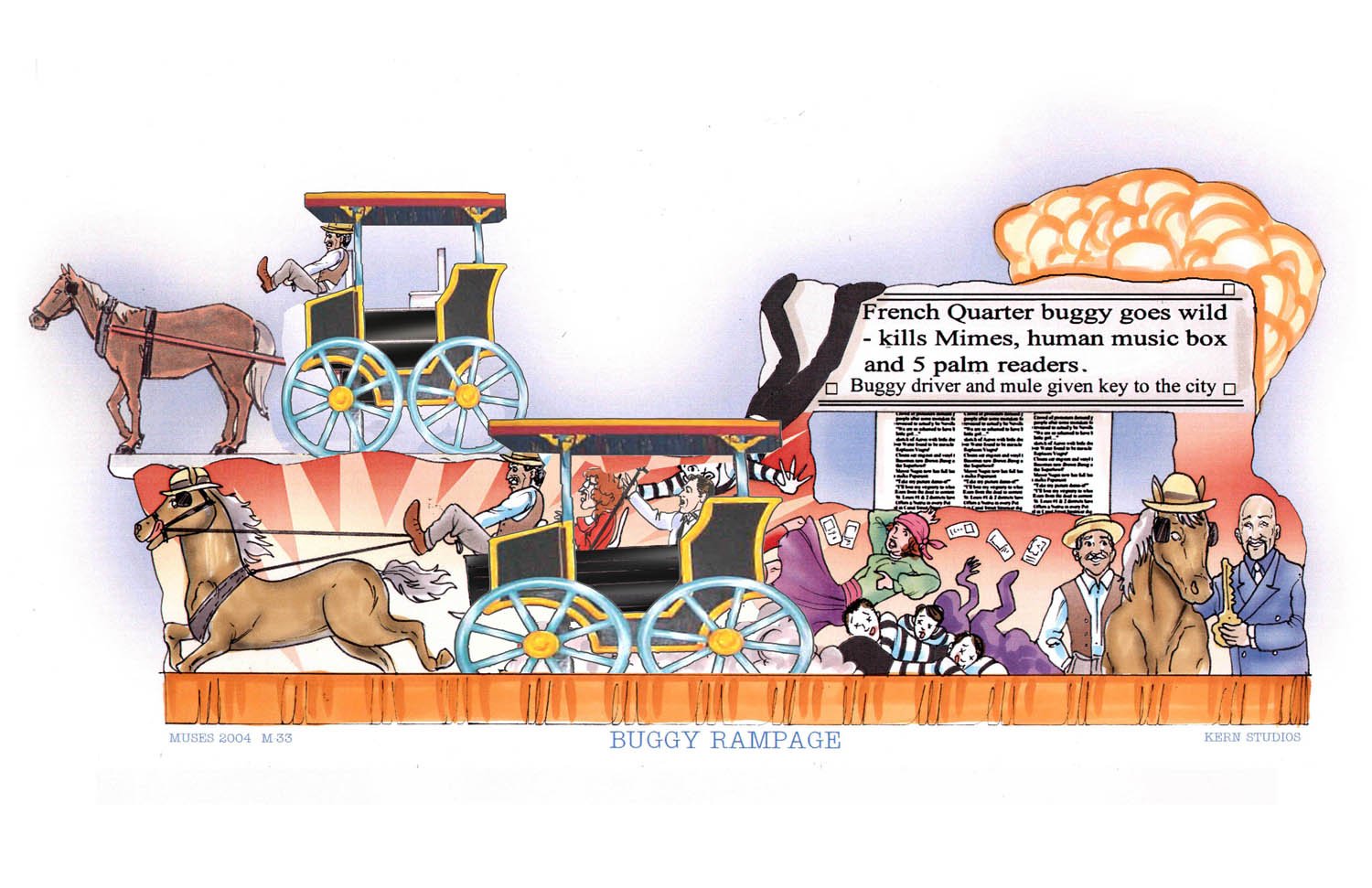 Float 22 – Buggy Rampage
French Quarter buggy goes wild killing mimes, human music box and palm readers. Driver and mule given key to the city!
And who is that we see in the back seat of that buggy?
The Mask Partner for this float was Chateau de Notre Dame.
Band — St. Charles Streetcar Jazz Band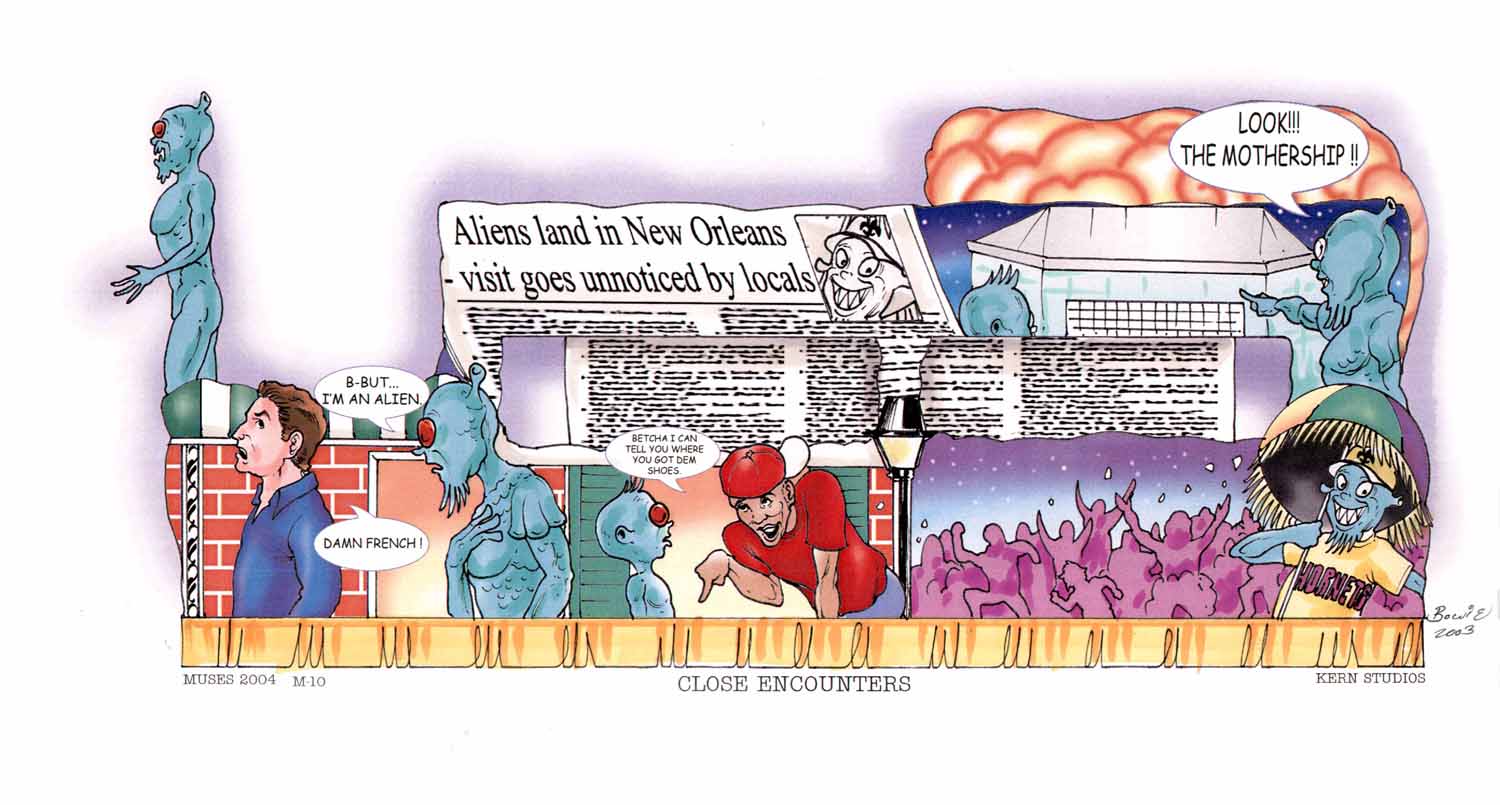 Float 23 – Close Encounters
The headline simply reads: Aliens land in New Orleans…visit goes unnoticed by locals.
Looks like they are having a good tourist adventure…being mistaken for the French, being taught where they got their shoes and mistaking the New Orleans Arena for the mother ship.
The Mask Partner for this float was Uptown Shepherd's Center.
Band — Executive Steel Band Float
Float 24 – Sirens – Back for Four
And they're here…the Sirens – banished by the Muses and therefore the last float each year. Don't get too close – in Greek mythology, the sweet singing voices of the sirens lured men to their deaths. This year they are back for the 4th time and say what every Muse feels…
It gets better every time!
The Mask Partner for this float was Woldenberg.
Thank you for joining us for the Krewe of Muses parade!
Happy are they whom the Muses love!